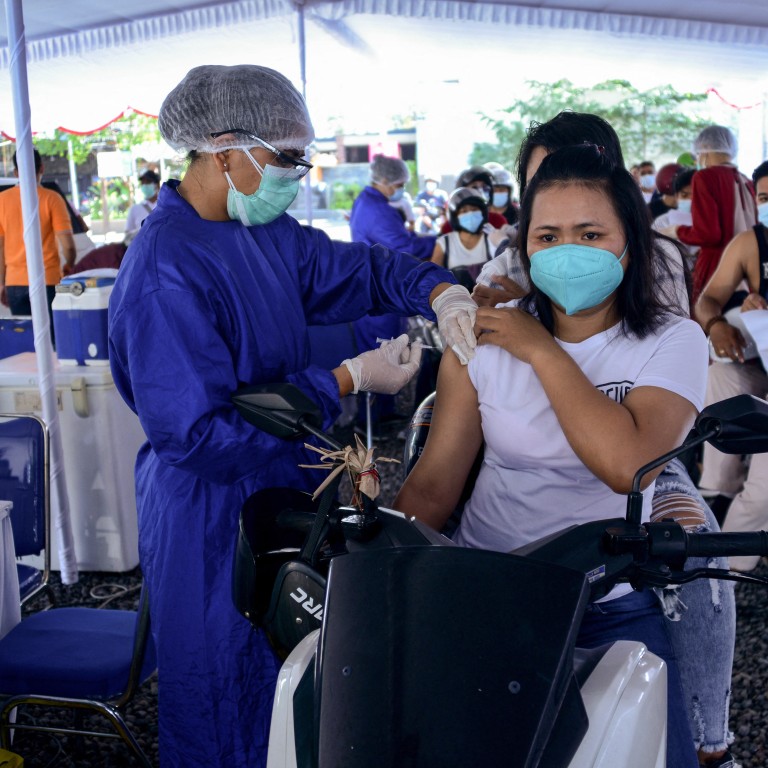 China to help coronavirus-hit Indonesia close vaccine divide
Beijing will aid Jakarta's efforts to build a regional vaccine production centre, Xi Jinping tells Joko Widodo
Indonesia battles delays in AstraZeneca doses from India
China will work with Indonesia to try to close the "vaccination divide" as the Southeast Asian country grapples with delays in shipments of the AstraZeneca
coronavirus
vaccine.
During a phone call on Tuesday with Indonesian President Joko Widodo, Chinese President Xi Jinping said China would help Indonesia to build a regional vaccine production centre while also continuing to vaccinate its own citizens.
"China and Indonesia both highly prioritise public safety and health, and reject 'vaccine nationalism'," a Chinese foreign ministry statement quoted Xi as saying.
Widodo has described vaccine access as a test of international cooperation.
Indonesia has the highest number of
Covid-19 cases in Southeast Asia
and turned to China and the United States after a surge in cases in India resulted in delays in Indian-made AstraZeneca jabs distributed through the WHO-led Covax facility.
China has shipped Indonesia enough raw materials to make 47 million doses of the Chinese-developed Sinovac vaccine. Indonesia also expects to receive more than 20.2 million doses from Chinese state firm Sinopharm and US company Moderna in the coming months.
Indonesian Health Minister Budi Gunadi Sadikin said over the weekend that 22 million doses had been distributed so far in the country, the most populous in the region.
Also on Tuesday, Xi and Widodo called for more progress on infrastructure projects under
Beijing's Belt and Road Initiative,
including on the US$6 billion Jakarta-Bandung high-speed railway extension on the Indonesian island of Java.
The China-financed railway was expected to be operational by early next year, but has reportedly been delayed by two years, in part because of the pandemic. Indonesian companies building the railway asked for a bigger stake in the project, after costs were set to increase by 20 per cent, Reuters reported.
Belt and road projects have come under intense scrutiny, with critics saying the huge sums involved risk snaring developing countries in a "debt trap", charges that China rejects.