Myanmar
Get more with myNEWS
A personalised news feed of stories that matter to you
Learn more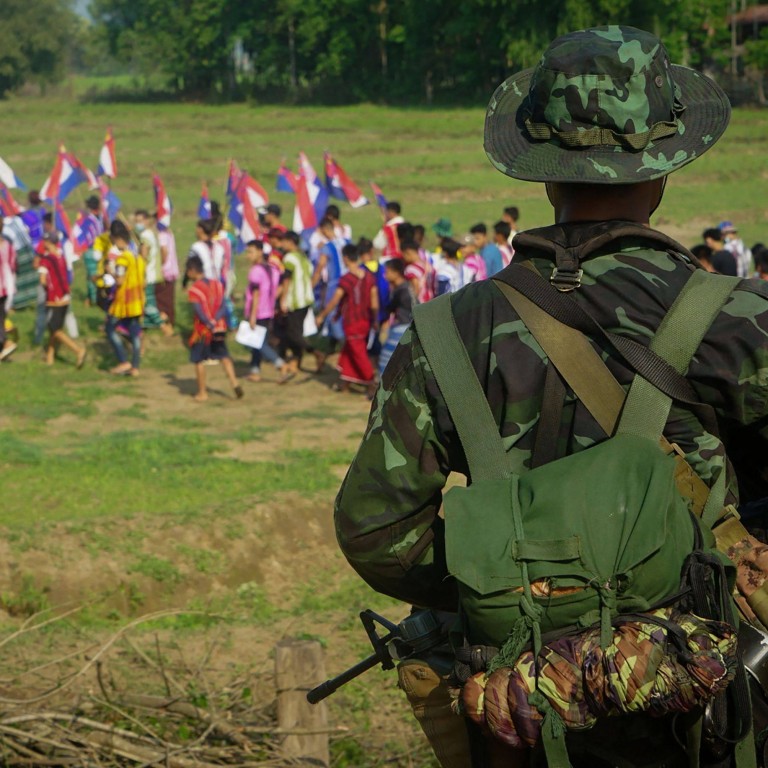 China hopes Asean summit can lead to 'soft landing' for Myanmar crisis
Chinese Foreign Minister Wang Yi calls on leaders to encourage all parties to exercise restraint and meet each other halfway
Wang also reminds member states to be alert against external forces interfering in the country as they prepare for special meeting
China expects the
Asean
leaders' summit over the weekend to pave the way for "a soft landing" for the crisis in
Myanmar
, according to Foreign Minister
Wang Yi
.
Speaking by phone on Thursday, Wang exchanged views on Myanmar with his counterparts from Thailand and Brunei, which holds the rotating chair of the Association of Southeast Asian Nations, ahead of the long-awaited special meeting on the issue to be held in Jakarta on Saturday.
Myanmar's seat at the table will be filled by the leader of the country's new military government, Senior General Min Aung Hlaing. There has been no official invitation to the meeting for members of the junta's opponents, the pro-democracy alliance National Unity Government.
China is not part of Asean but, along with South Korea and Japan, is a member of Asean Plus Three, which coordinates cooperation between them and the Asean states.
"China expects the meeting to lead to a good start to realise 'a soft landing' for the Myanmar situation," Wang said, according to a readout from China's foreign ministry. He added that China hoped the summit could be conducive to political reconciliation in Myanmar.
"The way out [of the crisis] is for all parties of Myanmar to seek new understanding through political dialogue within the constitutional and legal framework and continue pushing forward the hard-won democratic transition."
Wang said it was China's hope that the summit could encourage all concerned parties in Myanmar to exercise restraint and meet each other halfway.
Following February's coup, mass protests have erupted across Myanmar and more than 700 protesters have been killed by the military. The United Nations World Food Programme (WFP) warned on Thursday that up to 3.4 million people in the country would suffer from hunger in the next six months, from a combination of the political crisis and the Covid-19 pandemic.
Asean has long held that there should be "non-interference" in member states' domestic affairs, and Wang called on the bloc to "play a constructive role" in solving Myanmar's crisis. "Asean knows better than any other countries and regional organisations the special national situation of Myanmar, and has better conditions to participate in its problem-solving in a constructive way," he said.
"China expects that Asean will stick to the 'Asean way', featuring unity, inclusiveness and consensus through consultations, build unified ground and make a common voice." Wang said China would keep in close communication with Asean and continue to deal with all parties in Myanmar "in its own way".
Beijing has previously said it supports the bloc's efforts to mediate in the current crisis in Myanmar but has also called on the Asean nations to be on the alert for external forces interfering there.
China blocked a UN Security Council statement in February condemning the military coup – using its veto power as one of the five permanent council members – and warned that external pressure or sanctions would only make the situation in Myanmar worse. Last month, with China's backing, the UN issued a condemnation statement, but Beijing maintains Asean should guard against external influence.
"Practice has shown that wanton suppression of external forces makes no contribution to solving problems of a country's internal affairs. Instead, it would bring turbulence and even deteriorate the situation, further affecting and disrupting regional stability," Wang said.