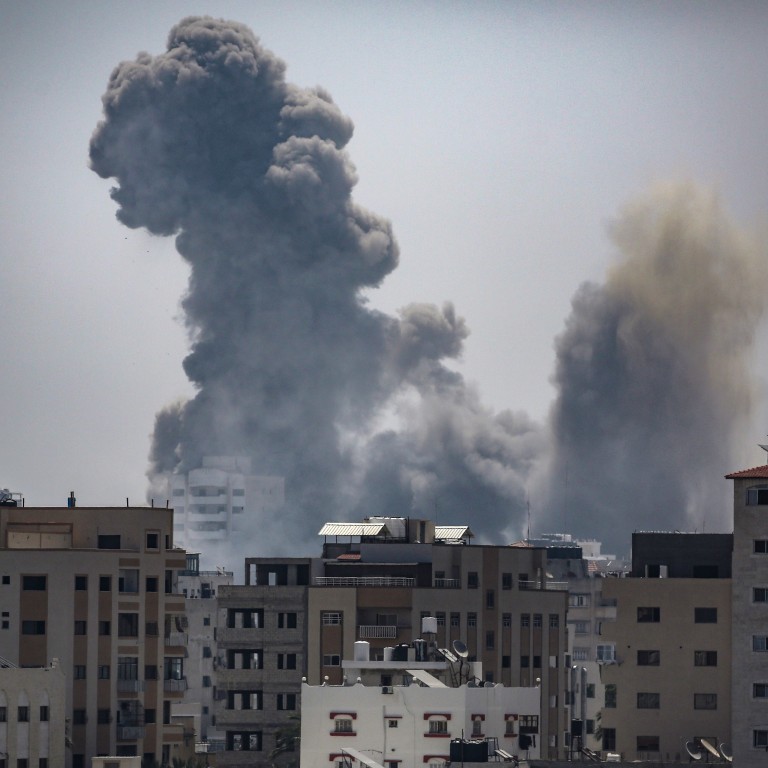 China offers to host Israeli-Palestinian peace talks
Beijing uses chairmanship of UN Security Council to press for immediate ceasefire and resumption of dialogue on two-state solution
Foreign Minister Wang Yi also urges the US to stop obstructing the council's role in taking action on the conflict
China's offer to host Israeli-Palestinian peace talks is a bid to expand its influence in the Middle East as the new administration in Washington works out its playbook, analysts said.
During a virtual meeting of the 15-member
UN Security Council
on Sunday, Chinese Foreign Minister Wang Yi again called for an immediate ceasefire between the two sides and for Israel to lift its blockade and siege of Gaza as soon as possible.
Wang also urged the US to stop "obstructing" the council in taking action on the conflict, and to support its efforts to ease tensions and to find a political resolution. China took over as rotating chair of the council at the beginning of May.
"We will continue to increase our efforts to urge for peace and promote talks, and fulfil our responsibilities as chair of the Security Council," he said. "We reaffirm our invitation to peacemakers from Palestine and Israel to come to China to open up dialogue, and we welcome negotiators from both sides to engage in direct talks in China."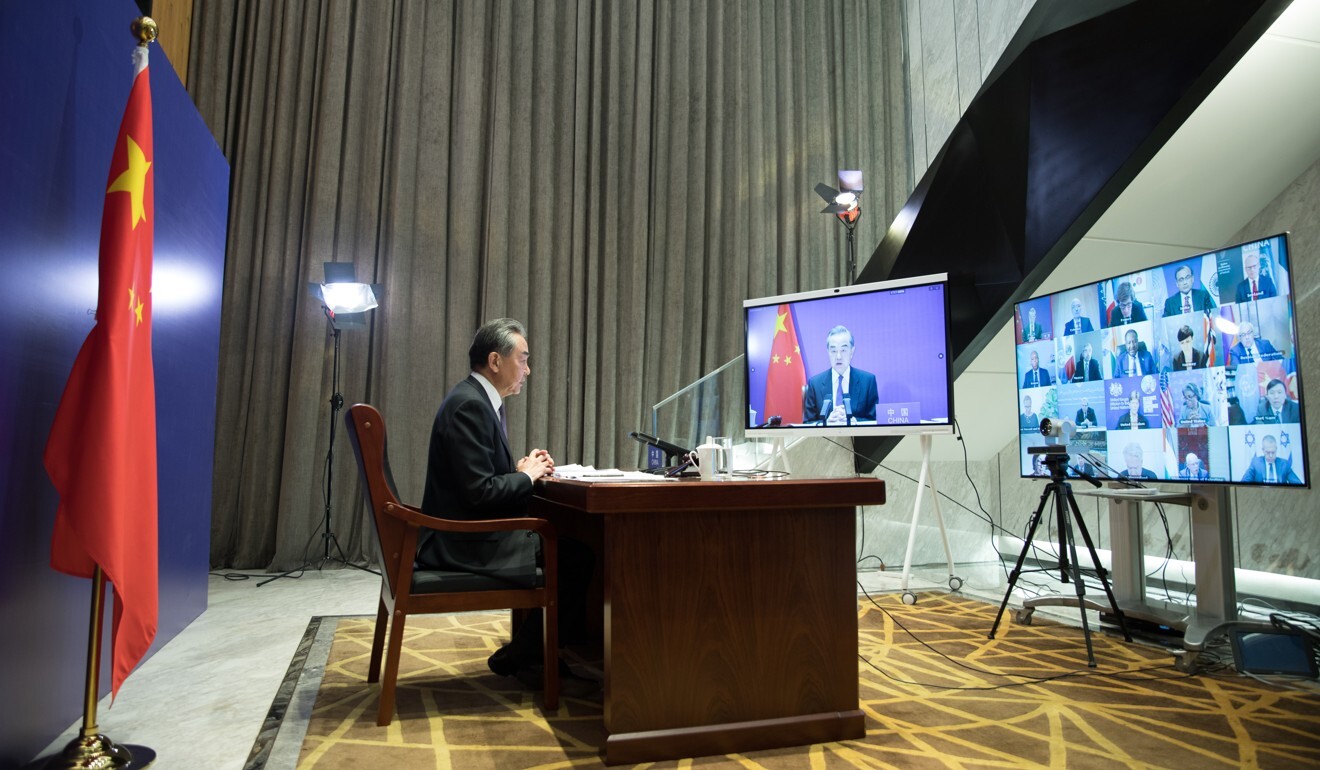 Wang said talks should resume for a two-state solution that would include the early establishment of an independent Palestinian state, based on the 1967 border with the contested East Jerusalem as its capital, that would coexist with the state of Israel.
He also said Israel needed to stop expelling Palestinians from their homes, to stop violence and threats against Muslims, and to respect the status quo of religious sites in Jerusalem. At the same time, the Palestinian side should avoid escalating the situation, including by firing rockets towards Tel Aviv, he said.
Along with Norway and Tunisia, China has sought a more active role in easing tensions between the two sides, with the three countries pushing for two earlier rounds of closed-door Security Council consultations. The three also released a joint statement calling for an "immediate cessation of all acts of violence, provocation, incitement, destruction and eviction plans".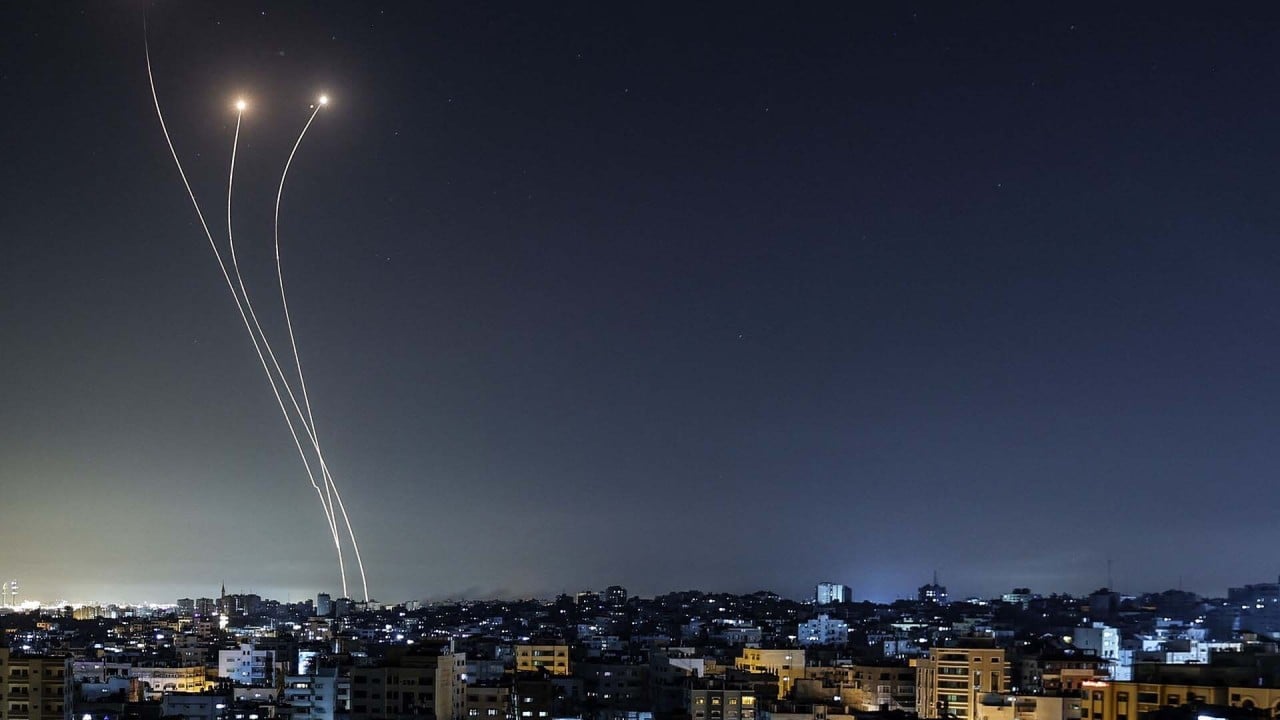 04:48
China offers to mediate Gaza conflict amid international protests against Israel
China offers to mediate Gaza conflict amid international protests against Israel
Chinese foreign ministry spokesman Zhao Lijian did not directly condemn Israel when asked to comment on Monday, but stressed that the "vast majority" of the UN Security Council had a common voice on the issue and that the US needed to "fulfil its due responsibilities".
Zhao said China strongly condemned violence targeted at civilians and said Israel should exercise restraint.
In the midst of their rivalry for global influence, Beijing has contrasted its diplomatic efforts with those of the United States – a close ally of Israel, saying Washington had blocked the Security Council from issuing a joint statement for the "immediate cessation of hostilities" between the two sides. China has also come under greater pressure for its repression of Muslims and ethnic minorities in
Xinjiang
.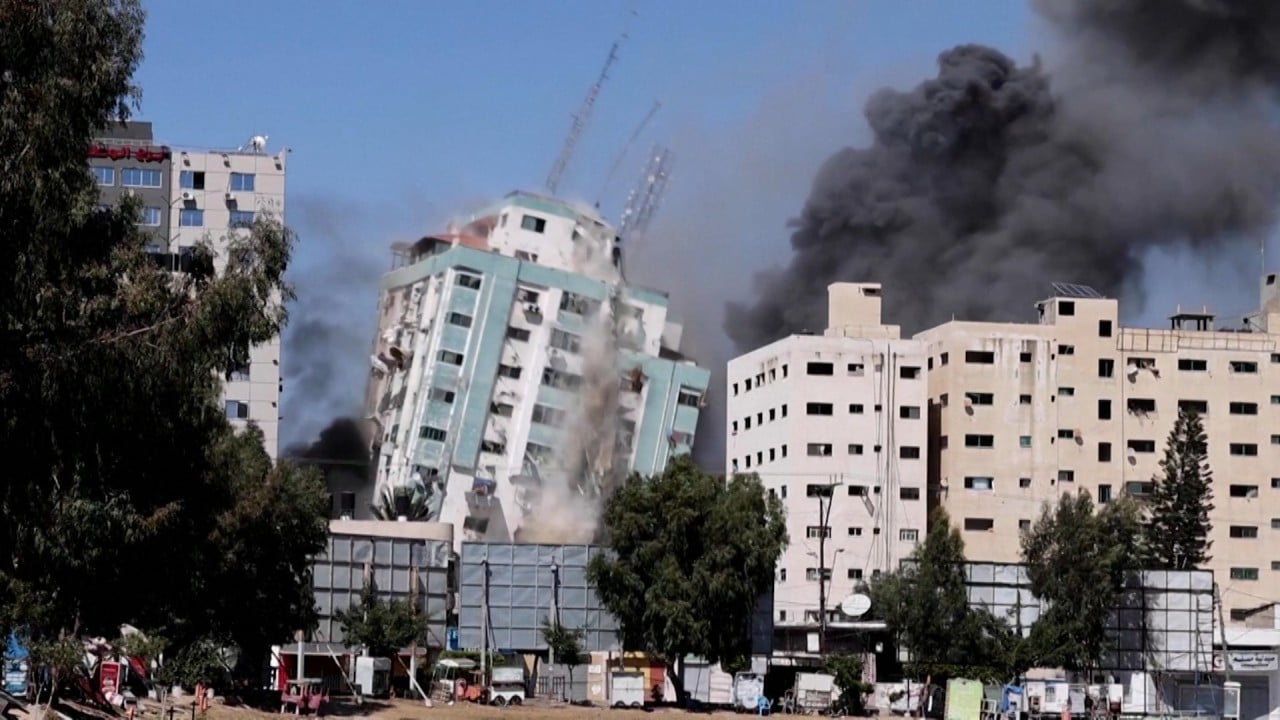 01:36
Israeli air strike flattens Gaza tower housing media outlets and Hamas military offices
Israeli air strike flattens Gaza tower housing media outlets and Hamas military offices
Li Weijian, vice-president of the Chinese Association of Middle East Studies, said Wang's remarks were more specific than on previous occasions, when China had "stayed more at the level of rhetorical appeals".
"In the past, China has always called for a ceasefire, but it rarely mentions how and who would provide the platform for negotiations," he said. "Because China is now positioning itself as a global power, it needs to take up the responsibilities of a major power, so it cannot be absent on hot global issues."
Li said Arab countries had also expressed the hope that China would play a greater role in the region.
Israelis and Palestinians have previously been invited to hold talks in China, including during Wang's trip to the Middle East in March, but observers said the offers had not been taken seriously because Beijing was not considered an important actor in the conflict.
Huang Minxing, a professor at Northwest University in Xian, said China lacked experience in the region's politics but its neutral stance could be effective.
"China has long pursued a policy of non-interference in other country's affairs, and Middle Eastern affairs are also overly complex, so China would be more cautious about getting involved," he said.
But Huang added that China had a chance to take on a greater role in the region, as US President
Joe Biden
was still developing his policy on Israel, and Europe had long had concerns over Washington's bias towards Israel. While China maintained a neutral position, and tried to bring up a solution in terms of international justice, such a position may be objectively more inclined towards Arab countries, he said.
"As long as China actively communicates with the international community, there is an opportunity for practical action if it works to speak in a collective voice with the international community," Huang said. "When the US is forcing the entire world to choose sides between China and the US, China would want to expand its own circle of friends and would work hard to do so to cope with US pressure."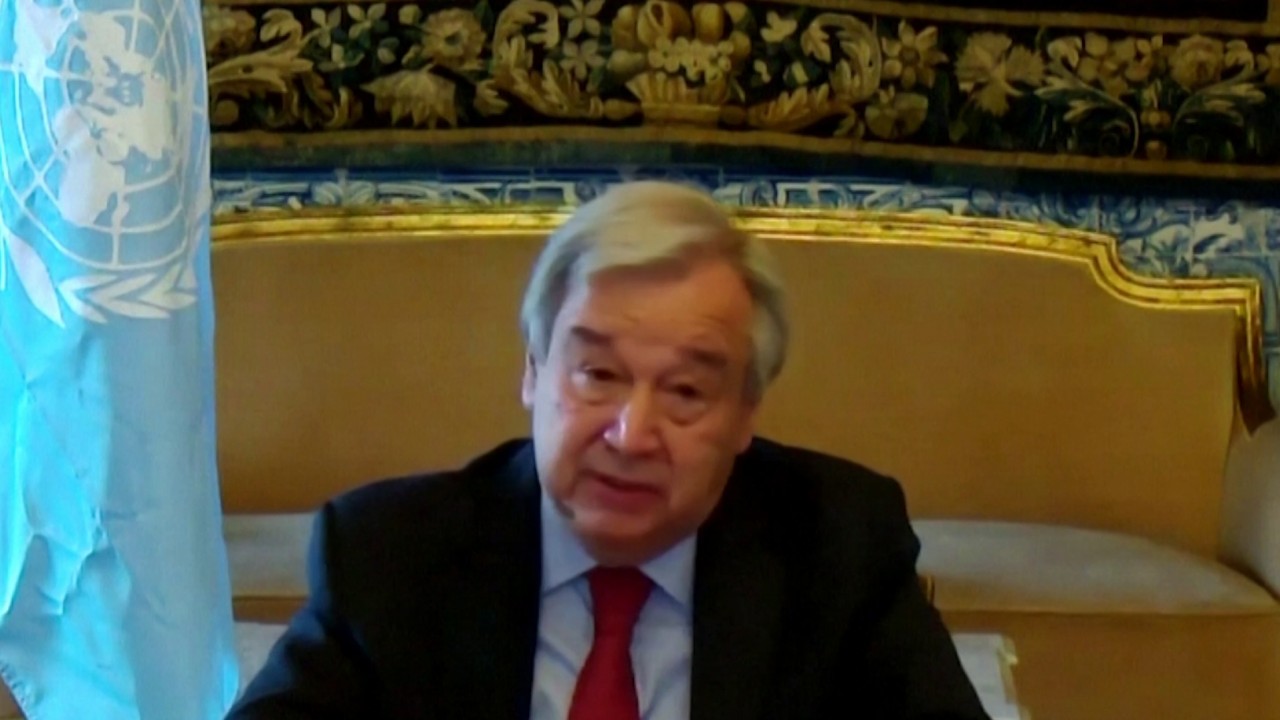 01:27
'Utterly appalling': UN chief Guterres calls for immediate end to fighting in Israel and Gaza
'Utterly appalling': UN chief Guterres calls for immediate end to fighting in Israel and Gaza
While Biden spoke separately with Israel's Prime Minister Benjamin Netanyahu and Palestinian leader Mahmoud Abbas on the issue, Wang conveyed his position on Saturday in a phone call to his counterpart in neighbouring Pakistan.
The US also said on Sunday it was willing to lend its support if the two sides decided to seek a ceasefire. It has also repeated its support for a two-state solution.
Guy Burton, an adjunct professor at Vesalius College in Brussels, said he was sceptical of China as an alternative influence in the conflict.
He also said the two-state solution was becoming irrelevant as an option for many Israeli Jews and Palestinians.
"Despite its rhetoric, its actions haven't shown an interest in taking on a more active role or in providing a different path or outcome," Burton said.
"There's been no meaningful negotiations between the Palestinians and Israelis for almost a decade. There's no unified or representative leadership on the Palestinian side that could hold their own with the Israelis even if talks were to restart."
Burton said Beijing struggled to get representatives from the two sides to sign a non-binding declaration at a peace symposium it organised in China in December 2017.
"While the Palestinians have always been keen to open up the peace process to other countries, Israel is less keen," he said. "It has a good arrangement with the US in its corner, so why would it abandon that to invite an untested mediator like China?"
The hostilities in the last week have been the worst between the two sides in decades.
Israel has warned it would continue to bombard Gaza "for as long as necessary" in response to rockets fired from Hamas. At least 192 people have died in Gaza, including 58 children. In Israel, 10 people have been killed, including two children.
UN Secretary General Antonio Guterres raised concerns at Sunday's meeting that the conflict could cause an "uncontainable security and humanitarian crisis" and a "new locus of dangerous instability" in the entire region.
Additional reporting by Catherine Wong
This article appeared in the South China Morning Post print edition as: Peace talks offer 'a bid to expand Beijing's clout'