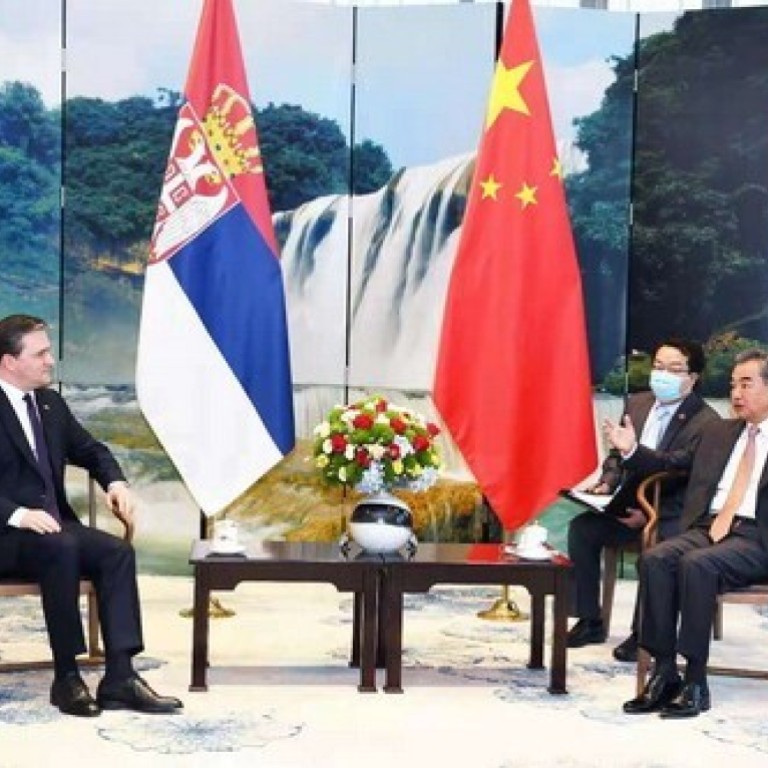 China 'not on influence mission' in central and eastern Europe
Chinese foreign minister says cooperation with region pragmatic and focused on trade
After talks with counterparts from Serbia and Poland, Wang Yi to meet foreign ministers from Hungary and Ireland
China is not on a mission to establish a "sphere of influence" through its cooperation with central and eastern European countries, Chinese Foreign Minister Wang Yi said after talks on the weekend with his Serbian and Polish counterparts.
The meetings in Guiyang in southwestern Guizhou province are among several Wang will have with four European foreign ministers over three days.
It is China's first face-to-face engagement with the European countries in the wake of the stalled discussion in the European Parliament of its
landmark investment deal
with Beijing.
After talks with Serbian Foreign Minister Nikola Selakovic on Saturday, Wang said China's cooperation with central and eastern Europe was an important part of the overall
China-EU relationship
, helping to balance development in Europe and speed up its integration.
He also stressed that it was pragmatic, focusing on the economy and trade, according to a Chinese foreign ministry statement released on Sunday.
"The cooperation between China and central and eastern European countries ... does not involve defence and security sectors. It has never had a geopolitical strategic intention, nor has it been intended to create the so-called sphere of influence," Wang said.
"Meanwhile we have always emphasised the need for cooperation to stick to market rules and European Union standards, and to respect all participating sides."
The meetings come a week after Lithuania announced its withdrawal from the China-led
"17+1" grouping
with central and eastern European countries.
The 17+1 grouping was established in 2012 and involves 12 EU members and five non-EU members.
But it has raised the alarm in Brussels where officials have accused Beijing of trying to divide and rule to undermine the unity of the EU bloc. Some 17+1 members have also complained about the slow progress of investment.
Wang said the grouping could consolidate regional resources and was able to meet demand for funds and infrastructure construction in the region, saying cooperation through the platform had increased trade by 85 per cent.
Wang will also meet his counterparts from Ireland and Hungary. Serbia, Poland and Hungary are 17+1 members, while all except Serbia are EU members.
Wang hailed the strong ties with Serbia and said both sides should continue to support each other on core interests, and advance construction of a railway linking the capitals of Hungary and Serbia, a major project for the 17+1 group.
In talks with Polish Foreign Minister Zbigniew Rau, Wang said China valued Poland's regional and international influence and welcomed a bigger role for the country in global and regional affairs. China was ready to expand cooperation in trade, logistics, health and energy, and hoped that Poland would offer a fair environment for Chinese firms, he said.
Wang stressed that China and the European Union were "partners instead of rivals" and presented "opportunities instead of challenges". They should engage in constructive dialogue to increase understanding and overcome barriers to cooperation, he said.
He also said China hoped to work European countries and EU institutions to step up cooperation and defend multilateralism.
This article appeared in the South China Morning Post print edition as: Wang denies China is seeking sphere of influence in Europe