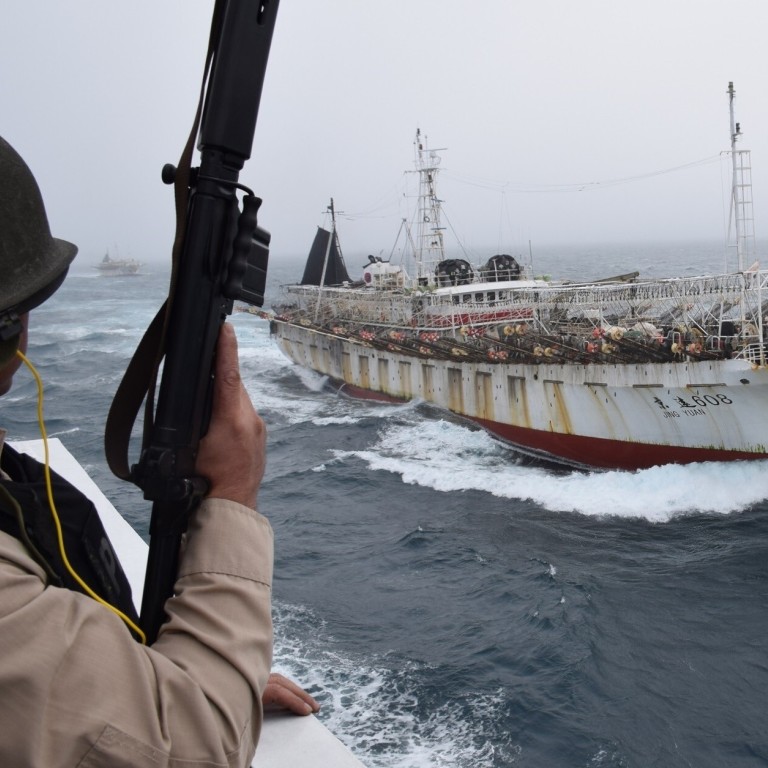 Chinese boats caught up in suspicions of illegal fishing in Argentina's waters
Boats are 'going dark' by turning off system that tracks their location, and Chinese boats are biggest culprits, according to report
Evading detection could indicate vessels are pillaging Argentina's waters illegally, conservation group says
Hundreds of boats, most of them Chinese, have hidden their movements near
Argentinian
waters in the past three years, potentially fishing illegally in one of the world's most lucrative fishing grounds, according to a US conservation group.
Analysis by the group Oceana of a maritime tracking system used for safety and traffic monitoring found that more than half of the foreign ships fishing near Argentina had turned off their tracking, hiding their activities, with
the Chinese fleet
responsible for 66 per cent of those incidents.
About 800 vessels, over half of them from China, logged nearly 900,000 hours of visible fishing activity via the Automatic Identification System (AIS) within 20 nautical miles of Argentina's waters between January 2018 and April 2021, according to Oceana's report, published on Wednesday.
More than half of those boats "went dark" in over 6,200 "gap events", when their AIS was turned off for at least 24 hours, it said.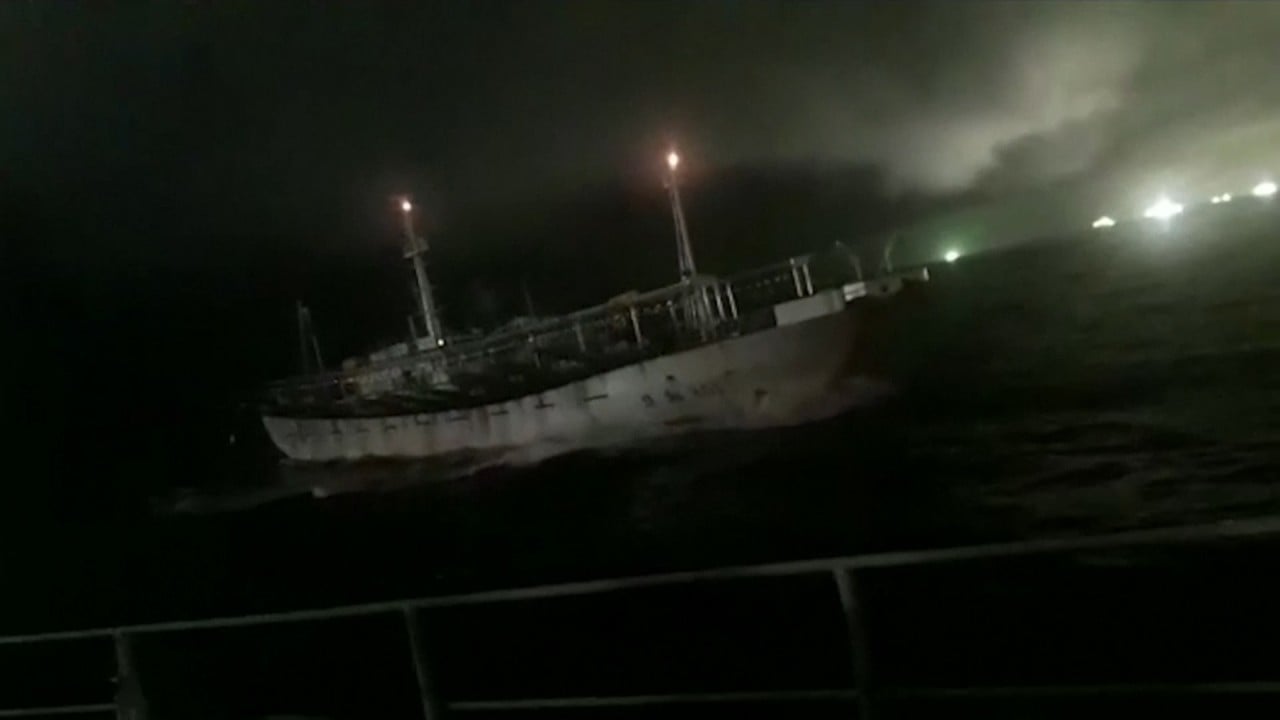 01:41
Argentine coast guard opens fire on Chinese fishing boat
Argentine coast guard opens fire on Chinese fishing boat
"You shouldn't be hiding where you are in the oceans when you're fishing," said Beth Lowell, the deputy vice-president for US campaigns at Oceana. "Why did they turn it off if they're doing something legal? They should be keeping their AIS on so the world can see what's happening.
"The vessels that disappeared along the edge of the national waters of Argentina could be pillaging its waters illegally."
The finding revealed the scale of potentially illegal, unreported and unregulated fishing around Argentina, which has the world's second-largest squid fishery, contributing half of the global catch.
Chinese ships have been converging around the waters of South American countries such as Argentina and Ecuador, with the massive Chinese fleet and instances of illegal fishing attracting criticism and involving run-ins with the law.
In 2016, trawler Lu Yan Yuan Yu 010 was sunk by Argentina's coastguards after it was caught fishing in the country's waters and tried to flee.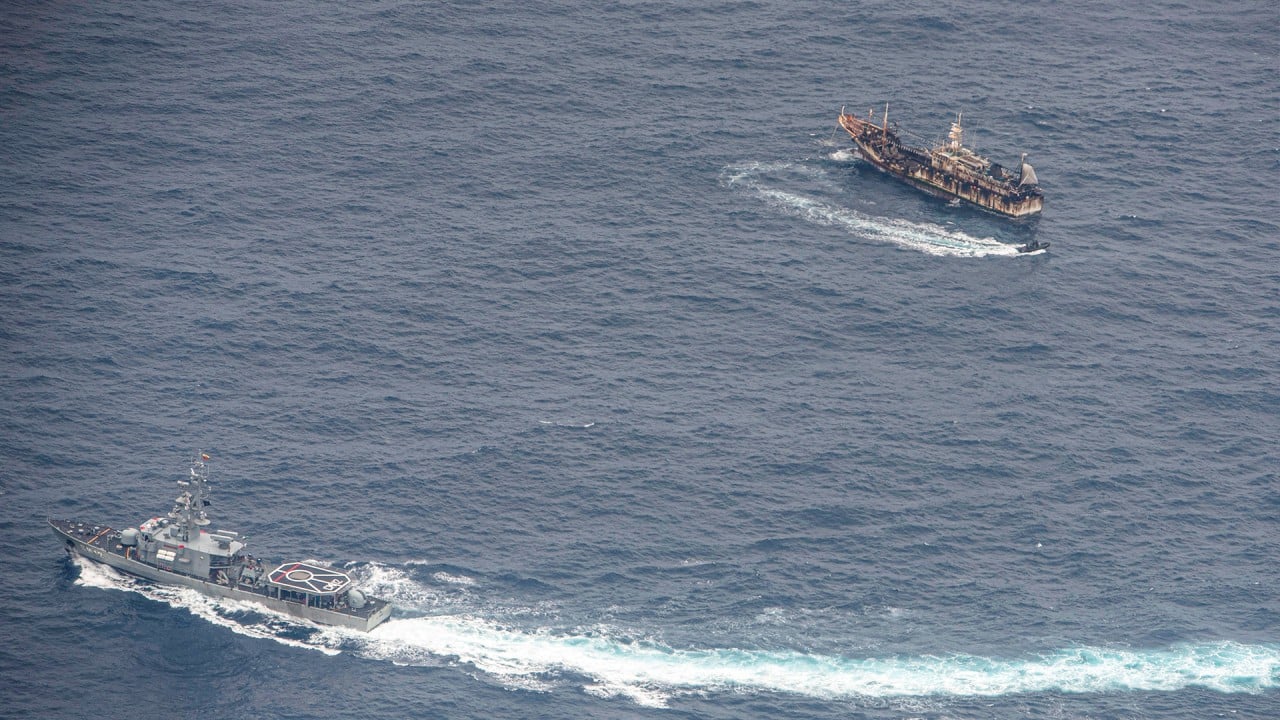 02:06
Nearly half of Chinese vessels fishing near the Galapagos cut off communications, Ecuador says
Nearly half of Chinese vessels fishing near the Galapagos cut off communications, Ecuador says
The Oceana report, which analysed data from NGO Global Fishing Watch, found that more than 430 mainland Chinese-flagged vessels were responsible for almost 70 per cent of visible fishing in Argentina's waters. Spanish, South Korean and Taiwanese ships accounted for about 26 per cent between them of the visible activities, while Argentinian ships conducted less than 1 per cent of the total fishing.
The switching off of AIS peaked when the Chinese fleet congregated around Argentina annually from November to April. One Chinese squid jigging vessel had gone dark more than 100 times since 2018, with the locations where the signal disappeared neatly following the outline of Argentina's exclusive economic zone, according to the report.
Another indication of illegal fishing is when ships avoid docking at ports and instead rely on massive refrigerated cargo vessels, or "reefers", to transport their catch and reload supplies or swap crew. This practice, known as transshipment, can be legal but is a weak link in the seafood supply chain, according to Lowell, of Oceana.
"It's where illegally caught fish can get a new identity, since the catch is offloaded at sea, where there are no port inspectors," Lowell said. "You can mingle legal and illegal catches together. We would prefer ships to dock in a port, where you can offer monitored transshipments."
Oceana analysts found that 173 – about 40 per cent – of Chinese vessels that fished near Argentina had transshipments within a month of their AIS being turned off. A higher proportion of South Korea's fleet, 78 per cent, engaged in transshipment, but they made up a much smaller fleet, with about 40 vessels meeting a reefer.
Chen Jiliang, a researcher at Chinese environmental NGO Greenovation Hub, said China had been stepping up attempts to stop illegal, unreported and unregulated fishing in recent years, but AIS-related actions were sometimes escaping scrutiny.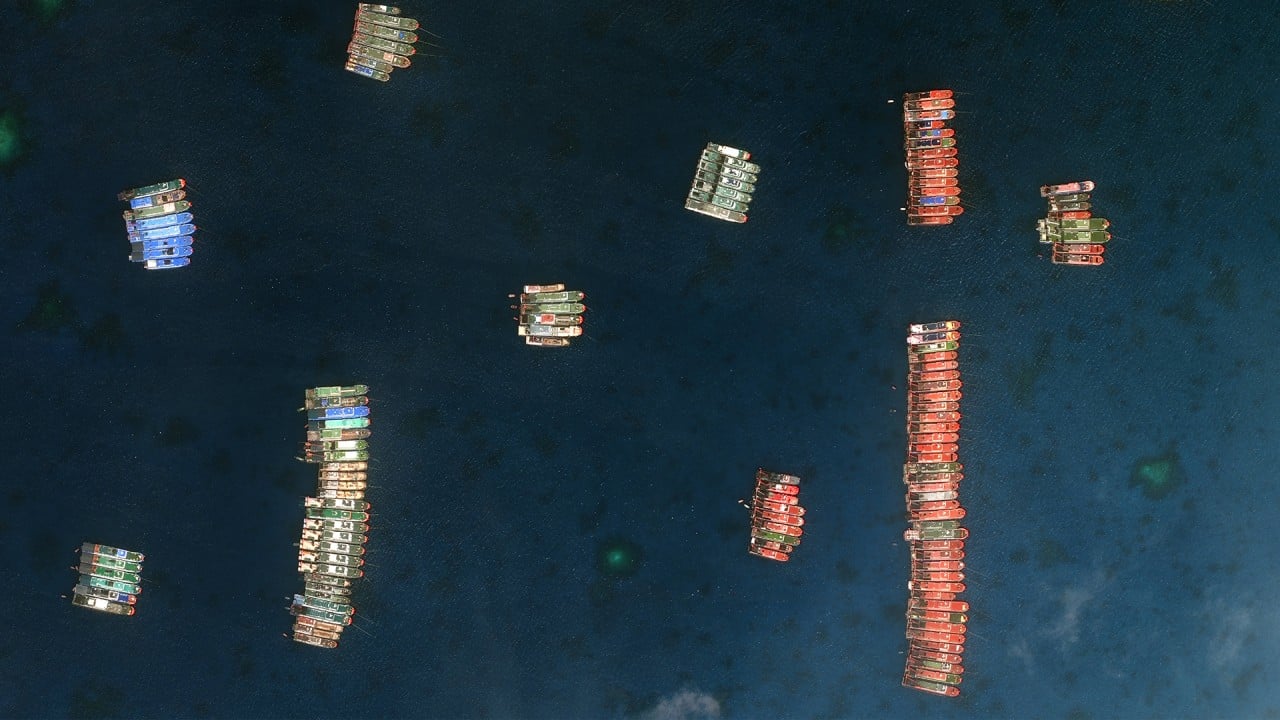 02:37
Philippines sounds alarm over 200 Chinese ships in the South China Sea
Philippines sounds alarm over 200 Chinese ships in the South China Sea
"The enforcement has been getting stricter but obviously it has not been enough," Chen said. "There is a blacklist, where serious offenders will be recorded and punished, but turning off the AIS does not seem to be considered a serious offence."
In 2018, Haizhixing 801, a Chinese distant water fishing ship, was added to the blacklist for replacing its AIS, causing its identifying number to match that of another ship. Its operations and fuel subsidies were suspended for a year, but it was allowed to return to sea in 2019 after its AIS was corrected, according to China's agriculture ministry.
This article appeared in the South China Morning Post print edition as: Chinese boats 'going dark' in Argentinian waters