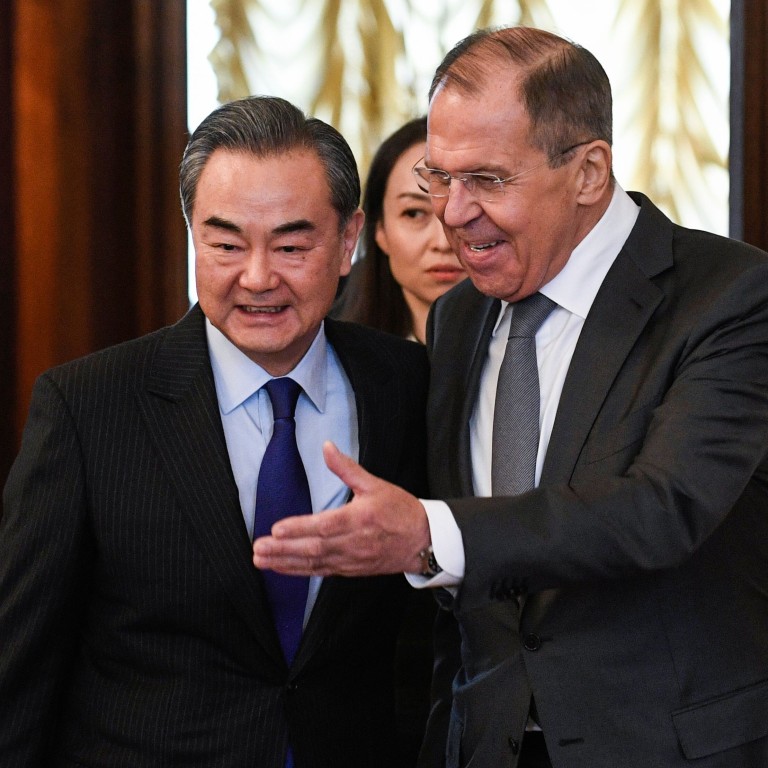 China calls on Russia to hold the line against 'US perverse acts'
Chinese foreign minister says Washington is using democracy and human rights to interfere in the domestic politics of other countries
Wang Yi thanks Sergey Lavrov for his support in the revived debate about the origins of the coronavirus
Beijing has called on Moscow to make a united stand against "perverse" actions by Washington as leaders of Russia and the US prepare for a meeting later this month.
Chinese Foreign Minister Wang Yi issued the call during a phone conversation with Russian counterpart Sergey Lavrov on Friday, according to the Chinese foreign ministry.
"The US has formed small groups under the guise of democracy, used human rights as an excuse to interfere in countries' domestic politics, and exercised unilateralism under the banner of multilateralism," Wang was quoted as saying in a statement on Saturday morning.
"
China and Russia
, as responsible big powers and permanent members of the United Nations' Security Council, should jointly expose and stand against these perverse acts. [We should] strongly defend the United Nations-centric and law-based international order and system, preserve fairness and justice and defend multilateralism."
Wang also called for further cooperation between China and Russia on pandemic control, including on common testing standards, mutual sharing of data, joint scientific research, border controls and mutual recognition of health travel documents.
In addition, he thanked Lavrov personally for his "righteousness and loyalty" in the discussion on the source of the
coronavirus pandemic
.
"You criticised the slanderous acts from the US and the West. China appreciates this. We will also give Russia full political support to its defence of legitimate rights," Wang said.
The
origins of Covid-19
have resurfaced as a source of tension between China and the United States, with the US announcing that its intelligence agencies will look into the possibility of a laboratory leak in Wuhan, the Chinese city where the first cases were reported in late 2019.
The Russian foreign ministry said China and Russia would step up coordination to address common threats and challenges.
Wang made the call from Guiyang in southwestern Guizhou province, where he has been holding a series of meetings with his counterparts from Hungary, Ireland, Serbia and Poland.
He has also attended the virtual
BRICS meeting
while in Guiyang with foreign ministers from Brazil, Russia, India and South Africa.
Putin has said he wants to improve Moscow's ties with Washington, but the US wants to "hold back" Russia's development.
"We need to find ways of looking for a settlement in our relations, which are at an extremely low level now,"
Putin
told the Saint Petersburg International Economic Forum on Friday.
"But it has an issue with us: they want to hold back our development, they talk about it publicly."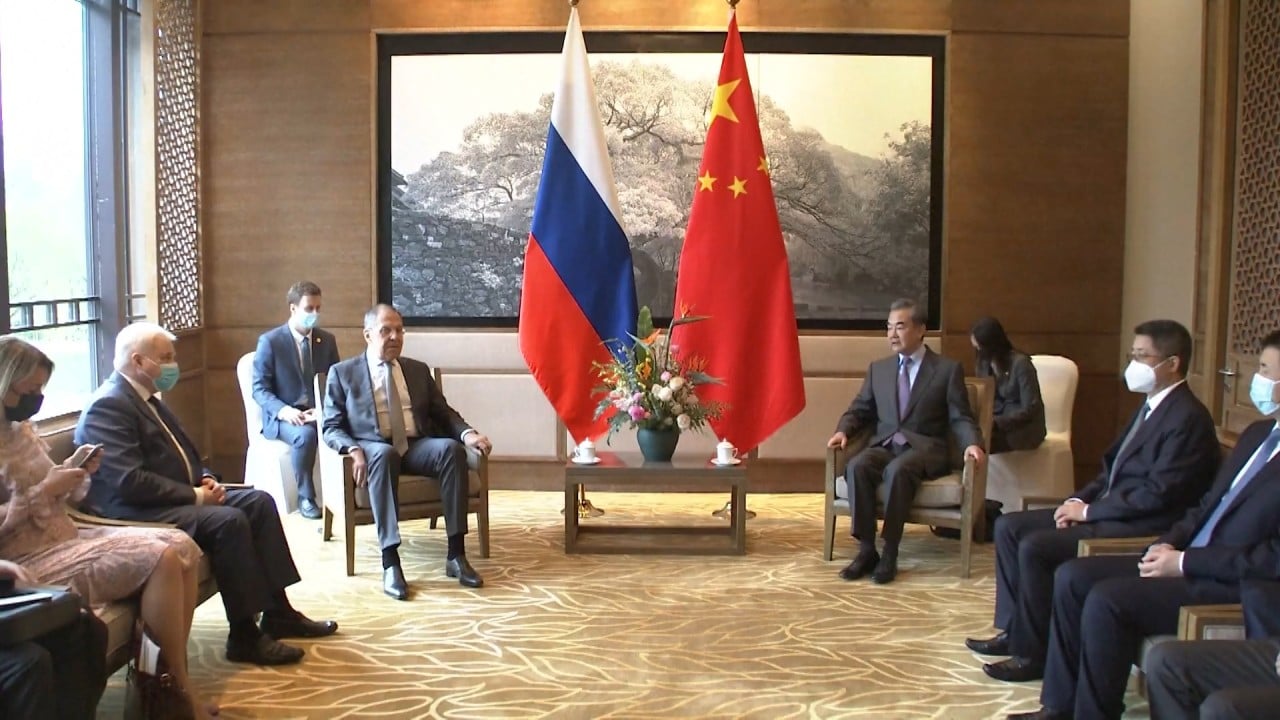 01:12
China, Russia foreign ministers meet as countries stand 'back to back' amid rise in US tensions
China, Russia foreign ministers meet as countries stand 'back to back' amid rise in US tensions
Also on Friday, Putin talked up Russia's relations with China, saying trade between the two nations could surpass US$200 billion by 2024, with plans to work together on aircraft construction and space exploration.
"Both Russia's and China's are interested in maintaining our cooperation on the international arena and this cooperation is obviously a major element of stability in international affairs," he was quoted by the Tass news agency as saying.
Zhang Xin, associate professor of international relations at Shanghai's East China Normal University, said it was hard to say whether Wang's remarks were a direct attempt by Beijing to send a message before the meeting between Biden and Putin.
"It is not the first time China has sent such a message. But one notable difference was Wang's personal tone in his statements, like his direct reference to Lavrov," Zhang said.
Zhang said China had continuously criticised the US for trying to drive a wedge between Moscow and Beijing, and Wang's statement was a pointed response to US efforts to again stir up controversy about the origins of the pandemic.
This article appeared in the South China Morning Post print edition as: Beijing wants unity with Russia against 'perverse' US acts