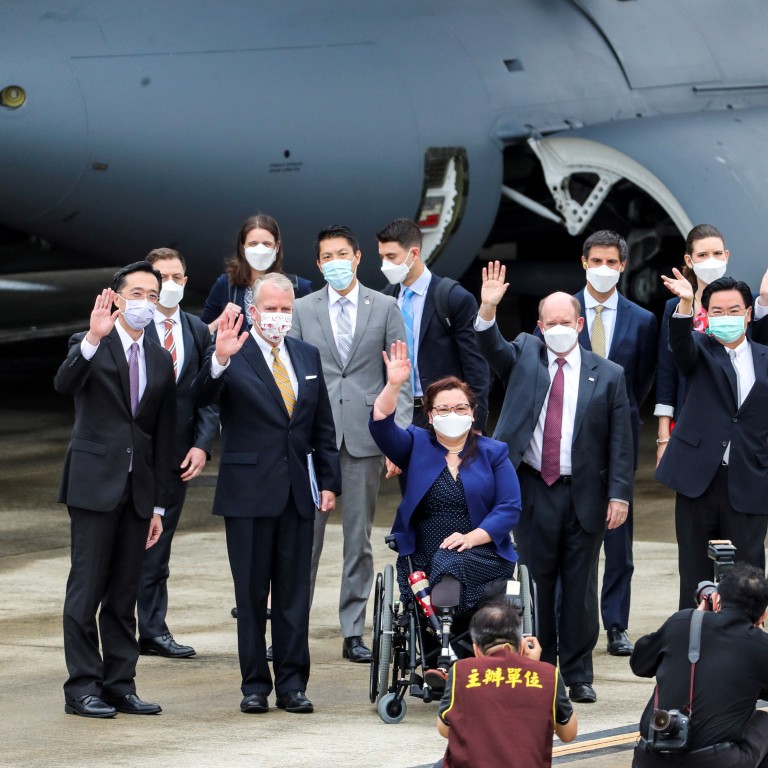 US promises to give Taiwan 750,000 doses of Covid-19 vaccine, but senators' visit is likely to further anger Beijing
President Tsai Ing-wen thanks the bipartisan group for the 'timely rain' as the island fights an outbreak
The visit and vaccine pledge, as well as the senators' use of a military plane, are all expected to further damage US-China relations
The United States will donate 750,000 doses of
Covid-19 vaccines
to Taiwan, three American senators visiting the island promised on Sunday.
The island has been struggling for weeks to control an outbreak of the coronavirus and the government has accused Beijing of trying to obstruct its efforts to buy enough vaccines for its 23.5 million people.
Taiwan reported 36 fatalities on Sunday, with 343 new local infections and eight cases delayed by a previous reporting backlog, adding to a total of 11,298 cases and 260 deaths.
According to mainland observers, the high-profile visit by the US senators and the vaccines will inevitably exacerbate Beijing's feud with both Taipei and Washington.
China regards Taiwan as an inalienable part of its territory and has never renounced the use of force to reunify it with the mainland.
One of the visiting senators, Democrat Tammy Duckworth, said the visit underscored bipartisan US support for Taiwan. Duckworth and her fellow Democrat Christopher Coons and Republican Dan Sullivan had travelled from South Korea in a US military plane for a three-hour stopover on the island.
"We are here as friends, because we know that Taiwan is experiencing a challenging time right now, which was why it was especially important for the three of us to be here in a bipartisan way," Duckworth said at the airport.
"I'm here to tell you that the United States will not let you stand alone. We will be by your side to make sure the people of Taiwan have what they need to get to the other side of the pandemic and beyond."
She did not give details of which vaccines Taiwan would get or when, but said it was part of President
Joe Biden
's plan to share around 80 million vaccines globally.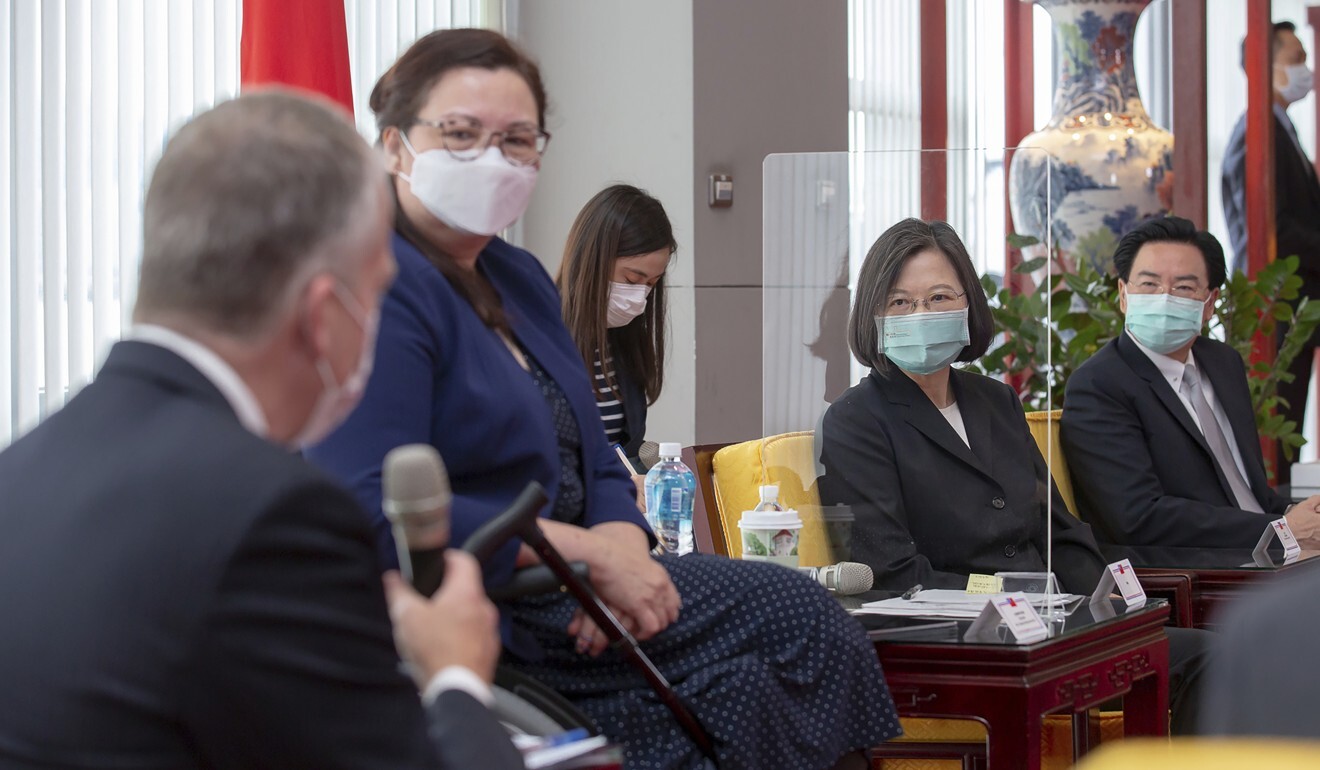 During a meeting with the senators at the airport, Tsai expressed gratitude to the Biden administration for extending a helping hand "at such a critical time" by including Taiwan in the first group to receive vaccines.
"Looking ahead, I am also confident that through cooperation with the United States, Japan and other countries, Taiwan can overcome our current challenges and help advance international disease prevention efforts to put us all on the path to recovery," she said according to a statement from her government.
She also spoke highly of the "rock-solid friendship" between Taipei and Washington and listed a number of cooperation mechanisms between the two sides from trade, science and technology to
5G
and telecommunications security that "have jointly safeguarded a free, open, peaceful, and prosperous Indo-Pacific".
Taiwanese Foreign Minister Joseph Wu delivered a blunt message to Beijing when he welcomed the US visitors at the airport. "Taiwan is facing unique challenges in combating the virus. While we are doing our best to import vaccines, we must overcome obstacles to ensure that these life-saving medicines are delivered free of trouble from Beijing," he said.
He said Beijing was trying to stop Taiwan from receiving international assistance and was stopping it from taking part in the World Health Organization, adding: "We are no strangers to that kind of obstructionism."
Beijing also criticised Taipei for accepting the AstraZeneca vaccines donated by Japan while urging Tokyo to refrain from using vaccine assistance to Taiwan as "a tool for selfish political gains".
Yang Lixian, from the Research Centre for Relations Across the Taiwan Strait, founded by the mainland's Taiwan Affairs Office, said the US lawmakers' visit and the vaccine donation was aimed at fuelling tensions in the Taiwan Strait and further undermining the
US-China relations
hip.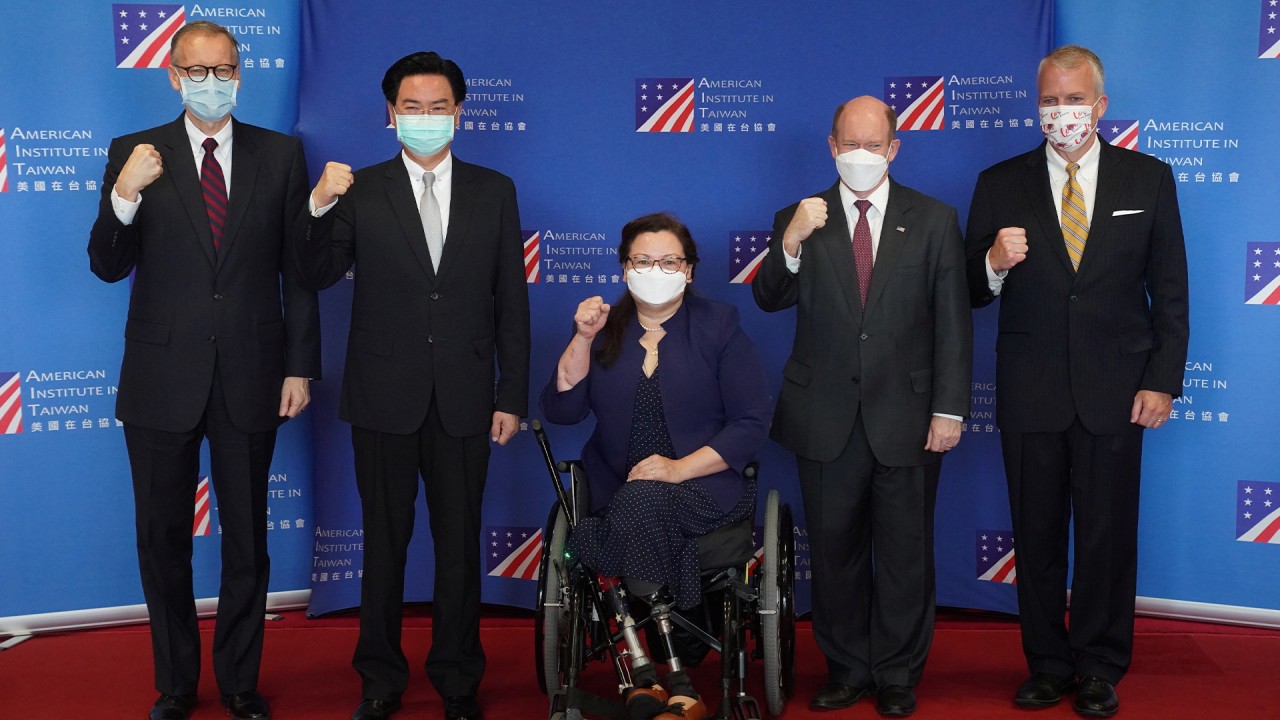 02:00
US pledges to donate 750,000 doses of Covid-19 vaccine to Taiwan amid ongoing outbreak
US pledges to donate 750,000 doses of Covid-19 vaccine to Taiwan amid ongoing outbreak
"It was not the first time that US senators and congressmen have visited Taiwan. I cannot see how this kind of petty trick could make a big difference considering the scale of Taiwan's outbreak, other than boosting support for Tsai's government," she said.
"They are in direct contradiction to what the Biden administration said about its policy, which was to stabilise relations with China and restore peace and stability in the Taiwan Strait."
But she said Beijing was unlikely to change its current policy towards Washington and Taiwan.
While it has become routine for American lawmakers to visit the island, it is highly unusual for them to arrive on a US Air Force C-17 transport plane rather than a private jet, according to Zhou Chenming, a Beijing-based military analyst.
The nationalist tabloid Global Times warned last year that the landing of US military jets in Taiwan was a move that aims to split China and thus a red line for Beijing.
"If the mainland has conclusive evidence, it can destroy the relevant airport in the island and the US military aircraft that land there – a war in the Taiwan Strait will thus begin," it said on August 31.
Zhou said the use of a US military plane would further complicate Beijing's declining relationship with Washington. "It is more serious than usual diplomatic incidents and will be quite troublesome for the Chinese side, especially the military, to respond," he said.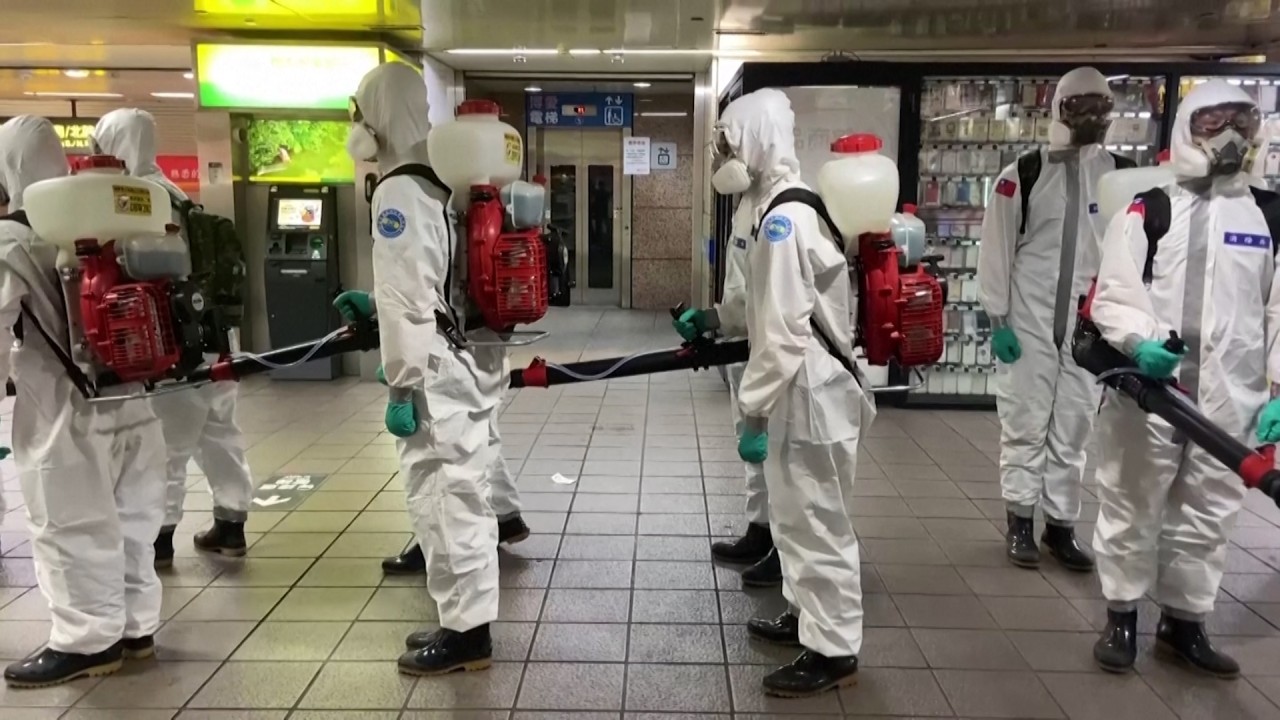 02:38
Taiwan deploys military to disinfect subway station after Covid-19 cases surge
Taiwan deploys military to disinfect subway station after Covid-19 cases surge
Both Duckworth and Sullivan said the American donation also reflected gratitude for Taiwan's support for the US in the early days of the pandemic, when it donated 10 million masks and other supplies.
"This is love from America in return," Sullivan said, wearing a mask that he noted had "Love from Taiwan" written on it. "That was an important demonstration of American resolve and commitment to Taiwan's security, prosperity and democracy," he said.
Additional reporting by Associated Press
This article appeared in the South China Morning Post print edition as: Visiting US lawmakers promise vaccines for Taiwan