Taiwan
Get more with myNEWS
A personalised news feed of stories that matter to you
Learn more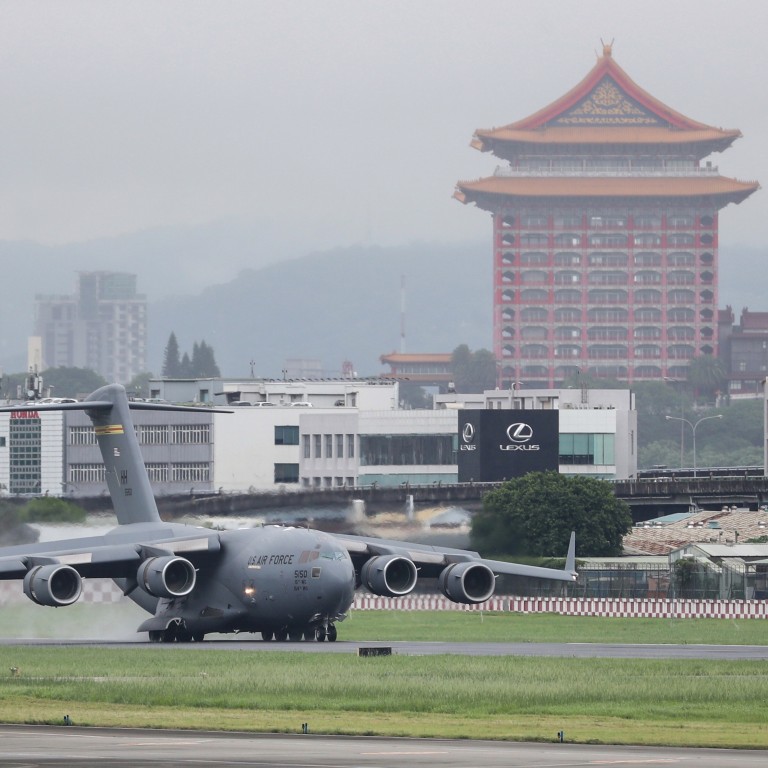 Beijing vows to protect national unity 'at all costs' after US senators' Taiwan visit
US delegation travelled to the island in a military plane to announce a vaccine donation, while Antony Blinken has signalled trade talks may resume
Washington's increasing engagement with Taipei may push Beijing towards more aggressive action, according to analysts
China's defence ministry has vowed to defend Beijing's sovereignty over Taiwan "at all costs", after US senators made a high-profile visit to the island in a military plane.
Washington's growing engagement with Taipei could push Beijing to take a more hawkish stand against
the democratic island
, according to analysts.
The defence ministry on Tuesday said the trip had seriously damaged the foundation of China-US ties and the stability of the Taiwan Strait, calling it "extremely irresponsible".
"If anyone dares to separate Taiwan from mainland China, the People's Liberation Army will hit back and be determined to protect national unity and territorial integrity at all costs," ministry spokesman Wu Qian said in a statement.
He said Taiwan's ruling Democratic Progressive Party was playing with fire and doomed to fail.
Foreign ministry spokesman Zhao Lijian said earlier in the day that the US should not send "wrong signals" to Taiwanese independence forces, and should stop all official exchanges with the island.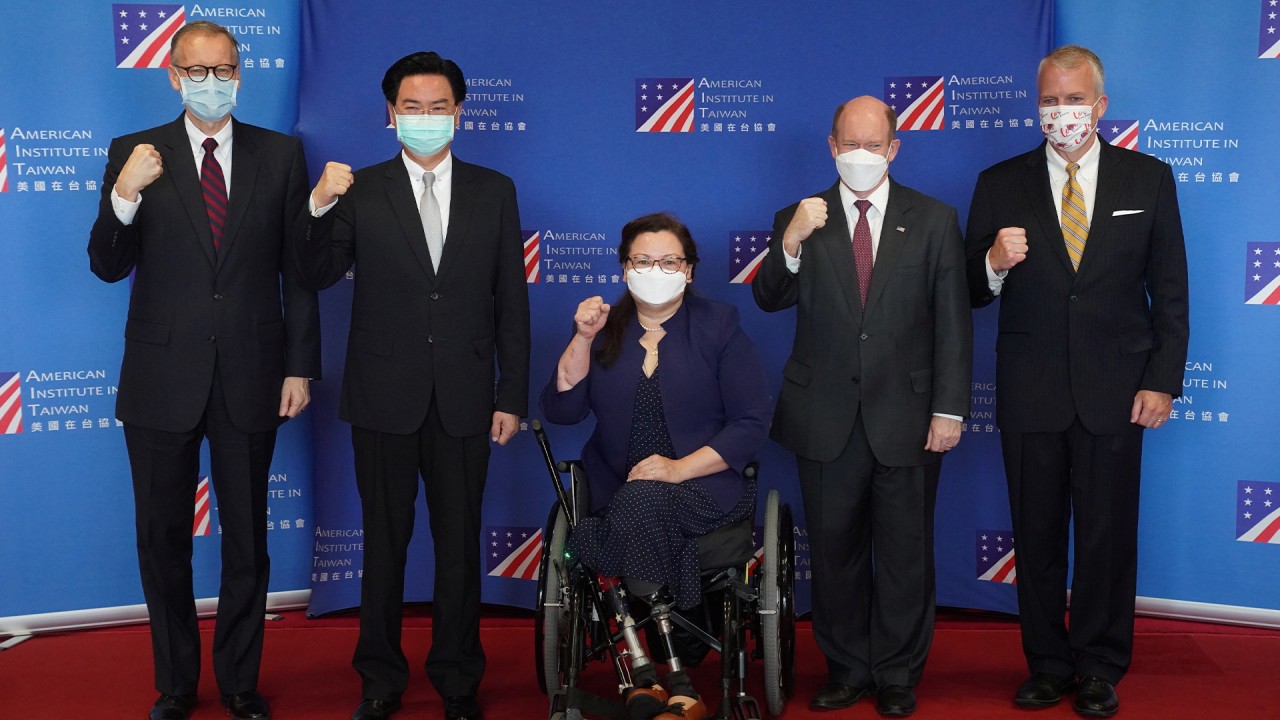 02:00
US pledges to donate 750,000 doses of Covid-19 vaccine to Taiwan amid ongoing outbreak
US pledges to donate 750,000 doses of Covid-19 vaccine to Taiwan amid ongoing outbreak
On Monday, US Secretary of State Antony Blinken signalled a possible resumption of trade and investment talks with Taiwan that have been stalled since the Barack Obama administration, though he did not indicate any willingness to pursue the full-scale trade pact Taipei has been seeking.
Analysts say that while Beijing's policy of "peaceful reunification" appears unchanged for now – it sees Taiwan as part of its territory – there have been growing calls in mainland China to take a stronger line, such as military action to bring the island under its control.
Tensions may worsen, with Rupert Hammond-Chambers, president of the US-Taiwan Business Council, telling reporters on Monday that Washington was likely to approve new weapons sales to the island.
"I think we will see new arms sales this summer … we are going to continue to see the [Joe] Biden administration conduct a normalised, regular assessment of Taiwan arms sales requests, free of the sorts of political manipulation that we came to see at the tenure of Mr [George W.] Bush's second term and across Mr Obama's tenure," he said.
The moves are testing Beijing's bottom line. It is infuriated by any formal exchanges between Taipei and Washington, and mainland analysts say it could be under domestic pressure to push forward its reunification agenda more aggressively.
Liu Weidong, a US affairs specialist with the Chinese Academy of Social Sciences, said Washington's actions had created a dilemma for Beijing.
"Everyone is watching to see how Beijing will react, and it is indeed necessary for Beijing to react – otherwise people will question whether Beijing will keep its word," Liu said. "It is heading towards a bad situation … if the US keeps adding pressure on Beijing then it seems there will be only one option left: military reunification."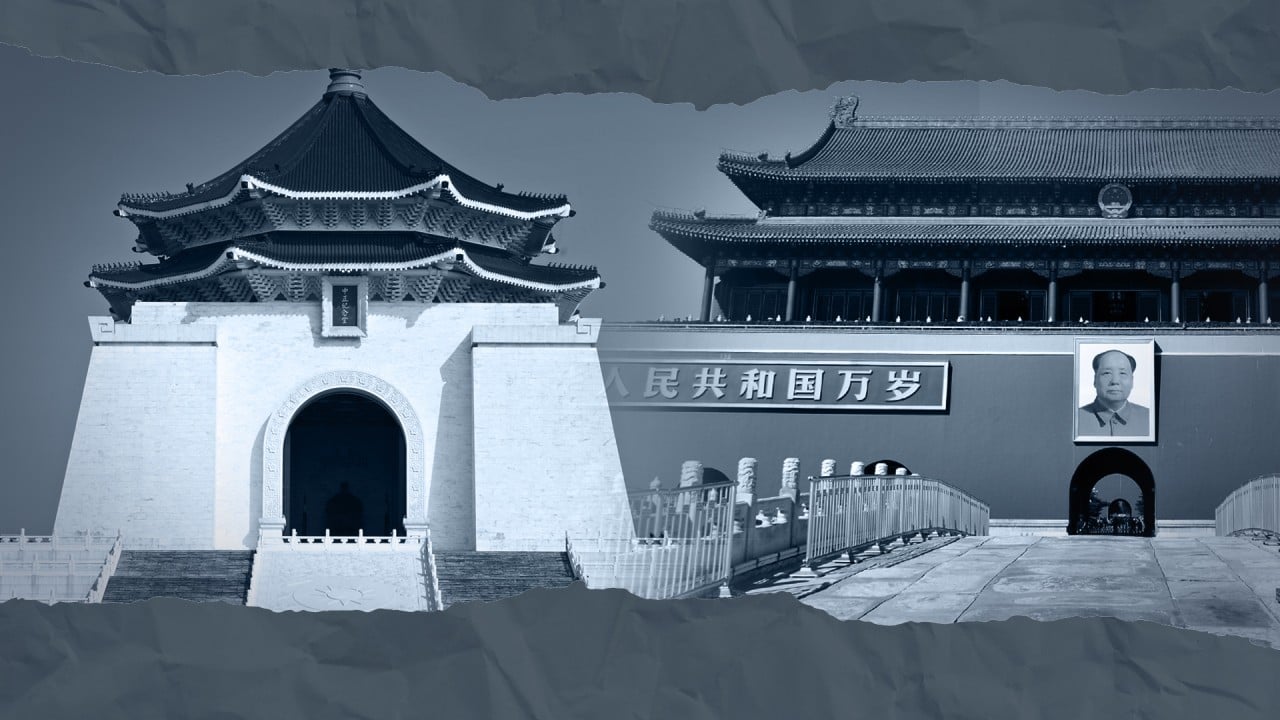 10:22
Why has the relationship between the Chinese mainland and Taiwan taken a turn for the worse?
Why has the relationship between the Chinese mainland and Taiwan taken a turn for the worse?
Growing nationalism among mainland Chinese adds to that pressure, according to Zhu Songling, a professor with the Institute of Taiwan Studies at Beijing Union University.
"If the US continues these gestures and keeps trying to strengthen official ties with Taiwan, as well as the military relationship and other official communications, then this will be seen as provocative," Zhu said. "Public opinion could move further in the direction of military action."
He said Beijing was still apparently pursuing peaceful reunification with Taiwan, but a rise in nationalistic sentiment could put pressure on policymakers.
Despite the dangers of a real conflict happening around the Taiwan Strait, Derek Grossman, a senior defence analyst at US think tank the Rand Corporation, said the Biden administration would "continue treating Taiwan with the respect it deserves as a de facto ally".
"The Biden administration has been doubling down on [Donald] Trump administration policies to bolster US-Taiwan ties, and the latest developments – congressional visit, C-17 landing, vaccine pledge, and potential trade talks – are all indicative of this trend," Grossman said.
But he did not believe Beijing was poised for more aggressive action on Taiwan, despite nationalistic rhetoric in the mainland.
"I frankly don't put much stock in the notion that hard-right Chinese nationalists have influence over Xi [Jinping's] decision-making calculus," he said. "I think Xi has whipped up nationalist sentiment for years now, and what we're seeing from online voices is actually a by-product of that process."
Additional reporting by Lawrence Chung
This article appeared in the South China Morning Post print edition as: Beijing warns US about 'wrong signals' after senators' stop in Taiwan