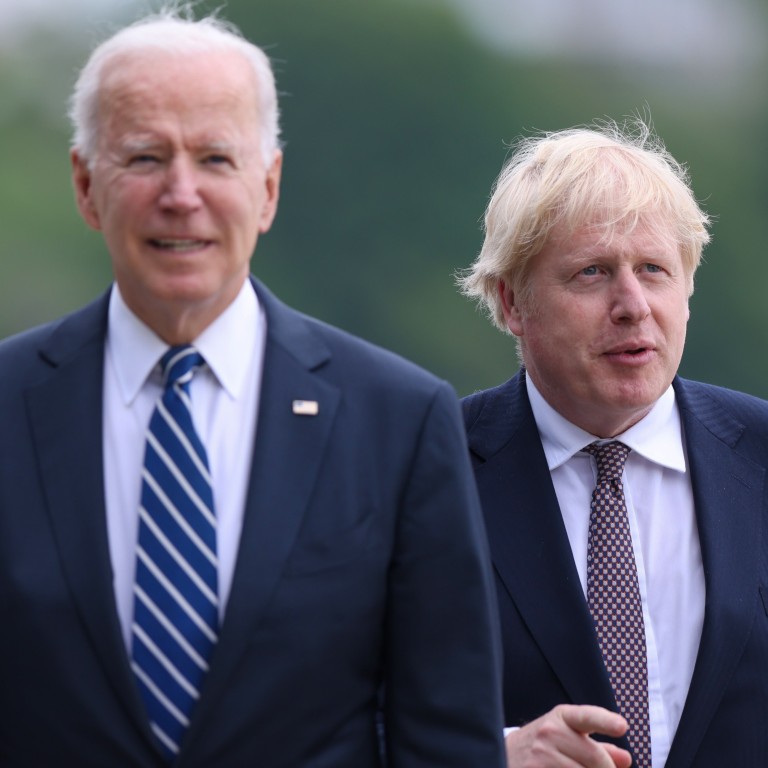 Joe Biden, Boris Johnson call for further Covid-19 origins investigation in China
The two leaders want 'timely, transparent and evidence-based independent process for the next phase of the WHO-convened Covid-19 origins study'
Their joint statement follows an EU call for 'complete access' from China for a full investigation
The leaders of the United States and Britain vowed to support an independent investigation into the origins of Covid-19, "including in China", in a meeting on the eve of the
G7 Leaders' Summit
in Cornwall. 
A joint statement from US President
Joe Biden
and British Prime Minister Boris Johnson added to earlier comments from European Union leaders urging China to permit inspectors "complete access" to all relevant sites and information related to the pandemic. 
"We will also support a timely, transparent and evidence-based independent process for the next phase of the WHO-convened
Covid-19 origins
study, including in China, and for investigating outbreaks of unknown origin in the future," said the statement, issued on Thursday. 
The readout referred to China only once by name, but hinted at the rivalry with Beijing throughout, vowing to advance "the values of liberal democracies, open societies and open markets" and to "defend media freedom [and] advance a free and open internet". 
Earlier in the day, EU leaders used similar language in urging China to assist with an investigation into the origins of the coronavirus. The calls add to growing demands for a further investigation into the theory that the virus emerged in late 2019 from a lab in Wuhan in central China, where the pathogen was first detected – demands that China has firmly rejected.
"I can only underline that it is of utmost importance that we learn about the origin of the coronavirus," European Commission President Ursula von der Leyen said in Brussels on Thursday.
"There is this horrible pandemic, a global pandemic, we have to know where it came from in order to draw the right lessons and to develop the right tools to make sure that this will never happen again.
"And therefore the investigators need complete access to whatever is necessary to really find the source of this pandemic," she said, adding that this included "information and sites".
Although it said it supported further research into the origins of the virus in May, China has insisted that it complied with World Health Organization (WHO) investigators and that the "China" part of the investigation has been concluded.
WHO inspectors spent a month in Wuhan earlier this year and found that the lab theory was "extremely unlikely", saying it was more likely the virus came directly from a bat or passed from a bat to humans through an intermediary animal or a food product.
But in recent weeks, several prominent figures – including Biden; his chief infectious disease adviser, Anthony Fauci; and WHO director general Tedros Adhanom Ghebreyesus – have supported the calls for further scrutiny of the lab theory.
EU leaders will hold a separate summit with Biden in Brussels on Wednesday. A draft document prepared by EU and US officials says the two parties "commit to working together toward the development and use of a swift and independent means for investigating such outbreaks in the future", according to Bloomberg.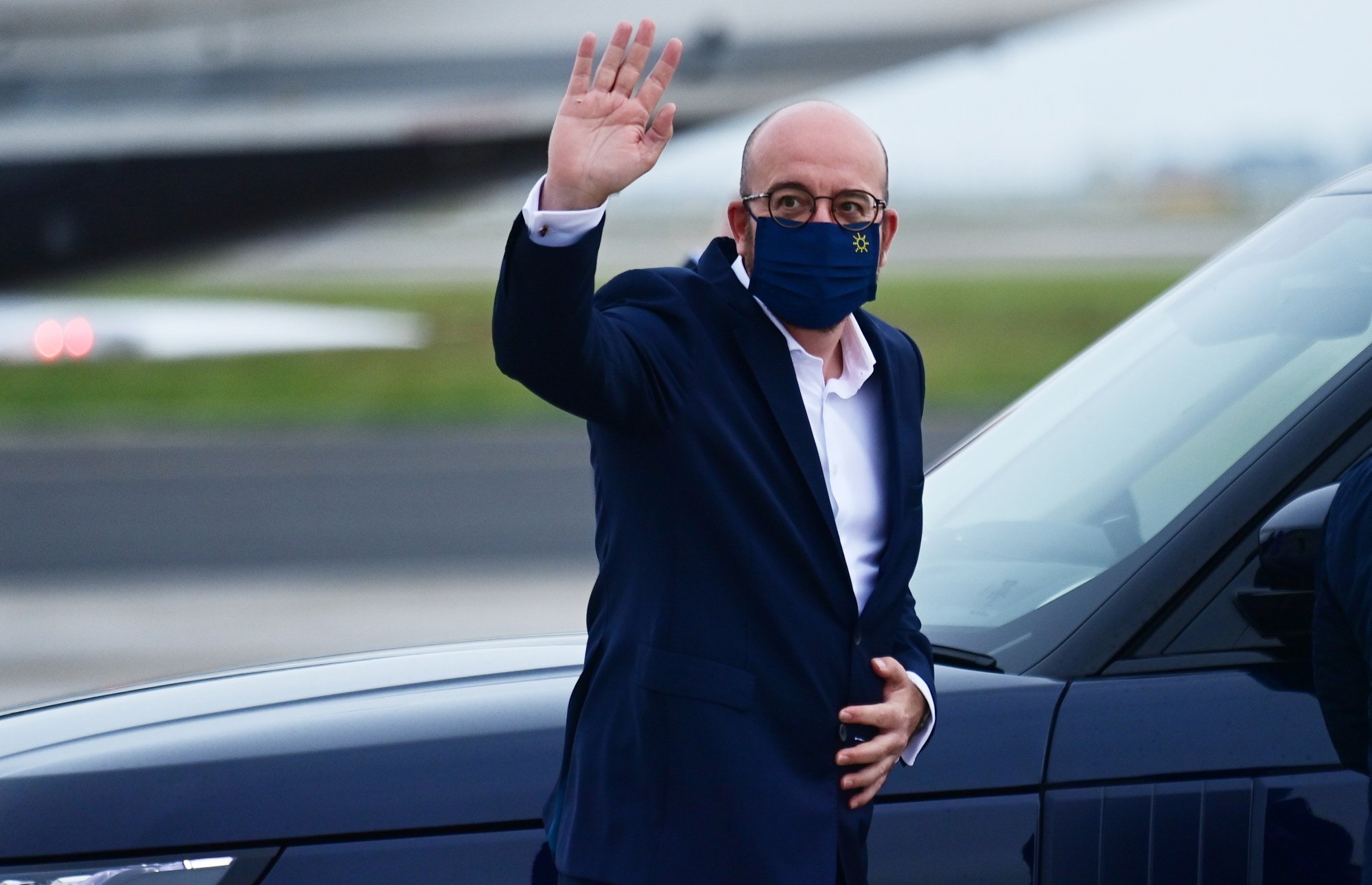 EU Council President Charles Michel said on Thursday that "the world has the right to know exactly what happened".
"We feel that we need full transparency in order to learn the lessons and it's why we support all the efforts [to clarify]," Michel said.
"The world has the right to know exactly what happened in order to be able to learn the lessons and indeed, we will support all the efforts in order to make transparency and to know the truth."
Beijing was quick to respond to previous calls for independent investigations into the pandemic's origins.
China unleashed a series of punitive trade actions after Australia made such a call last year, targeting products from coal and timber to wine and barley, and upending a generation-long economic model in the world's most China-dependent national economy.
And in May, Chinese foreign ministry spokesman Zhao Lijian said the US was being "disrespectful to science" when Washington made a similar demand.
"Some in the US, turning a blind eye to facts, science, the questionable study of origins and botched response at home, kept clamouring for additional investigation in China," Zhao said.
"This shows that they don't care about facts or truth and have zero interest in a serious science-based study of origins. Their aim is to use the pandemic to pursue stigmatisation and political manipulation to shift the blame."
China will be high on the agenda at the three-day G7 summit in Cornwall, which starts on Friday. EU officials have confirmed that both Hong Kong and Taiwan will be discussed, as will plans to create a "green" alternative to China's Belt and Road Initiative.
"We will, of course, also discuss our complex relationship with China. The EU's approach is clear. China is a partner, a competitor, and a potential systemic rival," Michel said.
"We must strike the right balance for our best interests between engagement and standing firmly by our values. We have to work with China to address global challenges like climate change or regional issues like Afghanistan, or the Iran nuclear deal.
"At the same time, we will defend ourselves against practices that pose security risks, distort the level playing field or are incompatible with our values. We continue to stand up to defend human rights and rule of law in
Xinjiang
, Hong Kong or elsewhere."
On Wednesday, the EU's top diplomat, Josep Borrell, released a long-awaited statement criticising Beijing's rollback of electoral reform in Hong Kong, saying the run "counter to the commitments to greater democratic representation enshrined in the Hong Kong Basic Law".
Borrell said the EU would continue to implement measures announced in July after China introduced a sweeping national security law in Hong Kong, but had been frustrated by Hungary.
Budapest, seen as a reliable ally of Beijing in Europe, blocked two EU successive efforts to broaden measures on Hong Kong to include support for Hongkongers trying to move to Europe, suspension of remaining extradition treaties with China held by EU member states, and a "full review" of relations with Hong Kong.
Hungary also blocked an EU statement last week on Hong Kong, forcing Borrell to issue one in his name, on the EU's behalf.
"A visit of high-level EU officials will be considered. The EU will step up coordination and consultation with international partners, including in multilateral [forums]. The EU is committed to respond appropriately to the extraterritorial application of the national security law against any EU citizen or business," Borrell wrote.
"The EU expects the Chinese and the Hong Kong authorities to restore confidence in Hong Kong's democratic process. The EU calls on all parties to respect the independence of the judiciary in Hong Kong."