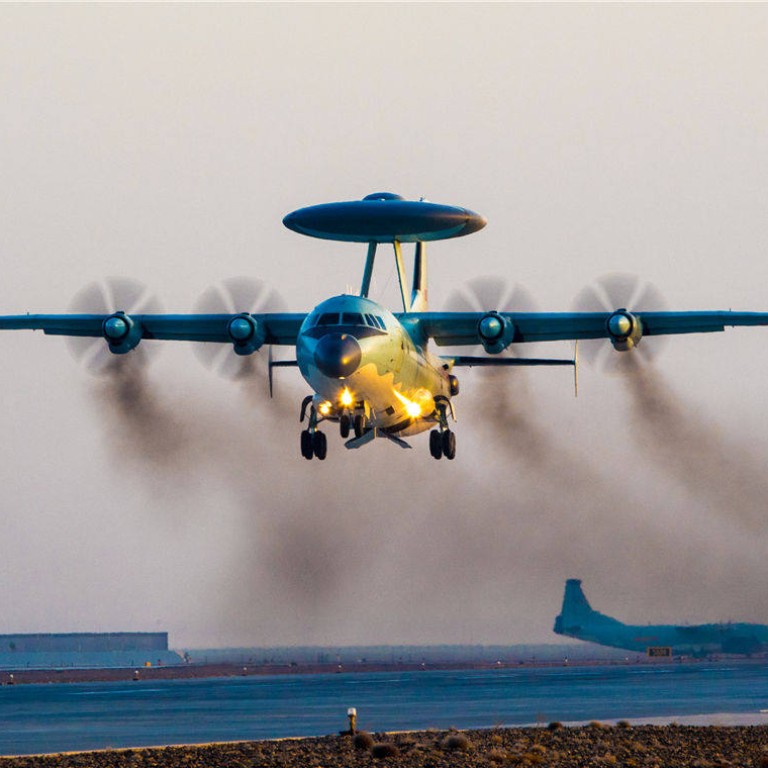 South China Sea: PLA sends in spy planes and ship to keep closer watch as regional tensions rise
Vessel could be observing how well foreign militaries work together, analyst says
Satellite images show aircraft and surveillance ship at Fiery Cross Reef, report says
The Chinese military has deployed extra surveillance forces in the air and waters near a disputed
South China Sea
archipelago as tensions rise between Beijing and its Southeast Asia neighbours.
Citing satellite images provided by Maxar, USNI, a US military news website, reported on Friday that a Type-815G spy ship was spotted at a military base at
Fiery Cross Reef
in the Spratly Islands chain.
A Chinese navy Y-8Q maritime patrol aircraft and a KJ-500 airborne early warning and control plane were also spotted on the reef's airfield, the report said.
Collin Koh, a research fellow with the S. Rajaratnam School of International Studies at Nanyang Technological University in Singapore, said the Type-815G was an elusive ship, and its main task was to collect critical intelligence on foreign military activities.
"Recently there's been an uptick in foreign military activities, especially naval movements by US and allied forces, in the South China Sea. So I'll surmise the ship is observing how these US and allied navies operate together," he said.
The United States conducted 72 reconnaissance flights over the South China Sea in May, up from 65 in April, according to the Beijing-based South China Sea Strategic Situation Probing Initiative, which monitors military activity in the region.
The think tank said that when the Arleigh Burke-class guided-missile destroyer 
USS Curtis Wilbur
transited the Taiwan Strait last month, US anti-submarine patrol and reconnaissance aircraft and a spy plane flew over the South China Sea.
The Pentagon released the satellite images of the Chinese ship and aircraft on Wednesday, the same day that an advisory body to the Pentagon made recommendations for improving US strategy to deal with China.
The recommendations, which were not made public, served as a new directive for the Pentagon to focus on China, and are aimed at strengthening cooperation with US allies, particularly those in the Indo-Pacific region.
Beijing claims almost all of the South China Sea, but there are overlapping claims with the Philippines, Vietnam, Malaysia, Brunei and Taiwan, leading to confrontations over the disputed waters.
Even though the US is not a claimant, it has sent military vessels and aircraft there for what it calls freedom of navigation operations. Beijing says such operations violate its sovereignty and create tensions, but the US says China's military installations in the region are the major threats to security.
Tensions between China and Philippines and Malaysia are running high with Manila protesting against Beijing after more than 200 fishing vessels massed at
Whitsun Reef
– a move China described as normal. Malaysia also recently protested against China, saying 16 Chinese military transport aircraft had been involved in an
"intrusion" near its coastline
.
Wang also told the assembled foreign ministers that China would push forward discussions for a code of conduct in the South China Sea.