G7
Get more with myNEWS
A personalised news feed of stories that matter to you
Learn more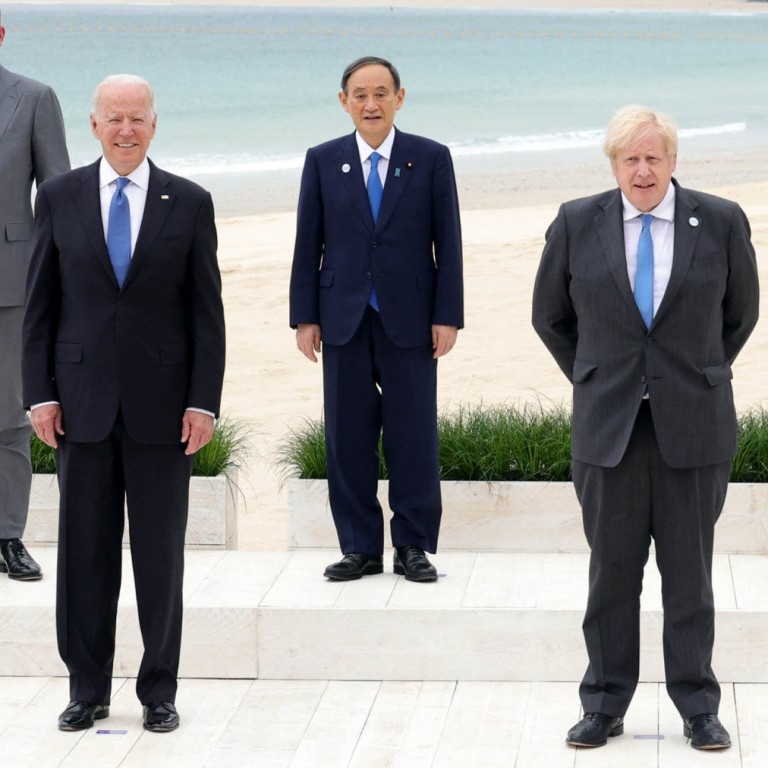 G7 summit: 'unprecedented' united front piles pressure on China, analysts say
Greater consensus poses concerns for Beijing and could make it harder to disrupt ties between the US and Europe
Leaders raised trade issues, human rights concerns in Xinjiang and Hong Kong, and called for new Covid-19 origins probe
The G7
took its most forceful stand in decades to call out China on human rights and trade issues, as Beijing faces pushback for leveraging differences in how far countries are willing to go to confront it, analysts say.
There was a "spectrum" of willingness to push Beijing at the Group of 7 summit over the weekend, according to senior US officials, but its joint communique used harsher and more extensive language on China than in the past.
While acknowledging cooperation with China in areas such as
climate change
, the G7 raised issues with Beijing's trade practices and human rights concerns in
Xinjiang
and
Hong Kong
.
Not all G7 leaders took as tough a stance as
Joe Biden
– seeking a return to American leadership on his first trip abroad as US president – but analysts say their greater consensus on China poses serious concerns for Beijing.
It could make it more challenging for China to disrupt transnational ties between the US and Europe as it faces increasing scepticism from the West.
Li Mingjiang, an associate professor with the S. Rajaratnam School of International Studies at Nanyang Technological University in Singapore, said there was growing unity within the G7 on China, with more efforts to compete with Beijing in areas such as vaccine provision, infrastructure development, trade and technology.
"It's unprecedented, in the sense that you have never seen such a united front as demonstrated in this joint communique, in the history of the G7," he said.
Li said it also showed cracks in China's strategy to use economic power to drive a wedge between the US and its allies, including with the freezing of the
EU-China investment deal
over retaliatory Chinese sanctions on Europe and plummeting trade relations between
China and Australia
, which was an observer at the G7 summit along with South Korea, India and South Africa.
"It's probably time for Beijing to be slightly more cautious in hoping that its economic power can try to stop the further growth of an anti-China bloc among these Western countries," he said.
An editorial in state-run tabloid Global Times said the G7 meeting indicated that China should not have any "illusions towards the US, but it must differentiate other countries from the US".
"Regardless of what kind of 'anti-China united front' the US may present on the surface, we should all be clear that such a 'united front' is weaker than it looks," it said.
"The pattern is certain that the US is serious but the European countries are perfunctory to it. China has the ability to fundamentally spoil this 'united front' between the US and Europe, and eventually win the tug of war to dissolve it."
The G7 also pledged 1 billion doses against Covid-19 for developing nations amid Beijing's own vaccine diplomacy efforts.
In response, the Chinese embassy in Britain on Monday said the G7 leaders had "slandered China" and were
engaging in "small circle" politics
to create confrontation and division.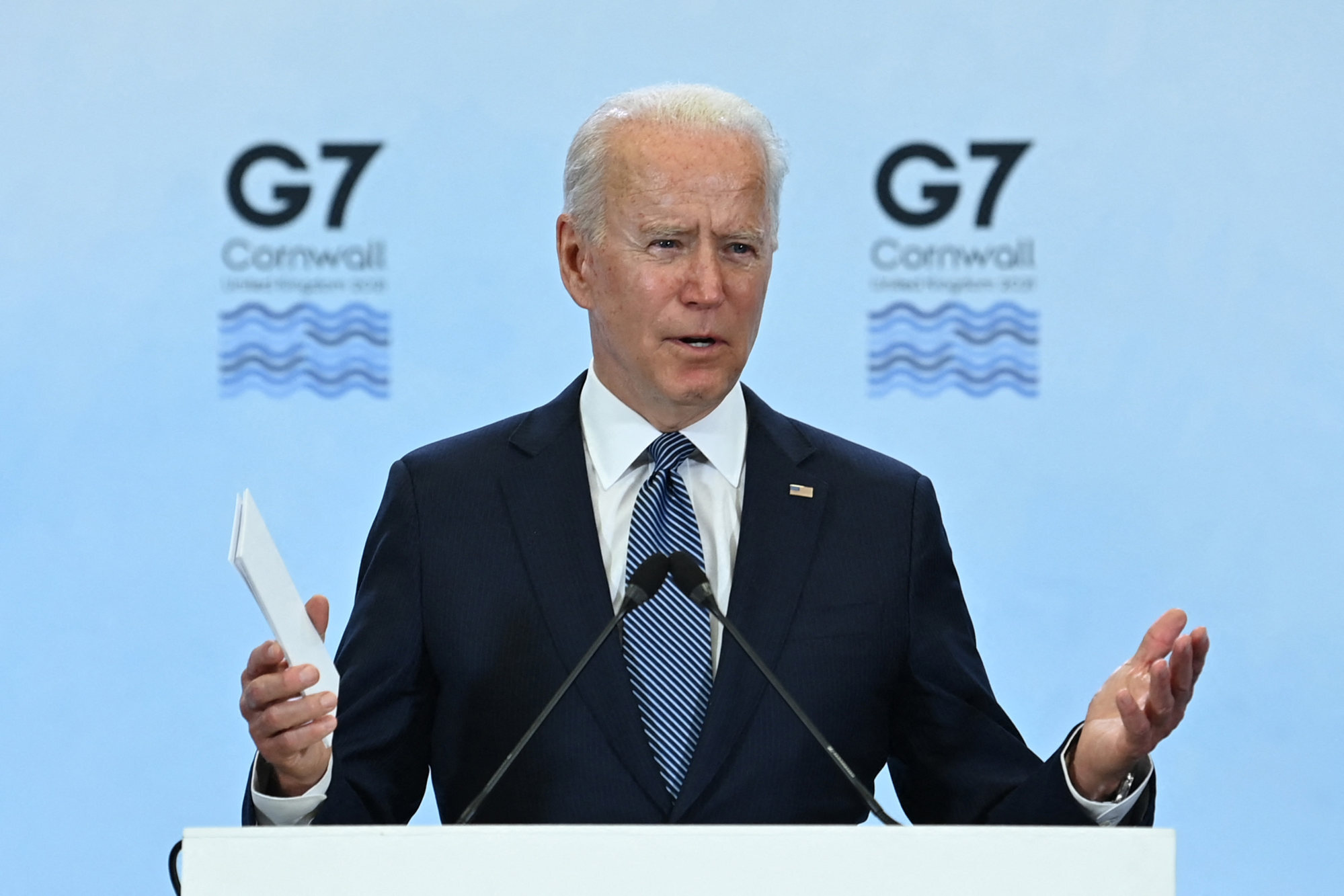 But even with a convergence on China, divisions within the G7 were clear. The statement was not as strong as the US had hoped, with the European Union, Germany and Italy reportedly more reluctant to condemn China on issues such as forced labour claims in
Xinjiang
, while Canada, France and Japan appeared to be more aligned with US positions.
British Prime Minister Boris Johnson did not explicitly mention China in his remarks after the summit, and French President Emmanuel Macron later said the G7 was not a "club" that was hostile to China.
Emilian Kavalski, a professor on China-Europe relations at the University of Nottingham Ningbo, said those divisions had long existed, but there appeared to be a growing transatlantic consensus over the need to reckon with Beijing, even if few EU countries wanted to economically decouple from China.
"The fact that China was the only issue on which the G7 leaders appear to be able to agree should be very concerning for China," he said.
"The G7 aims to send a strong message to China. Yet, if push comes to shove in places such as Taiwan or the South China Sea, one is still to see whether the dog that barks will actually have the guts to bite."
That will put pressure on China, as the US continues to work with its allies to do more to coordinate against Beijing, according to Tang Xiaoyang, an international relations professor at Tsinghua University.
"It is very clear that Biden wants to strengthen the transatlantic alliance against China and Russia, as he chose to meet with his EU allies on his first official trip," he said.
"No matter if it is through the Quad summit or this Europe visit, many of the policy discussions are unable to be separated from China, and it is all part of the efforts to rally allies to restrict China."
Still, analysts say that while the G7 summit fell short on filling global vaccine needs and more aggressive action on climate change, it did put forth a positive alternative vision to Beijing with its promises on global health and infrastructure.
Chin-Hao Huang, an assistant professor on Chinese foreign policy at the Yale-NUS College in Singapore, said "healthy competition" was good for the international community, and both Beijing and Washington needed to recalibrate to meet the challenge of global issues.
He said the summit reflected US leadership in pushing the G7 to adopt tougher language on China, but also Beijing's growing difficulty to avoid international scrutiny of issues like
Xinjiang
, Hong Kong and Taiwan.
"These kinds of issues that China considers internal actually are very hard to shield away from foreign intervention," he said. "As you become much more influential on the global stage, these are no longer just China's affairs, these are issues that are also of global interest."