Science
Get more with myNEWS
A personalised news feed of stories that matter to you
Learn more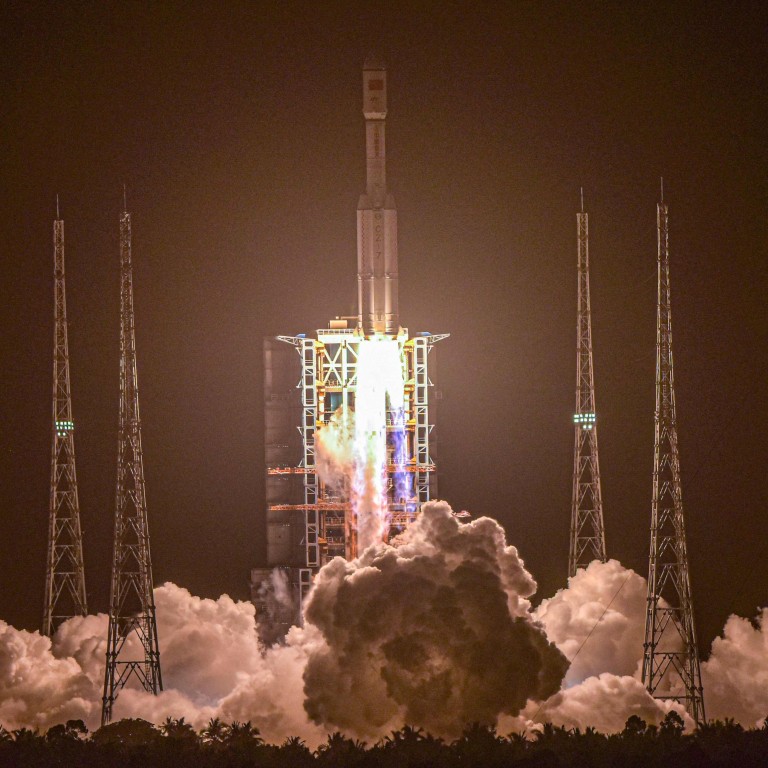 China and Russia ready to shoot for the moon with ambitious research station plans
The two space agencies have invited other countries to join the programme with exploratory missions expected this year
First structures on the moon's surface will provide a base for resource extraction, research and further exploration in space
China and Russia have unveiled details of their plans for
a joint research station on the moon
, with at least five structures on the surface slated for completion by 2035, reviving an international space race three decades after the Cold War.
The
China National Space Agency
(CNSA) and its Russian counterpart Roscosmos agreed in March to develop the International Lunar Research Station (ILRS), with an invitation to other countries to join the programme.
The plan is to develop comprehensive facilities at one or more locations on the moon's surface and in its orbit, according to a road map and guidelines for potential partners released on Wednesday.
The stations will first operate autonomously and eventually serve as bases for future crewed missions and exploration for lunar resources. Preliminary exploratory missions are expected to begin this year, with construction beginning as early as 2025.
"China and Russia welcome international partners to participate in the ILRS programme at all stages and all levels of each stage," Wu Yanhua, CNSA deputy director, told a joint online press conference with his Roscosmos counterpart Sergey Saveliev.
Neither China nor Russia has signed the US-led Artemis Accords, established in October last year to set rules of behaviour on the moon – allowing countries or companies to create "safety zones" while extracting resources – in recognition that all parties will be intent on going to the lunar south pole, where water in the form of ice is known to exist.
On Tuesday, Brazil became the latest country to sign the accords, joining Britain, Australia, Canada, Japan, Luxembourg, the United Arab Emirates and Italy.
The US is aiming to land the first woman and person of colour on the moon by 2024 – 52 years after the last Apollo mission in 1972 – as part of its Artemis space programme, which is also open to international participation.
Over the next few years, China's three existing probes – Chang'e-6 to Chang'e-8 – and Russia's four planned missions – Luna-25 to Luna-28 – will be dedicated to the exploration and construction stages of the lunar research station. Chang'e-4, the first spacecraft to land on the far side of the moon in 2019, is still in operation and will be included in the exploratory missions.
Five ILRS missions are planned between 2031 to 2035 to build a headquarters, which will include research and exploration facilities such as laboratories and observatories.
CNSA and Roscosmos said the ILRS would become a comprehensive facility for multidisciplinary and multi-objective scientific research activities, such as lunar exploration, deep space observation and ways to use the moon's resources.
The agencies said other nations, international organisations and partners were necessary for "efficient and fruitful" research on the moon. They listed five levels of cooperation for interested partners, from helping to set up programmes and targets through to coordinating whole missions.
"After consultation with China and Russia, any partner who is willing to make contributions to the ILRS can participate in or even lead any part of the project," the guidelines said.