Iran
Get more with myNEWS
A personalised news feed of stories that matter to you
Learn more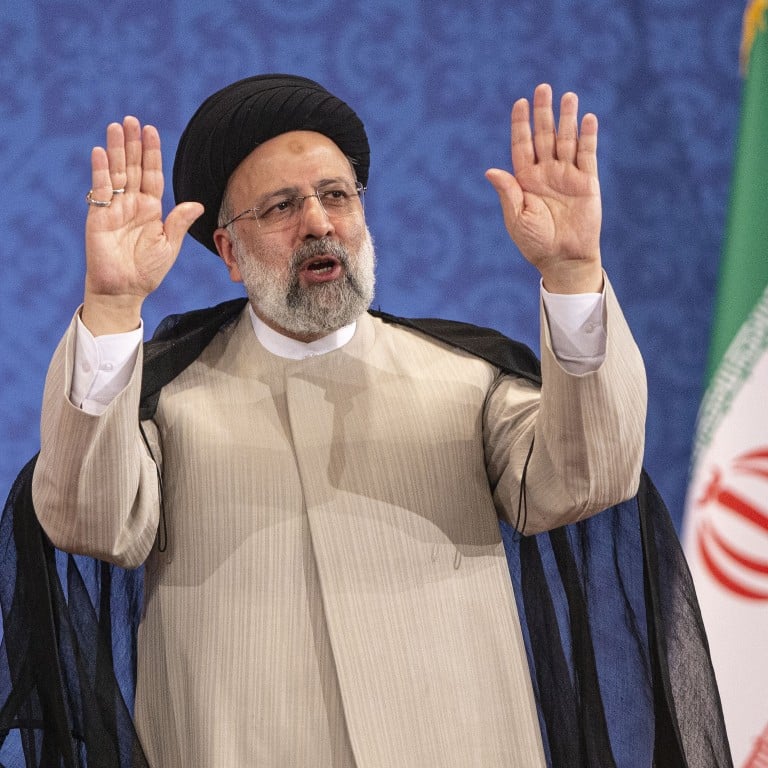 China-Iran relations: Xi Jinping congratulates new president Ebrahim Raisi under shadow of nuclear deal talks
Hardliner says Iran will continue to work hard on relationship and 'push for a friendly development of the relations' with its top trading partner
Beijing expected to stay cautious over economic ties with Tehran, even if sanctions are eased
Beijing has congratulated the new Iranian president but is still treading carefully as the the talks between
Tehran and Washington
over the revival of a
nuclear deal
continue to overshadow its relations with the Islamic Republic.
Chinese President Xi Jinping has personally welcomed the victory of hardline judiciary chief
Ebrahim Raisi,
whose major rivals were banned from running in the June 18 presidential election.
"I attach great importance to the development of China-Iran relations," Xi said, according to an official statement. China's president said he hoped to work with Raisi to solidify mutual political trust and deepen strategic communication and cooperation.
During a press conference after he won the presidency, Raisi said he had high expectations for the development of relations with China, which has been giving Tehran political backing over the past two years.
"We have a good bilateral relationship at the moment, and it has a lot of potential to develop further. Iran will continue to work hard and develop such potential and push for a friendly development of relations," Raisi said.
China, together with the US, Britain, France, Germany and Russia, signed the 2015 deal with Iran to ease sanctions in exchange for restricting Iran's nuclear programme.
After former US president Donald Trump unilaterally left the deal in 2018 and imposed new sanctions, Iran has been hit with an economic downturn and stopped adhering to several key provisions in the previous deal. In April this year it started enriching uranium at 60 per cent purity.
Beijing has previously stated it wanted to salvage the deal, one of the few issues where the US and China have found common ground on since
Joe Biden
took office.
While the US said the presidential election had not been "free and fair", the state department said Washington would nonetheless continue indirect talks with Tehran about rejoining the deal.
Negotiations are currently deadlocked after Biden and Iran's supreme leader Ali Hosseini Khamenei each demanded the other side make the first move.
Mohsen Shariatinia, an assistant professor at the Tehran-based Shahid Beheshti University, said he expected the nuclear deal to be revived before the next government took office.
According to the official announcement, the agreement covers a variety of economic activity, from oil and mining to transport and agricultural collaborations, but no other details were made public. However, previous reports have said that the deal could be worth up to US$400 billion.
Regional experts viewed it as largely a sign of China boosting its relations with Iran in a way that could counter US dominance in the region.
China already had close ties with Tehran. It has long been the biggest market for Iranian oil, is its top trading partner and has been supplying weapons since the 1980s.
Trade between Iran and China has been worth some US$20 billion annually in recent years, down from nearly US$52 billion in 2014 because of US sanctions.
Fan Hongda, a professor at the Middle East Studies Institute at Shanghai International Studies University, said he expected a deepening of economic ties following the potential revival of the nuclear deal, but the new government was unlikely to change either side's careful approach to developing their relationship.
"I think for China's foreign policies, the US is still a huge factor. Especially at a sensitive time like this, China does not only need to consider the US, but also other Middle Eastern countries, like Saudi Arabia and Israel … Many Chinese experts are worried that forging a closer dialogue with Iran will upset these parties," Fan said.
"As for Iran, traditionally it is still more keen on working with the West, if they are able to get more concessions."
Saudi Arabia and other Gulf states are continuing to put pressure on Iran over its ballistic missiles and its nuclear programme, which Tehran says is entirely peaceful.
US intelligence agencies and the International Atomic Energy Agency believe that Iran had a secret, coordinated nuclear weapons programme that it halted in 2003.
Jonathan Fulton, an assistant political science professor at Zayed University in the United Arab Emirates, said he did not expect Raisi's presidency to bring many changes to China's bilateral relations with Iran, as "a lot of what's been driving the bilateral relationship in recent years has been structural rather than personal".
However, he expected Chinese companies to remain cautious, even if the nuclear deal gets back on track. "If it leads to Iran's economy getting out from under sanctions it could mark an improvement, although I suspect most [Chinese state-owned enterprises] and private companies will tread lightly until they see evidence that the US isn't going to change direction again," Fulton said.
This article appeared in the South China Morning Post print edition as: Xi hails Raisi victory under shadow of nuclear talks