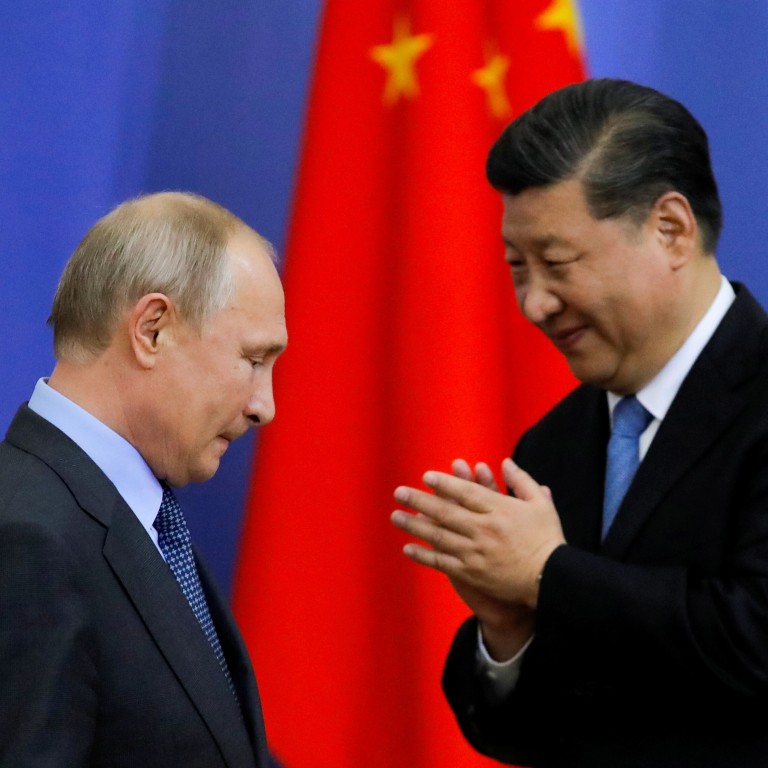 China, Russia extend friendship treaty after Biden-Putin summit
Xi Jinping and Vladimir Putin meet by video link for a second time in a month, both hailing the countries' closer ties
If US continues 'dual containment' policy 'there are no obvious limits to how far and deep the Beijing-Moscow alliance could develop', observer says
Beijing and Moscow have moved to consolidate ties by renewing a 20-year-old friendship treaty, weeks after the Russian and US leaders met in what was seen as part of efforts by Washington to drive a wedge between them.
Xi praised the
China-Russia relationship
as a "model example of a new type of international relations" that added "positive energy" to the world, according to state news agency Xinhua. He said extending the treaty was a "vivid practice of building a new type of international relations and a community with a shared future for mankind".
"I believe that under the guidance of the spirit of the treaty, no matter how many obstacles and hurdles must be overcome on the road ahead, China and Russia will continue to unite in their efforts and move forward with determination," Xi said.
Putin had signed the treaty in the Kremlin with former Chinese leader Jiang Zemin back in July 2001, the two neighbours agreeing to resolve their historical border disputes and laying out strategic cooperation in areas including military and defence. It was due to expire next month.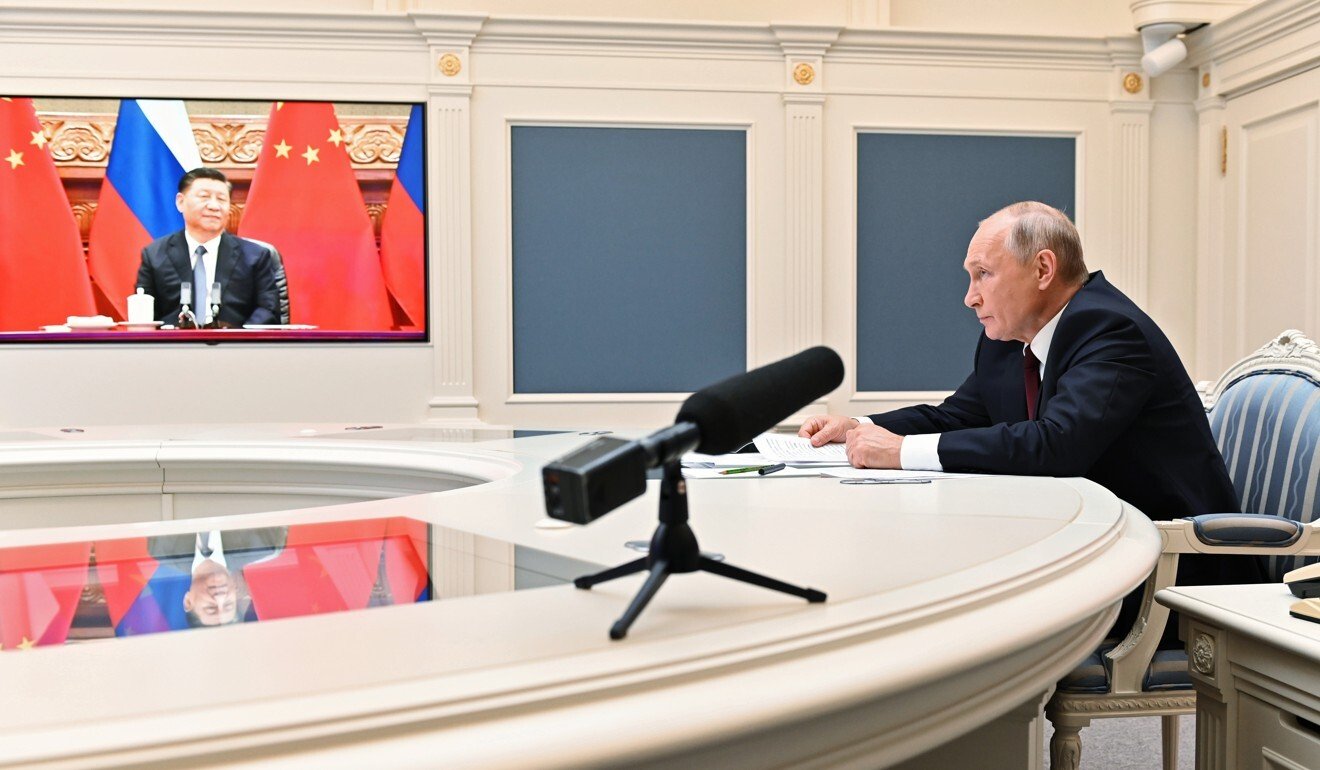 On Monday,
Putin
said China-Russia relations were at "their highest point", according to Russian news agency TASS. "Currently, following the letter and the spirit of the treaty, we have managed to bring the Russian-Chinese relations to an unprecedentedly high level, converting them into an example of intergovernmental cooperation in the 21st century,"
Putin
said.
The Xi and
Putin
video call came after Putin and US President
Joe Biden
held their first face-to-face meeting
, in Geneva on June 16. They agreed to begin a dialogue on nuclear arms control and return ambassadors to each other's capitals, but made little concrete progress on other issues like cybersecurity, Ukraine or human rights.
Beijing and Moscow have established a series of strategic cooperation mechanisms and projects under the 2001 treaty, especially in recent years as both have seen a sharp deterioration in ties with Washington.
Moscow has been moving closer to Beijing since 1996 with a "strategic partnership" implicitly aimed at countering America's global predominance, a trend that has been more pronounced since Russia's relations with the West nosedived over Ukraine and other issues in 2014, according to Artyom Lukin, an associate professor at Russia's Far Eastern Federal University.
"If the US continues its current policy of dual containment against both Russia and China, there are no obvious limits to how far and deep the Sino-Russian quasi-alliance could develop in the future," Lukin said.
It said the two leaders issued a joint statement opposing "interference in other countries' internal affairs under the guise of democracy and human rights" and "unilateral sanctions", and expressing their opposition to "politicising" the Covid-19 pandemic and sporting events.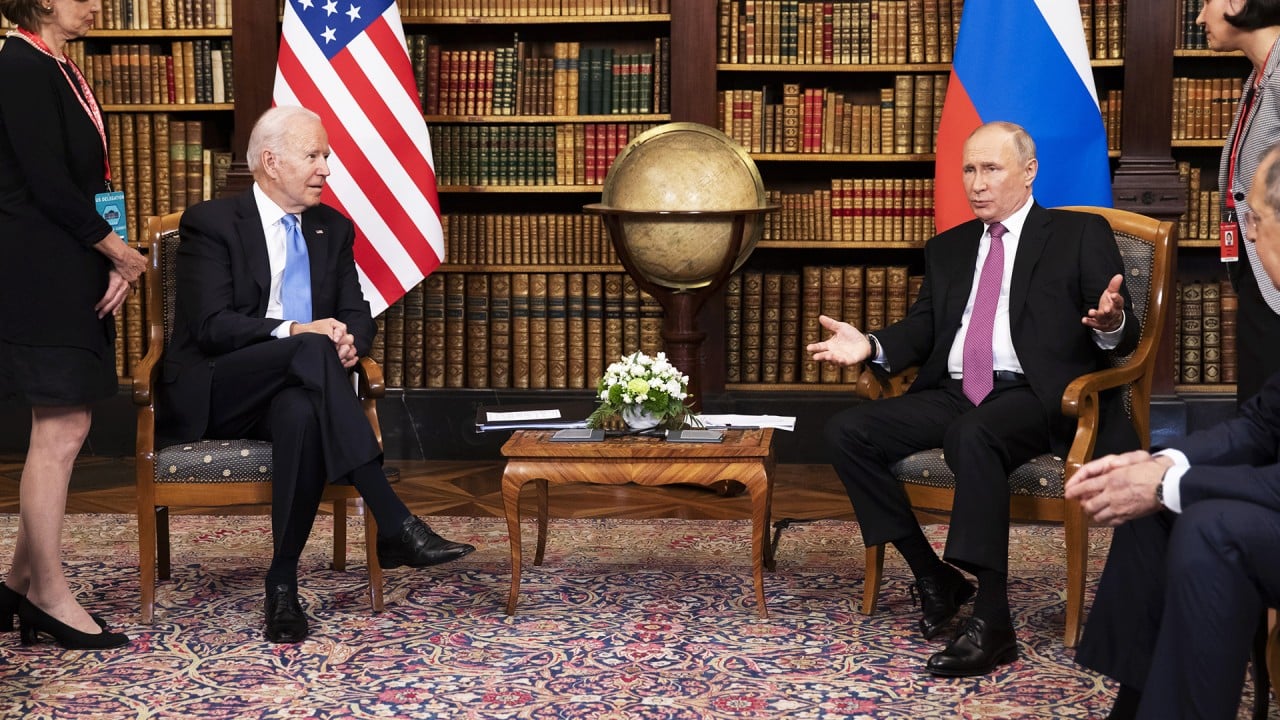 01:22
Biden tells Putin to try to establish 'rational way' to disagree
Biden tells Putin to try to establish 'rational way' to disagree
Xi and Putin also said they were concerned about the accelerated withdrawal from Afghanistan by US and Nato troops, saying it created a more complex and serious security situation in the country, and emphasised the need to maintain regional peace, security and stability, according to CCTV.
Danil Bochkov, an expert with the Russian International Affairs Council, said Moscow and Beijing had not left any field of potential cooperation untouched, be it "economic, political, geostrategic, security, humanitarian, cultural or any other form of interaction".
He noted there were some minor cracks in the relationship, such as Beijing's activities in Central Asia through its Belt and Road Initiative and its ambitions in the Arctic.
"The bottom line is that China and Russia are growing closer simultaneously now, but with time it may change, since China is narrowing the gap in many fields where Russia has traditionally enjoyed leading positions," Bochkov said.
But US pressure and rivalry was not the key reason Beijing and Moscow were moving closer, according to Vladimir Portyakov, deputy director of the Institute of Far Eastern Studies at the Russian Academy of Sciences.
"The Sino-Russian relationship itself has strong motivation and independent value irrespective of third countries' influence," he said.
This article appeared in the South China Morning Post print edition as: Xi and Putin tighten ties by renewing 2001 treaty