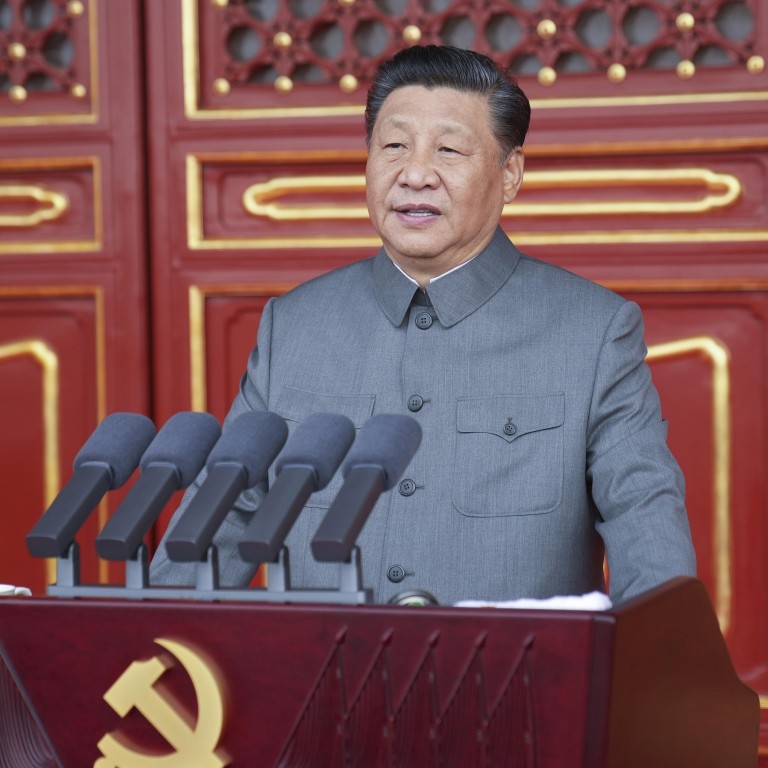 Communist Party centenary: Xi warns foreign powers will 'have their heads cracked and bleeding'
Xi says China has 'never bullied, oppressed nor enslaved the people of other countries' and will not allow others to do that to China
President perceived as sending a warning shot to the West as well as a signal to the people of China to prepare for the worst
President
Xi Jinping
warned on Thursday of the "unprecedented uncertainties" and challenges China was facing in its global ascendance during a
nationalistic speech
marking the
centenary of the Communist Party
in which he also pledged that foreign powers would "get their heads bashed" if they attempted to bully China.
Touting the party's success in surviving and thriving since its founding 100 years ago, the Chinese leader, dressed in a Mao-style jacket, declared that the "great rejuvenation of the Chinese nation has entered an irreversible historical course".
For observers at home and abroad Xi's hour-long speech, the culmination of days of elaborate celebrations, came at a tense moment in Beijing's deeply troubled relations with the United States and its allies.
In a thinly veiled message to US-led efforts to target China with an international coalition, Xi said any attempts to challenge the party's absolute leadership or separate the party from the people were doomed to fail.
"The Chinese people have never bullied, oppressed nor enslaved the people of other countries. They had never done that in the past, will not do that now and will not do so in the future … Anyone who would attempt to do so will have their heads cracked and bleeding against the great wall of steel built from the flesh and blood of 1.4 billion Chinese people," he said, drawing applause from some 70,000 people gathered at Tiananmen Square.
"On the new journey, we must enhance our awareness of danger and stay vigilant in peacetime," Xi said.
Xi delivered his speech in Chinese. An official translation of the speech in English released hours later made no mention of cracked heads or bleeding.
The translation read, "We have never bullied, oppressed, or subjugated the people of any other country, and we never will. By the same token, we will never allow any foreign force to bully, oppress, or subjugate us. Anyone who would attempt to do so will find themselves on a collision course with a great wall of steel forged by over 1.4 billion Chinese people".
"The Communist Party of China will … persist in cooperation, nonconfrontation, openness, seeking mutual benefit and opposing a zero-sum game, hegemonism and power politics," he said.
Pang Zhongying, an international affairs expert at the Ocean University of China, said Xi's remarks were a call to prepare for possible worst-case scenarios.
"The leadership apparently has a grim assessment of China's external environment, especially in terms of China-US relations. It underlined a deep sense of besiegement in Beijing, which stands in contrast to his overall triumphant tone," Pang said.
Over the past year, Chinese leaders have repeatedly talked about headwinds and external adversity facing China, with Xi warning last year in an internal meeting that "we must get ready for the worst-case scenarios" although he did not elaborate.
There was a palpable sense that Xi was sending a warning shot to the US and the West, according to Deng Yuwen, a former editor of the party's Study Times newspaper.
"Xi's message is that if you're friendly, then I will return the favour but if you're not, then I will also respond in kind," he said.
"I don't think there are important changes on the situation from his remarks," he said.
"We are under economic and technological suppression from the US and there is also military pressure on the South China Sea and Taiwan," Zhang said.
He said Xi's emphasis on the will and ability to struggle was "reasonable and understandable" as China was firmly opposed to confrontation, but that the US viewed China as a top threat and had bolstered its confrontation with China.
"But we must handle the US relationship carefully and find the right balance of cooperation versus competition and struggle," Zhang said.
However, the widely-watched, carefully choreographed event failed to provide clear clues as to how Beijing planned to deal with its deepening diplomatic isolation and improve its image amid growing distrust and antagonism towards China in many parts of the world.
"I actually thought there might be some renewed attitude on Taiwan or on foreign policies, but I feel what was in the speech was just more or less a continuation or repetition," said Chen Daoyin, a political commentator and former professor at the Shanghai University of Political Science and Law.
"While China does not want to return to the Mao era, featuring an all-out confrontation with the West, we have yet to see a clear strategy for Beijing to resolve the crisis resulting from the US-led encirclement," he said.
George Magnus, a research associate at Oxford University's China Centre, said Xi's remarks were "a strongly nationalist appeal to his own citizens and warning to the US and other states".
"All in all, my sense is that this culmination of several days of speeches celebrating the historic and future role of the party was designed in large measure to fire a diplomatic shot across the bows of the United States and its allies. The message is to mind their own business and not get in China's way. That would be fine if China wasn't itself trying to muscle aggressively into the affairs of others both at home and abroad," Magnus said.
"His speech will only leave most people outside of China more fearful that Xi is taking China and the world down an unnecessarily dangerous path," Schell said.
Additional reporting by Amber Wang, Kinling Lo and Eduardo Baptista
This article appeared in the South China Morning Post print edition as: Xi vows China will not be bullied by foreign powers