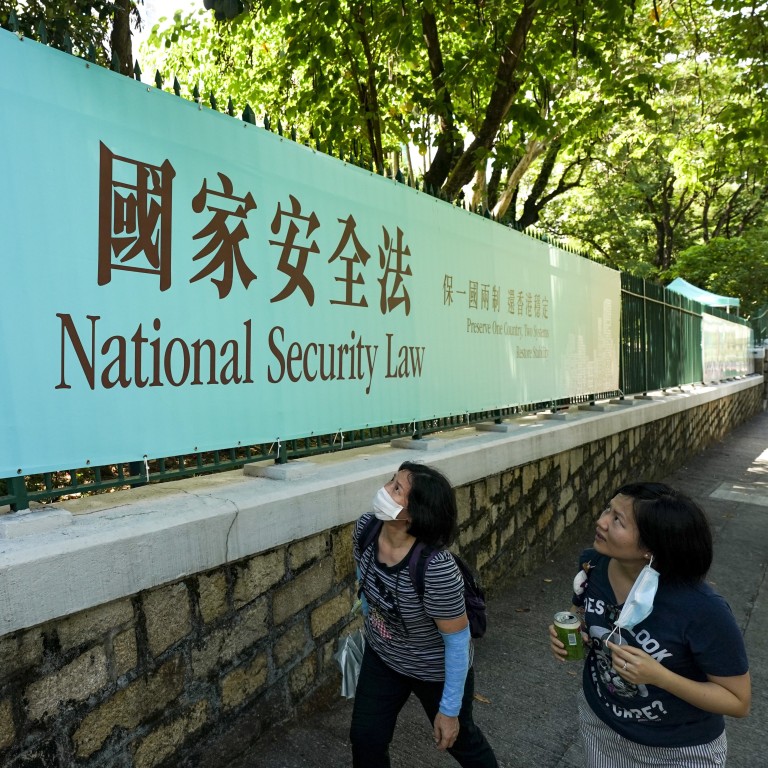 China says US extension of Hong Kong emergency rules 'tramples' international law
Sweeping sanctions power renewed by President Joe Biden who accuses Beijing of fundamentally undermining Hong Kong's autonomy
'If the US uses Hong Kong as a pawn in the game, China has to hold the line,' says Chinese academic
China has condemned US President
Joe Biden
's decision to extend a national emergency designation over Beijing's
tightening control on Hong Kong
, which he described as an "extraordinary threat" to American security and economic interests.
The Office of the Commissioner of the Ministry of Foreign Affairs in Hong Kong on Thursday said Washington had employed "unscrupulous gangster logic" to use the city as a tool to suppress China, and "grossly trampled on international law and the basic norms governing international relations".
"Long gone are the days when external forces arbitrarily meddled with Hong Kong affairs; long gone are the days when one colluded with anti-China destabilising forces to create disorder in Hong Kong; and long gone are the days when others could force us to tolerate actions that will harm our national sovereignty and security through pressure and sanctions," a spokesman for the office said.
The Hong Kong government followed up with a statement urging the US to stop interfering in the city's affairs and condemning Washington's "barbaric acts reflecting the self-proclaimed US supremacy".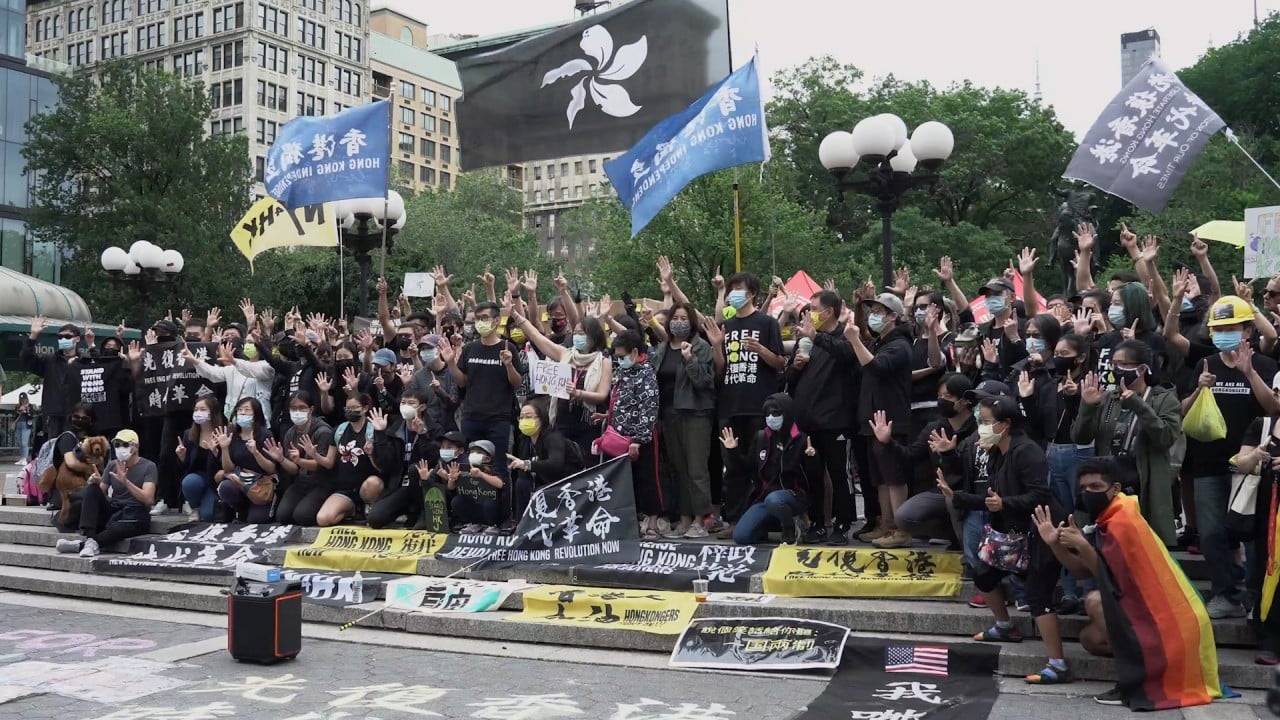 02:23
Multiple overseas rallies mark anniversary of first major clash of 2019 Hong Kong protests
Multiple overseas rallies mark anniversary of first major clash of 2019 Hong Kong protests
Announcing the extension,
Biden
said that the situation regarding Hong Kong, including "recent actions taken by the People's Republic of China to fundamentally undermine Hong Kong's autonomy, continues to pose an unusual and extraordinary threat to the national security, foreign policy and economy of the United States".
"For this reason, the national emergency declared on July 14, 2020, must continue in effect beyond July 14, 2021," he wrote in the notice.
The national emergency declaration, invoked under the International Emergency Economic Powers Act, gives the president largely unchecked powers to impose economic sanctions on external entities deemed to constitute a significant threat to the US.
With Biden's announcement, the national emergency designation, first declared by his predecessor Donald Trump, will remain in place for at least another calendar year.
White House officials did not respond to a request to elaborate on which of the Chinese government's "recent actions" in particular had prompted the decision, but the extension comes on the heels of a number of developments that critics – including Washington – have interpreted as signs of Hong Kong's rapidly deteriorating autonomy.
In April, Beijing moved to drastically increase its involvement in Hong Kong's electoral processes, giving the central government near-complete control over the semi-autonomous city's political structure.
That came atop a sweeping national security law, also drafted in Beijing, that criminalised a broad range of behaviours under the four categories of secession, terrorism, subversion and collusion with foreign powers.
The new law, implemented last June, has led to more than 100 arrests of political candidates, activists and media workers, and formed the basis of a recent crackdown on Apple Daily, a prominent anti-Beijing tabloid that was forced to shut down following police raids and the seizure of its assets.
Concerns over shrinking civil liberties have grown again in recent weeks following the proposal of new privacy law legislation, which authorities say is needed to combat doxxing – the nonconsensual release of others' personal information online.
Critics, including a coalition of tech giants, have expressed concern that the measure's definition of doxxing is too broad and could therefore risk criminalising benign content, with companies including Google, Twitter and Facebook threatening to withdraw from the Hong Kong market over the proposal.
Facing blowback, Hong Kong Chief Executive Carrie Lam Cheng Yuet-ngor this week said critics' fears would be proven false, while the commission overseeing the proposal insisted it had no other target than unlawful doxxing.
Those pledges have done little to assuage critics, including Washington.
The proposal was "yet another" example of actions by authorities in Hong Kong and Beijing "to undermine transparency, to undermine the rule of law, which have in turn eroded Hong Kong's status as an international business hub and jeopardised Hong Kong's long-term stability and prosperity", US State Department spokesman Ned Price told reporters on Tuesday.
Biden's decision to extend the national emergency is characteristic of his government's continuation of the Trump administration's broadly hawkish approach to relations with China.
But it remains unclear whether the extension will pave the way for additional policy steps by the administration. Officials at the White House and National Security Council did not respond to questions about whether more sanctions were under consideration.
Lu Xiang, a US studies senior fellow at the Chinese Academy of Social Sciences, said the US' political warfare targeting China over issues such as Hong Kong and
Xinjiang
would continue for some time, in keeping with its past approach.
"Such moves are within Beijing's expectation and cannot have too much impact. For China, the sovereignty and security interests of Hong Kong weigh much more than the so-called international sanction," Lu said.
"Ensuring Hong Kong's economic development under the condition of security and stability is the top priority … I believe Beijing and Hong Kong authorities will take further measures.
"If the US uses Hong Kong as a pawn in the game, China has to hold the line."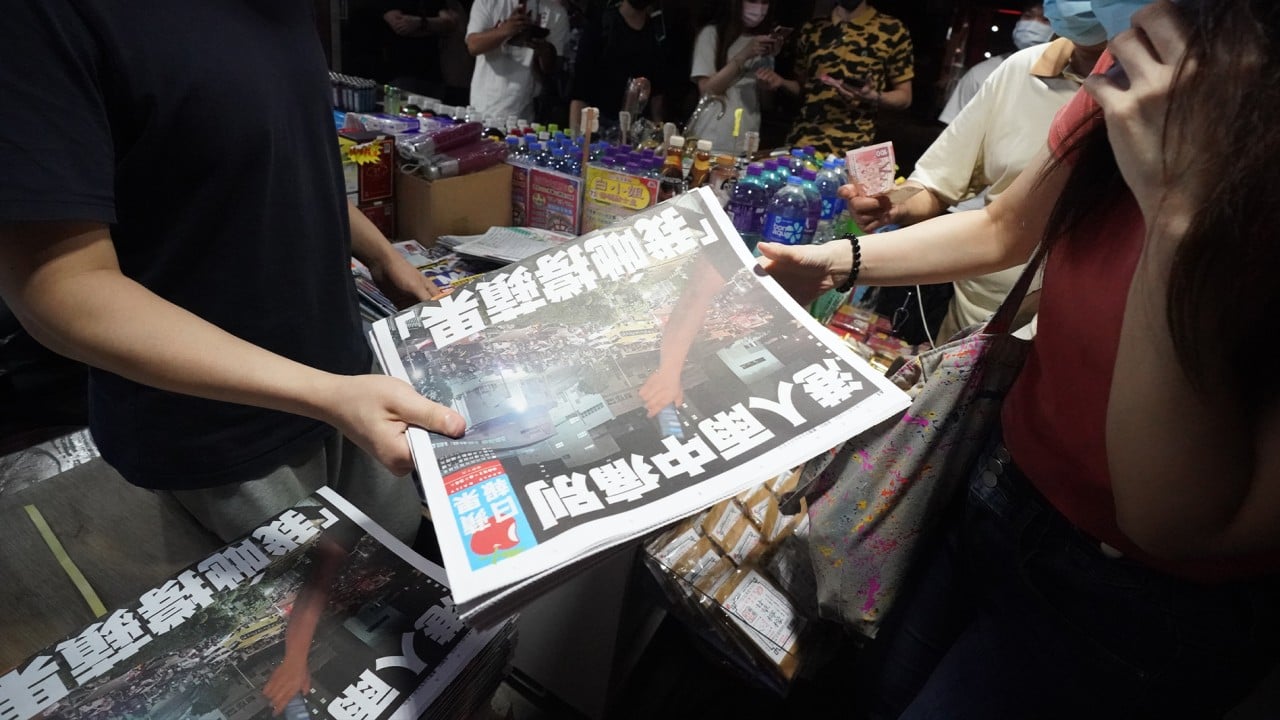 06:28
Hong Kong tabloid Apple Daily ceases operations after top executives arrested, assets frozen
Hong Kong tabloid Apple Daily ceases operations after top executives arrested, assets frozen
Even without the emergency declaration, the US administration has a number of other authorities under which it can sanction individuals and entities in China over the situation in Hong Kong.
The Hong Kong Autonomy Act, pushed through by a Congress that has united around support for democracy in Hong Kong, provided the authority for the administration to sanction 24 officials over the shrinking of the city's "high degree of autonomy" in March, for instance.
But recent reporting by The Wall Street Journal, citing unnamed sources, indicates the administration is planning to scale back the use of unilateral sanctions as a foreign policy tool, instead favouring coordination with allies.
Additional reporting by Liu Zhen
This article appeared in the South China Morning Post print edition as: US accused of employing 'gangster logic'