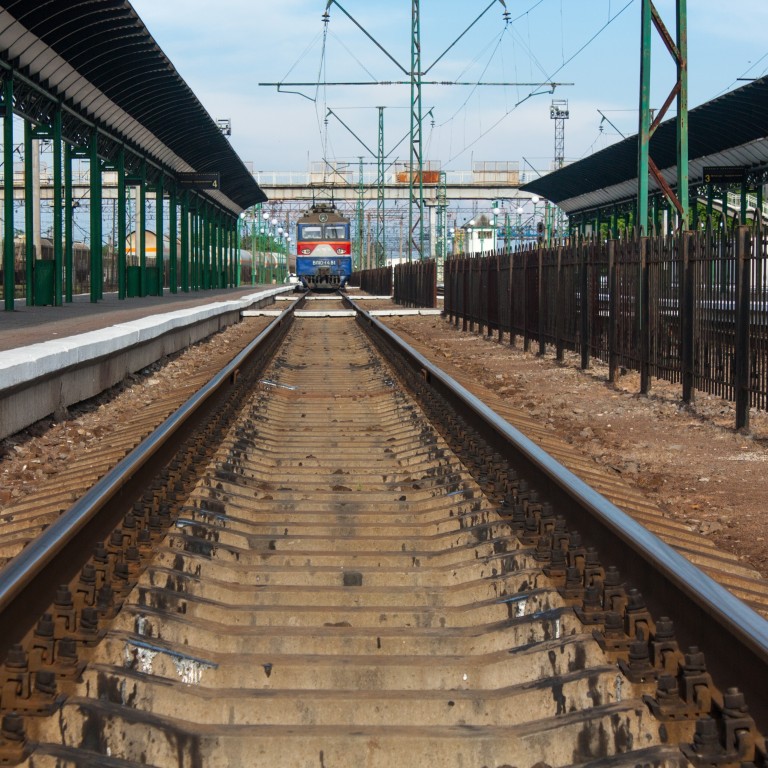 China-Ukraine infrastructure deal a surprise for observers of Beijing, Kyiv and Moscow geopolitics
China and Ukraine have a complicated past but they have signed a new deal to work together on roads, bridges and railway projects
Growing speculation suggests Beijing used vaccine diplomacy to pressure Kyiv to withdraw from a statement on Xinjiang signed by over 40 countries
Ukraine
is banking on economic support from China as the two sides agree to work together on infrastructure, but observers say that cooperation will be limited when it comes to critical projects.
The agreement, which was signed on June 30, was the latest rapprochement between Beijing and Kyiv, whose foreign policy was considered pro-Western since Russia annexed Crimea in 2014.
Days before the signing, Ukraine abruptly
withdrew its endorsement of a joint statement
calling for an independent
United Nations
investigation into human rights abuses in
Xinjiang
. More than 40 countries – including the United States, Britain, France, Germany and Japan – supported the call. Beijing welcomed Ukraine's withdrawal from the statement.
Neither Beijing nor Kyiv has explained how they arrived at their new agreement but there has been growing speculation that Beijing used
vaccine diplomacy
to pressure Kyiv to change its position on the
Xinjiang
statement.
The latest episode shed light on the relationship between China and Ukraine, which has been complicated since pro-democracy revolutions in Ukraine starting in 2004. This political complexity is contrasted against their close economic ties and active cooperation, particularly in military technology. Ukraine has long been a key supplier of modern jet engines for the People's Liberation Army.
Sergiy Gerasymchuk, the deputy executive director of Ukrainian Prism, a security studies think tank based in Kyiv, said recent developments surprised many in Ukraine, particularly as President Volodymyr Zelensky and his government sought to cement its security partnership with the US and the new Biden administration which saw Beijing as a major rival. For Ukraine, the US was an "extremely important" security partner.
"It's not a secret that the Americans warn their partners regarding the cooperation with China, and many countries follow the American approach. Closer cooperation ties with Beijing look surprising in this regard."
China is Ukraine's largest trading partner and Ukraine is the biggest corn supplier to the Chinese market. Getting closer to China could also help "producers with a certain compensation of losses they faced after the start of the war with Russia", Gerasymchuk said.
The shift in Kyiv's position could be part of efforts to develop its Asia policy, in which "the geopolitical competition between China and the US, as well as the balance of Ukraine's national interests" were now being taken into consideration, said Yurii Poita, head of the Asia-Pacific section at the Kyiv-based New Geopolitics Research Network think tank.
"In connection with the beginning of a new stage in relations between the US and China, Kyiv, which values the partnership of the West to counter Russian aggression, is also reformatting its approaches to China," he said.
In a statement on Sunday, the Chinese Ministry of Commerce said the cooperation on infrastructure – notably "roads, bridges and railways" – could "help build closer bilateral economic ties and lay a more solid foundation for the development of the strategic partnership between China and Ukraine".
Kyiv, now struggling with a reform slowdown that had delayed financial support from the West, would be keen to develop a closer economic bond with China to "get quick money without getting stuck in political conditionality", Gerasymchuk said.
But questions remain on how far the cooperation on infrastructure may go in Ukraine.
In a setback in its ties with Beijing, Kyiv moved to overturn the sale of a vital Ukrainian aircraft engine maker
Motor Sich
to Chinese aviation firm Skyrizon in 2017, a deal Washington strongly opposed. In January, Zelensky signed a decree to freeze Skyrizon's assets and imposed sanctions on its owner, Wang Jing.
Ukraine might want to fix "all the negative consequences" of the Motor Sich deal with Beijing, Gerasymchuk said. "Or Ukrainian authorities [are trying] to bluff in their relations with the EU and the US, to raise the stakes and to widen the field [to] manoeuvre with the Western powers."
In January, the Ukrainian government approved a draft law that sought to introduce a screening mechanism on foreign investments to prevent any attempts to acquire strategic assets in the country, a move that Poita said could "draw red lines" limiting cooperation with China to trade, investment, education and tourism.
Although Ukraine was among the first European countries to endorse Chinese President Xi Jinping's signature
Belt and Road Initiative
, it has not joined the Beijing-led Asian Infrastructure Investment Bank and no significant progress has been made since the two sides agreed to assign US$7 billion for joint projects in 2017. Negotiations on free trade agreements have also been stalled since then.
There have been signs that Beijing and Moscow are strengthening their quasi-alliance to counterbalance the US and its allies.
Beijing's principle of non-intervention has made its remain distant from the Moscow-Kyiv dispute and Russia has been ambivalent about cooperation between Beijing and Kyiv, observers say.
A deepening of the Ukrainian-Chinese partnership, Poita said, could "lead to a weakening of the pro-Western vector of Ukraine's development and even misunderstandings with allies, which is completely in Russia's interests".
Artyom Lukin, an associate professor at Russia's Far Eastern Federal University, said Moscow however, might be cautious if such cooperation – which for now only existed on paper – worked in practice.
"That said, if China begins to pour money into Ukraine, especially given the continued absence of Chinese investment in Russia's roads and railways, Moscow is not going to like it," Lukin said.
"Russia is unlikely to publicly articulate its displeasure, but may send signals to Beijing via other means. For example, Russia could intensify collaboration with countries such as India or Vietnam that have tense relations with China. One option could be a ramp-up in Russia's involvement in Vietnamese oil and gas projects in the South China Sea."
This article appeared in the South China Morning Post print edition as: Ukraine deal catches observers by surprise