Ukraine
Get more with myNEWS
A personalised news feed of stories that matter to you
Learn more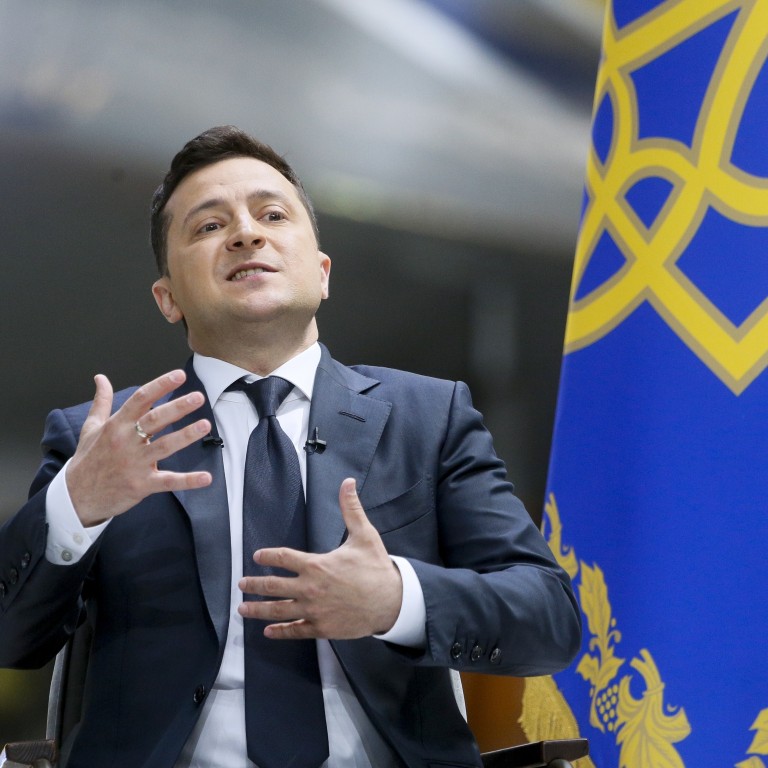 As China and Ukraine vow infrastructure cooperation, Kyiv offers to be Beijing's 'bridge to Europe'
Volodymyr Zelensky has restated Ukraine's position supporting the unity of China and Xi Jinping said China supported the territorial integrity of Ukraine
Analyst says there is growing criticism in 'the Ukrainian political and expert community to the practices and approaches of China'
Beijing is moving to boost ties with Kyiv, with Chinese President Xi Jinping calling for further cooperation on
vaccines
and infrastructure in his latest phone call with Ukrainian counterpart Volodymyr Zelensky.
Speaking on Tuesday night, Xi said China was willing to work with Ukraine to "promote traditional friendship, deepen mutual understanding and strengthen practical cooperation", according to a statement by the Chinese foreign ministry.
"China is willing to continue to strengthen cooperation with the Ukrainian side in the field of vaccines … to help the country overcome the Covid-19 pandemic," Xi said, adding that the two sides should also expand their cooperation on infrastructure and agricultural products.
In response, Zelensky said Chinese investors were welcome to take part in a number of
key infrastructure projects
in Ukraine. They included the development of seaport infrastructure, the construction and modernisation of roads, and the development of railways, urban infrastructure and municipal services, according to a statement by the Ukrainian presidential office.
Ukraine could become a "bridge to Europe" for Chinese business, Zelensky told Xi, adding that his country was keen to export more agricultural products to China.
Zelensky reiterated Ukraine's position supporting the unity of China and in return, Xi said China supported the sovereignty and territorial integrity of Ukraine, according to the Ukrainian statement.
As the second largest European country after Russia, Ukraine has a strategic location next to the Black Sea and the Sea of Azov. It is on the front line of a renewed power struggle between Western nations and Russia after the annexation of Crimea in 2014, prompting Kyiv to start its pivot towards the West.
Since Ukraine's independence in 1992, Beijing has sought closer ties with the former Soviet republic. The two countries cooperate, particularly on military, technology and science – areas in which Ukraine inherited considerable capacity from the Soviet Union.
While political ties between Beijing and Kyiv have become complicated since­ pro-democracy revolutions started in Ukraine in 2004, Ukraine was the first country in Eastern Europe to establish a strategic partnership with China. In 2019, China overtook Russia as Ukraine's largest trading partner.
While the warming of relations with China could be seen as part of Kyiv's efforts to reformat its Asia policy amid an intensifying rivalry between China and the US, observers in Ukraine doubt if the latest infrastructure cooperation with China could be expanded to critical projects.
Yurii Poita, head of the Asia-Pacific section at the Kyiv-based New Geopolitics Research Network think tank, noted that Kyiv was about to introduce a foreign investment screening mechanism that could draw red lines to "limit cooperation with China [to] only in the sphere of trade, investment, education and tourism".
"However, as recent events show, dependence on the Chinese market, Chinese financing, can also be an instrument of influence on Kyiv," he said.
"Other constraints on Sino-Ukrainian investment cooperation are the availability of alternative financing … the negative experience of China's investment cooperation, which led to the creation of so-called debt traps, and the growing critical attitude in the Ukrainian political and expert community to the practices and approaches of China."
This article appeared in the South China Morning Post print edition as: xi reaches out to ukraine on covid-19 and infrastructure