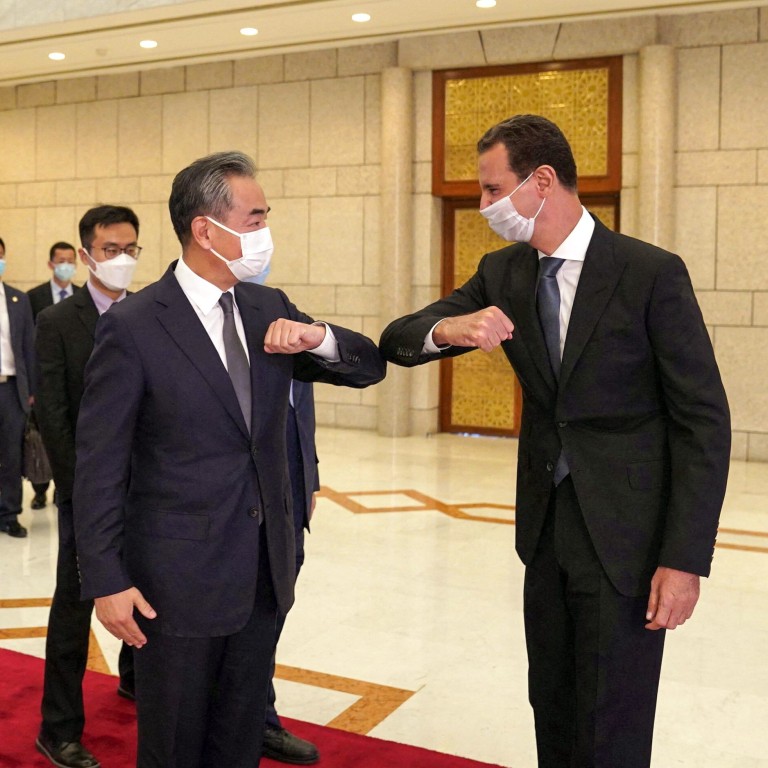 China takes firm stand against regime change in Syria
Chinese foreign minister tells Syrian president that Beijing will support efforts to combat terrorism
China expected to play a major role in helping Syria rebuild infrastructure, analyst says
Wang made the remarks in a meeting with Syrian President Bashar al-Assad as part of his second visit to the Middle East this year.
"Every act of gross interference in Syria has failed in the past, and they will not succeed in the future," Wang said, according to a Chinese foreign ministry statement.
"China firmly supports Syria in combating terrorist forces in all forms and is willing to strengthen communication and cooperation to help it improve its ability to counter terrorism."
Syria is the first stop on Wang's four-day, three-nation trip to the Middle East, which also includes Egypt and Algeria.
He also spoke to Iranian Foreign Minister Mohammad Javad Zarif by phone on Saturday, saying China was ready to strengthen relations with the new Iranian government and jointly oppose unilateralism and bullying, the ministry said in a separate statement.
Sun Degang, deputy director of the Institute of Middle East Studies at Shanghai International Studies University, said China was increasing its engagement in the political and security affairs of the Middle East.
"Wang visited six Middle East countries in March and along with the tour this time ... it shows that the Middle East has become a very important direction of China's diplomacy," Sun said.
He said that with the withdrawal of US troops from the region, China and Syria had more common interests in fighting terrorism.
In his talks with Assad, Wang also said China appreciated Syria's firm support on issues tied to China's core interests.
Beijing welcomed Damascus's involvement in belt and road projects and would support Syria in its reconstruction and battle against the pandemic, he said.
Sun said Beijing would play an important role in building infrastructure in Syria.
"The reconstruction of Syria after the war requires hundreds of billions of dollars, which is an opportunity for China," he said.
In Tashkent for a regional cooperation conference, Wang told his Saudi Arabian counterpart Faisal bin Farhan Al Saud that China would continue to offer help to battle the pandemic and would maintain communication with Saudi Arabia on regional security.
Wang added that conditions in Afghanistan once again showed that any attempt by external military forces to interfere would be in vain, and any attempt to impose an institutional model on other countries would not be realised.
In talks with Kuwaiti Foreign Minister Sheikh Ahmad Nasser Al-Mohammad Al-Sabah, Wang said China hoped to work with Kuwait to restart talks on a free-trade deal between China and the Gulf Cooperation Council.
Sun said Wang's comments suggested there could be a breakthrough on an agreement soon after repeated rounds of negotiations in the past decade.
This article appeared in the South China Morning Post print edition as: Interference in Syria doomed to fail, China says