Taiwan
Get more with myNEWS
A personalised news feed of stories that matter to you
Learn more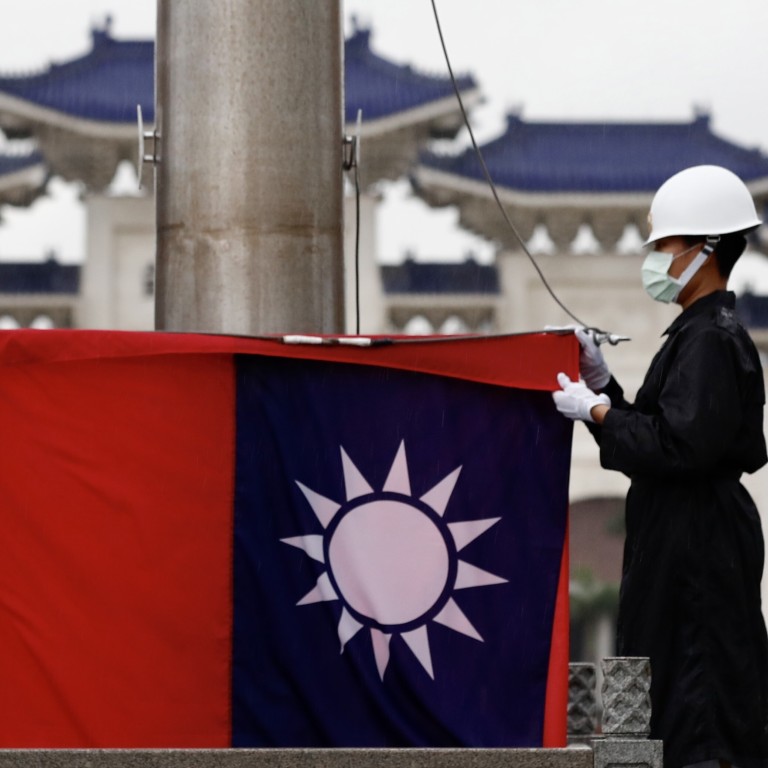 US backs Taiwan's move to open de facto embassy in Lithuania
Island's foreign minister says plans are in full swing to establish a representative office in the Baltic nation
Outpost will be its first in Europe to use 'Taiwan' in the official name
Taiwan
will soon open a de facto embassy in Lithuania in what is seen as a small victory for Taipei in its long diplomatic tussle with Beijing, which claims sovereignty over the self-ruled island.
Washington was swift to welcome the move, saying it stood with friends and allies.
Taiwanese Foreign Minister Joseph Wu said on Tuesday that the island was "in full swing" to open the Taiwanese representative office in Lithuania – the first island's mission in Europe to bear the name Taiwan.
"Our representative office [to be] stationed in Lithuania will be our first office in Europe using the name Taiwan," Wu said, adding "Taiwanese" was just the possessive case of Taiwan.
He said promoting Taiwan's ties with Europe was one of the ministry's core tasks.
"By using the name Taiwan as our representative office, it will allow our friends in Europe to understand more clearly that we represent the 23 million people of Taiwan. This is something highly significant," he said.
Calling the plan an "important diplomatic breakthrough", Taiwanese President Tsai Ing-wen said in a Facebook post that the island's relations with Lithuania were tipped to fare even better after Vilnius opened its office in Taipei this autumn.
Zhu Fenglian, a spokeswoman of Beijing's Taiwan Affairs Office, warned Lithuania against developing official contact with Taiwan and asked it to adhere to the "one China" principle and avoid sending a wrong signal to the pro-Taiwan independence forces on the island.
"Taiwan is a part of China and we firmly oppose any of our allies developing official relations with the Taiwan area," she said, adding that any attempts to change the status would not alter the fact that Taiwan was a part of China and the international reality that there was only one China.
Wu said the ministry had already submitted the office's budget for cabinet approval and was looking for a site. "Preparations are in full swing," he said.
He said Taiwan and Lithuania were expected to work together on projects ranging from trade, to industry and technology.
Once the office started operations, Taiwan would focus on promoting trade, culture, education and tourism in the Baltic nation and eastern Europe.
Earlier this year, Lithuania said it was mulling setting up a representative office in Taipei, prompting anger from Beijing which has official relations with Vilnius.
Lithuania also quit a Beijing-led initiative
to boost infrastructure deals with central and eastern Europe.
Soon after Wu announced the plan, the US praised the decision.
"The United States applauds the agreement to establish a Taiwan office in Lithuania. All countries should be free to pursue closer ties and greater cooperation with Taiwan, a leading democracy, a major economy, and a force for good in the world," said the American Institute in Taiwan, the US de facto embassy in Taipei in the absence of formal ties.
"The United States remains committed to supporting Taiwan in a manner consistent with the US 'one China' policy as Taiwan strengthens its international partnerships and works to address global challenges, including Covid-19, investment screening, and supply chain resilience.
"We stand with friends and allies to advance our shared prosperity, security, and values around the world."
Washington, which switched recognition to Beijing from Taipei in 1979, has been vocal in supporting Taiwan's participation in international affairs since the administration of former US president Donald Trump. That support, especially those from Congress, has continued under Trump's successor
Joe Biden
.
Washington has also warned Taipei's remaining 15 allies against switching ties to Beijing, saying they could risk sanctions if they did so.
Wang Ting-yu, a legislator of the ruling, independence-leaning Democratic Progressive Party, said the office was a diplomatic win for Taiwan.
"Lithuanian and Taiwan face the same situation – that their democratic and free systems are under imminent threat from [Beijing]," Wang said.
"Our foreign ministry was able to seize this opportunity ... and gradually overcome all difficulties in setting up the office."
Legislator Charles Chen I-hsin said the island should avoid bragging about the move because it might prompt Beijing to pressure Lithuania. "After all, it is not the establishment of official relations between the two sides," Chen said.
This article appeared in the South China Morning Post print edition as: Washington hails Taipei's 'breakthrough' move to open office in Lithuania