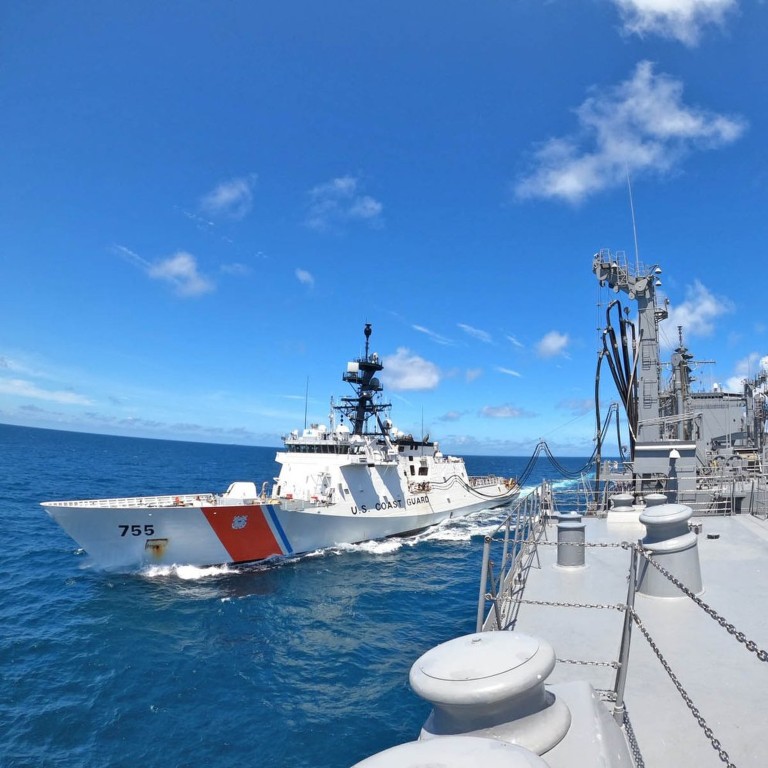 Japan's supplies to US Coast Guard aimed at testing Beijing, observers say
American coastguard patrol vessel was serviced by a Japanese supply ship during joint exercise, Japan reveals
'Improved interoperability' hailed by Japan, while Chinese observers say the announcement is a challenge to China
A Japanese Self-Defence Forces supply ship has replenished an American coastguard patrol vessel at sea for the first time during joint training,
Japan
said on Tuesday, in what Chinese observers described as closer collaboration to counter China.
Japan's JS Oumi supply ship serviced the USCGC Munro in the
East China Sea
last week during a two-day
training exercise
that included crew exchanges and maritime law enforcement training and exercises, after the Munro's port visit in the Japanese city of Sasebo.
"This is the first time that a [Japan Maritime Self-Defence Force] supply ship has replenished a US Coast Guard patrol vessel," said Toshihiko Yoshifuku, the commanding officer of JS Oumi. "I believe that we have further improved interoperability."
Under an acquisition and cross-servicing agreement signed in 1996, the Japanese forces and US
military
can provide each other with resources such as food and petrol, as well as medical and training services, during operations including those held near Japan.
01:50
Japan hosts military exercises with the US, France and Australia amid tension over East China Sea
Japan hosts military exercises with the US, France and Australia amid tension over East China Sea
Service support has been a long-standing area of cooperation between Japan and the US, but recent tensions over the Taiwan Strait meant such operations have raised suspicion in China, said Zhou Chenming, a military expert in Beijing.
"Japan is testing the waters," he said. "The coastguard is also part of the US armed forces. By releasing the statement, it is using words to test China's bottom line. If China doesn't condemn it, Japan would continue to [support US ships]."
The US Navy did not have enough ships in the Western Pacific to replace those deployed longer than planned, and had to use vessels from its coastguard and those of its allies, he said. Compared with navy ships, US Coast Guard vessels carry fewer missiles and other weapons, and are suitable for patrol and low-intensity conflicts outside contested waters, Zhou said.
Some US vessels are stationed in the East China Sea and
South China Sea
for months to perform a range of duties, including freedom of navigation operations to indirectly challenge China's maritime sovereignty claims.
China is wary of Japan's involvement, especially given that Japan has become more outspoken on the issue of
Taiwan
, Zhou said.
The US' military exercises with its allies in the region are held to deter China from trying to take Taiwan by force, said Ni Lexiong, a maritime expert in Shanghai, adding that last week's servicing cooperation would add to the US-Japan alliance's combat capability.
"The supply was about Japan showcasing its capability to China, Taiwan and the US – before, it was only doing the talk," he said. "War is all about backstage support. What's war without food and water? Support can win wars."
Beijing regards Taiwan as a breakaway province that must be unified with mainland China, by force if necessary. Chinese diplomats have said repeatedly that Tokyo's alliance with Washington should not develop at the expense of China's interests.