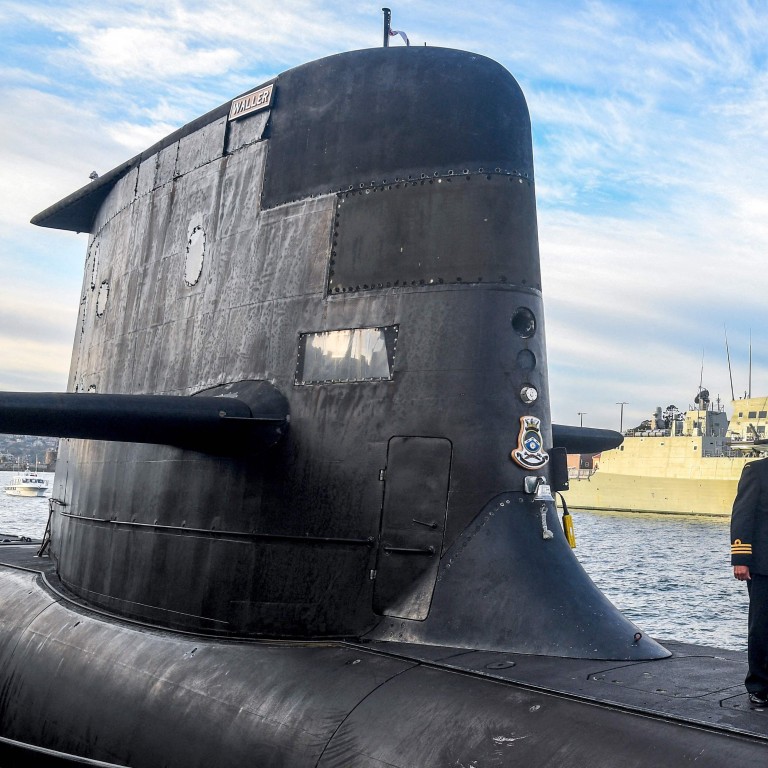 France warns new Aukus alliance threatens security partnerships in Indo-Pacific
France 'notes and regrets' end of its submarine deal with Australia and will convene EU summit on European defence
Alliance excluding European partners would be seen as 'part of a pattern' and in keeping with 'America first' focus under the Biden administration: analyst
The new
Aukus security alliance
formed by the United States, Britain and Australia has left
France
frustrated at being left out, prompting concerns over the impact on Washington's commitment to form stronger ties with allies in confronting China.
France – which had its submarine deal with Australia halted as Canberra announced on Thursday it was joining Washington and London in the new alliance – described it as a regrettable move that would push
Europe
to be more autonomous in its strategic planning.
"The American choice to exclude a European ally and partner such as France from a structuring partnership with Australia, at a time when we are facing unprecedented challenges in the Indo-Pacific region, whether in terms of our values or in terms of respect for multilateralism based on the rule of law, shows a lack of coherence that France can only note and regret," French Foreign Minister Jean-Yves Le Drian and Armed Forces Minister Florence Parly said in a joint statement.
"The regrettable decision that has just been announced regarding the [future submarine programme] only reinforces the need to make the issue of European strategic autonomy loud and clear."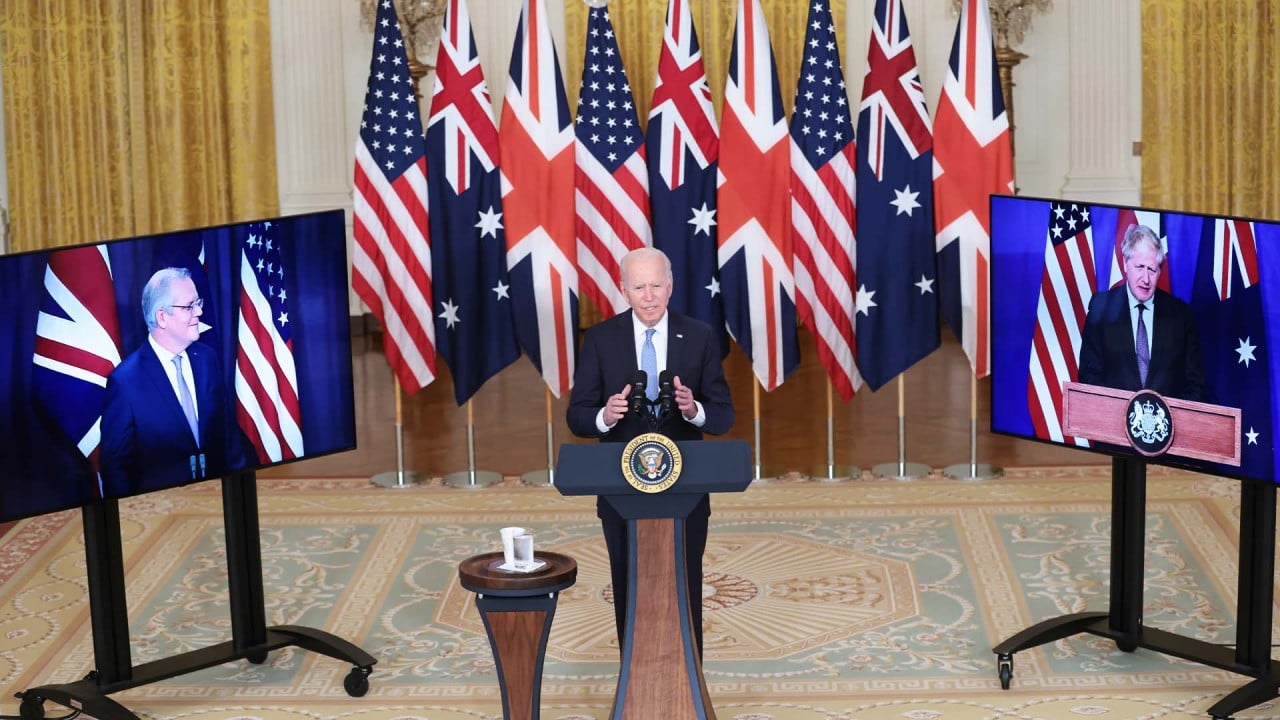 03:51
US, UK, Australia announce 'historic' military partnership in Pacific
US, UK, Australia announce 'historic' military partnership in Pacific
Australia selected French shipbuilder Naval Group to build a US$40 billion new submarine fleet to replace its more than two-decades-old Collins submarines, but the deal was delayed over Canberra's requirement that most of the manufacturing and components be sourced locally.
Under the new alliance, naval officials and technical specialists from the three countries will work together to give Australia nuclear submarine technology to improve deterrence across the Indo-Pacific.
Without referring to China in its announcement of the new alliance, the White House said the move was not aimed at any particular country but an effort to uphold US strategic interests and stability in the Indo-Pacific region.
China is facing escalating tensions with nations in the region over the
South China Sea
disputes with its Southeast Asian neighbours, a
border dispute with India
and a
maritime dispute with Japan
. The US has in recent months teamed up with its allies to put pressure on China – describing its activities in the region as coercion. British and German military vessels have also sailed to the region.
The announcement of the alliance comes just as the European Union is about to release details of its
Indo-Pacific strategy
, which European Commission President Ursula von der Leyen
said on Wednesday
was inspired by "the fact that autocratic regimes use [the region] to try to expand their influence".
Von der Leyen said the EU needed to strengthen its own forces and she and French President Emmanuel Macron would convene a summit on European defence.
"The more fundamental issue is, why has this not worked in the past? You can have the most advanced forces in the world but if you are never prepared to use them, what use are they? What has held us back until now is not just shortfalls of capacity, it is a lack of political will," she said.
US President
Joe Biden
said France was still a key partner of the US.
"France, in particular, already has a substantial Indo-Pacific presence and is a key partner and ally in strengthening the security and prosperity of the region. The United States looks forward to working closely with France and other key countries as we go forward," he said.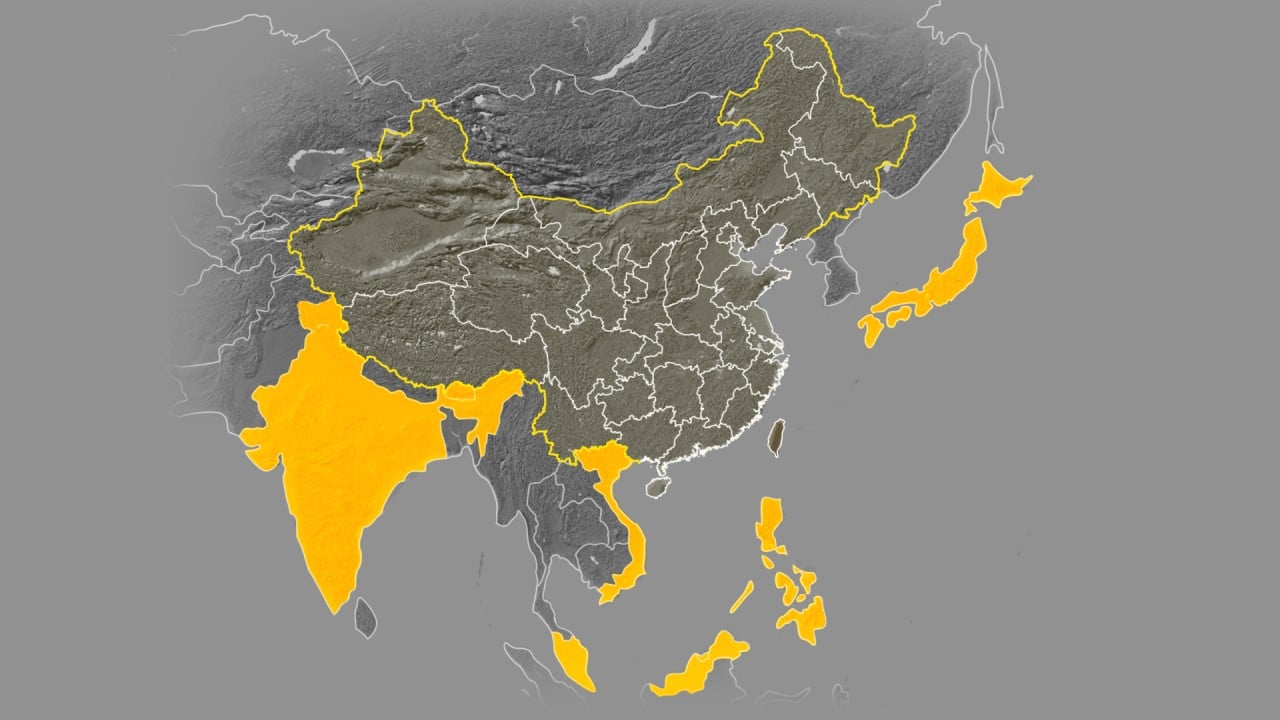 06:24
Explained: the history of China's territorial disputes
Explained: the history of China's territorial disputes
Europe has been aligned with the US on China, ranging from issues relating to human rights concerns in
Xinjiang region
, transparency in tracing the source of the pandemic and stepping up security in the Indo-Pacific area.
Macron said in February it would be "counterproductive" to gang up on China, vowing never to be made "a vassal by China nor be aligned with the United States" in Asia.
Thorsten Benner, director of the Global Public Policy Institute in Berlin, said the new deal would make sense for both US and Australia in a way that "it is the US, not France [that guarantees] Australia's security if push comes to shove and conflict erupts". But Benner said Washington had underestimated the damage to its diplomatic relationships.
"[This] commercial and military sense trumped all other concerns about alienating allies. But I do think Washington may have underestimated damage to US-France relations by the decision, and the way it has been communicated to France," Benner said.
"Those in Paris with few illusions about how little US takes into account French interest have reason to feel vindicated – but Paris should pursue a cool-headed response: France and Europe have no other choice but to cooperate with the US, UK and Australia to defend its interests in Indo-Pacific region. The US and Australia know that, which is why they had few second thoughts about [the] decision to kick France out of [the] submarine project."
Noah Barkin, senior visiting fellow at the German Marshall Fund in Berlin, said the latest alliance excluding European partners would be seen as "part of a pattern" under the Biden administration on top of issues such as
pulling out troops from Afghanistan
and ongoing US travel bans on Europeans.
"Biden is not Trump, but in the eyes of many Europeans, 'America first' lives on. This is a further gust of wind in the sails of those in Europe who are arguing for more strategic autonomy," Barkin said.
"[It] is a reminder that, alongside systemic competition with China, there is still an intense competition going on between like-minded advanced economies. It won't torpedo transatlantic cooperation on China by any means. But it doesn't help it either."
Derek Grossman, senior defence analyst at the Rand Corporation, said the alliance was "surely going to complicate all three nations' relationship with France" but its impact could be limited as these powers still shared a common goal in the Indo-Pacific, "namely to keep the region free and open from coercion".
"As for the rest of the EU, it's unclear whether there is any connection between today's announcement and how, say Germany, plans to move forward in the region. I suspect this is a France-centric challenge."
However, Grossman also said that in addition to angering France and China, Australia's joining the alliance might have opened a "fresh wound" in its own neighbourhood, with New Zealand having already "said no" to nuclear submarines in their waters, and people on Pacific Islands still living with the legacy of dozens of detonations during the Cold War.
Collin Koh, a research fellow with the S. Rajaratnam School of International Studies at Nanyang Technological University in Singapore, said the deal could mean a greater US commitment to the Indo-Pacific region.
"The French are unhappy indeed. But I do see merits in having smaller arrangements, especially when the areas of focus could be more specific to certain countries depending on their national interests, capabilities and capacities. That's why not all arrangements are able to be this inclusive," he said.
"And usually these different arrangements each [have their] own focus area while they can also have overlapping ones … it gives the parties a good deal of strategic flexibility."