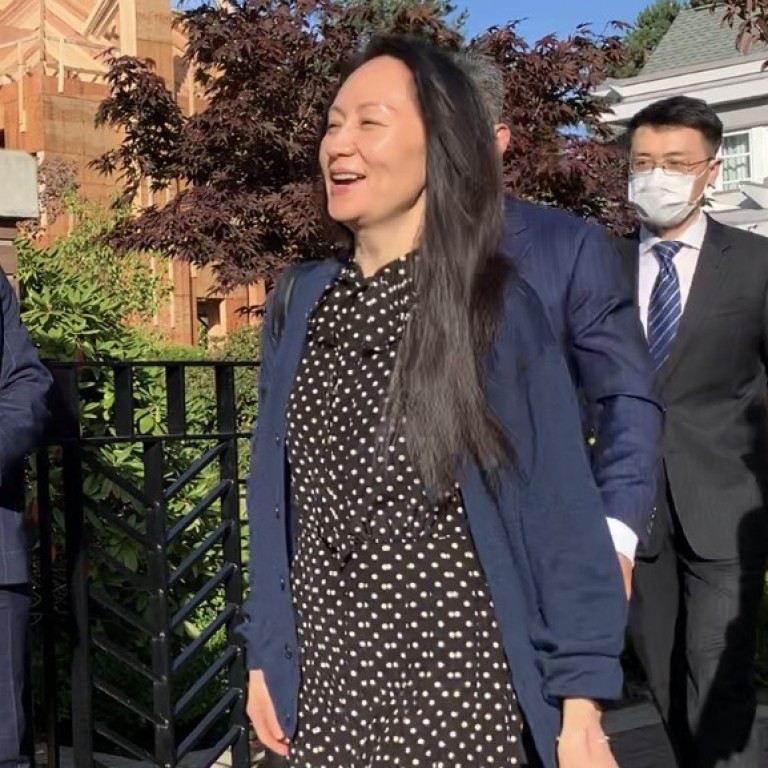 As Huawei's Meng Wanzhou enters Chinese airspace, foreign ministry slams 'arbitrary detention'
Foreign ministry lashes out over 'political persecution' based on 'purely fabricated' fraud accusations
The deal to free Meng appears to have resulted in China releasing detained Canadians Michael Kovrig and Michael Spavor, who are also flying home
Huawei Technologies executive
Meng Wanzhou
is flying back to China, after reaching a deal on Friday with prosecutors in New York that effectively resolves a US fraud case that had kept her in legal limbo in Vancouver for nearly three years.
Shortly after Meng's flight entered Chinese airspace, state broadcaster CCTV quoted foreign ministry spokeswoman Hua Chunying as saying that China's position on the Meng Wanzhou incident has been "consistent and clear".
"Facts have already fully proved that this is an incident of political persecution against a Chinese citizen, with the purpose of suppressing China's hi-tech enterprise," Hua was quoted as saying.
"The fraud accusations against Meng are purely fabricated with HSBC, which the US refers to as a 'victim', offering sufficient documents to prove Meng's innocence. The actions of the United States and Canada [on Meng] are typical arbitrary detentions."
Hua didn't mention the two Canadians.
Meng's chartered Air China flight from Vancouver, CA552, was the only international arrival scheduled for Shenzhen Baoan airport on Saturday, according to the information board in a largely deserted arrivals hall.
Her plane was expected to land at 9.50pm local time, according to the board, but the schedule could change, a member of the ground crew told the Post, as it was not a regular, scheduled flight.
Shenzhen airport has suspended virtually all international passenger flights to tackle the coronavirus pandemic. A member of ground staff told the Post that there had been no international arrivals for the last three days.
However, the news that Meng was on her way back had already reached almost every mobile phone in China, thanks to state media.
"This is big news and worth nationwide celebration," a worker at a McDonald's outlet next to the international arrivals gate told the Post. "Watching videos of her speech had me in tears."
"Meng Wanzhou's release marks a temporary victory for China in [international] diplomacy," said a passenger surnamed Xie. "The case of Meng is not about business but politics."
Meng's employer, Huawei, issued a statement in the afternoon. "We look forward to seeing Ms Meng returning home safely to be reunited with her family. Huawei will continue to defend itself against the allegations in the US District Court for the Eastern District of New York," the company said.
Chinese media, meanwhile, remained relatively muted on China freeing detained Canadians
Michael Kovrig and Michael Spavor
, whose release was announced by Canadian Prime Minister Justin Trudeau.
There were few comments about the release of the two Canadians on Chinese social media. A Global Times editorial, while mentioning the release of Kovrig and Spavor, said the nature of their release was different from Meng's because the pair were convicted of criminal charges while Meng was "suffering politically".
State news agency Xinhua reported that Meng's release was a result of the efforts by Beijing.
"Through unremitting efforts of the Chinese government, Ms Meng Wanzhou has already left
Canada
, on September 24 on a charter flight organised by the Chinese government. She will soon return to her home country and reunite with her family," the report said.
The deferred prosecution agreement over the Huawei executive would see the charges shelved then dropped and was approved at a US Federal Court hearing in Brooklyn, which Meng attended via video link.
She then made a brief appearance at the Supreme Court of British Columbia, where the request for her extradition was withdrawn and her bail conditions lifted, bringing to a close a marathon case that had thrown China's relations with Canada and the US into crisis.
Meng appeared to weep as she hugged her lawyers and supporters and left the Vancouver courtroom.
"Meng Wanzhou is free to leave Canada," the Canadian Department of Justice said in a statement.
Two hours later, she did just that, boarding an unscheduled Air China 777 that took off from Vancouver International Airport at 4.29pm local time, bound for China, an airport source said.
Footage circulating on Chinese social media showed a tearful Meng giving a brief statement at the airport.
"I thank my motherland and the people in my motherland for their support and help. They are the biggest support for me to hold on until now," she told reporters.
Meng also released a statement on her chartered flight to Shenzhen arranged by the Chinese government, in which she once again thanked the Chinese authorities for her release.
"For the past 1,028 days, I have been stumbling around, and it was difficult to choose between a thousand things; for the past 1,028 days, I have been wandering day and night, even if I had a thousand words to say; for the past 1,028 days, there have been endless mountains and rivers, and I did not know which way to return.
"Without a powerful motherland, I would not have the freedom I have today," according to the statement circulating on a social media account under state broadcaster CCTV.
Her release comes just days ahead of China's October 1 National Day, which falls on Friday, and Meng said she was happy to be able to celebrate in the motherland.
"Happy Birthday to the Motherland!" she said, "The road home, despite its twists and turns, is the warmest way home in the world."
Radar trackers showed the plane flying directly North over the Arctic, thus avoiding US Alaskan airspace. It is expected to land in Shenzhen Saturday night.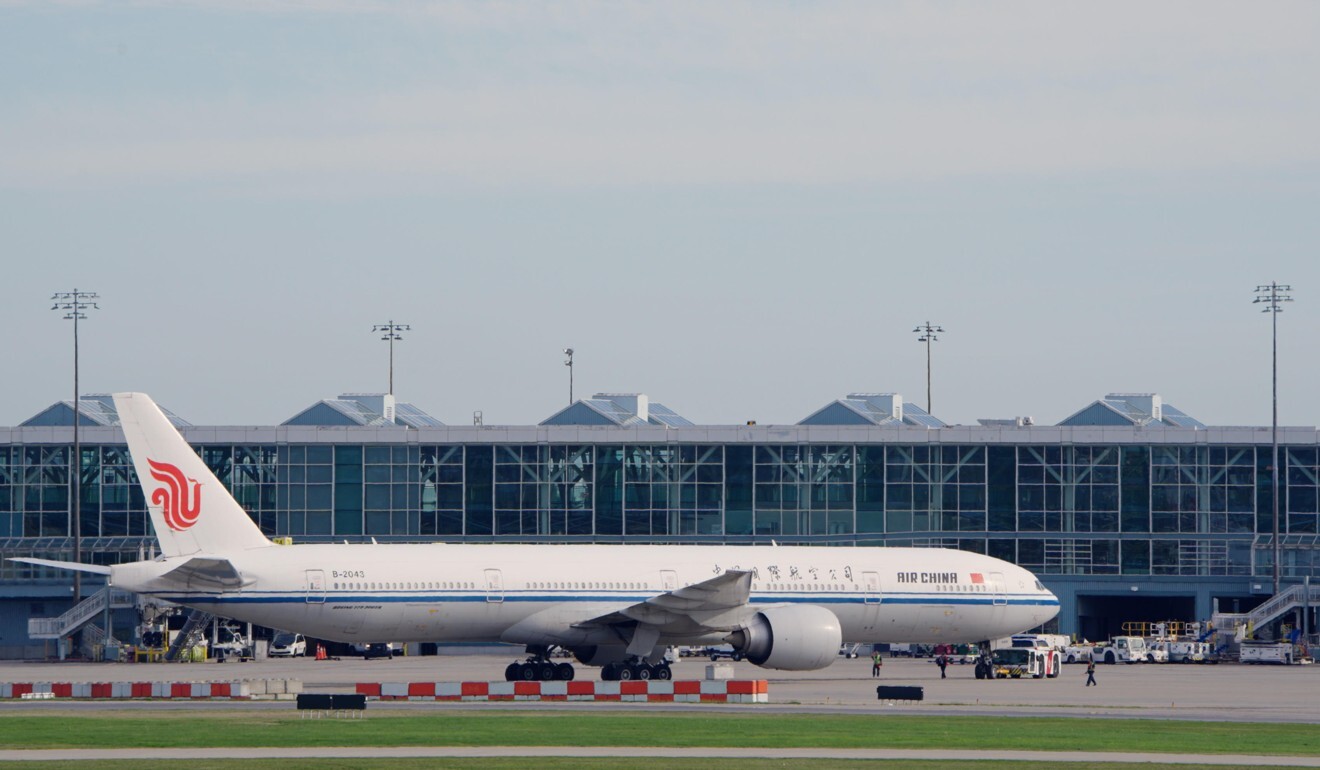 At the same time that Meng took to the air, a flight carrying Kovrig and Spavor took off from China, Trudeau announced. The men, who were arrested days after Meng, were accused by China of espionage, but were regarded by Ottawa as hostages.
"About 12 minutes ago, the aircraft carrying Michael Kovrig and Michael Spavor left Chinese airspace – and they're on their way home," Trudeau said.
Meng's
deferred prosecution agreement
released her on the condition that she agreed to a "statement of facts" about the case, including that she provided "knowingly false statements" to HSBC about Huawei's business dealings in Iran, and that Huawei had violated US sanctions on the Middle East country.
However, Meng pleaded "not guilty" to charges of fraud and conspiracy. The charges would be dropped in December 2022 under the deal, which would leave her with no criminal record.
The Justice Department also withdrew its request that Meng be extradited to the US from Canada.
"Meng has taken responsibility for her principal role in perpetrating a scheme to defraud a global financial institution," said acting US attorney Nicole Boeckmann.
In the Vancouver hearing, associate chief justice Heather Holmes signed the order for Meng's discharge, lifted all bail conditions, and set her free.
Holmes paid tribute to the lawyers for both sides, who she said had conducted themselves with "utmost skill" during the long proceedings.
Meng's release was the hottest topic on Chinese social media, which was flooded with nationalistic and emotional comments.
"It is delightful that Meng can be released without pleading guilty because of the powerful assistance from the Chinese government," Hu Xijin, chief editor of nationalist tabloid Global Times, wrote in a Weibo post.
On the steps of the courthouse, Meng thanked Holmes and the Canadian government "for upholding the rule of law".
"Over the past three years, my life has been turned upside down," Meng said. "It was a disruptive time for me, as a mother, a wife, and a company executive. But I believe every cloud has a silver lining. It really was an invaluable experience in my life. I will never forget all the good wishes I received from people around the world."
She added: "The greater the difficulty, the greater the growth."
Meng also thanked the Canadian people and media, saying "sorry for the inconvenience".
Among Meng's supporters in the Vancouver court was Chinese consul-general Tong Xiaoling.
Meng was arrested at Vancouver's airport on December 1, 2018, on a US warrant and indicted on bank and wire fraud charges for allegedly misleading HSBC about
Huawei
's Iran business.
On bail under partial house arrest, Meng had continued to exercise her role as Huawei's chief financial officer and had remained in close contacts with fellow executives, sources at the firm said.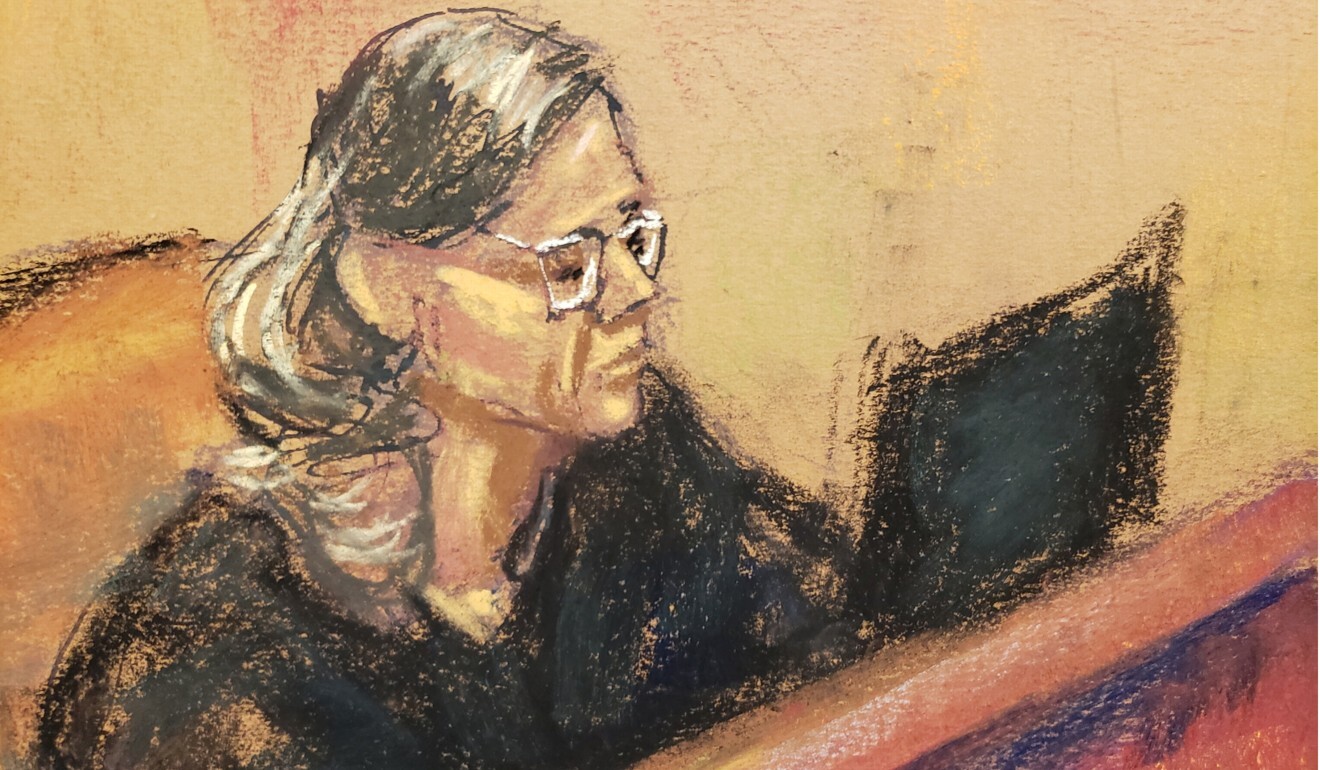 The agreement with the US did not refer to Spavor or Kovrig.
But the simultaneous timing of their and Meng's release made clear that a quid pro quo had taken place to free them.
"These two men have gone through an unbelievably difficult ordeal," Trudeau said in Ottawa. "For the past 1,000 days they have showed strength, perseverance, resilience, and grace."
Meng, 49, had left her Vancouver home with Huawei lawyers and executives about 45 minutes before the US hearing was scheduled to begin. She did not respond when asked if she was heading back to China soon, other than to smile broadly and say "good morning".
The courtroom in Brooklyn was outfitted with a dozen small screens scattered on judge Ann Donnelly's bench and across various lawyer and court officer tables, along with one large screen on the wall, beaming Meng's image from Vancouver.
When the decision was handed down, Meng gave a tight smile. After the hearing, her lawyer Michelle Levin of Steptoe & Johnson told reporters: "Ms Meng is free to go home to her family."
The US accusations that Meng had defrauded HSBC existed in an "evidentiary vacuum", her Canadian lawyer Scott Fenton said as hearings in the extradition case neared their end last month, dismissing arguments that she had put the bank's reputation or loans to Huawei at risk.
The alleged deceit is said to have been carried out in a 2013 PowerPoint presentation she made to an HSBC executive in a Hong Kong teahouse that was intended to reassure the bank.
Tom Kellogg, executive director of the Centre for Asian Law at Georgetown University Law School, said some may see in Meng's release a victory for China's hard-nosed "hostage diplomacy" strategy.
Shortly after Meng was arrested, Beijing detained Kovrig, a consultant, and Spavor, an analyst and former Canadian diplomat, and also changed the 15-year jail sentence imposed on Canadian drug smuggler Robert Lloyd Schellenberg to a death sentence.
Last month, after Chinese courts denied an appeal in Schellenberg's death penalty case, Canada's ambassador to China, Dominic Barton, said it was "no coincidence" that the verdict was reached while Meng was still being held in Vancouver.
China has repeatedly denied that its judicial system acted arbitrarily.
A report in the English-language Global Times newspaper earlier this month, where the first details of the allegations against the men emerged, said that Spavor took photos and videos of secret military equipment and sent them to Kovrig. The Global Times is a nationalist paper affiliated with Communist Party mouthpiece People's Daily.
The Canadian government responded to the report by saying that China had denied Canadian officials access to the men's trial and any evidence against them.
Speaking of Meng's deal on Friday, Brett Bruen, president of the crisis management firm Global Situation Room, said: "This was always going to be a tricky case for the United States and, quite frankly, was a very aggressive move by the Trump administration in pursuing such a high-level person that not only exposed Canadian executives but put our own people at great risk. And the benefit to our national security interests were marginal at best."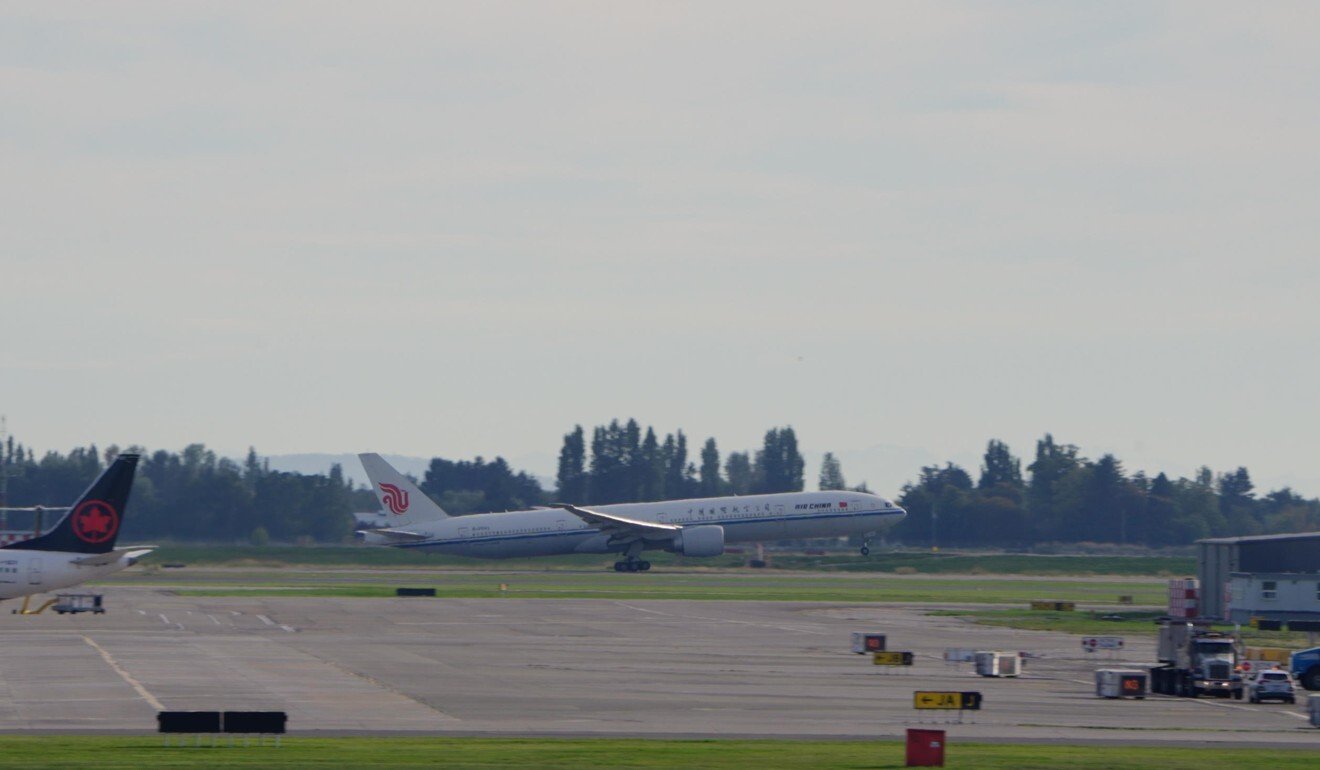 "I think this is a smart move to try and put this issue behind us and try to go to other US-China policy issues," added Bruen, the White House head of global engagement under former president Barack Obama. "This allows China to make other compromises while telling its folks at home that it got something."
According to acting US attorney Boeckmann, Meng's admissions of "multiple material misrepresentations … confirm the crux of the government's allegations in the prosecution of this financial fraud – that Meng and her fellow Huawei employees engaged in a concerted effort to deceive global financial institutions, the US government and the public about Huawei's activities in Iran".
Meng, who is a daughter of Huawei founder Ren Zhengfei, agreed to knowingly making false statements that hid Huawei's control over Hong Kong-based Skycom Tech – which operated in Iran – allowing it to access banking services in violation of US sanctions.
Under the terms of the deal, Meng agreed she had not been deceived or coerced into making the admissions.
The US charges will be permanently dropped on December 1, 2022, four years after her arrest, provided she does not violate any US laws before then, according to court documents.
Additional reporting by Robert Delaney, Josephine Ma and Rachel Zhang
This article appeared in the South China Morning Post print edition as: Hero's welcome for Meng Wanzhou returns home xxXCLUSIVE-Huawei CFO Meng expected to resolve U.S. charges in Brooklyn federal court - sourceHero's welcome for Meng Wanzhou