Explainer

|
Aukus alliance: what is it, what does it have to do with China, and why is France angry?
The partnership's founding provoked strong reactions from other countries, who cited security concerns, financial loss and betrayal
It will give Australia nuclear-powered submarines, but is seen as part of a broader plan
In mid-September, the United States, Britain and Australia
announced a "historic" security pact
to strengthen military capabilities in the Pacific, allowing them to share advanced defence technologies and equipping Australian forces with the know-how to build nuclear-powered submarines.
The "Aukus" partnership – an amalgamation of the three member countries' names – is seen as targeting China but has also angered several other countries. The US has
scrambled to patch up relations
with its oldest ally, France, with US Secretary of State Antony Blinken meeting French President Emmanuel Macron. China and North Korea have also voiced strong objections to the deal.
Why has there been such a ruckus over a trilateral defence agreement? Here is the lowdown.
What is the significance of the Aukus alliance?
Under the Aukus pact, the US and UK will help Australia build at least eight nuclear-powered submarines, the first time that Washington and London will be sharing sensitive nuclear submarine technology with Canberra.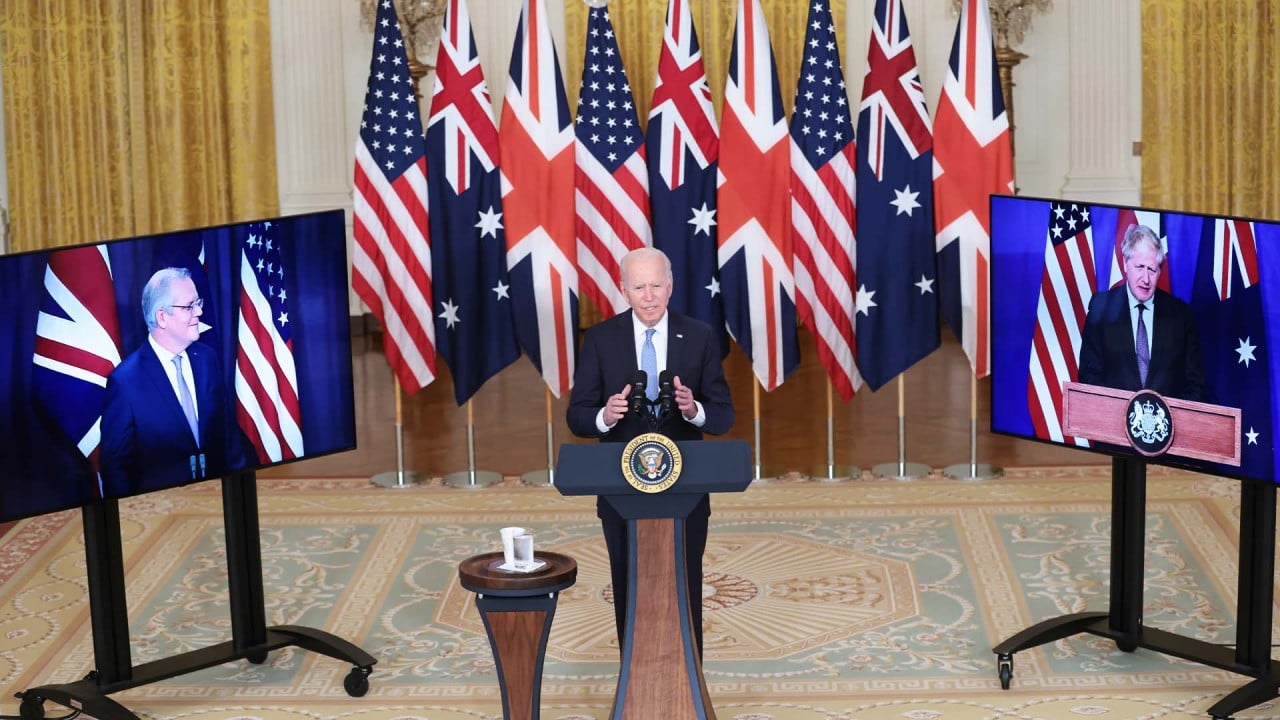 03:51
US, UK, Australia announce 'historic' military partnership in Pacific
US, UK, Australia announce 'historic' military partnership in Pacific
To begin the partnership, naval officials and technical specialists from the three countries will work together over the next 18 months to equip Australia with the technology to deploy nuclear-powered submarines. But given the complexity of the technology, Australia's nuclear submarine fleet
may not be operational until about 2040
.
The biggest benefit of nuclear-powered submarines is that they are able to stay submerged longer, with enough fuel to theoretically run for years, which is an advantage in stealth attacks. Conventional submarines that use diesel-powered electric motors have to resurface regularly so that their batteries can be recharged, allowing them to be spotted more easily.
Just because submarines are nuclear-powered, it does not mean that they are carrying nuclear warheads. Nonetheless, the
technology is sensitive
because US and British submarine reactors use uranium that is enriched at 93 to 97 per cent, and anything above 90 per cent is considered "weapons-grade" uranium with potentially dangerous implications.
There are currently only six countries with nuclear-powered submarines – the US, Russia, China, the UK, France and India – with Australia set to become the seventh under the new pact. The US is the world leader in this area, with 68 nuclear-powered submarines, while Russia has 29 and China has 12, according to the International Institute for Strategic Studies, a London-based research centre.
Why do China and other countries care, if they are not involved?
Although the parties have not said so, the agreement is largely seen by analysts as a US-led effort to counter the rising influence of China in the region.
Under the United Nations Treaty on the Non-Proliferation of Nuclear Weapons, Australia is prohibited from manufacturing or acquiring nuclear weapons. But
naval reactors are exempted from nuclear safeguards, and other countries
have been suspected of exploiting this loophole
by using the fuel used to power the subs' reactors to develop nuclear arms as well.
There are other reasons this particular alliance has ruffled feathers. Australia ditched a multibillion-dollar contract to buy diesel submarines from France in favour of acquiring nuclear-powered submarines under Aukus – a decision French Foreign Minister Jean-Yves Le Drian has described as a "
stab in the back
".
This has led to France
recalling its ambassadors
from Washington and Canberra in an unprecedented diplomatic protest, although it has since returned both of its envoys as the countries moved to repair relations. The UK
has also struck a more conciliatory tone recently
, with Prime Minister Boris Johnson telling Macron that he wanted to "re-establish cooperation", following earlier remarks for Paris to "prenez un grip" ("get a grip" in a mix of French and English) and "donnez-moi un break" ("give me a break") after France expressed fury over its scuppered deal.
Meanwhile, the Aukus deal left some questioning why the US would share its nuclear expertise with Australia and not India, after former Indian naval chief Arun Prakash said the
US had been telling India for years
that American laws made it impossible to share its nuclear-propulsion technology with anyone. But other experts have pointed out that India has its own conflicts with China and could benefit from the alliance if it helps counter Beijing's military might in the region.
What is the Indo-Pacific region and why is it important to the US?
A senior official from the Biden administration said the Washington-led Aukus deal was part of larger steps to build cooperation
with security partners in Asia
"to sustain peace and stability across the entire Indo-Pacific region".
For decades, Washington has referred to the vast expanse of territory stretching from Australia to India as the "Asia-Pacific", but during Donald Trump's presidency
he shifted to the term "Indo-Pacific":
a term common among foreign policy experts.
This was initially interpreted as Trump's attempt to distance himself from the policy of his predecessor, Barack Obama. But experts say the Biden administration has also embraced the term because it encompasses a broad range of places, from India to New Zealand, where the US intends to challenge China.
In light of the competition between the US and China, Washington
has described the Indo-Pacific Command
as "the single most consequential region for America's future" and stressed the need to contain Beijing's influence in the region by boosting its military presence and strengthening alliances.
The strategy is gaining momentum
with support from Asia-Pacific nations,
such as Vietnam and Malaysia, who are nervous about Beijing's growing aggression over issues such as the disputed South China Sea.