Taiwan
Get more with myNEWS
A personalised news feed of stories that matter to you
Learn more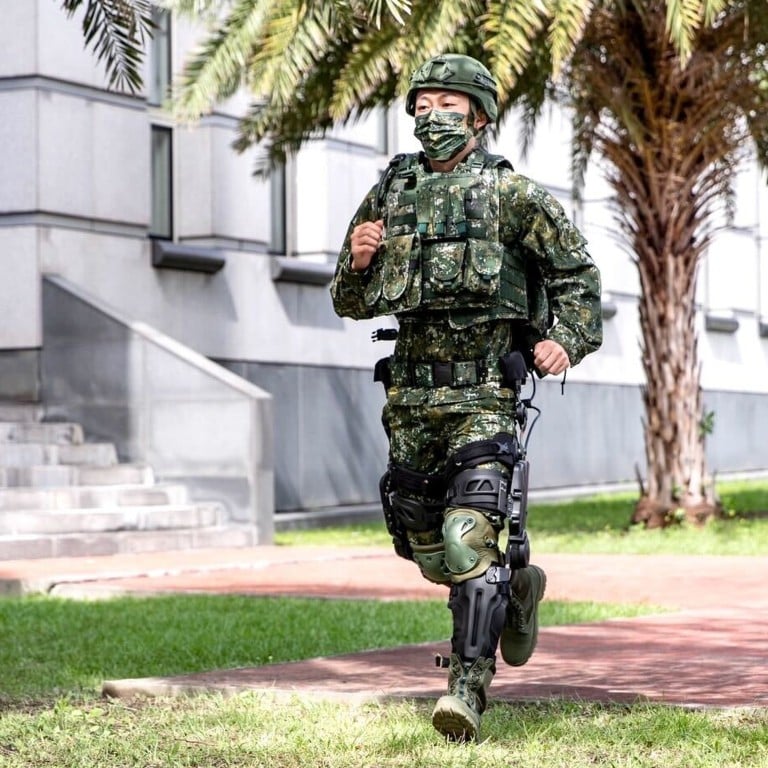 Taiwan builds 'ironman' suit to cut fatigue for troops on the ground in wartime
The powered suit from the 'Taiwan Ironman' project will allow soldiers to lift heavy objects with ease and move at up to 6km per hour
Unveiling comes amid a spike in cross-strait tensions and US worries about Taiwan's combat readiness
Taiwan
has unveiled the first generation of a battery-powered exoskeleton suit that could enhance the physical endurance of soldiers and increase mobility in various military operations.
This comes amid a spike in tensions across the Taiwan Strait, with
record air force sorties
from mainland China, that has raised concern internationally.
The version 1.0 mechanised suit is a part of a four-year NT$160 million (US$5.74 million) project developed by the National Chung-Shan Institute of Science and Technology – Taiwan's top
weapons
maker.
The lower-body exoskeleton will boost the strength and endurance of soldiers on the ground in wartime, according to the 2022 budget proposal submitted to the island's legislature for review.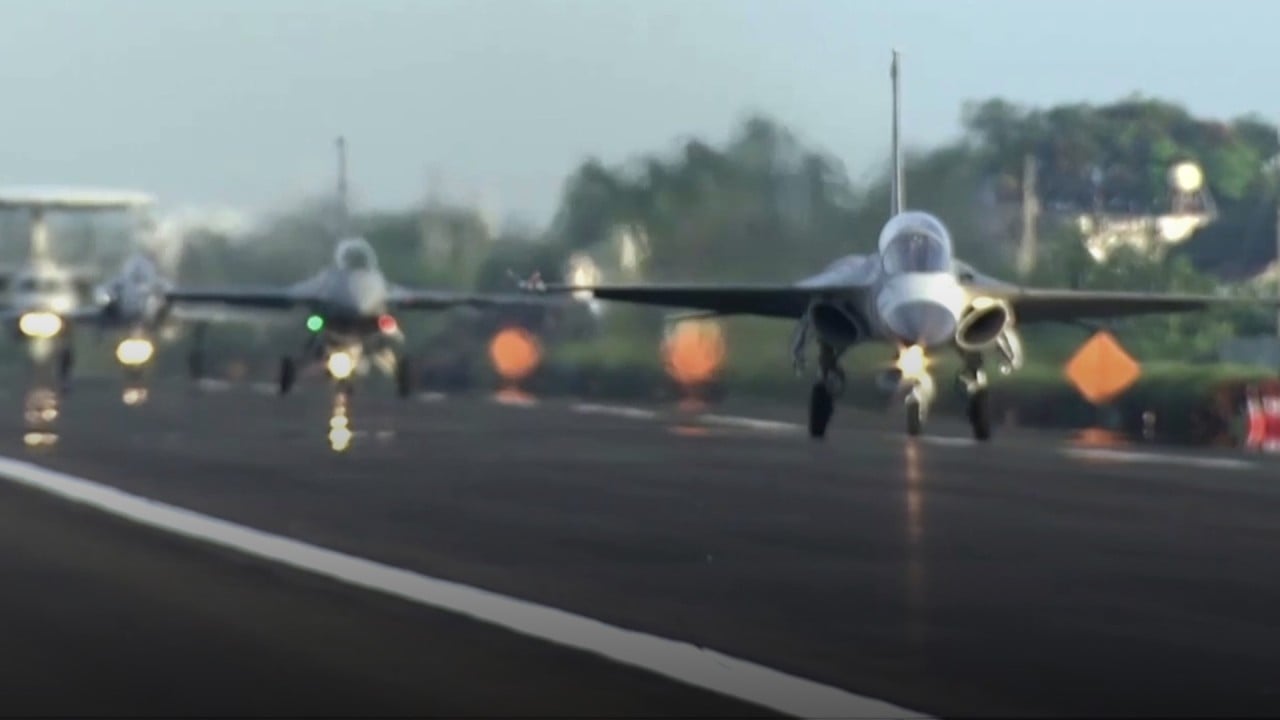 00:00
Taiwan denounces mainland China for 'over the top' flights into island's air defence zone
Taiwan denounces mainland China for 'over the top' flights into island's air defence zone
"To reduce fatigue of soldiers in carrying heavy facilities … we started developing the powered suit for the military in 2020," Jen Kuo-kuang, head developer of the project – dubbed "Taiwan Ironman programme" – said on Tuesday.
He said the suits, which support operators carrying loads over long distances by reducing stress on leg and hip joints, would be helpful during combat or disaster rescue.
"They can be used in field operations and movement of ammunition and heavy-duty weapons, and can increase the mobility and efficiency of the troops in wartime and post-disaster rescue missions," Jen told a news conference.
The plan is to develop Version 2.0 of the suit by 2023, Jen said.
Version 1.0, which was unveiled on Tuesday, is designed to enhance knee endurance, allowing soldiers to lift heavy objects with ease and move at up to 6km per hour. The suits are powered by a lithium battery module that can last more than six hours once charged.
Version 2.0 will be designed to allow the wearer to carry weights of up to 100kg, which will be useful for moving ammunition and injured people in wartime, Jen said.
The suits will have to be tailored to the operator's body and Jen and his team will collect data from military personnel to work out the average height and weight of Taiwanese soldiers.
Currently only a few countries, including
the US
, Japan and Canada, are working on similar technology for military use. But details are not available at present for confidentiality reasons, according to Taiwanese defence ministry officials.
Mainland China, which views Taiwan as its own territory and vows to bring it back into the fold – by force if necessary – has also developed its own powered exoskeleton suit for its troops.
Mainland state broadcaster CCTV earlier this year said the
People's Liberation Army
had revealed a new type of powered suit for individual soldiers, capable of providing 20kg of assisted strength and reducing injury risks from heavy lifting.
The exoskeleton suit felt light and would not affect normal body movement, the CCTV report said in January, after a reporter tried out the gear.
Taiwanese defence ministry spokesman Shih Shun-wen said the powered suits could increase the operational efficiency of the island's troops during wartime.
He also said the military would do its best to enhance its war preparedness and the combat readiness of its reserved force.
Shih's remarks came after the Asian Wall Street Journal reported on Monday that few US military planners and administration officials thought the island's force could hold the line in the event of a cross-strait war.
The PLA has in recent months
ramped up sorties
into Taiwan's air defence zone, while satellite pictures showing it was
upgrading and reinforcing
airbases closest to Taiwan along its southeastern coast have hinted at stepped up plans to take the island by force.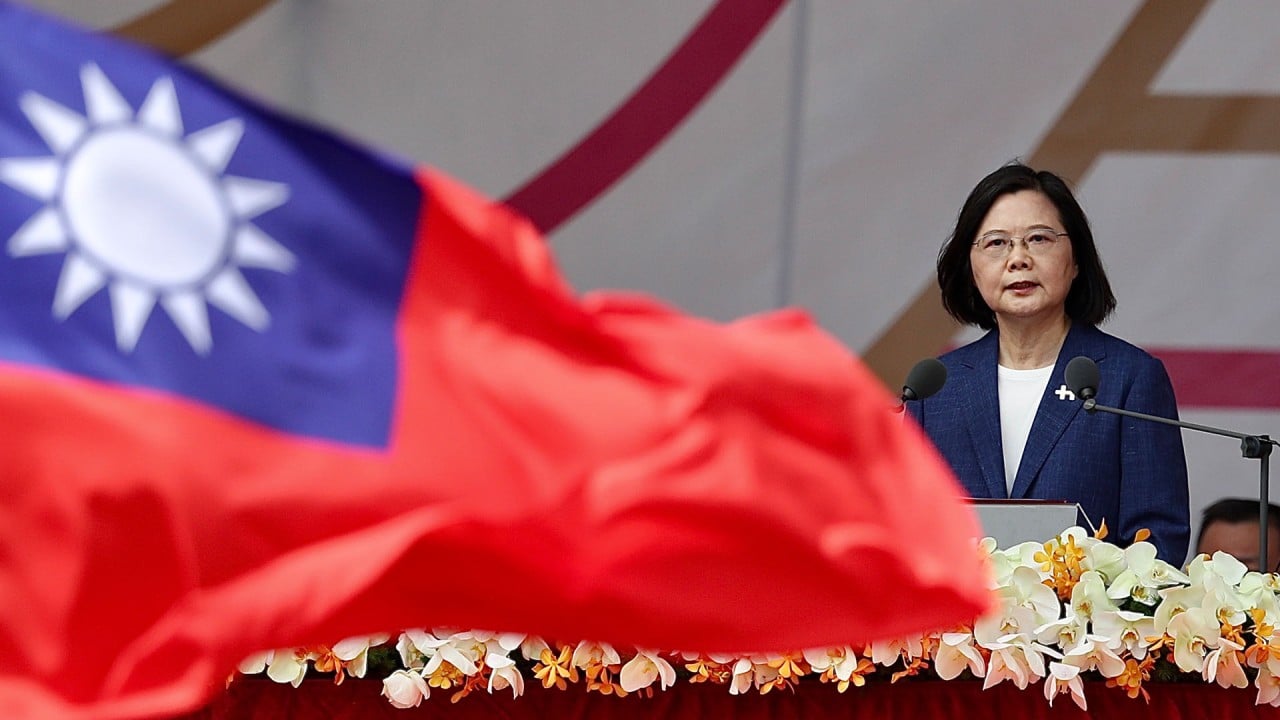 02:23
Taiwanese President Tsai Ing-wen says island 'will not bow' to mainland China
Taiwanese President Tsai Ing-wen says island 'will not bow' to mainland China
The Journal report said among the pressing concerns were poor preparation and low morale among the roughly 80,000 Taiwanese who are conscripted each year and the nearly 2.2 million reservists.
Shih said foreign media reports about a potential cross-strait crisis naturally would attract public attention, but there was no cause for undue worry.
The military would defend the island's security and strengthen training, he emphasised, and if needed would seek to take part in joint military and humanitarian assistance drills with the US.
Last month, the US House of Representatives approved the National Defence Authorisation Act for 2022, which includes recommendations for inviting Taiwan to next year's Rim of the Pacific Exercise (Rimpac). Led by the US military, the
Rimpac
is held every two years and is the world's largest international maritime warfare exercise.
This article appeared in the South China Morning Post print edition as: Taiwan's new 'Ironman' suit boosts troop endurance