COP26
Get more with myNEWS
A personalised news feed of stories that matter to you
Learn more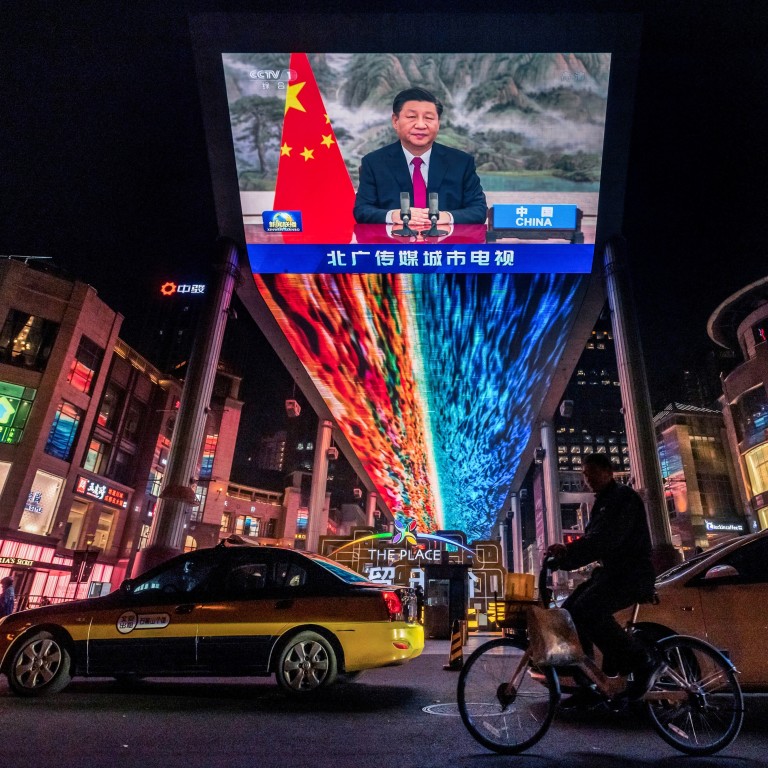 Xi Jinping calls on countries to combat climate change, but does not unveil any new commitments in written statement to COP26
Xi Jinping calls on countries to focus on 'concrete actions' and harness innovations in science and technology to 'accelerate the green transition'
He does not unveil any new climate commitments by China, but says that the government would be rolling out specific implementation plans
Chinese President
Xi Jinping
called on developed countries to do more to support developing nations' efforts to combat
climate change
on Monday, as world leaders – excluding himself – gathered in Glasgow for a
United Nations
conference to seek ways to avert the climate crisis.
In a written statement delivered to the COP26 summit, Xi also called on countries to focus on "concrete actions," set "realistic targets and visions", and harness innovations in science and technology to "accelerate the green transition".
"Developed countries should not only do more themselves, but should also provide support to help developing countries do better," Xi said, reiterating a
message
he delivered to G20 leaders on Saturday.
Xi did not unveil any new climate commitments by China in his brief statement, but said that his government would be rolling out specific implementation plans in sectors including energy, industry, construction and transport. Those plans, he said, would be coupled with supporting policy actions including taxation and financial incentives.
The comments came as Washington criticised China over its no-show at the COP26 leaders' conference, and described the country as an "outlier" in terms of global alignment with the goal to limit the Earth's warming by 1.5 degrees.
Calling
climate change
the "existential threat to human existence", US President
Joe Biden
pledged in his COP26 address that the US would meet its target to cut emissions by more than half by 2030, appearing to acknowledge concerns about Washington's commitment following the administration of Donald Trump.
"We'll demonstrate to the world the United States is not only back at the table, but hopefully leading by the power of example," Biden said. "I know it hasn't been the case. And that's why my administration is working overtime to show that our climate commitment is action, not words."
Those comments came as his US$555 billion plan for climate spending remains a long way away from approval in a bitterly divided US Congress.
Biden also said that the world's major economies must do more to support developing nations, warning: "We're falling short. There's no more time to hang back or sit on the fence or argue among ourselves."
As part of that effort, the US administration aims to embark on a new programme to provide up to US$3 billion annually in financing to help developing nations adapt to
climate change
, the White House said.
The White House unveiled that plan, which will require congressional approval, alongside a 56-page white paper outlining the steps that the US must take to reach its goal of net-zero emissions by 2050.
British Prime Minister
Boris Johnson
welcomed more than 120 leaders at Monday's opening session, telling them: "Humanity has long since run down the clock on
climate change
. It's one minute to midnight and we need to act now".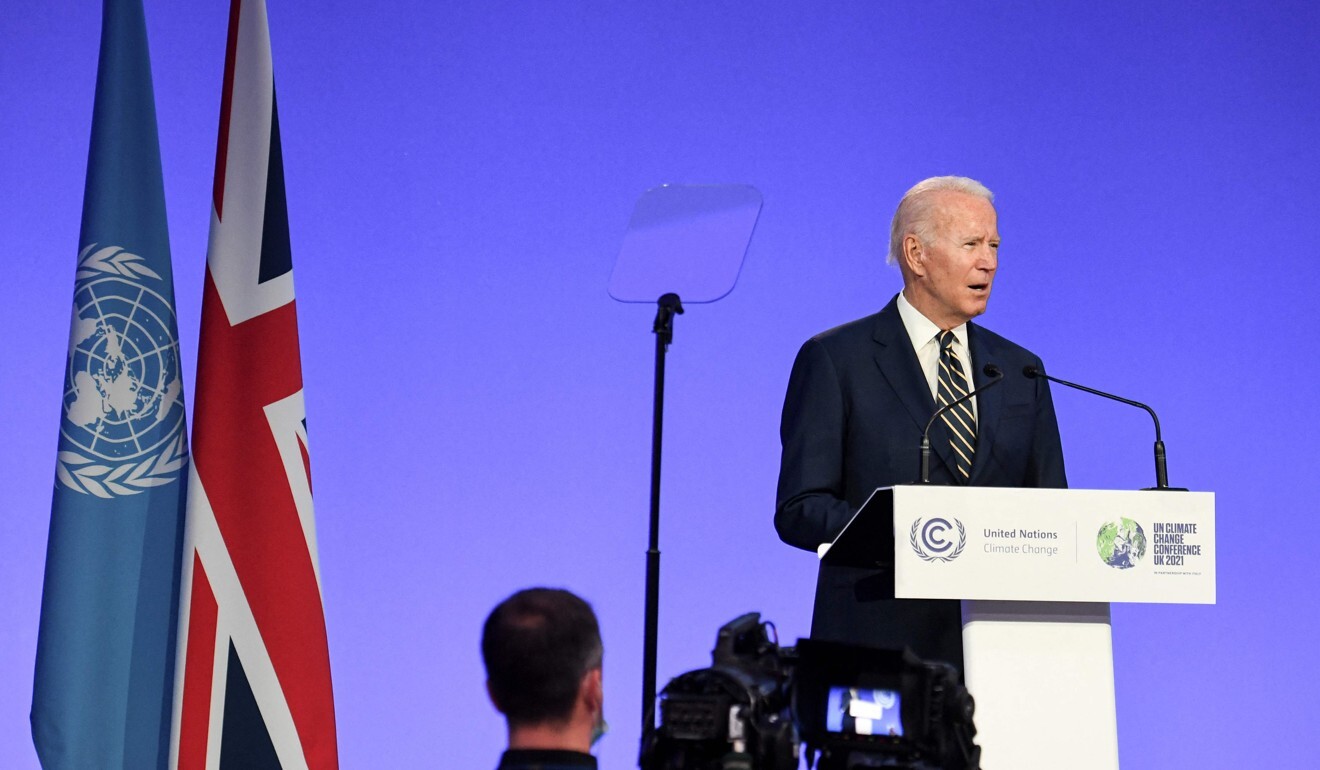 Among the other leaders attending in person were German Chancellor Angela Merkel, French President Emmanuel Macron, Indian Prime Minister Narendra Modi and UN Secretary-General Antonio Guterres.
Despite not taking part in the COP26 summit either in person or via video link, Xi, who has not left China since the
Covid-19 pandemic
began, is listed on the official schedule as one of the speakers at the summit and said in his statement that he was pleased to "attend".
Speaking to reporters in Rome on Sunday,
Biden expressed disappointment
that Russia and China "didn't show up in terms of any commitments to deal with climate change".
The US continued the pressure on Monday with US national security adviser Jake Sullivan chiding China as one of the "significant outliers" as nations aligned to fight the climate crisis.
"Now the question is can we get the world aligned?" Sullivan asked aboard Air Force One en route to Scotland. "There are significant outliers," he told reporters, "one of those significant outliers being China, who will not be represented at leader level at COP26 and who we do believe has an obligation to step up to greater ambition as we go forward.
"We'll keep pressing on that," he said, calling the contrast between US efforts under Biden to fight climate change and what he said was China's passive stance "confounding".
In Beijing, Chinese foreign ministry spokesman Wang Wenbin questioned the US commitment to addressing climate change.
"I wanted to point out that … developed countries must shoulder inexcusable historic responsibility for emitting greenhouse gas in their industrialisation process in the past 200 years," Wang said.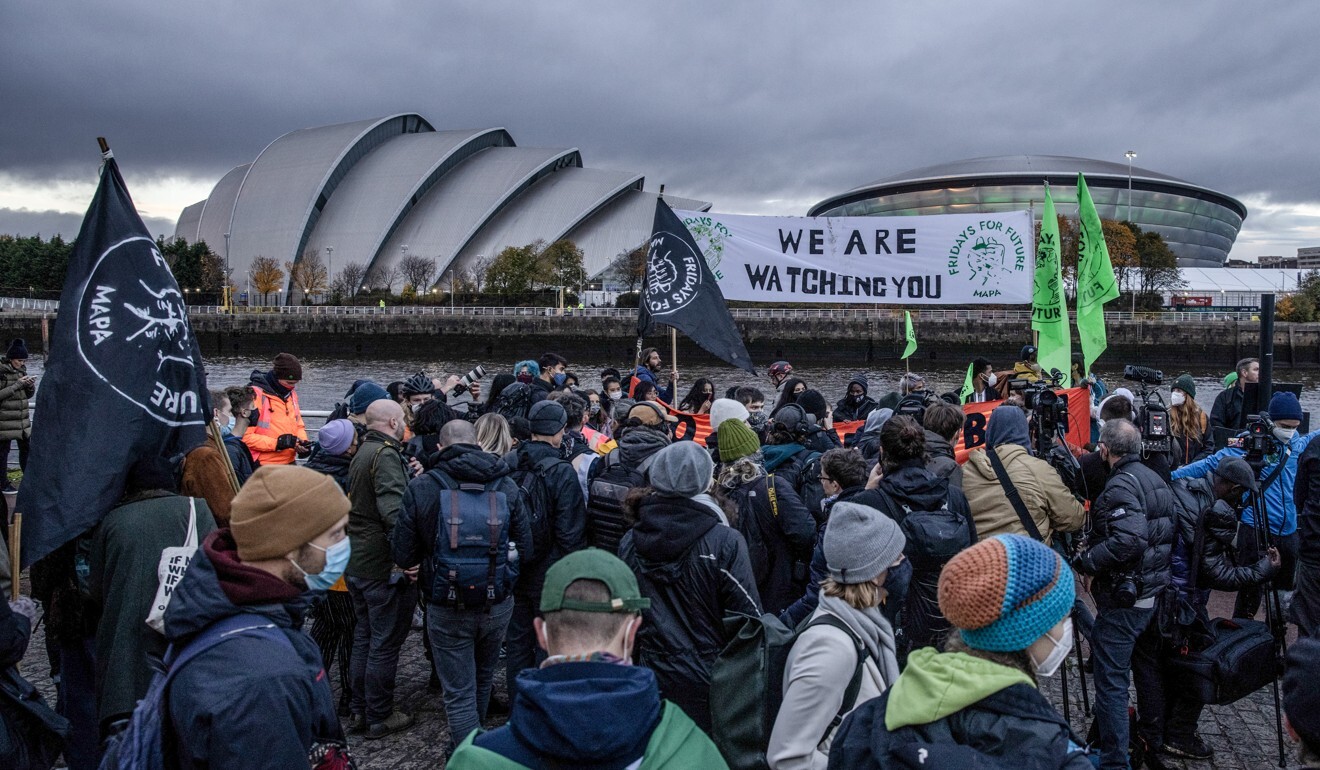 "Historically, Americans have cumulatively produced eight times more emissions than Chinese," he said. "If we take a look at history, then we can see that the US has seriously undermined the world's confidence on climate actions by refusing to ratify the Kyoto treaty and backing out of the Paris agreement."
The COP26 climate summit, which will run for two weeks until November 12, is seen as the world's last best chance to curb global warming and avoid catastrophic damage. Some key issues are expected to be finalised at the summit, including carbon market mechanisms, climate finance and
"nature-based solutions"
which emphasise the role nature plays in combating climate change.
The Glasgow climate conference comes on the heels of a two-day summit of the
Group of 20
in Italy. Leaders of the world's 20 biggest economies made a compromised commitment on Sunday of reaching carbon neutrality "by or around mid-century".
In the final communique, leaders of the G20, whose economies account for 80 per cent of global greenhouse gas emissions, called for taking accelerated actions across mitigation, adaptation and finance during this critical decade. For the first time, they committed to halting international financing for building new unabated coal-fired power plants abroad.
Meanwhile, G20 leaders reaffirmed the commitment to mobilise jointly US$100 billion per year by 2020 and annually through to 2025 to aid developing countries – a commitment developed countries failed to meet on time.
In a video address delivered at the G20 summit, Xi told the leaders that developed countries should "set an example" on emissions reduction and help developing countries fight climate change.
UN Secretary General Antonio Guterres said on Twitter he hoped more ambitious commitments would be made at Glasgow. "While I welcome the #G20's recommitment to global solutions, I leave Rome with my hopes unfulfilled – but at least they are not buried," Guterres tweeted. "Onwards to #COP26 in Glasgow to keep the goal of 1.5 degrees alive and to implement promises on finance and adaptation for people & planet."
Helen Mountford, vice-president for climate and economics at the World Resources Institute, said success at COP26 was largely dependent on rebuilding trust.
"In many ways, success at the Glasgow climate talks hinges on rebuilding trust – trust that the promised financial support will be delivered to developing countries, trust that major emitters will make bold emission cuts and trust that new corporate commitments are transformative rather than PR stunts. The world will be watching to hold their leaders to account," she said.
Responding to the G20 outcome, Jennifer Tollmann, senior policy adviser at think tank E3G, said the G20 meeting helped set the stage for Glasgow.
"By committing to accelerate action across mitigation, adaptation and finance this decade, the G20 is expected to lay a foundation for an 'acceleration outcome' at COP26. Recognising the need to reach a balance of mitigation and adaptation finance and the need for all G20 to significantly increase support for adaptation speaks to concerns that will be front of mind in Glasgow," Tollmann said. "What's missing? A clear timeline on which they will do so – something that at least the richer end of the G20 will be under pressure to clarify when they face climate-vulnerable countries over the next two weeks."
Additional reporting by Agence France-Presse and Associated Press
This article appeared in the South China Morning Post print edition as: China questions US commitment to seriously tackle climate change