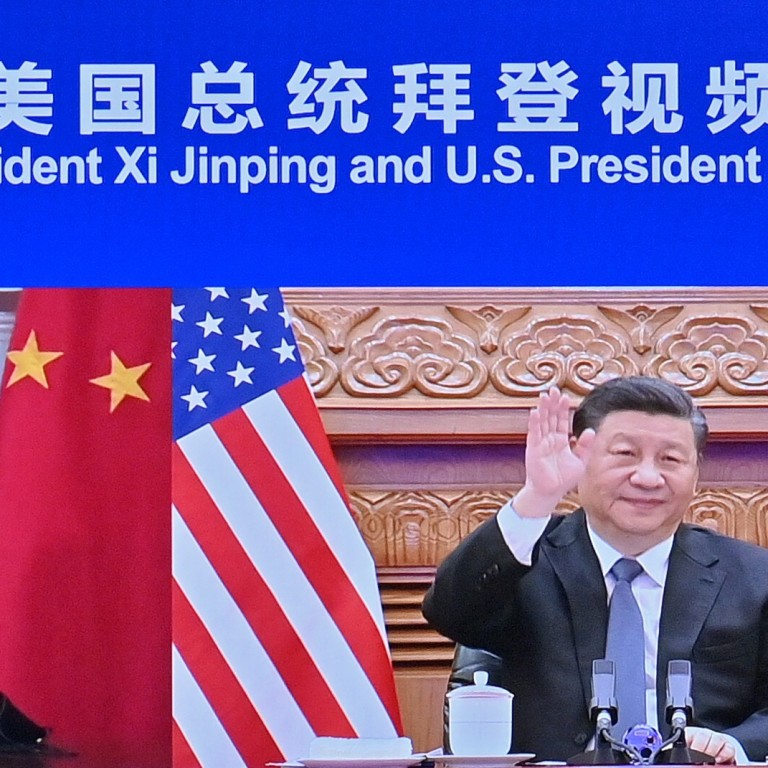 Xi-Biden summit: who were the key players at the talks?
Chinese and US leaders have held their first virtual meeting, aiming to manage conflict and improve communication
With a wide range of issues on the table, here's a look at the two sides' delegations
Chinese President
Xi Jinping
and his US counterpart
Joe Biden
met for their
first virtual summit
on Tuesday, aiming to manage conflict between
the two nations
and improve communication. A wide range of issues were on the table – including
Taiwan
– and the delegations from the two sides suggested the scope would be broad. Here's a look at who took part in the talks.
United States delegation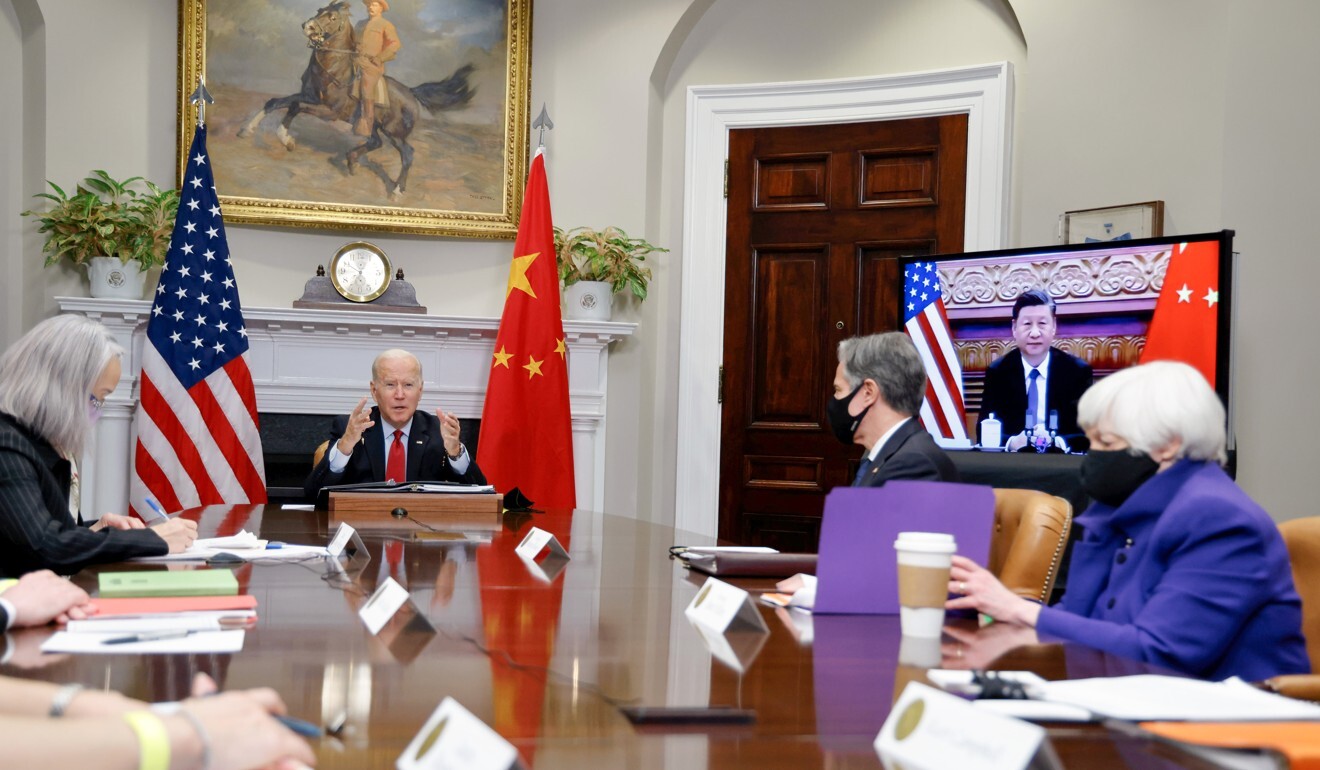 Antony Blinken, secretary of state
Blinken is a long-time foreign policy adviser to Biden. He was Biden's top aide on the Senate Foreign Relations Committee and national security adviser from 2009 to 2013, when Biden was vice-president.
Blinken
publicly clashed
with China's top diplomat, Politburo member Yang Jiechi, during face-to-face talks in Alaska in March, saying Washington and its allies were united in pushing back against Beijing's assertiveness and taking aim at Beijing's policies on
Xinjiang
, Taiwan and Hong Kong.
Yang hit back, saying China would not accept unwarranted accusations from the US. "Let me say here that in front of the Chinese side, the United States does not have the qualification to say that it wants to speak to China from a position of strength," Yang said at the time.
Janet Yellen, secretary of the Treasury
Treasury Secretary Yellen spoke with Chinese Vice-Premier Liu He in late October,
their second phone call
during the Biden presidency.
On Sunday, she said Washington was closely watching the situation unfolding in China with property developer
Evergrande
, which is on the hook for more than US$300 billion to creditors. "Real estate is an important sector of the
Chinese economy
. It accounts for about 30 per cent of demand," Yellen told CBS News in an interview. "And a slowdown in China, of course, would have global consequences. China's economy is large, and if China's economy were to slow down more than expected, it certainly could have consequences for many countries that are linked to China through trade."
Yellen also said tariffs on Chinese imports – imposed by the previous Trump administration – tended to raise domestic prices.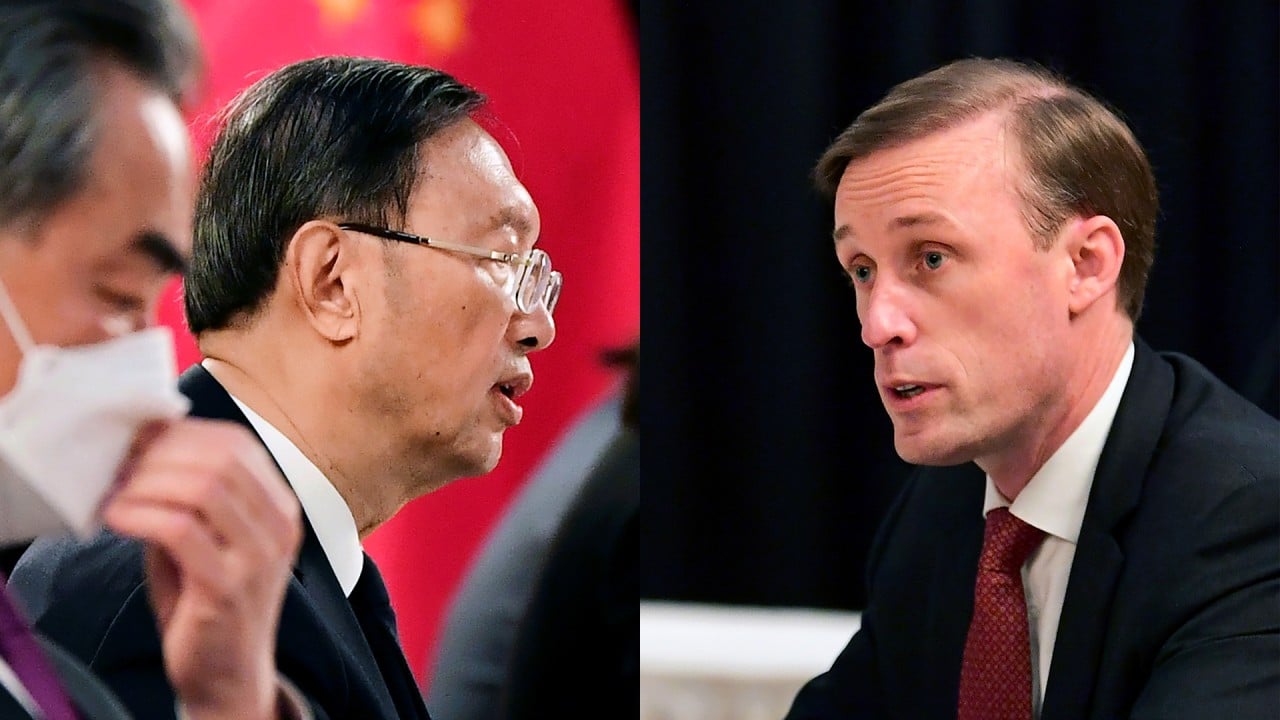 02:23
Gloves off at top-level US-China summit in Alaska with on-camera sparring
Gloves off at top-level US-China summit in Alaska with on-camera sparring
Jake Sullivan, national security adviser
Sullivan is the top US national security official and a top adviser to Biden. He served in the Obama administration as national security adviser to then vice-president Biden and was director of policy planning at the Department of State, as well as deputy chief of staff to then-secretary of state Hillary Clinton.
Sullivan was also at the tense talks in Alaska in March, and met Yang again in October, in Zurich. The atmosphere at that meeting was significantly improved, with Sullivan raising areas where the US and China could work together and the officials
agreed to continue speaking
at a senior level.
Kurt Campbell, deputy assistant to the president and coordinator for the Indo-Pacific, NSC
Campbell, an Obama administration veteran, has taken up a new role at the National Security Council as Biden's point man on China and Asia policy, as well as being his deputy assistant.
In May, he said the period of US engagement with China had "
come to an end
" and the China-US relationship would be "one of competition". In response, Chinese foreign ministry spokesman Zhao Lijian said Beijing "firmly rejected the US' efforts to exclude, contain and suppress China under the banner of competition".
Last month, Campbell said Biden was committed to avoiding confrontation with China, and it was crucial for the two powers to work on building confidence.
Laura Rosenberger, special assistant to the president and senior director for China, NSC
Rosenberger has been
a vocal critic of China's propaganda
on the coronavirus, writing in
Foreign Affairs
magazine in April last year that Beijing was spinning the health crisis to its advantage. She also took aim at censorship of domestic criticism of the government's response to
the pandemic
. A month later, she said China was using medical aid to divide Europe.
Rosenberger was an adviser on foreign policy to another former secretary of state, Hillary Clinton, during her 2016 presidential run before heading the Alliance for Securing Democracy, an initiative founded within the German Marshall Fund in 2017 to deter interference in US politics. Rosenberger initially focused on Russian interference in the 2016 elections.
Jon Czin, director for China, NSC
Czin is a new face at senior level China-US talks. In September, he met Hong Kong political activist Nathan Law Kwun-chung in Washington. Law said he and other Hong Kong political activists had heard from Czin about Washington's measures to protect Hongkongers, including expediting temporary work permits. Law said he also called on the US to sanction more companies in Hong Kong that "assist the Chinese Communist Party in suppressing human rights".
Chinese delegation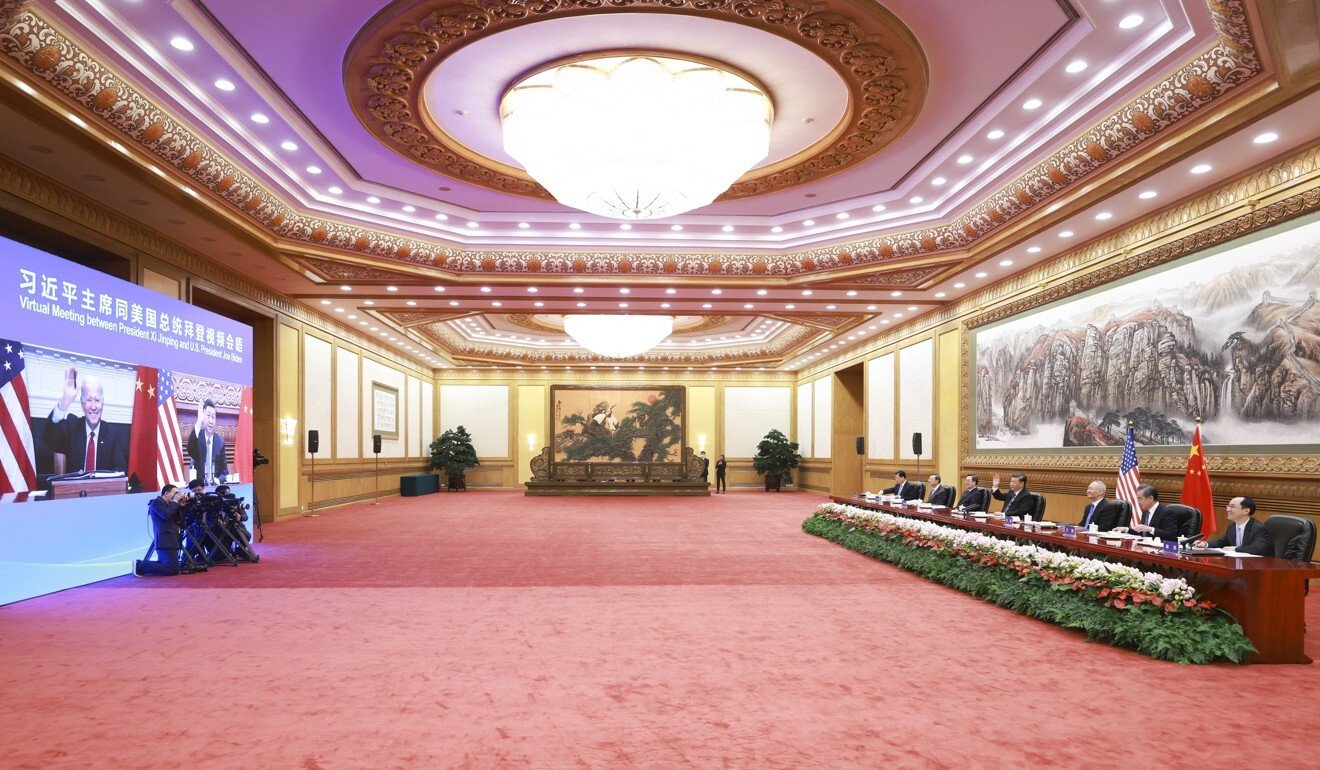 Ding Xuexiang, director of the General Office of the Communist Party Central Committee
Ding is Xi's personal assistant and has worked as his aide for more than a decade. He was also Xi's secretary in the six months when Xi was Shanghai party boss in 2007.
After Xi was promoted to the Politburo Standing Committee, he transferred Ding to the General Office as deputy director.
Last year, Ding wrote in party mouthpiece People's Daily that China was in need of a strong leadership "core" – a title that has been given to Xi – to deal with an increasingly unstable world. Ding also said that not all departments and local authorities were listening to Beijing wholeheartedly.
Liu He, vice-premier
Liu is Xi's right-hand man on economic matters. He struck the so-called
phase one trade deal
with Robert Lighthizer, the US trade representative during the Trump era, and is now in communication with the current USTR, Katherine Tai, and Treasury Secretary Yellen.
In the
last phone call with Yellen
, Liu expressed concerns about US tariffs and fair treatment of Chinese investments, according to the Beijing readout. The two sides also agreed to maintain communication.
Yang Jiechi, director of the Office of the Central Commission for Foreign Affairs
Yang is China's most senior foreign policy official. Head of the party's foreign affairs office and a Politburo member, Yang is regarded as Xi's most trusted foreign policy aide.
After the public spat with Blinken in March, Yang struck a
more conciliatory tone
in his meeting with Sullivan last month in Zurich. "China attaches importance to President Biden's recent positive statements on Sino-US relations," Yang said in the talks, referring to Biden's speech at the UN in September. "China has noted that the US has stated that it has no intention of containing China's development and will not engage in a 'new cold war'," Yang said, according to a Chinese government statement. "It hopes that the US will adopt a rational and pragmatic policy towards China and work with China to respect each other's core interests and major concerns."
Wang Yi, state councillor and foreign minister
Wang has been China's foreign minister since 2013 when he replaced Yang, who had been in the role since 2007. He was promoted to state councillor in 2018, meaning he is more senior than government ministers and has an elevated status in the nation's decision-making structure.
In a
phone conversation with Blinken
on Saturday, Wang said Taiwan was the most sensitive issue between the US and China. "We require the US to pursue a real one-China policy, not a fake one-China policy; we require the US to fulfil its commitments to China, not act treacherously; we require the US to truly implement the one-China policy through action, rather than saying one thing and doing another," Wang said.
Xie Feng, vice-minister of foreign affairs
Xie returned to Beijing from Hong Kong in January, where he had headed the Office of the Commissioner of the Ministry of Foreign Affairs.
He made headlines in July with
fiery remarks during talks
with US deputy secretary of state Wendy Sherman in Tianjin, denouncing Washington for singling out Beijing as an "imaginary enemy".
Xie has twice served in the Chinese mission in Washington, including a stint in the early 2000s under the ambassadorship of Yang.
He turned increasingly combative during his stint in Hong Kong, especially after China-US ties took a confrontational turn under Trump. Kurt Tong, former US consul general to Hong Kong,
described Xie as "very dynamic and confident"
but not as knowledgeable about the city as his predecessor.