Iran
Get more with myNEWS
A personalised news feed of stories that matter to you
Learn more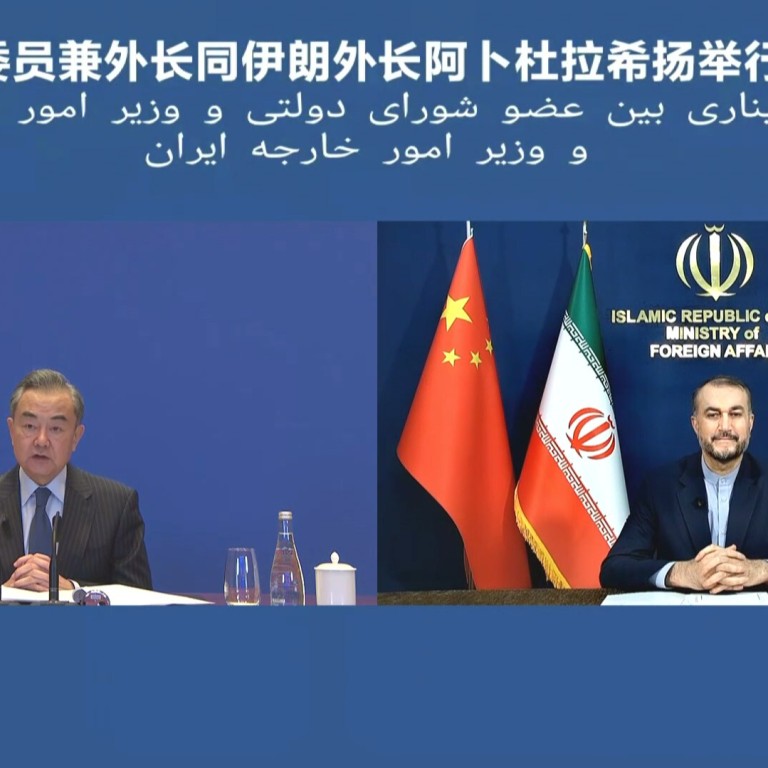 China shows solidarity with Iran amid pressure from US over nuclear deal
Foreign Minister Wang Yi vows to share experience on accelerating development, and criticises US-led democracy summit from which China and Iran are excluded
Beijing will support Iran's 'reasonable demands' in nuclear negotiations, Wang says, as he calls on all parties to strive for an agreement
Chinese Foreign Minister Wang Yi has promised to share development experience with
Iran
to help it resist pressure from the United States.
In a telephone conversation with his Iranian counterpart Hossein Amir Abdollahian on Wednesday, Wang said China would not impose its development model.
"But China will share its experience with countries that want to accelerate development and maintain independence, such as Iran," he was quoted as saying in a foreign ministry statement.
"China is willing to work with Iran to oppose any unilateralism and bullying acts, and uphold the principle of non-interference in internal affairs."
Wang also criticised the US for
hosting a democracy summit
in December, saying it was an attempt by Washington to create divisions. China and Iran are not included among the 110 invitees for the summit, which include Taiwan, India and Iraq.
"This is to create divisions through ideological confrontation, and attempt to change other sovereign nations in American style to serve the US' own strategic needs," he was quoted as saying.
The phone conversation came as Iran agreed to resume talks on a nuclear deal known as the Joint Comprehensive Plan of Action.
Under the deal, reached in 2015, Iran agreed to eliminate a range of nuclear infrastructure in return for aid and the lifting of international nuclear sanctions.
The US withdrew from the deal in 2018 under former US president Donald Trump, but his successor
Joe Biden
has sought to bring Washington back as a party to the original agreement.
Wang said the nuclear talks still faced serious challenges, and that China would support Iran's "reasonable demands". He called on all parties to stay committed to talks to strive for an agreement, and welcomed Iran's decision to invite Rafael Grossi, chief of the International Atomic Energy Agency, to visit this week.
"This has sent positive signals to the world," Wang said.
On Tuesday, the US' special envoy on Iran, Rob Malley, said Washington would not "sit idly" if Iran dragged its feet about returning to the nuclear accord.
"We're prepared to get back into the deal and to lift all of the sanctions that are inconsistent with the deal," Malley told NPR, in excerpts released on Tuesday. "So if Iran wants to get back into the deal, it has a way to do that.
"If it doesn't want to get back into the deal, if it continues to do what it appears to be doing now, which is to drag its feet at the nuclear diplomatic table and accelerate its pace when it comes to its nuclear programme, if that's the path it chooses, we'll have to respond accordingly."
Iran has demanded a lifting of all sanctions, but the Biden administration says it is discussing only measures imposed by Trump related to his withdrawal from the nuclear deal, including a sweeping unilateral US ban on all other nations buying Iran's key export of oil.
Israel, which fiercely opposed the 2015 deal – negotiated by then US president Barack Obama – has waged a sabotage campaign against Iran and threatened military action.
Additional reporting by Agence France-Presse