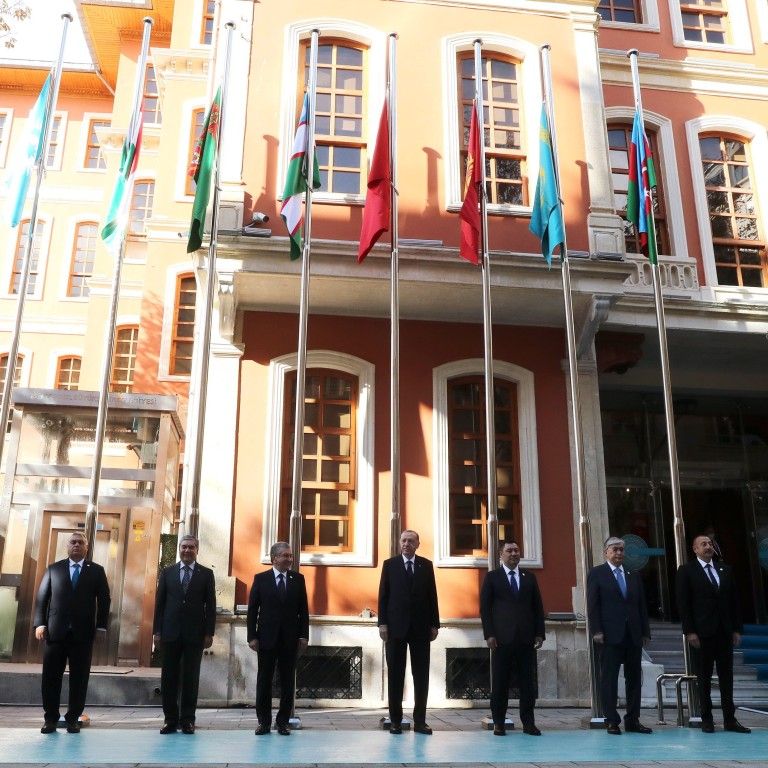 Why China, Russia 'should keep a close eye' on upgraded Turkic Council
The group of Turkic-speaking countries, renamed the Organisation of Turkic States, says it wants to boost security cooperation and promote trade
Turkey's active role could allow Central Asian nations to balance their reliance on China and Russia, experts say
China and
Russia
should monitor a Turkey-led move to upgrade Turkic-speaking states' cooperation into a political unit that could weaken Beijing's and Moscow's influence in
Central Asia
, experts said.
The Cooperation Council of Turkic Speaking States, also known as the Turkic Council, has changed its name to the Organisation of Turkic States (OTS), which some view as boosting unity between them.
The group includes
Turkey
– which is home to its general secretariat, in Istanbul – Azerbaijan, Kazakhstan, Kyrgyzstan and Uzbekistan, along with observer states Turkmenistan and Hungary.
Its announcement said member countries would enhance cooperation on combating international terrorism, separatism, extremism and cross-border crime, as well as promote trade and investment in the region.
Pan said that if Turkey took the leading role, the OTS could undermine Russia's economic and security influence in two groupings of former Soviet states: the Eurasian Economic Union, a free-trade agreement, and military alliance the Collective Security Treaty Organisation.
The Beijing-founded Shanghai Cooperation Organisation – a security alliance including China, Russia, Kazakhstan, Kyrgyzstan, Tajikistan and Uzbekistan – could also be affected, Pan said.
Dmitry Korshunov, head of the international relations department at Linguistics University in Nizhny Novgorod, Russia, said that if the OTS could enhance economic cooperation among its five core members, it could exclude Moscow from trade corridors between Europe and Asia.
"For Moscow, Turkey's increased influence in Central Asia may shift [member countries'] identity even further from Russia, with worsened conditions for their Russian-speaking populations, and intensify economic and military competition [between Russia and Turkey] in the region," he said.
"The member states just want to let Turkey play an optional leading role, to balance their overreliance on China and Russia," Sun said.
But Sun added that OTS members' involvement in the belt and road would make them cautious about alienating Beijing, and their group could even promote China's initiative because enhancing trade and investment with the wider world was among their objectives.
OTS nations hoped to use their group primarily as a coordination platform, with pan-Turkism not their main driver, Sun said.
Korshunov said Russia and China should boost their regional projects' relevance and capacities to balance the renamed OTS.
"Moscow will be paying more attention to its relations with Turkey, to manage possible confrontations, and definitely to the post-Soviet states," he said.