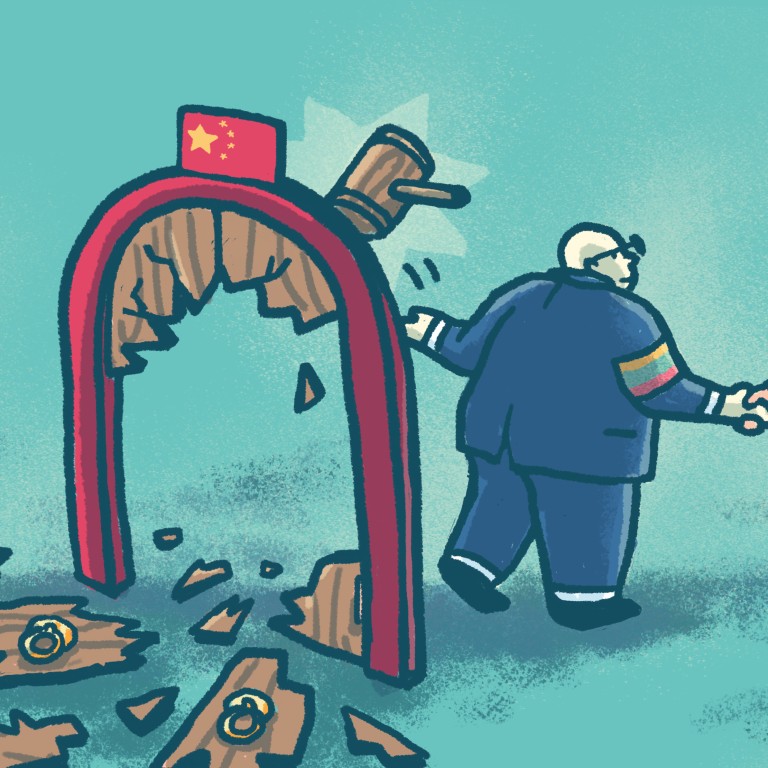 Keeping big brothers at bay: why Lithuania is taking on China
The opening of a de facto Taiwanese embassy in Vilnius is the latest source of friction between the Baltic nation and Beijing
Lithuania's stand is informed by both the struggles of the past and fears for the future
It does not look like much from the outside: a nondescript office block in central Vilnius, a stone's throw from the Neris River cutting through Lithuania and Belarus.
But tucked away on the 16th floor is a small diplomatic office that has become the epicentre of a geopolitical dispute that threatens to upend the European Union's relationship with China.
The office's launch date had been a closely guarded secret, until November 18 when, without notice, the Taiwanese government announced it was open for business.
However, there was little of the usual fanfare.
There were no press conferences, nor official opening ceremonies – due to a tacit understanding with the Lithuanian government and American embassy in Vilnius, according to people familiar with the arrangement.
The aim was to keep Beijing's response down to a dull roar but it was unsuccessful, with Beijing downgrading its diplomatic ties with Vilnius in retaliation three days later.
A group of Lithuanian lawmakers were the first visitors to the office, brandishing bouquets of flowers and cakes decorated with the Taiwanese flag, after making what they said was an impromptu walk from the front of the Seimas – Lithuania's parliament.
Through a window looking out over the capital, the head of Lithuania's foreign affairs committee, Zygimantas Pavilionis, pointed to the Seimas, highlighting the fragments of barricades around the building commemorating a bloody crackdown in January 1991, when Soviet tanks tried to crush Lithuania's drive for independence.
Addressing Eric Huang, the de facto Taiwanese ambassador, Pavilionis said the island had real friends in the parliament.
"We will try to make all other obstacles that you have in Lithuania vanish. We want you to come here to show that this is exactly the example to follow. We will have a lot of enemies on the roads, I'm quite sure, but this is the future," he said.
"We will work hard to support your freedom in a way that you should not succumb to those autocracies in Beijing and Moscow."
It was an emotional event, with several lawmakers telling the Post the assembled were "witnessing history".
Vytautas Landsbergis, one of the "founding fathers" of Lithuanian democracy shuffled into the room.
Frail at 89, but still hugely influential in the country's ruling conservative party, he held court, comparing Lithuania's fight for independence in the 1980s and 90s with Taiwan's modern day struggles with mainland China.
Many in Brussels and other European capitals wonder why Lithuania has become embroiled in a feud with China when it has more immediate problems closer to home.
Since a new government was installed late last year, Vilnius has
withdrawn from the China-led 17+1 grouping
, told consumers to "throw away" their Chinese smartphones over security concerns, and pursued ever closer ties with Taipei.
Meanwhile, just 50km (30 miles) away, the long border with
Belarus
is under siege from the "hybrid warfare" of dictator Alexander Lukashenko.
In retaliation for crippling EU economic sanctions, Lukashenko has weaponised
the plight of migrants
by flying them in from conflict zones like Syria, Afghanistan and Iraq and forcing them over the borders with Lithuania, Latvia and Poland.
For those gathered in the room, Belarus, Russia, and China are all part of the same story. The symbolic presence of the veteran Landsbergis is a link between what these lawmakers see as the authoritarian past and their fears for the future.
"We have one threat, it's not only about Belarus or Russia, which is close, but authoritarian regimes against democracies. What we have here is not only Belarus attacking us with a migrant crisis, it's about authoritarian regimes attacking democratic Western countries," said Matas Maldeikis, a conservative lawmaker who led a Lithuanian delegation to Taiwan this week.
Dovilė Šakalienė, the only left-wing parliamentarian to visit the office, was sanctioned by Beijing in March for bringing a parliamentary vote on whether China was committing genocide in
Xinjiang
, allegations Beijing denies. The resolution passed.
Over forest mushroom soup in a busy bistro next to the Seimas, Šakalienė said Beijing was monitoring the Belarussian front for cracks in the armories of Western democracies.
"China is watching very closely and assessing the situation – it's like a playground to see if the EU will be unified enough," she said.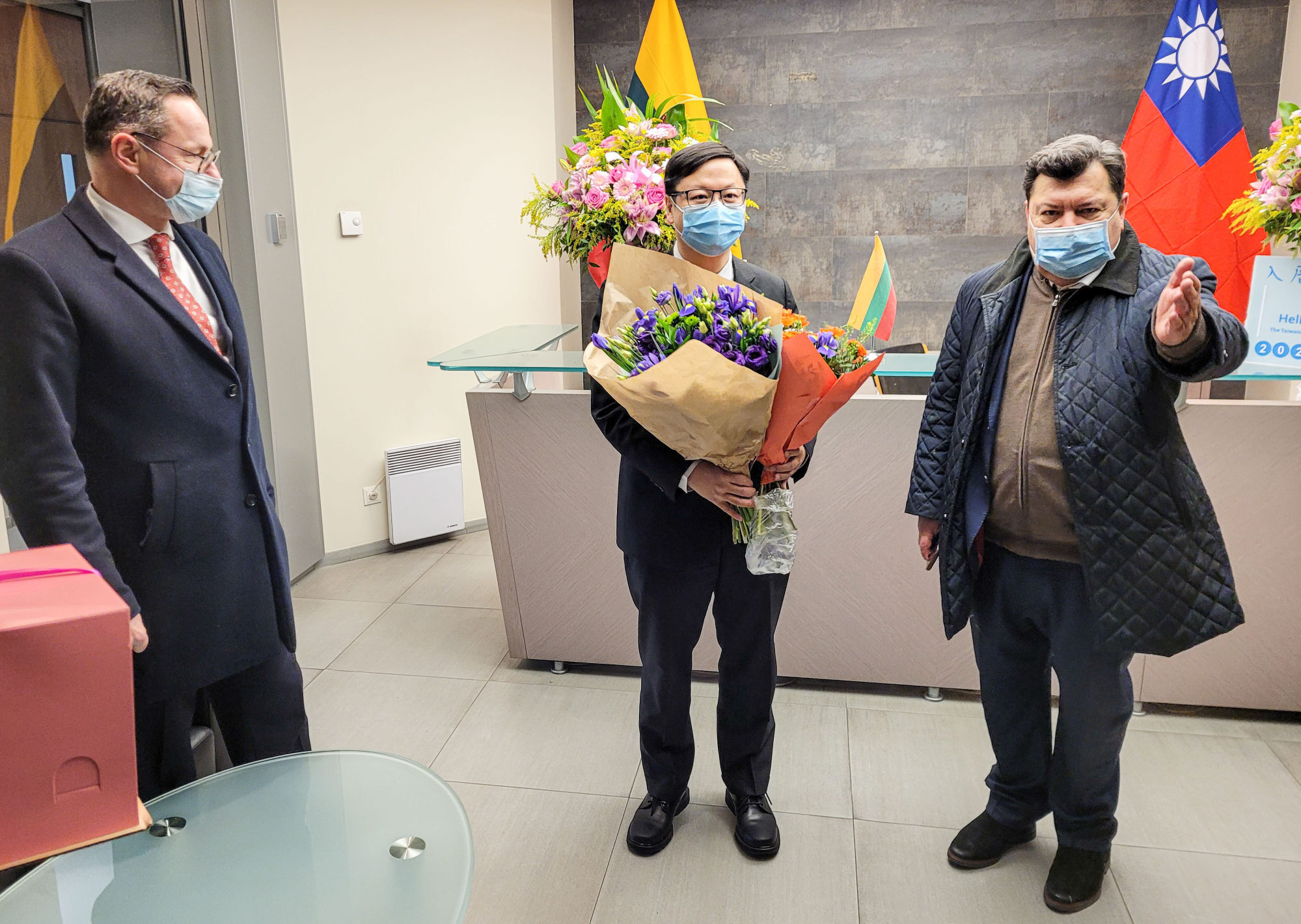 She referred to a Global Times editorial from August, widely seen as "a warning" in Vilnius.
"China should join hands with Russia and Belarus, the two countries that border Lithuania, and punish it," the nationalist tabloid said. "China and Russia are necessary to jointly deal a heavy blow to one or two running dogs of the US to warn other countries."
"Imagine reading that in Vilnius," said Jakub Jakobowski, a Warsaw-based China analyst at the Centre for Eastern Studies.
"Vilnius is feeling increasingly pressured by hostile authoritarian regimes of Belarus and Russia, now brewing a hybrid conflict at EU borders.
"By developing relations with Taiwan, it contributes to a broader democratic coalition. It also solidifies its relationship and communication channels with the US – its key security partner as the situation in Eastern Europe deteriorates."
The
US support
is also crucial to understanding Lithuania's position on China.
Lithuania, along with the other Baltic states and Poland, is seen as the most transatlantically minded of EU members, bristling at talk of an "EU army" and discussions around "strategic autonomy".
They see the US as the ultimate guarantor of their security from neighbouring Russia and by bringing China into the debate, Vilnius has engaged a Biden administration accused of indifference towards Europe due to its laser focus on Beijing.
Speaking in Vilnius two weeks ago, US undersecretary for human rights Uzra Zeya said "we reject attempts of other countries to interfere in Lithuania's sovereign decision to deepen cooperation with Taiwan".
The US will make US$600 million in export credit available to Lithuania to cushion the blow of the China dispute. This is almost double the value of goods (US$386 million) Lithuania exported to China over the first 10 months of this year, according to Chinese customs data. The deal will see Lithuania buy American-made products.
For a nation of fewer than 3 million people, Vilnius clearly has Washington's ear.
The next day he met the second most senior American diplomat, Wendy Sherman.
But in his office in central Vilnius the day after the Taiwanese office opened, Landsbergis cut a sober figure.
"We think it would be good to not escalate [tensions] on China's part. We've informed our colleagues in Beijing about the steps we have taken, that the Taiwanese are taking," he told the Post, admitting that the US financial backing was due to the bubbling feud with Beijing.
"We try to provide a level of transparency that we usually have here in this part of the world. And so we were thinking that there's a possibility to ease down and not continue with escalation."
Landsbergis is the grandson of Vytautas, patriarch of the Homeland Union party. While that legacy weighs heavily on his shoulders, he also has a tough balancing act to perform.
He took office late last year on a ticket to install a "values-based" foreign policy, even mentioning Taiwan alongside Belarus in the manifesto.
"It was part of our government's agenda and programme when we just took office … and it was publicly announced that we will be going this way. And since the government's lifespan is not very long, that means that if you're intent to go for it, you need to do it," he said.
"So we started our talks with the Taiwanese quite soon after we took office, decided on the time frame and moved on. This is just government implementing its programme."
But his government also seems to be making a conscious effort not to push too hard on China and to take it "one fight at a time", according to one senior official.
Critics said he delayed the opening of the de facto embassy to take some of the steam out of the dispute. One hardliner even suggested that he should have been present at its opening, even though this would likely have breached the EU's one-China policy.
On the other side, businesses are upset at the economic coercion being exerted by China.
Beijing has little economic leverage over Vilnius, since only 2.5 per cent of the country's exports go to China, according to EU statistics. Chinese customs stats show that out of 27 EU members, Lithuania is 22nd in terms of total trade with China.
But for those who do trade with China, Beijing is making life difficult. So much so, Prime Minister Ingrida Šimonytė asked her cabinet for a cooling-off period after complaints from the Lithuanian business community, according to two sources.
Businesspeople said trade had become tougher in recent months. One industrialist, who did not want to be named because of continuing business ties with China, supported Lithuania's approach in principle, but "wished they would take a step back".
Freight trains travelling from China to Europe have been told not to stop in Lithuania, meaning companies have to divert their products to nearby capitals, then arrange separate transit on to their factories.
In one case, a manufacturer of hi-tech goods was blocked from sourcing parts from China, with the supplier claiming they could not make them due to a power shortage.
But the Lithuanian firm was able to source the same parts from the same Chinese providers indirectly from a company in Germany, suggesting Lithuanian firms had been targeted, while Germans had not.
Previously, the manufacturer was able to source products from China without a down payment and could use the support of Sinosure, a Chinese state-owned export credit insurer that offers guarantees to buyers of Chinese goods. These guarantees have dried up since spring, despite the business having a healthy financial position.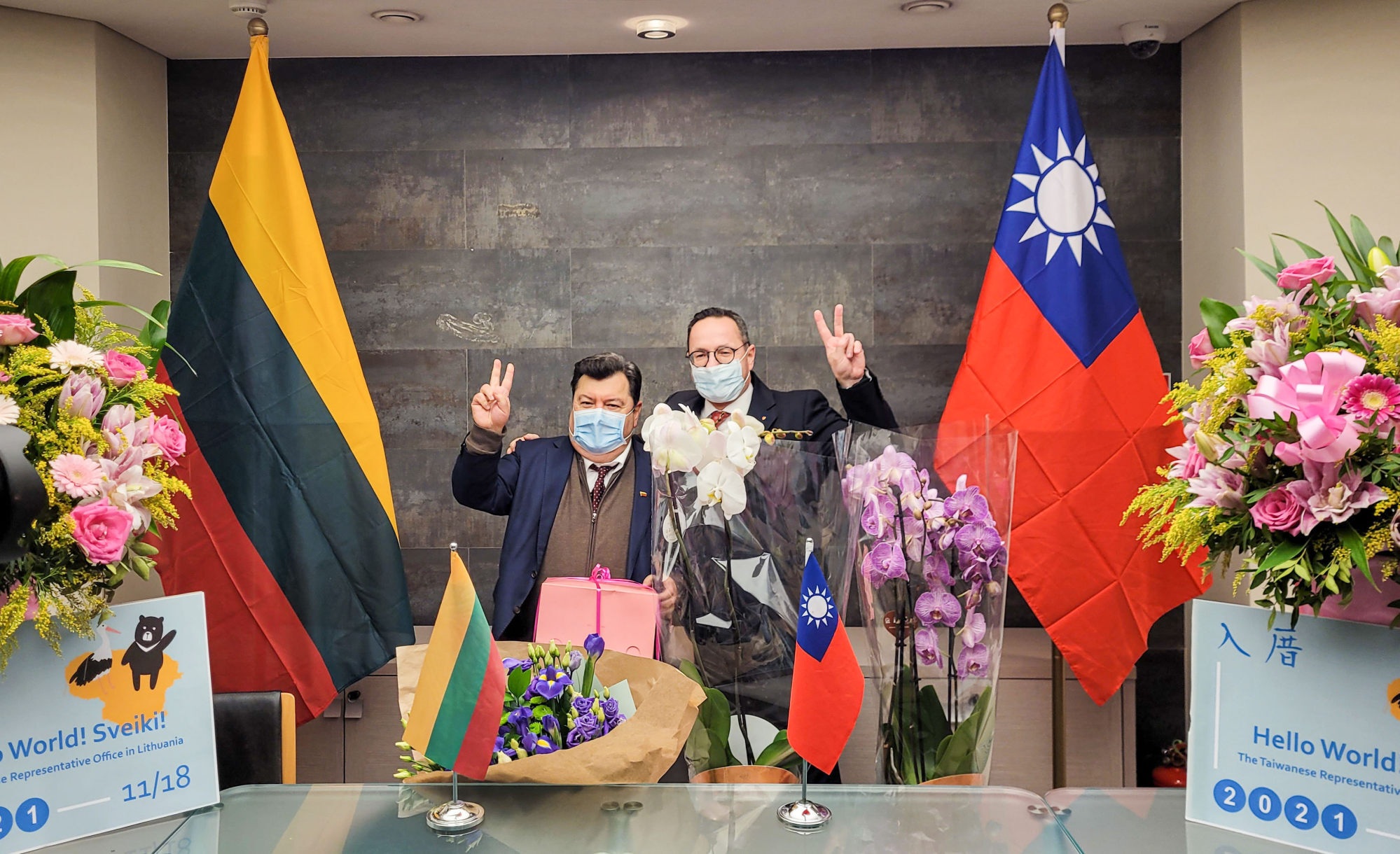 The day after the Taiwanese office was opened, a supplier texted the same buyer saying they were "worried" about whether they could continue to transact.
Since the feud began, dairy and meat exporters have also been told that "additional microorganisms" were found by Chinese customs authorities in their produce – a common fate for companies when their government falls foul of Beijing, according to a senior industry figure.
Earlier in November, according to messages shared with the Post, the head of China's Peat Industry Association told members to avoid buying peat from the Baltic nations and buy Russian instead.
"In addition to Lithuania, Latvia and Estonia may also withdraw from the Central and Eastern Europe 16+1 cooperation mechanism," read the text, translated from Chinese.
"The tight supply of peat is a foregone conclusion. In order to meet the needs of domestic customers, the association is liaising with Russian peat companies and actively seeking the introduction of peat."
Landsbergis said China was making a mistake.
"I think that one of the mistakes that China probably is doing is that it feels that it has power and strength enough to coerce countries into their line of thinking," he said.
Beijing has urged Vilnius to make a U-turn, but Landsbergis said they would stick to their guns.
But how far would Vilnius push this: is it willing to abandon the EU's one-China policy and recognise Taiwanese statehood?
"It feels like China is narrowing the space for what it feels is the one-China policy," Landsbergis said. "But it's an international principle for us, we've signed an agreement. We honour our agreements."