Asean
Get more with myNEWS
A personalised news feed of stories that matter to you
Learn more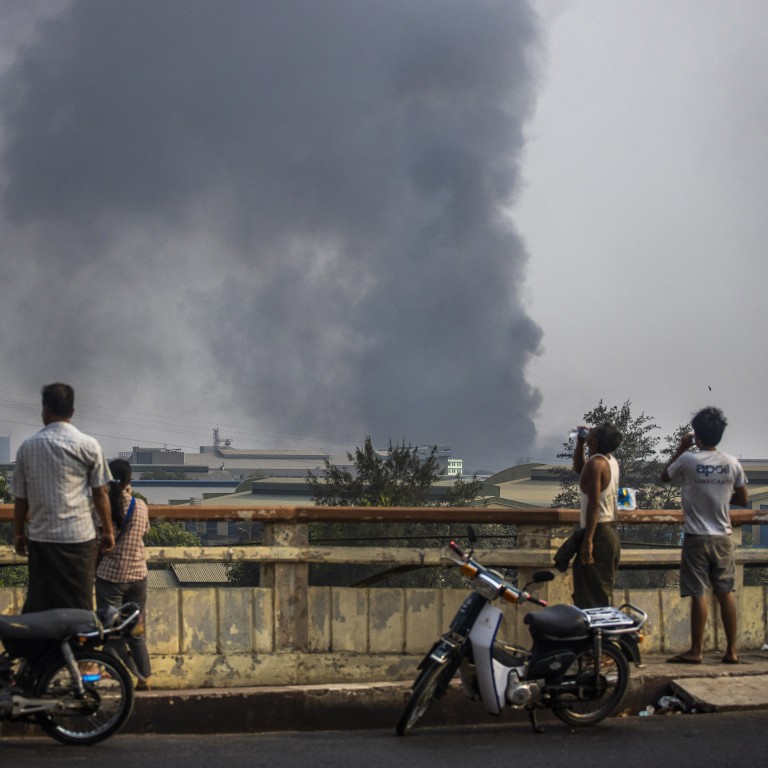 As Chinese garment investments unravel, is Beijing's policy on Myanmar made to measure?
Torching of Chinese-funded factories in post-coup unrest highlights Beijing's delicate position as it encourages all parties to seek political settlement
But with attempts to mediate thwarted and regional impact feared, some Chinese scholars debate whether Beijing should intervene to protect its own interests
Ten months after the military coup in
Myanmar
, investors from China, who fund over half of the garment factories in their country's Southeast Asian neighbour, are contemplating relocation.
In March, at least 40 Chinese-funded garment factories in Yangon were destroyed amid a surge of anti-Chinese sentiment, fuelled by rumours that Beijing supported the military junta. Equipment was smashed and warehouses were set alight, causing millions of dollars in losses.
Compensation had been discussed with local authorities several times, most recently last month, but no progress had been made, said San Khun, chairman of the Chinese Textile and Garment Association in Myanmar.
"Most of these damaged factories closed down or are not yet able to reopen," San said.
In the past decade since Myanmar's economic reform, a wave of Chinese investors have opened clothes factories there, and before the pandemic garment exports accounted for 30 per cent of Myanmar's overall trade.
The Chinese government has expressed its support for all parties in Myanmar to seek a political settlement through dialogue under the country's constitutional and legal framework.
But observers said the latest guilty verdict against Suu Kyi, for inciting dissent and breaking Covid-19 rules – the first of 11 sets of charges brought against her – signalled that the military had no desire to loosen its grip, and could fuel further violence between the military and the opposition.
"It looks like the military is not prepared to give the National League for Democracy [NLD] a chance to turn the tables in the next general election, and Suu Kyi's political career may be over," said Yin Yihang, a fellow with Beijing think tank the Taihe Institute.
Beijing could continue to maintain some contact with the NLD, but may need to consider cutting its "concrete cooperation", Yin said.
Since the coup, China has made some ambiguous moves. It has avoided publicly condemning the military takeover, but in September it invited the NLD as well as three other of Myanmar's political parties to the Asian Political Party Summit, hosted by a department of the Chinese Communist Party.
Both China and the US – who are locked in a bitter geopolitical rivalry in Southeast Asia – have expressed willingness to work closely with the Association of Southeast Asian Nations (Asean) to address the Myanmar crisis, and Yin said Washington might tighten its sanctions on the Myanmar military as part of efforts to win over some Asean member states that are keen to ramp up pressure on the junta.
Asean said the decision was made after the junta failed to stop the violence – the first of five points in a consensus agreed between the bloc and the junta in April. Other points included constructive dialogue involving all parties, a special Asean envoy to facilitate the dialogue, a visit to Myanmar by the envoy, and acceptance of aid.
"Southeast Asia is an important battleground for the competition for influence between China and the US," Yin said. "China has to be very alert to the situation in Myanmar. If necessary, it could selectively intervene to prevent it turning into something similar to a colour revolution, and stop any possible way for the US to extend its influence there."
Since the coup, there have been growing calls among Chinese scholars for Beijing to consider some form of intervention, which until recently were outweighed by a widespread belief in China's principle of non-interference, according to Wang Zichang, a professor at Jinan University in Guangzhou.
However, according to a transcript, he told a conference in Yunnan last month that a fruitless trip to Myanmar in August by China's special envoy Sun Guoxiang had "reignited the debate among scholars as to whether China should now interfere in the situation in Myanmar in some way, in accordance with China's national interests".
"China has long adhered to … the principle of non-interference in each other's internal affairs," Wang said. "However, as China's neighbour, Myanmar's stability is directly related to China's diplomacy efforts with its neighbours and the external environment for China's peaceful development."
One of the worst scenarios for Beijing would be Myanmar leaving Asean after being pushed too far, posing China a bigger dilemma, Wang said.
"From Myanmar's perspective, further depending on China, politically and economically, would be its only option after withdrawing from Asean, but from China's perspective, strong support for Myanmar could undermine China's long-standing support for the 'Asean way', causing resentment among other Asean member states and even drawing intervention from extra-regional powers.
"But if China were to isolate Myanmar, it could undermine its relations with Myanmar and further damage China's foreign strategy with its neighbours."
There is no immediate sign of Myanmar withdrawing from the 10-member grouping, and Fan Hongwei, a professor with the Southeast Asian research faculty at Xiamen University, said it was not in Asean's interest to eject Myanmar.
Fan said Beijing was unlikely to take sides between the military and the NLD, and would continue to back Asean's five-point consensus on resolving the crisis.
"It is not in China's interest to take a stand against one side or the other," Fan said. "Asean also needs to find a more practical solution."