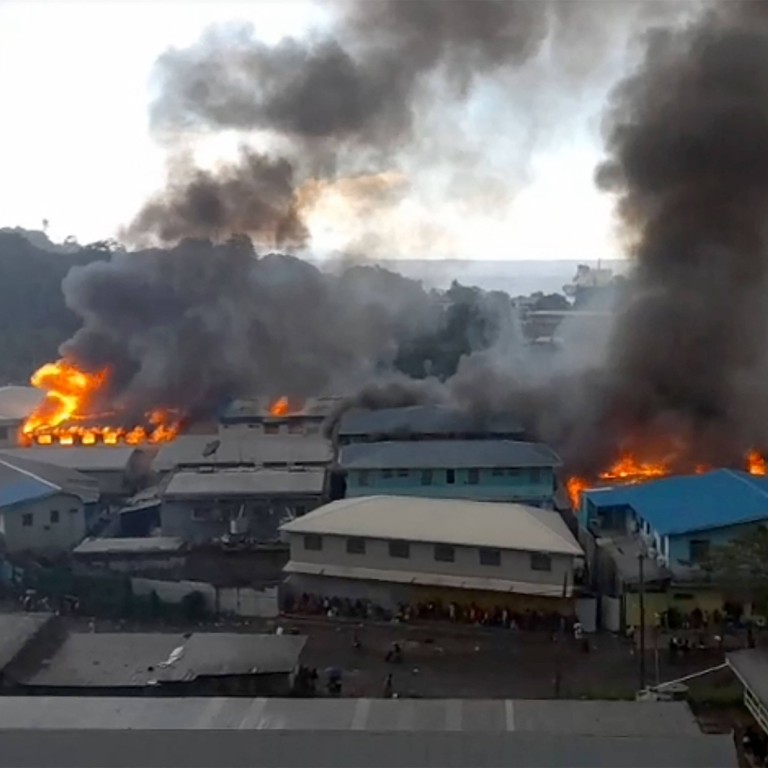 China's foreign minister blames 'forces with ulterior motives' for Solomon Islands riots
In their first exchange since the violence erupted last month, foreign ministers from Beijing and Honiara talked up their nations' relationship
Wang Yi said China would support the Solomons to restore order, rebuild and reach stable development
Chinese Foreign Minister Wang Yi has accused "forces with ulterior motives" of inciting
riots in the Solomon Islands
last month, which have been blamed in part on discontent with China.
Wang made the remarks during the first official exchange with his counterpart in the
Pacific Islands
country after the unrest in late November, when the Solomons Prime Minister
Manasseh Sogavare
was accused of using money from a national development fund that comes from China. Sogavare has rejected allegations of corruption.
"The riots erupted under a complicated background. Some forces with ulterior motives took the chance to smear China-Solomon Islands relations and attempted to subvert the outcomes achieved since the establishment of our bilateral ties. It does not comply with the interest of Solomon Islands' people at all and is doomed to fail," Wang said in a phone conversation on Thursday, according to a readout from China's foreign ministry.
Wang said China was confident in the future of its bilateral relations and would take "measures to support and assist Solomon Islands in restoring order and reconstruction, and achieving stable development".
The riots have raised the alarm on how Pacific nations are reacting to Beijing's efforts to poach the few remaining diplomatic allies of Taiwan, a self-ruled island which China sees as a breakaway province.
"At the moment, both countries need to be vigilant against a few countries' attempts to constantly interfere in other countries' domestic affairs in the name of human rights under the Cold War mentality, and jointly uphold the basic norms of international relations and international fairness and justice," Wang said, using a common Chinese reference to US-led Western efforts to raise human rights concerns in China.
"Solomon Islands highly values its relations with China. It will continue strictly abiding by the one-China policy, which is the political basis of developing Solomon Islands-China relations," Manele was quoted as saying.
After the diplomatic switch, Washington said it would reassess its help to the Solomon Islands.
"Do you want aid that benefits one person, one party and one bank account? Or do you want assistance that empowers entire families, strengthens entire communities and enriches entire nations?" she said.
"As democratic and independent states, you have a choice of who to partner with. And I believe that the choice is obvious."
There have been strong voices of opposition accusing Sogavare of taking money from the country's National Development Fund which has been backed by Beijing since the diplomatic switch took place under Sogavare.
Meanwhile, the cause of the violence has been multifold, according to regional observers. Many widely attribute it to lingering resentment about Beijing's influence in local politics and the economy, particularly in Malaita province, which has rejected ties with Beijing since the country's diplomatic recognition switch.
As well as protests against corruption, there were voices of discontent over unemployment and informal settlements, or slums, leading up to the violence.