Taiwan
Get more with myNEWS
A personalised news feed of stories that matter to you
Learn more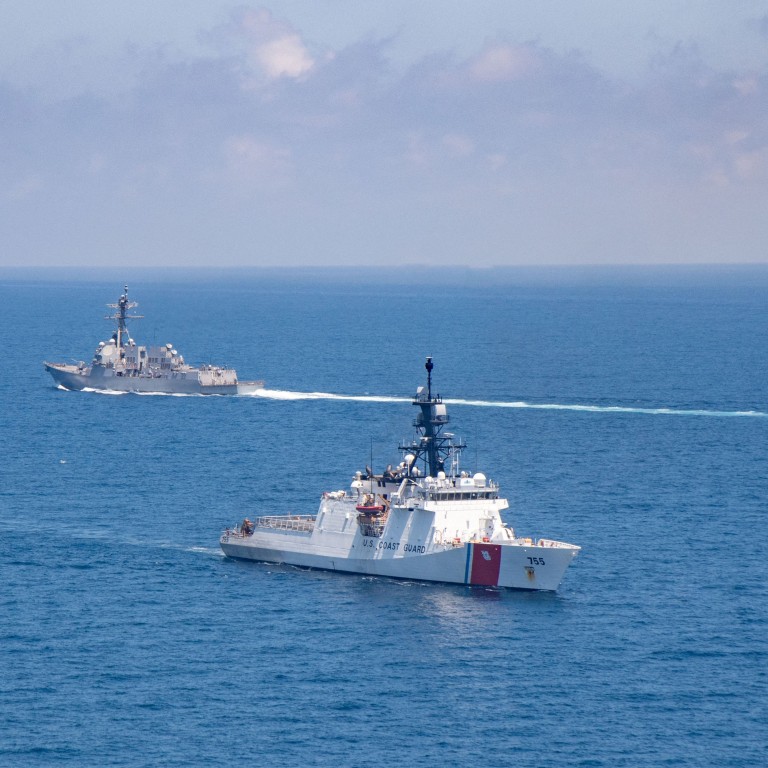 Explainer

|
The US has practised 'strategic ambiguity' on Taiwan for decades. Is that set to change?
Joe Biden's confusing remarks on defending Taiwan militarily provoked a sharp rebuke from Beijing and a quick clarification from the White House
Analyst sees subtle shift to 'strategic clarification' policy, where US officials send out contradictory signals as part of using Taiwan to counter Beijing
When recently asked whether the US would come to Taiwan's aid if China invaded, US President
Joe Biden
said: "Yes, we have a commitment to do that."
His response caused
confusion
in both Beijing and Washington, with China's foreign ministry issuing a rebuke and the
White House
forced to state there was "no change in our policy".
Welcome to the world of "strategic ambiguity", the long-held position of Washington on issues related to Taiwan and the island's relationship to mainland China.
Read on to find out what this policy entails.
Why has the US stuck to an 'ambiguous' Taiwan policy?
Washington's policy is to be intentionally vague about whether it would come to Taiwan's defence if Beijing attacked. This is meant to deter the mainland from taking action, without the US committing itself to war.
While having official diplomatic relations with the People's Republic of China – meaning it recognises Beijing as the seat of the sole legal government of China – the US also supports a "strong unofficial relationship" with Taiwan, and has said it will not pressure Taiwan to settle with Beijing on the issue of sovereignty.
Beijing regards Taiwan as a breakaway province to be brought back into the fold, by force if necessary. Taiwan's ruling Democratic Progressive Party, meanwhile,
adopted a resolution in 1999
saying it recognised Taiwan as a sovereign nation and that any change to the "status quo" had to be decided by Taiwanese voters via a referendum.
There have long been fears that these tensions would erupt into armed conflict between mainland China and Taiwan, and under the
Taiwan Relations Act
of 1979, the US has promised to "provide Taiwan with arms of a defensive character".
However, it has never formally defined the conditions of "arms of a defensive character".
In an agreement with Beijing in 1982, one of a series known as the
Three Communiques
, Washington promised to gradually decrease its arms sales to Taiwan with the goal of eventually terminating them completely.
But the same year, when Taiwan asked for assurances on the US stance on cross-strait relations, Washington formally agreed to six key points – known as the "Six Assurances" – including that it would not set a date to completely cease arms sales to Taiwan, effectively leaving its promise to Beijing open-ended.
US policy towards the cross-strait issue thus far has been a careful balancing act, allowing it more flexibility in its policy towards Beijing and Taipei and benefiting from relationships with either side.
What are the pitfalls of strategic ambiguity?
The US stance has allowed it to support Taiwan's autonomy without being accused of emboldening the island to push for independence, and without committing to participating in any armed conflict.
However, critics say this ambiguous position can also be easily misinterpreted, and the possibility that the US may come to Taiwan's defence is no longer a strong deterrent towards a more assertive Beijing.
"If you're talking about a strategic competition, it's dangerous to be ambiguous because someone will miscalculate somewhere," retired admiral Scott Swift, who served as commander of the US Pacific Fleet from 2015 to 2018, told
an event
sponsored by the Korea Society in New York last month.
China hawks advocate a clearer US position to put pressure on Beijing and ensure the security of self-governed Taiwan – or the antithesis of strategic ambiguity, often referred to as "strategic clarity".
"Waiting for China to make a move on Taiwan before deciding whether to intervene is a recipe for disaster," Richard Haass, head of the Council on Foreign Relations and co-author David Sacks wrote in an article for
Foreign Affairs
last year
. "Ambiguity is now unlikely to preserve the status quo."
"Supporters of strategic clarity think that the existing ambiguous strategy has failed and the People's Republic of China is using the room left by that ambiguity to constantly
test the bottom line
of the US, which is not conducive to stability in the Taiwan Strait," said Huang Haitao, director of the Centre for American Studies at Nankai University in Tianjin.
However, even those who want more clarity have major disagreements over what this should look like, with three main options being debated fiercely:
Conditional support where Washington will come to Taiwan's aid if Beijing initiates a provocation

Withholding support if Taiwan launches unprovoked agitation

Unconditional commitment to support Taiwan in any scenario
Meanwhile, opponents of strategic clarity argue that it leaves Washington with no flexibility or room to turn around, and may even prompt supporters of
Taiwan independence
to act carelessly.
"The ambiguity-versus-clarity debate superficially reflects the divergence among American politicians on how to form an 'effective deterrence' [to Beijing attacking Taipei]. But at a deeper level, it reflects that the United States is facing two intractable changes on the Taiwan issue," Huang said.
"One is that the mainland is growing more capable of seeking national reunification with Taiwan. The other is an intensifying tendency that separatist forces on the island are trying to leverage Sino-US contradictions."
Is strategic ambiguity on its last legs?
A sudden change in cross-strait relations will not help US strategic interests in the short run, so its goal of maintaining the status quo will not be fundamentally changed, Huang said.
He added that the Biden administration's current stance suggests the US considers Beijing's ambitions a greater risk than action from any separatist forces in Taiwan.
Washington appears to have subtly shifted to a policy of "strategic clarification", which Huang said involved officials at different levels sending out contradictory signals on the US stance on cross-strait relations.
This included even using the excuse of "slips of the tongue" – to assure Taiwan of its support while later clarifying that Washington's position that there was only one China had not changed – as it did after Biden's comments.
"Such a move actually symbolises a warning signal to the People's Republic of China, and could be a new type of 'strategic ambiguity' in the near future," Huang said.
As mainland China gains power in East Asia, there may be more US consensus on the geopolitical strategy of using Taiwan to counter Beijing, he added.
"The frequency and degree of 'strategic clarification' may increase, which is bound to pose a strong but risky impulse for Taiwan independence forces."