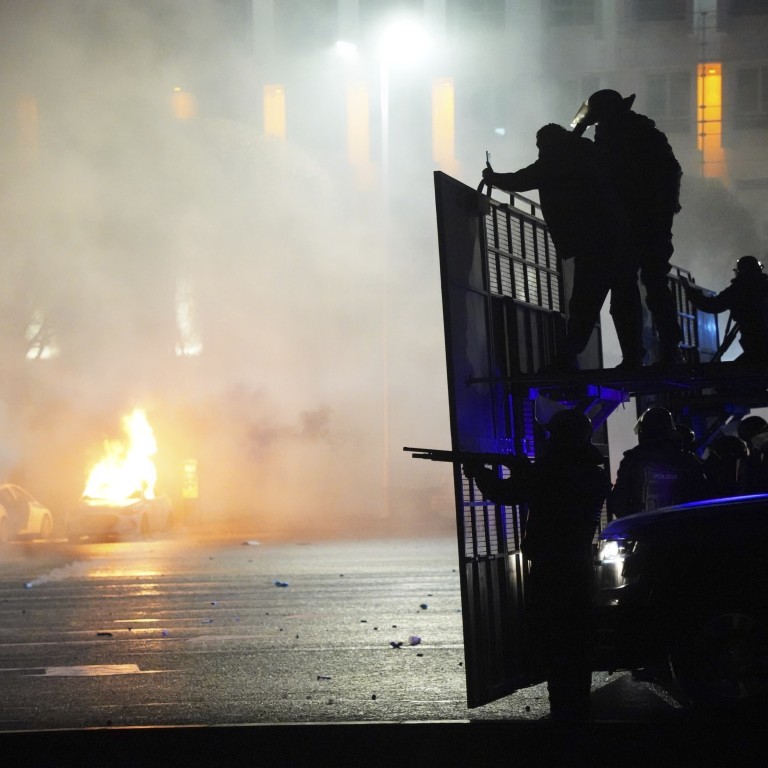 Xi Jinping sends message of support to Kazakhstan's Kassym-Jomart Tokayev as unrest continues
Chinese leader says Beijing opposes any attempts by foreign forces to cause trouble and backs security crackdown
China is concerned unrest may spill across the border into Xinjiang and it has extensive investments in the country under the Belt and Road Initiative
Chinese President Xi Jinping has sent a message to his counterpart in
Kazakhstan
, saying Beijing opposes any attempts by foreign forces to stir up trouble in the country.
Xi told President Kassym-Jomart Tokayev that China was willing to support the country's efforts to resolve the crisis.
Xi's message came after days of unrest in the Central Asian nation, a development that has triggered fears that it might spill over the border into
Xinjiang
.
"China resolutely opposes any forces that undermine Kazakhstan's stability and threaten Kazakhstan's security, resolutely opposes any forces that undermine the peaceful life of the Kazakhstan people, resolutely opposes external forces deliberately creating turbulence and instigating a 'colour revolution' in Kazakhstan," the message read, according to the state news agency Xinhua.
He said China also opposed any attempts to damage the cooperation between the two countries.
"China is willing to provide necessary support to Kazakhstan to help Kazakhstan tide over its difficulties. Regardless of the risks and challenges encountered, China is Kazakhstan's trusted friend and reliable partner," Xi said.
The
protests in Kazakhstan
were sparked by public anger over mounting fuel prices and have already resulted in the deaths of dozens of civilians and members of the security forces. The unrest – the worst since the country gained its independence 30 years ago – has also led to the arrest of at least 2,000 people.
Russia has sent troops as part of a peacekeeping force deployed by the Moscow-headed Collective Security Treaty Organisation, following a plea from Tokayev, who blamed the unrest on foreign-trained terrorists.
Pan Guang, the director of the Shanghai Cooperation Organisation Studies Centre at the Shanghai Academy of Social Sciences, told the Shanghai-based news site Guancha.cn the there was no clear evidence about who or what was behind the unrest, but the "three evils" – a term Beijing uses to refer to terrorism, separatism, and religious extremism – "are probably among them".
"Of course, for Kazakhstan, the 'three evils' are mainly terrorism and extremism, and the separatist momentum is not very obvious."
Kazakhstan, an oil-rich state long viewed as a bastion of stability in Central Asia, shares a 1,700km (1,060-mile) border with China, and economic ties between the two countries have been growing in recent years.
China is constantly on alert that terrorist activity will spill over from its neighbours, especially in Afghanistan and Central Asia, following a series of violent attacks carried out in
Xinjiang
and other parts of China by Uygur extremists.
The attacks prompted an extensive crackdown in
Xinjiang
in recent years that has prompted accusations of
widespread human rights abuses
, but Beijing has defended its activities as targeting terrorism and extremism.
Noting the situation in
Xinjiang
had gradually stabilised, Pan said there was a risk the unrest would spill over the border into Xinjiang, but extremist organisations were disseminating "inflammatory materials" through the internet, rather than sending people across the border.
He added: "Will terrorist organisations such as the
East Turkestan Islamic Movement
be encouraged by the Kazakh riots? The situation is indeed unpredictable."
Kazakhstan has not provided evidence to support its claims that the uprising was foreign inspired and the United States has dismissed suggestions it is driving the protests.
Some Chinese media outlets, including the nationalist tabloid Global Times, have suggested that Western forces are plotting a "colour revolution".
Pan said that was unlikely but there were precedents in Central Asia and added that external forces might intervene if the unrest continued.
"It is expected that at least Kazakhstan will be accused of suppressing public demonstrations and protests," Pan said.
China's official response has been cautious. Foreign ministry spokesman Wang Wenbin said on Friday that China supported the authorities in Kazakhstan in restoring order and opposed external interference.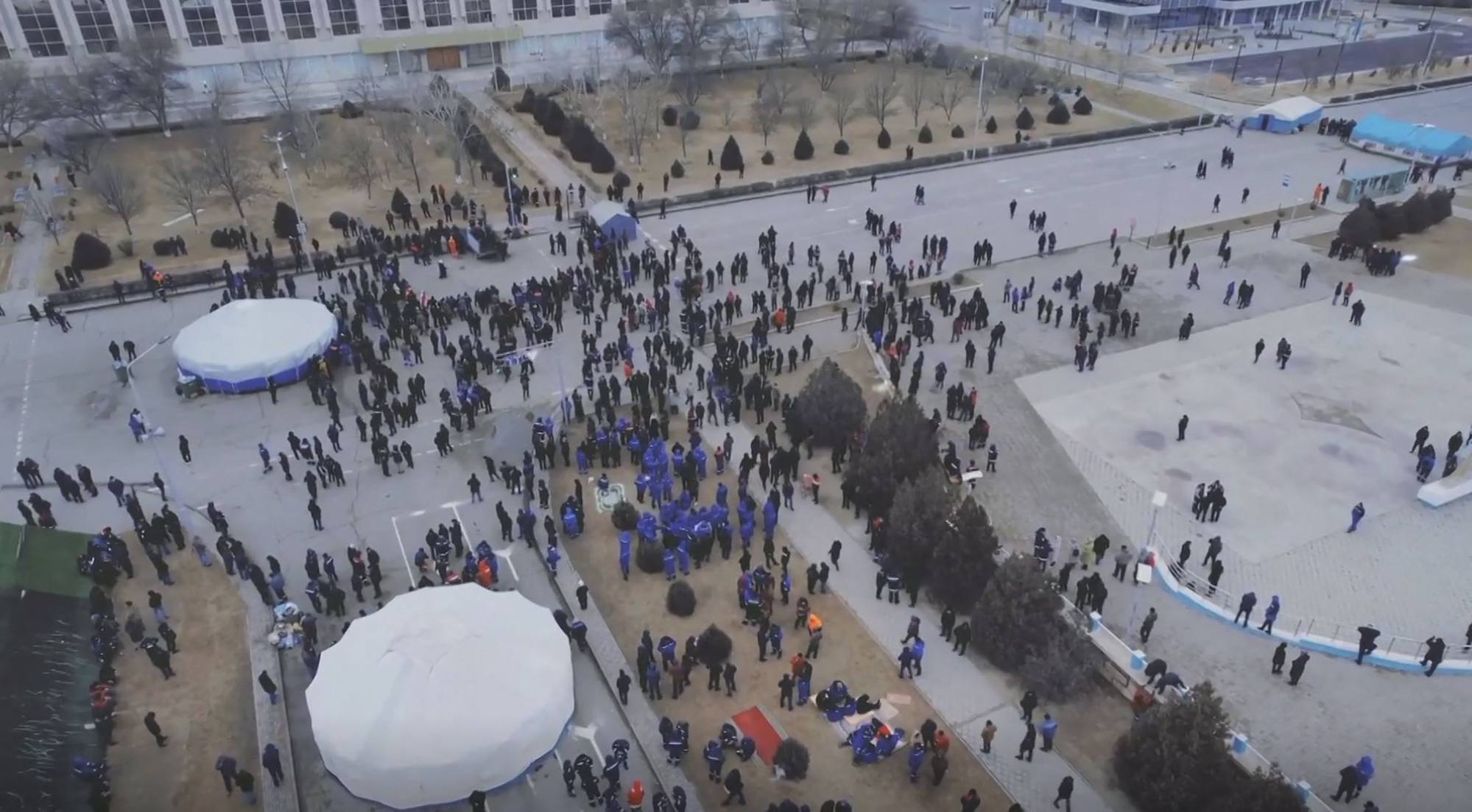 Wang said China would support the Shanghai Cooperation Organisation – a security bloc consisting of China, Russia, India, Pakistan and four other Central Asian nations – playing a role in resolving the crisis.
Kazakhstan is a key country
for
China's Belt and Road Initiative
– a project to build wide-ranging trade and transport links between Asia, Europe and Africa – and has invested more than US$17 billion in projects in Kazakhstan, according to the American Enterprise Institute's China Global Investment Tracker.
In the first 10 months of 2021, the bilateral trade volume between China and Kazakhstan reached US$20.8 billion, a year-on-year increase of 14 per cent, Jiang Wei, the country's consul General in Almaty, told state news agency Xinhua on Sunday.
Jiang also said China was Kazakhstan's second-largest trading partner and became its largest export destination for the first time last year.
Yang Jin, an associate research fellow at the Institute of Russian, Eastern European and Central Asian Studies under the Chinese Academy of Social Sciences, said the unrest was a threat to China's investments, at least in the short term.
"If the unrest further expands, there will be more impact and threats. We must be wary about our projects with Kazakhstan, for example the infrastructure of oil and gas pipelines and other major projects may be destroyed," Yang said.
Feng Shaolei, director of Centre for Russian Studies at East China Normal University, said China should keep a close watch on the spillover, but the CSTO intervention had helped to get the situation under control.
Noting the unrest was triggered by the surging prices of fuel, Feng also said China should treat it as a lesson.
"The sudden outbreak of unrest in Kazakhstan should be seen as a motivation and a warning for China to improve governance," Feng said.