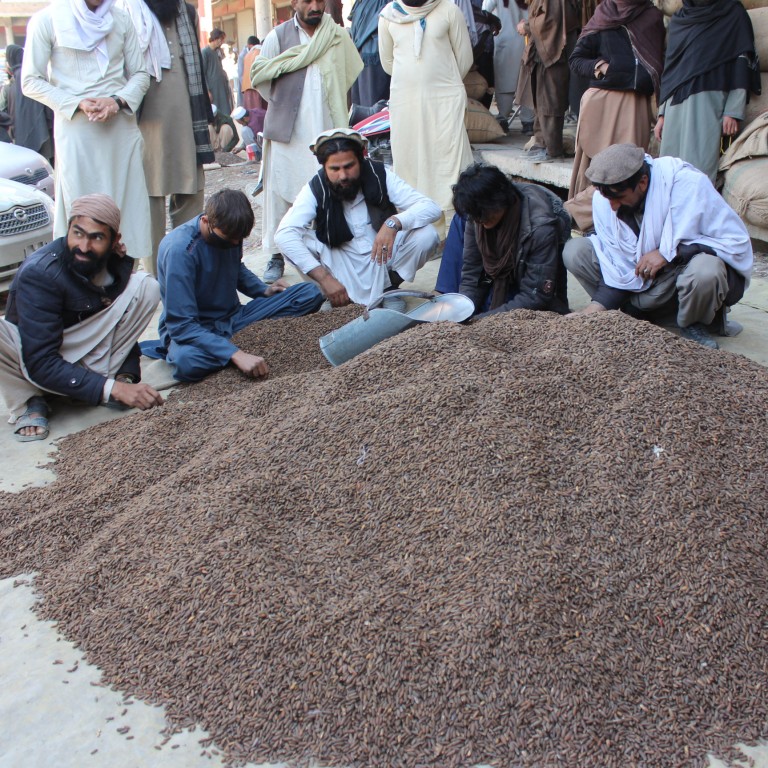 Afghan pine nuts land in China as envoy walks out over cash freeze
45 tonnes of the war-torn country's precious export arrive in Shanghai on the same day Kabul's ambassador to Beijing goes public over lack of funds
Resignation letter reveals staff unpaid for months with no word on what happens next but embassy remains open
The first shipment of Afghan pine nuts for 2022 arrived in China on Monday, as the war-torn country's envoy to Beijing walked away from his post, leaving a note to say he and other embassy staff had not been paid for months.
China and Afghanistan restarted the "
pine nut corridor
" in late October, part of an agreement struck with the previous government in 2018 to allow direct air transport of the nuts to the Chinese market.
Beijing has not recognised the interim Taliban government and said it will not be first to do so, but it has expressed concerns over the huge challenges facing the country, with around US$9 billion in Afghan assets frozen by the US.
Sabawoon Ahmadzai, who is in charge of cargo charters for Afghan private airline Kam Air, said about 45 tonnes of pine nuts were on board the cargo flight to Shanghai.
"Cargo flights will continue in 2022 as Kam Air and exporters and Afghan pine nuts traders are determined to increase Afghanistan's exports," he told Chinese state news agency Xinhua.
Zhu Yongbiao, director of the Centre for Afghanistan Studies at Lanzhou University, said China's restart of the pine nut trade was a boost for the country's foreign reserves and could help prevent a bigger mess.
The extent of Afghanistan's financial crisis was apparent when Javid Ahmad Qaem, the previous government's ambassador to China, posted his resignation on Twitter.
Qaem revealed in the post that embassy staff had not been paid for months. "We had money in the bank for accommodation and other expenses of the diplomats. We managed day-to-day activities from that. Though, I did not pay them salaries," he wrote. The former ambassador also said that China "is well-informed".
The embassy in Beijing remains open although it is unclear when a new ambassador will be installed. There was no immediate comment from Taliban officials in Kabul.
Similar financial problems have been reported at some of Afghanistan's other 41 embassies around the world. Most diplomats were appointed by the previous government and have remained in their posts.
According to one senior Afghan diplomat, some embassies began telling their envoys in October that they would no longer be able to provide salaries or pay their rents.
An Afghan diplomat based in Europe told US magazine Foreign Policy that many embassies would not be able to survive, with many expected to be closed down after running out of money.