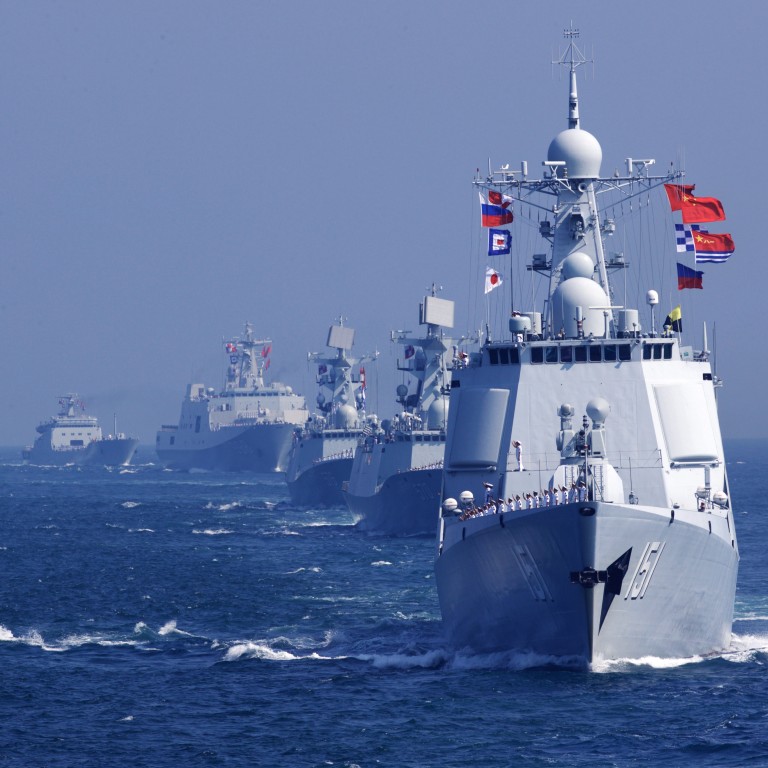 Russia reveals it is discussing a joint naval exercise with Iran and China
'Planned conference on conducting a joint naval exercise' to take place in Iranian port of Chabahar, according to Russian navy as its ships arrive there
Chabahar faces the strategically important Gulf of Oman, where the three navies held joint drills in 2019
China,
Russia
and
Iran
are planning a joint naval exercise, Russia's Pacific Fleet has said, amid speculation that the three countries are teaming up in the face of pressure from the US.
The Pacific Fleet said that a naval group including a missile cruiser, a large anti-submarine warfare ship and a large sea tanker had anchored off Chabahar, Iran's only oceanic port, on the Gulf of Oman.
"In the port, an official delegation of the Russian Navy will take part in a planned conference on conducting a joint naval exercise of warships of Russia, Iran and China," it said on Tuesday, without giving further details.
The top Russian envoy in Iran told Russia's Ria Novosti news agency last August that joint naval drills would be held in the Persian Gulf at the end of 2021 or early in 2022, and that they would focus on safe navigation and anti-piracy operations. It was interpreted as a show of support by Moscow and Beijing to Tehran during its confrontations with Washington.
It will be the second occasion that three-way naval exercises have been held by China, Russia and Iran, and the first during the pandemic.
In December 2019, the three navies held drills in the strategically important Gulf of Oman. The waterway connects the Indian Ocean to the Persian Gulf, via the Strait of Hormuz – the world's most important oil transit checkpoint, which a fifth of the world's oil passes through.
China sent its guided-missile destroyer Xining to those drills, which the Chinese defence ministry said at the time were aimed at "deepening exchange and cooperation between the navies of the three countries".
This year's planned joint exercises come with the three countries continuing to move closer in the face of growing pressure from the United States.
Last week, Chinese Foreign Minister Wang Yi hosted his Iranian counterpart Hossein Amirabdollahian and reaffirmed Beijing's opposition to unilateral sanctions by the US against Iran. The two countries last year signed a
25-year agreement
on energy, economic and security cooperation.
Russian President
Vladimir Putin
, who faces the threat of sweeping international sanctions if his country attacks Ukraine, was on Wednesday set to host Iranian President Ebrahim Raisi in Moscow.
According to the Kremlin, the two leaders were to discuss a range of issues related to bilateral cooperation. That included the 2015 nuclear deal, under which Iran drastically scaled back its nuclear programme in exchange for promises of economic relief.
Diplomats from Iran as well as China, Russia, Britain, France, the US and the European Union have been assembling in Vienna to
try to revive the deal
, which was left in limbo after former US president Donald Trump withdrew from it in 2018 and reimposed sanctions on Iran.