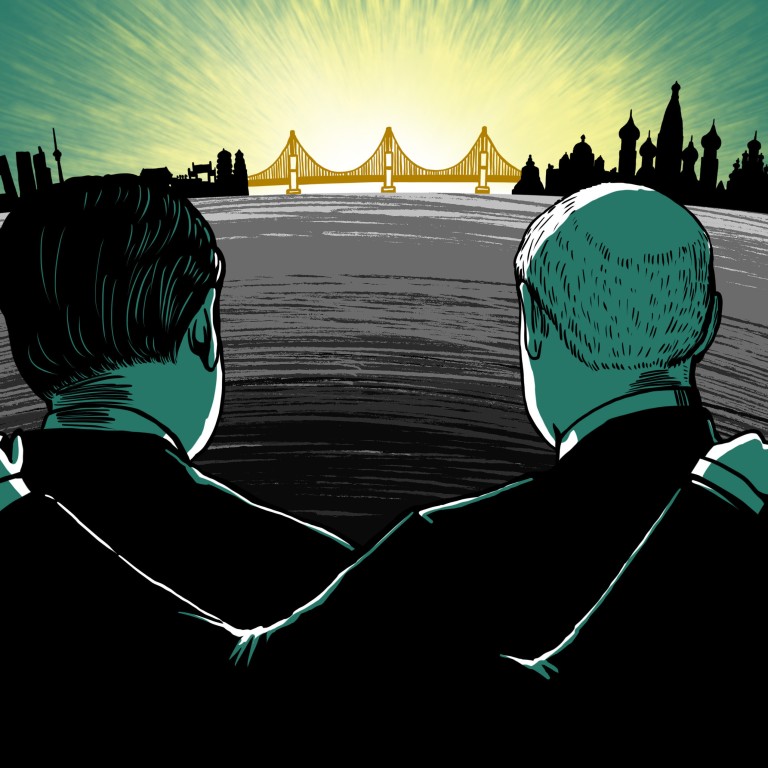 How China and Russia forged a friendship after bridging decades-old differences
Shared mistrust of the West and mutual economic benefits have brought Beijing and Moscow closer than ever
Geopolitics has played a role in Beijing-Moscow ties since the Cold War and continues to drive united front against hostile Washington
Nearly 2,000km (1,200 miles) from Beijing, over a frozen river separating
China and Russia
, a steel bridge stands ready for the leaders of the two countries to personally declare it open.
No launch date has been announced, but the Kremlin underscored the bridge's importance with the release of a transcript from a November meeting that discussed the opening ceremony.
Ruslan Baysarov, board chairman of BTS-Most, which built Russia's section, told the Kremlin working group he had asked President
Vladimir Putin
to invite his Chinese counterpart
Xi Jinping
"because this is a very great and important event – the first bridge".
It has been a long time coming. The bridge, which spans the Heilong River – known as the Amur in Russia – was first proposed in 1988, ahead of a historic visit to Beijing by Mikhail Gorbachev which ended decades of frosty relations.
The rapprochement between the former Soviet Union and Beijing included an agreement to increase economic cooperation. A bridge linking the northeastern Chinese city of Heihe with Blagoveshchensk in the resource-rich Russian Far East was part of that vision.
In 1995, after the collapse of the Soviet Union, the project was revived with the signing of a construction agreement between China and Russia, but work did not begin until December 2016.
While its official opening has been delayed in the wake of the pandemic, the bridge's completion is a sign of how Beijing and Moscow have navigated the intervening decades to grow closer than ever before.
Putin and Xi have held 37 video meetings since 2013, according to Chinese media – most recently last month – and the Russian president is likely to be the first world leader to meet Xi in person since the start of the pandemic.
During last month's call,
Putin
gave an assurance that he would attend next month's Winter Olympics in Beijing, in a show of solidarity after the US, Britain, Canada and Australia announced a diplomatic boycott over human rights.
At the same time, Xi expressed support for his "old friend" Putin, in the face of threatened Western sanctions if Russia invaded Ukraine.
Xi called for "more joint actions to effectively safeguard security interests" of the two countries, while
Putin
hailed the bilateral ties "as at an all-time high, reflecting a high level of strategic mutual trust".
United by a shared distrust for the Western democracies, China and Russia have also been looking for new ways to deepen their "comprehensive strategic partnership" to counter pressure from the West.
China's trade with Russia jumped by 35.8 per cent last year to a record US$146.88 billion, according to Chinese customs data.
China has been Russia's largest trading partner since 2010, and is also the largest buyer of its commodities, taking 14 per cent of Russian exports in 2020, including mineral fuels.
Artyom Lukin, an associate professor at Far Eastern Federal University in Vladivostok, said the two countries' economic interdependence would continue to increase, though Russia appeared to be more dependent on China.
He noted that almost one-fifth of Russia's foreign trade was now with China, while Russia accounted for just 2 per cent of China's overall trade.
"Moreover, Russian exports to China are mostly commodities while Russia's imports from China increasingly consist of industrial and hi-tech goods. That said, China's reliance on Russian supplies is also growing, especially as the risks of conflict with the US grow," Lukin said.
According to Xu Poling, an expert on the Russian economy with the Chinese Academy of Social Sciences, China needs access to the vast energy reserves in Russia's Far East to support its booming manufacturing economy and the world's largest population, while China is a stable market for Russia's energy exports.
"China also needs reliable supply with low risks of interruption during transport," Xu added – Russia's gas and oil can be transported via land, while tankers from the Middle East usually travel through the pirate-ridden Strait of Malacca and the contested
South China Sea
.
"Trade between Russia and China has a strategic mutual assistance in nature and there is a strategic trust. Russia believes China would not use the economic interdependence as a weapon against Russia," he said.
Geopolitics has played a role in Beijing and Moscow's economic cooperation since the Cold War. In 1949, when the People's Republic of China was founded its northern neighbour was an economic saviour.
Thousands of Russian experts and technicians helped set up whole industries in China, funded with billions in loans. These were repaid through Chinese exports of minerals, including crude iron and tin, as well as wool, pork and rice.
A split over ideological differences in 1960 led to decades of disruption. Trade had just begun to pick up in the early 1980s, reaching US$4.38 billion in 1990. A year before the Soviet Union's collapse, according to official Chinese data, it was China's fifth-biggest trading partner – after Hong Kong, Macau, Japan, the US and West Germany.
In the following years, China and Russia each carried out market reforms but "at that time, Russia's desired partner in its economic modernisation was Europe, while China attracted large investments from the US, Japan and Europe", Xu said.
Putin's 2012 "pivot to the East" was no more than rhetoric until two years later, when Russia's annexation of the Crimean peninsula saw a downturn in its relations with the West.
Some progress has been made since then. In 2019, gas started flowing to China through Russia's 3,000km Power of Siberia pipeline in a 30-year deal signed in 2014 between Gazprom and the China National Petroleum Corporation after a decade of negotiations.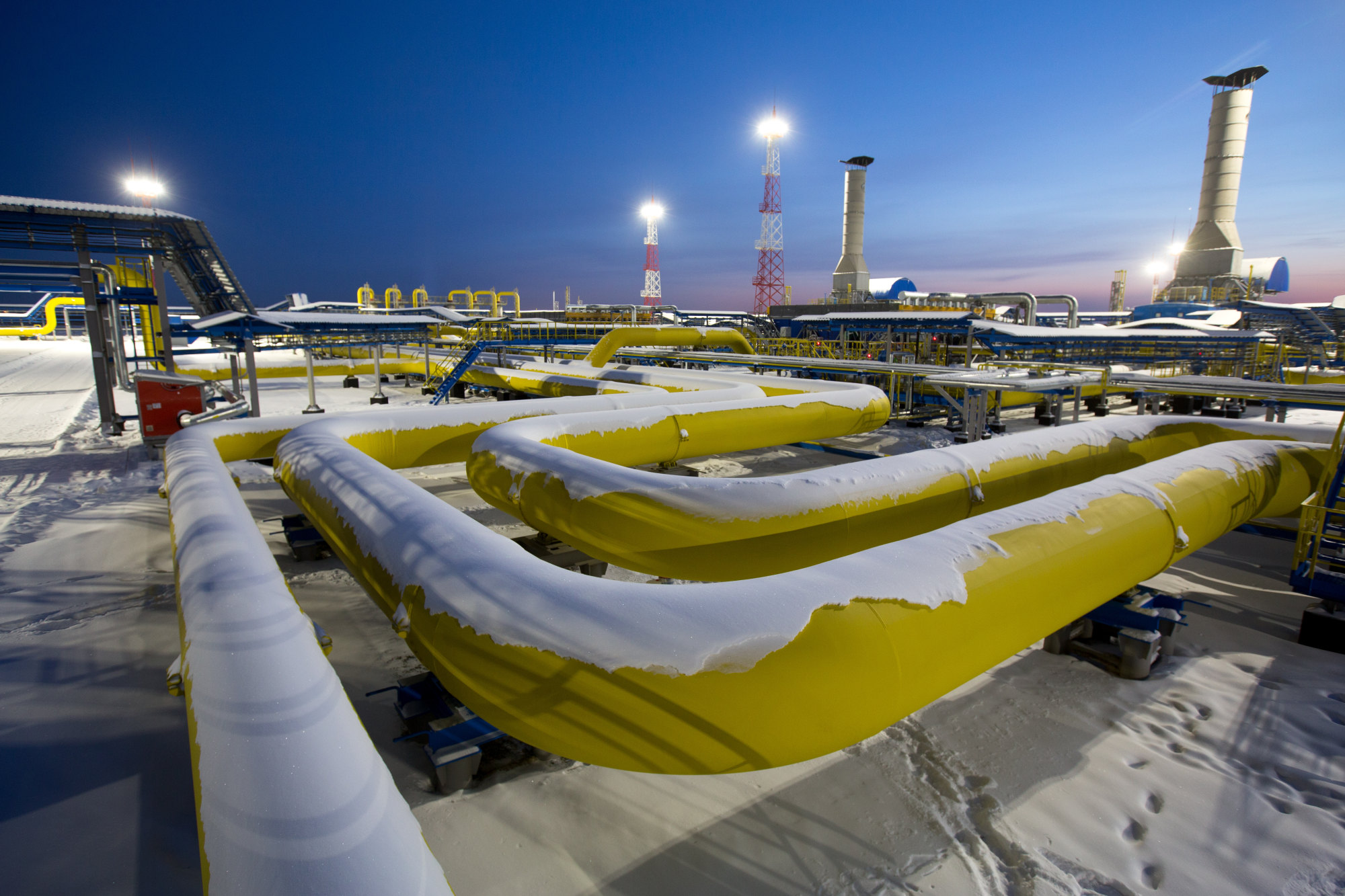 As both countries' confrontations with the US deepen, their leaders have repeatedly pledged cooperation in emerging areas, including data security, cyberspace, the Arctic and infrastructure.
At the same time, Beijing and Moscow are seeking to increase the use of their currencies in bilateral payments to curtail the influence of the US dollar and reduce the effects of Washington-imposed sanctions.
Last month, Putin's foreign policy adviser Yuri Ushakov said Russia and China had agreed to develop an independent financial infrastructure to service trade between the two countries "that cannot be influenced by third countries".
The announcement followed a threat from the US and Europe to exclude Russia from Swift, the world's largest electronic payment system.
Despite leadership promises to integrate China's
Belt and Road Initiative
and Russia's Eurasian Economic Union, bilateral investment remains low and is largely pushed by governments, according to observers.
There is so far no free trade agreement between the two countries and Russia has barely caught the eye of Chinese investors, who have made international headlines with their spending on everything from Australian real estate to US hotels and soccer clubs in Europe.
This is despite Beijing and Moscow having some of the world's closest intergovernmental mechanisms, with 19 subcommittees to facilitate economic integration.
"Chinese-financed projects in Russia are the exception rather than the rule, which indicates that Russia is not yet seen as an attractive destination for Chinese foreign direct investment," Lukin said.
"Another is the shortage of joint projects in high-technology areas, which can partly be explained by persistent techno-nationalism in the two countries."
The cordial China-Russia relationship has drawn increasing scrutiny from the West and fuelled a discussion about whether easing sanctions on Russia could draw Moscow away from Beijing.
Xu said this would be unlikely, as the Russian economy had become increasingly resilient after years of sanctions. Its geographic proximity had also given Russia some competitive advantage in the huge market in China, which is also the biggest consumer of liquefied natural gas, he added.
"Both Russia and the US are competing to export liquid natural gas to China, and even if the US eased sanctions, it would be impossible for the US to import LNG from Russia," Xu said.
"The US and Europe can improve their ties with Russia, but structural contradictions between the US and Russia make it impossible for them to ever become brothers. And because of the shared pressure from the US, as well as their long borders and historical experience, China and Russia are unlikely to go against each other."