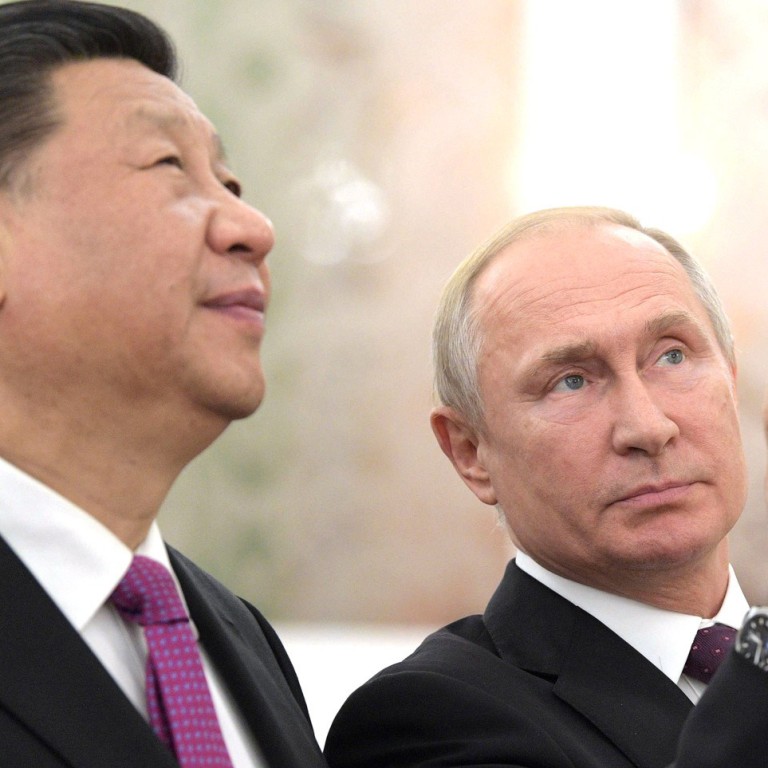 Russia keeping China in the loop on US talks, Moscow's envoy says
Chinese side regularly informed of the talks' content and progress, Andrey Denisov says
Putin's Winter Olympics trip could also yield a 'surprise' for ties between the two countries
Moscow constantly updates Beijing on progress in security talks between the US and Russia, even though China is not related to the talks, the Russian envoy to Beijing said on Tuesday.
"Russia has recently started talks and
meetings with the United States and Nato countries
about giving Russia security assurances, but these talks are not related to China," Russian ambassador to China Andrey Denisov said at the Russian embassy in Beijing.
Denisov said the Chinese side was regularly informed of the talks' content and progress, and "our Chinese friends are paying close attention to the talks".
"There's no need to hide any content or subjects in these diplomatic efforts," he said.
The envoy also said there would be a "surprise" gift for China-Russia ties during
Russian President Vladimir Putin
's trip to the Chinese capital for the Winter Olympics next month.
Denisov did not offer details, but said the two sides were getting close on energy trade and would cooperate on space exploration.
"We think President Xi might have prepared a surprise for President Putin, and we don't know what that surprise is at the moment," he said. "But I think there will be one."
Moscow and Nato have embarked on a new round of security negotiations, with
Russian President
Vladimir Putin
asking for "long-term legally binding guarantees" from Nato that no missile system would be installed in Ukraine.
The Kremlin said an agreement was reached to start those talks during Putin's video conference with US President
Joe Biden
on December 7 and the Russian side had submitted a proposal. The content of that proposal is not publicly known.
Kremlin spokesman Dmitry Peskov said last week that
Putin
would brief President Xi Jinping on the talks when he went to Beijing during the Winter Olympics.
Putin was quick to confirm his attendance at the Games' opening ceremony while a number of Western countries announced a diplomatic boycott of the event.
Denisov said on Tuesday that the Russian side had never asked Beijing's opinion on the issue.
"On Ukraine, we remember the Chinese making their stance very clear years ago, and they understand a lot about the history," he said. "That's why we have never asked them questions like what they think of the Ukraine situation."
The Chinese foreign ministry has said repeatedly that it favours a "balanced and just treatment" on the issue of Ukraine, and that differences should be resolved "through dialogue and consultation".
Russia and China are also seeking to counter Western pressure over Iran, with the three countries wrapping up a joint military drill in the Gulf of Oman last week.
Moscow and Tehran are in talks for a new 20-year cooperation deal, which the Iranian President Ebrahim Raisi discussed with Putin during his visit to Russia last week.
Beijing also signed a 25-year cooperation agreement with Tehran last year.