Ukraine
Get more with myNEWS
A personalised news feed of stories that matter to you
Learn more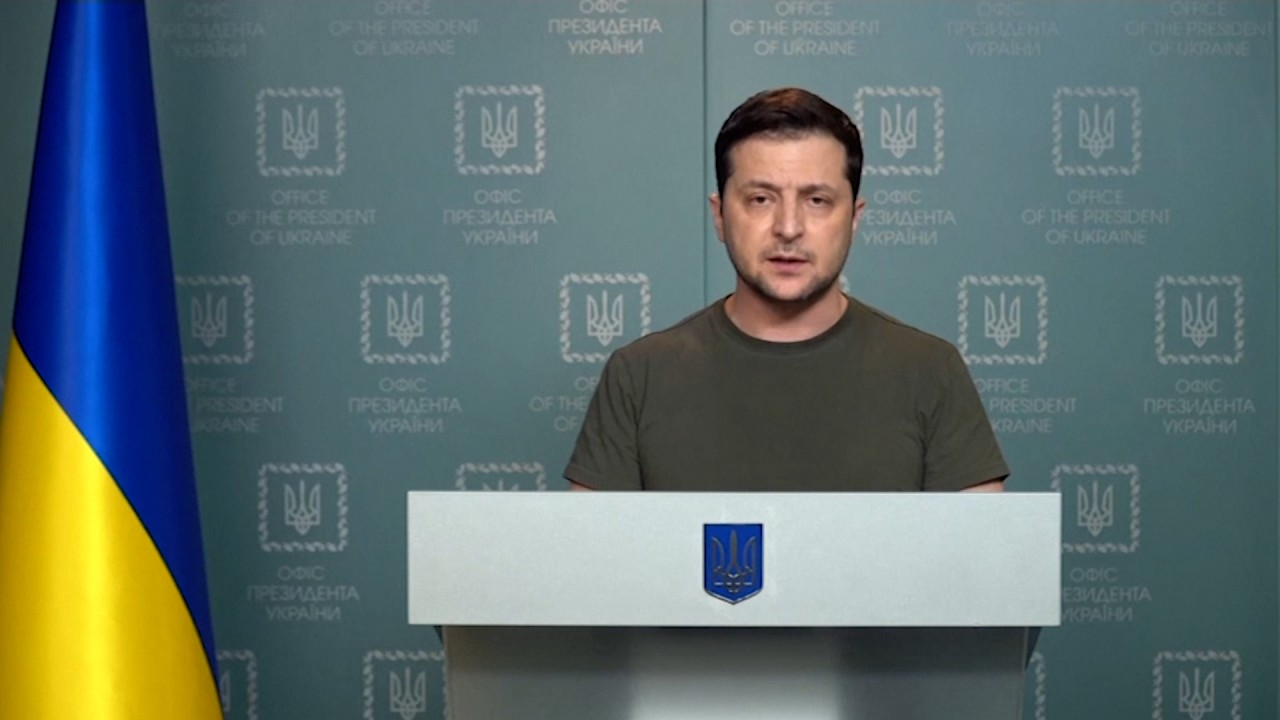 00:46
Ukrainian leader Zelensky will 'try' talks with Russia, but sceptical about chances for peace
Ukrainian leader Zelensky will 'try' talks with Russia, but sceptical about chances for peace
Ukraine invasion: Kyiv team on Belarus border for talks with Russia; UN to meet after Putin nuclear alert escalates tensions
Talks to aim for ceasefire and Russian troop withdrawal. Ukraine president open to meeting without preconditions for a chance at peace
UN General Assembly and Security Council to meet over Russian invasion, after President Vladimir Putin puts nuclear deterrent forces on high alert
There will be no more live updates to this story. The
Post's
coverage of the Ukraine-Russia conflict continues
here
.
A delegation from
Ukraine
has arrived at its border with Belarus for talks with Russian delegates in a bid to
stop the war
, President Volodymyr Zelensky's office said on Monday.
The main objective of the talks is to seek an immediate ceasefire and for Russian troops to be withdrawn from Ukraine.
The negotiations are already under way, according to Russian state news agency RIA Novosti.
The Kremlin earlier declined to declare its official position ahead of the negotiations.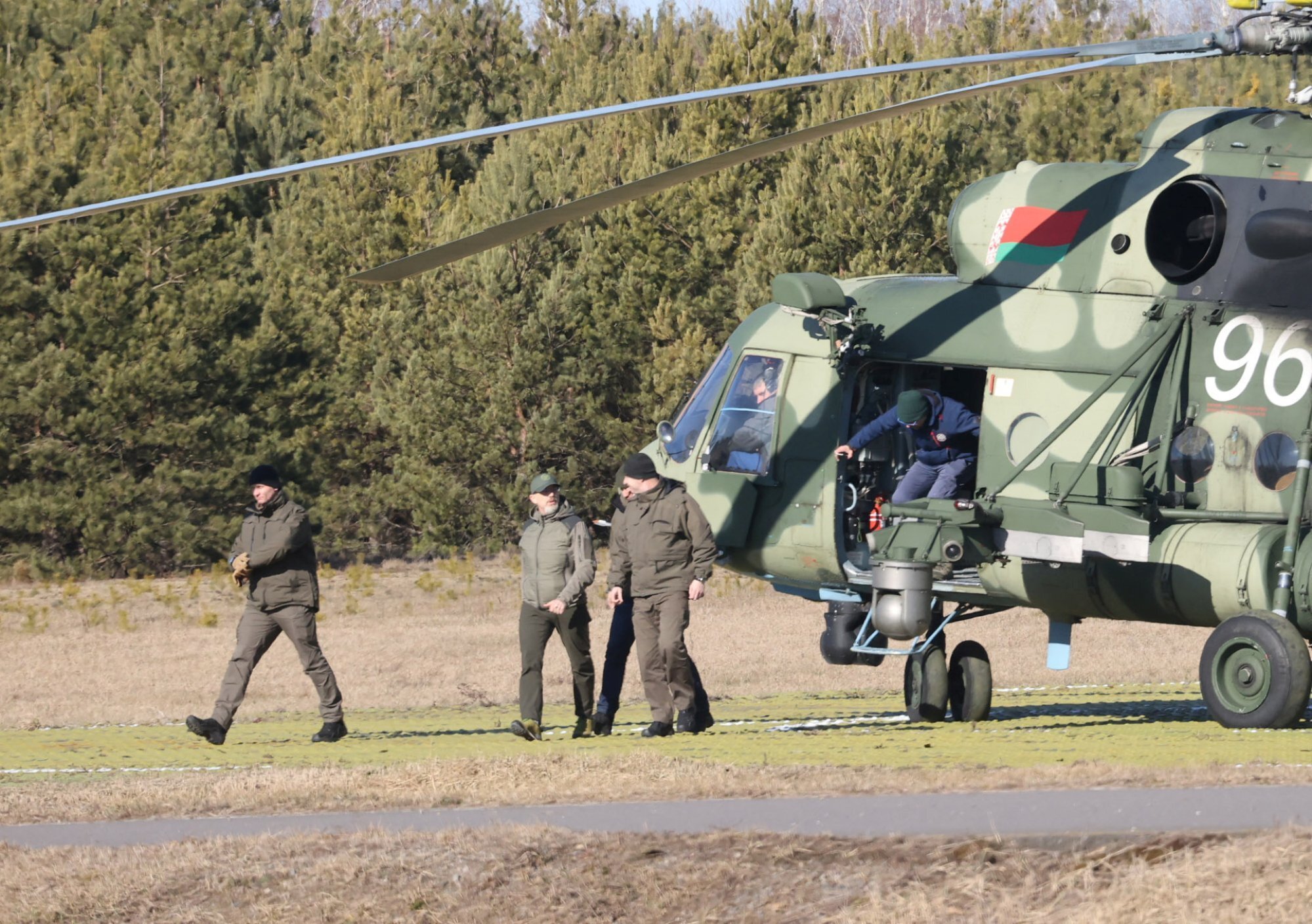 President Zelensky, while sceptical whether the talks would result in de-escalation, has said Ukraine will meet the Russian side without preconditions if it meant a chance at peace.
He has also demanded "immediate" EU membership for Ukraine.
"We appeal to the European Union for the immediate accession of Ukraine via a new special procedure," Zelensky, 44, said in a new video address.
"Our goal is to be together with all Europeans and, most importantly, to be on an equal footing. I'm sure it's fair. I'm sure it's possible."
Polish President Andrzej Duda, who supports Ukraine's inclusion into the 27-nation bloc, said candidate status should be granted and membership interviews conducted immediately after.
Read on for more updates.
China calls for 'de-escalation' in Ukraine
Beijing on Monday called for de-escalation and "restraint" over the Ukraine crisis, as delegations from Moscow and Kyiv prepared to meet for their first talks since Russia invaded the former Soviet republic.
Russia quickly announced it had neutralised key Ukrainian military facilities after it invaded on Thursday, and on Sunday,
Russian President
Vladimir Putin
on placed his country's nuclear forces on high alert.
The meeting comes after Western allies hit Russia with a slew of sanctions and pledged arms for Ukraine.
China has trod a cautious diplomatic tightrope on the crisis as it tries to balance its core foreign policy line – that a country's sovereignty is sacrosanct and others should not interfere – with its support for close ally Moscow.
UN bodies to hold urgent sessions
The UN General Assembly and Security Council will hold separate meetings on Monday to discuss Russia's invasion of Ukraine, now in its fifth day.
This comes amid new reports of fighting in the streets of Ukraine's second-largest city, Kharkiv, and Russian troops moving closer to the capital, Kyiv.
Both meetings follow Russia's veto on Friday of a Security Council resolution demanding that Moscow immediately stop its attack on Ukraine and withdraw all troops.
On Sunday,
Russian President Vladimir Putin
ordered his nuclear deterrent forces on high alert, a move the Pentagon called "escalatory" and increased the risk of a miscalculation.
European countries and the US have increased weapons deliveries to Ukraine. Nato partners are providing Ukraine with air-defence missiles and anti-tank weapons, Nato chief Jens Stoltenberg tweeted on Monday, adding that he had held another phone conversation with Ukraine's president.
US President
Joe Biden
will hold a secure call with allies and partners on Monday to discuss "developments" in Russia's attack on Ukraine and "coordinate our united response", the White House said.
No evacuation yet for Chinese in Ukraine
China has not made clear whether it is ready to evacuate citizens from Ukraine.
"The present situation in Ukraine is complex and subject to many changes," foreign ministry spokesman Wang Wenbin said on Monday, adding that the security situation there is highly unstable.
"The foreign ministry and our embassy in Ukraine will maintain communications with every party, closely follow the development of the situation and study all feasible options for assisting the voluntary and safe evacuation of Chinese citizens in Ukraine."
The Chinese embassy in Kyiv said on Sunday that evacuation plans involving chartered flights had to be delayed because of growing safety concerns.
Italy 'strongly' urges citizens to leave Russia
Italy on Monday "strongly recommended"its citizens leave Russia by any commercial means possible, after the European Union shut its airspace to Russian aircraft over Moscow's invasion of Ukraine.
The EU move on Sunday came after many of its 27 member states, including Italy, individually announced intentions to prohibit Russian planes from entering or flying over their countries.
"It is strongly recommended that compatriots present in the country on a temporary basis … make timely arrangements to return to Italy," the foreign ministry in Rome said.
"Tourists, students, business travellers and the like" should return "by the commercial means still available", it said.
Italy also recommended that "all travel to the Russian Federation be postponed".
Swedish soccer holds the line on Russia
Sweden's soccer federation maintained its objection to playing any matches against Russia following the invasion of Ukraine and expressed its disappointment on Monday with Fifa for keeping the Russians in World Cup qualifying.
Sweden's official stance came a day after Poland and the Czech Republic declared they would not be accepting Fifa's attempted compromise in ordering Russia to play without its flag and anthem at neutral venues under the name of its federation – the Football Union of Russia.
"The Swedish Football Association is disappointed with Fifa's decision but is determined to continue to work together with other federations to cancel Russia's matches in the upcoming World Cup qualifiers," it said.
This came as Greece's biggest gaming firm OPAP halted betting on Russian sport events in solidarity with Ukraine.
OPAP said it has stopped offering bets on any match related to Russian competitions, including football, basketball and volleyball, either online or through its outlets in Greece.
"In these extremely difficult times, all our thoughts are with the Ukrainian people," OPAP said on Monday, adding that all bets placed in Russian matches so far were considered valid.
Russian rouble sinks
The rouble plunged to a record low of less than 1 US cent on Monday after Western nations and Japan moved to tighten sanctions against Russia, blocking some of its banks from the
Swift global payments system
.
The invasion of Ukraine has caused markets to swing wildly, with Europe's stock markets sinking on Monday on the back of fresh sanctions on Russia.
Central bank restrictions target access to the more than US$600 billion in reserves that the Kremlin has at its disposal, hindering Russia's ability to support the rouble as it plunges in value.
James Brown, an associate professor of political science at Temple University in Tokyo, said the economic impact on Russia was going to be "enormous".
Russia's central bank said on Monday it would more than double its key interest rate, to 20 per cent from 9.5 per cent, because the country's economy had "drastically changed".
"This is needed to support financial and price stability and protect the savings of citizens from depreciation," it said in a statement.
The move came as long queues were seen outside automated teller machines in Russia on Sunday amid fears the sanctions could make it difficult to secure cash.

Norway energy giant, BP cut Russia ties
Norway's state-owned energy giant Equinor will stop investments in Russia and pull out of joint ventures in the country following Moscow's invasion of Ukraine.
Equinor had US$1.2 billion in assets at the end of last year in Russia, where it has had a partnership with Russian oil company Rosneft since 2012.
"In the current situation, we regard our position as untenable," Equinor's president and CEO Anders Opedal said in a statement.
"We will now stop new investments into our Russian business, and we will start the process of exiting our joint ventures in a manner that is consistent with our values," he added.
On Sunday, British energy giant BP announced that it was pulling its 20 per cent stake in Rosneft, a decision that saw its shares drop the most in three months.
The London-based company already warned that it could take a financial hit of as much as US$25 billion from exiting Russia in response to President
Vladimir Putin
's invasion of Ukraine.
The move from BP was the latest sign of how far Western powers are willing to go to punish Putin. BP has been in Russia for three decades and just weeks ago was staunchly defending its presence there. But it was coming under growing pressure from the British government over the alliance with Rosneft.
US-China relations concerns
Former US Treasury secretary Jacob Lew warned that US-China ties could worsen because of Beijing's current stance on Ukraine.
Lew is now the chair of the board of directors at the National Committee on United States-China Relations.
"Today, Russian aggression threatens to drive us further apart," Lew said. "This is the moment when nations of the world that respect international orders are joining together condemning Russia's illegal attack on Ukraine. China must decide where to stand – and understand that bilateral relations with the US will only become more strained in the absence of a clear choice to stand with intervention."
Beijing has called for dialogue and restraint on all sides, while refusing to condemn Moscow or call its act an "invasion". China, along with India and the United Arab Emirates, abstained from a vote at the UN Security Council last Friday on a resolution meant to condemn Russia's attack on Ukraine.
Jiang Jiang, vice-president of the Chinese People's Association for Friendship with Foreign Countries, responded to Lew's comments.
"China's stance on the issue has remained clear and consistent," Jiang said. "China will determine its position based on the facts themselves."
West condemns Putin nuclear order
The West has condemned Russian President Vladimir Putin's nuclear forces alert.
Putin on Sunday ordered Russia's nuclear forces onto high alert in response to what he called "unfriendly" steps by the West. Russia has the world's largest arsenal of nuclear weapons and a huge cache of ballistic missiles.
The United States, the world's second largest nuclear power, slammed Putin's order as "totally unacceptable", while Germany said it was because his offensive had "halted" and was not going to plan, and Nato Secretary-General Jens Stoltenberg called it "dangerous rhetoric".
A senior US defence official said Putin's step came as Ukrainian forces, helped by arms from the West, continued to stymie the advance of Russian troops, who this official said had run into fuel supply and other logistical problems.
"We believe that this is not only an unnecessary step for him to take, but an escalatory one," the official said of Putin's nuclear announcement.
US to send anti-aircraft Stingers
The US for the first time has approved the direct delivery of Stinger missiles to Ukraine as part of a package approved by the White House on Friday.
The exact timing of delivery is not known, but officials say the US is currently working on the logistics of the shipment.
The decision comes after Germany's announcement that it will send 500 Stinger missiles and other weapons and supplies to Ukraine.
The high-speed Stingers are used to shoot down helicopters and other aircraft. Ukrainian officials have been asking for more of the powerful weapons.
The Baltic states have also been providing Ukraine with Stingers since January.
Canada will send an additional US$25 million worth of defensive equipment, including helmets, body armour, gas masks and night-vision gear.
Australia on Monday said it will provide lethal equipment to Ukraine.
Asean issues statement
Southeast Asian countries have expressed deep concern over the hostilities in Ukraine and called for dialogue but did not condemn the Russian invasion despite calls for a tougher stance against Moscow's aggression.
The foreign ministers of the Association of Southeast Asian Nations issued a statement Monday, calling "on all relevant parties to exercise maximum restraint and make utmost efforts to pursue dialogues through all channels".
"It is the responsibility of all parties to uphold the principles of mutual respect for the sovereignty, territorial integrity and equal rights of all nations," the regional bloc said.
Asean prioritises consensus among its 10 members and leans conservative on global matters. The bloc engages with Russia in annual political, security and economic talks as a key dialogue partner.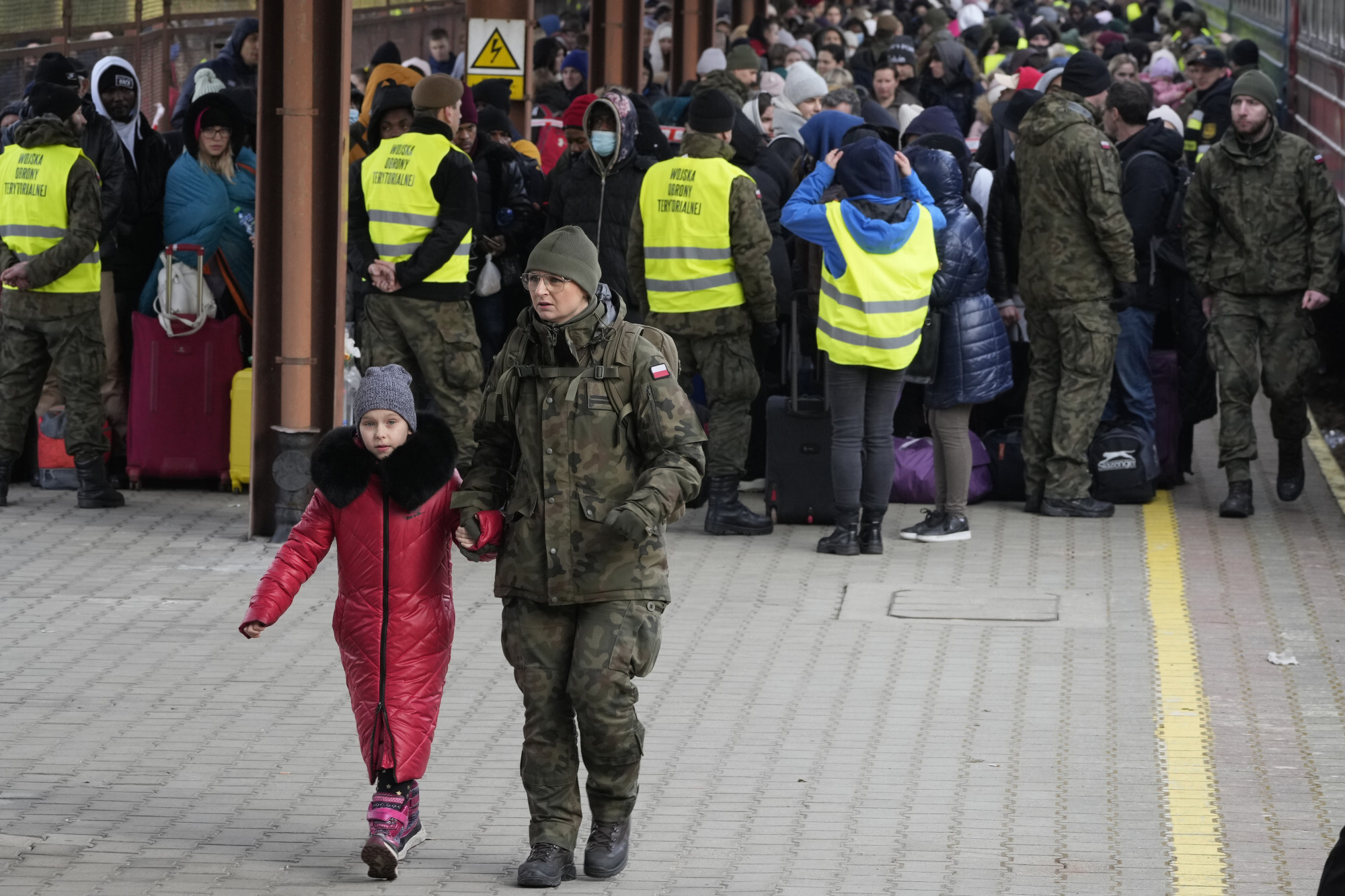 Taiwan raising funds for refugees
Taiwan will raise funds to help aid Ukrainian refugees who have fled to Poland.
Tsai Chi-chang, deputy speaker of the island's legislature, will hold a news conference in Taipei on Tuesday to announce details of the "Taiwan Can Help" campaign.
"We already have more than 10 local businesses promising some NT$10 million (US$356,000) in donation funds for humanitarian purposes, and we hope we can raise more funds soon after we kick off our Taiwan Can Help campaign," Tsai told reporters on Monday.
Since the beginning of Russia's invasion of Ukraine last week, tens of thousands of Ukrainian refugees have fled to neighbouring Poland, mostly through Medyka, one of the main road border crossings between Poland and Ukraine, according to the Polish government.
Anyone from Ukraine is allowed entry, even those who do not hold valid passports, Polish officials said.
Europe, Canada close airspace to Russian planes
Europe and Canada said on Sunday they would close their airspace to Russian airlines, raising the pressure on the United States to do the same.
European Commission President Ursula von der Leyen said the European Union would shut down its airspace for planes owned, registered or controlled by Russians, "including the private jets of oligarchs".
Canada's transport minister, Omar Alghabra, said his nation was closing its airspace to all Russian planes to hold the country accountable for an unprovoked attack on neighbouring Ukraine
Russia has responded to Western aviation sanctions by banning flights from several European countries. Russian airline S7 suspended flights to Europe.
Ukraine casualty figures
Ukraine's Interior Ministry said 352 Ukrainian civilians had been killed since Russia invaded, including 14 children. Another 1,684 people, including 116 children, had been wounded, it said.
The ministry's statement on Sunday did not give any information on casualties among Ukraine's armed forces.
Russia had lost around 5,300 soldiers, 191 tanks, 29 planes and 29 helicopters since Thursday, when the invasion began, according to the general staff of Ukraine's armed forces.
It also claimed in a statement that artillery fire from one Ukrainian brigade had destroyed more than five columns of Russian equipment and soldiers.
Russia has not released any information on casualties among its troops, with its defence ministry on Sunday acknowledging only that Russian soldiers had been killed.
Chernihiv and Kharkiv, cities close to the Russian border, continue to see heavy fighting, but they have remained under Ukrainian control, according to the British defence ministry.
"Logistical failures and staunch Ukrainian resistance continue to frustrate the Russian advance," the ministry said in a defence intelligence update on Monday.
Russian defence ministry spokesman Major General Igor Konashenkov said that, since the start of the attack on Thursday, they had hit 1,067 Ukrainian facilities, including 27 command posts and communication centres, 38 air defence missile system and 56 radar stations.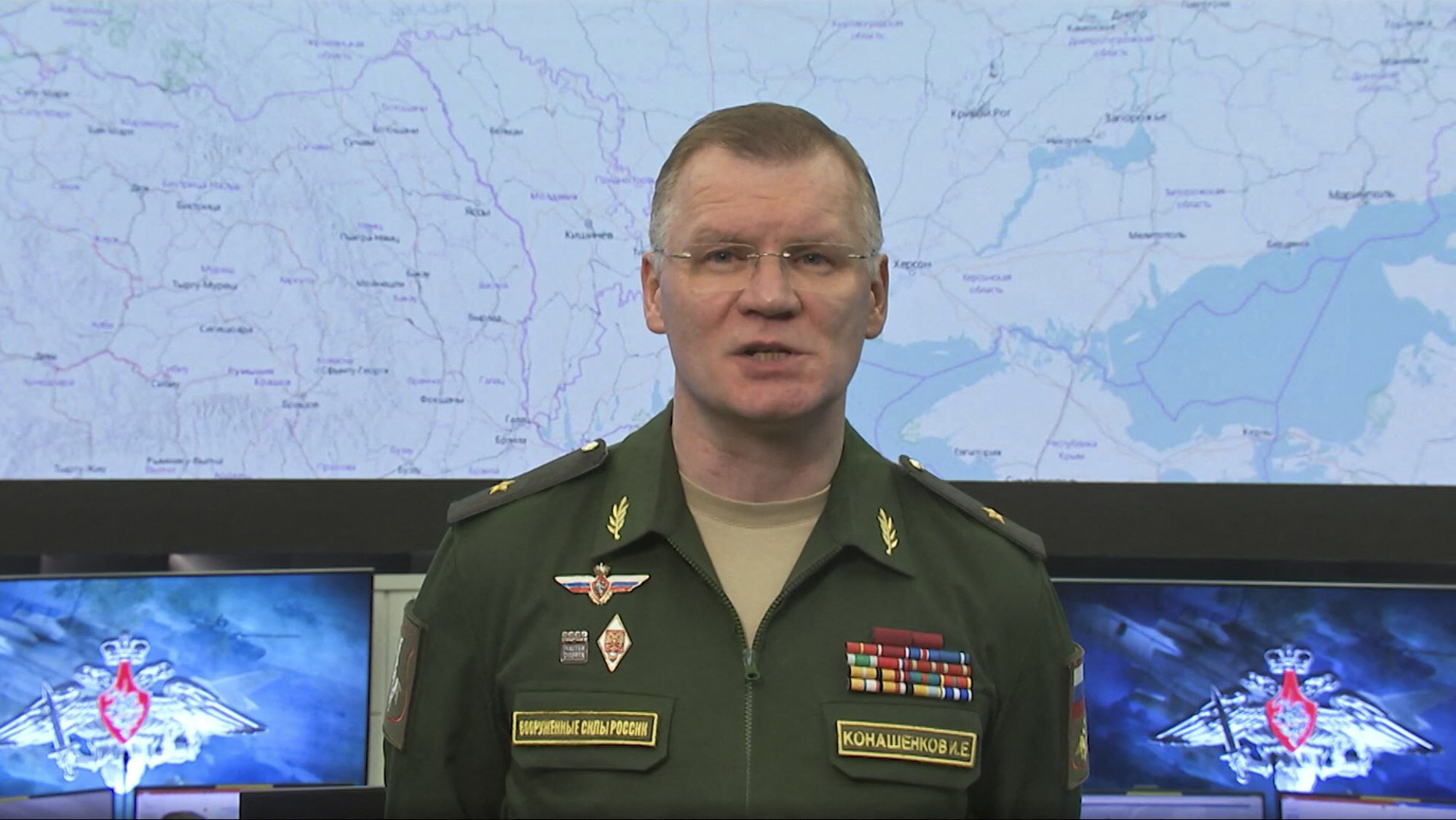 Belarus may join invasion: US official
A senior US intelligence official said Belarus was expected to send troops into Ukraine as soon as Monday to fight alongside Russian forces.
Belarus has been providing support for Russia's war effort, but so far has not taken a direct part in the conflict.
The American official has direct knowledge of current US intelligence assessments and said the decision by Belarus' leader on whether to bring Belarus further into the war depended on talks between Russia and Ukraine happening in the coming days. The official spoke anonymously to discuss the sensitive information.
Belarusians meanwhile voted on Monday to allow the country to host nuclear weapons and Russian forces permanently, as part of a package of constitutional reforms that also extended the rule of leader Alexander Lukashenko.
US Russia-watchers question Putin's stability
During several encounters with Russian President Vladimir Putin, former Secretary of State Condoleezza Rice recalled a consistent image: that of a "cold and calculating" leader true to his background in the dark arts of the KGB, the Soviet-era spy agency.
Less than a week into Russia's invasion of Ukraine, Rice sees a noticeable – and troubling change.
"I have met with him many times, and this is a different Putin," Rice told Fox News on Sunday, suggesting that Ukraine's ferocious resistance so far has rattled the enigmatic strongman. "He seems erratic … He has descended into something I have not seen before."
Rice's comments underscored assessments from an increasing number of current and former US officials. Among the most striking came from H.R. McMaster, a former national security adviser in the Trump administration.
"I don't think he's a rational actor because he is fearful," McMaster told CBS' Face the Nation.
Senator Marco Rubio, the top Republican on the Senate Intelligence Committee, suggested that he has received briefings in which Putin's mental state has been a topic.
"I wish I could share more, but for now I can say it's pretty obvious to many that something is off with Putin," Rubio tweeted late Saturday.
Street protests continue in Russia
From Moscow to Siberia, Russian anti-war activists took to the streets again on Sunday to protest Russia's invasion of Ukraine, despite the arrests of hundreds of protesters each day by police.
Protests against the invasion started on Thursday in Russia and have continued daily ever since, even as Russian police moved swiftly to crack down on the rallies and detain demonstrators. The Kremlin has sought to play down the protests, insisting that a much broader share of the Russian public supports the assault on Ukraine.
But tens of thousands of people in recent days have also endorsed open letters and signed petitions condemning the invasion. Celebrities and famous TV personalities have spoken out against it as well.
Additional reporting by Associated Press, Reuters, Bloomberg, Agence France-Presse and Tribune News Service