Ukraine
Get more with myNEWS
A personalised news feed of stories that matter to you
Learn more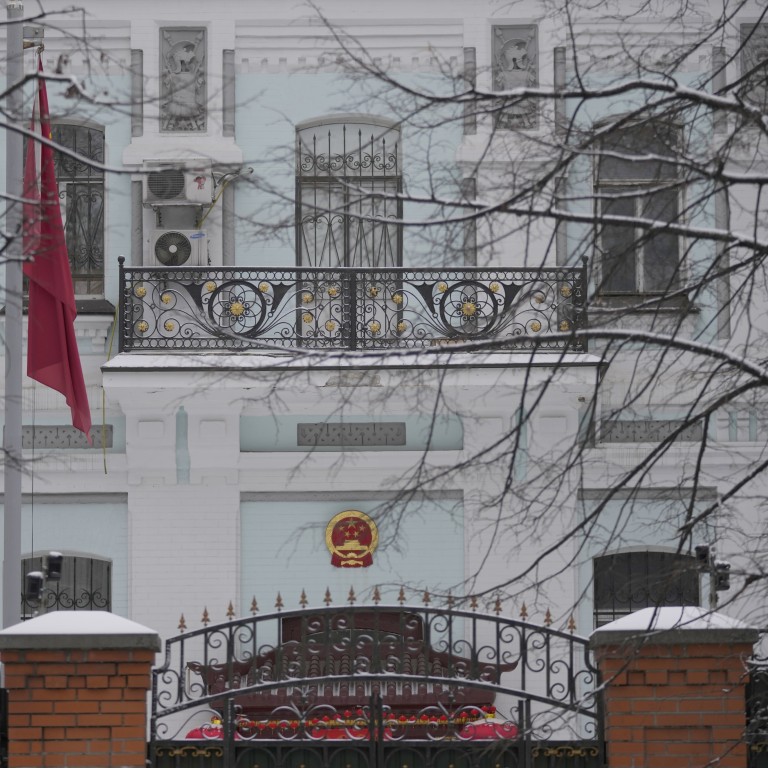 About half of China's 6,000 citizens in Ukraine evacuated as safety concerns grow
Foreign ministry says they are being transferred and evacuated from neighbouring countries 'in a safe and orderly manner'
Some Chinese say they have experienced hostility from Ukrainians over Beijing's stand on the conflict
More than 3,000 Chinese citizens have so far been evacuated from war-torn
Ukraine
to neighbouring countries, according to China's foreign ministry.
Spokesman Wang Wenbin told reporters in Beijing on Thursday that the government "attaches great importance to the safety of Chinese nationals in Ukraine, and is concerned at all times about whether they are in safety or danger".
"Currently, Chinese citizens in various regions of Ukraine are being transferred to and evacuated from neighbouring countries in a safe and orderly manner," he said.
It came after the foreign ministry spokesman on Wednesday said a Chinese national had been injured as he tried to leave the country – the first confirmed Chinese casualty of the conflict. Wang said the man had gunshot wounds but was not in a critical condition.
China did not begin evacuation efforts for its roughly 6,000 nationals in Ukraine until after Russia invaded last week. Other countries had urged their nationals to leave Ukraine more than a week before Russia's offensive began.
Chinese nationals are being evacuated by coach and train from two cities – Kyiv and Odesa – to nearby Moldova and Poland, where they will board charter flights back to China. The first group – 200 Chinese students –
left Ukraine on Monday
.
Safety concerns continue to mount, and some Chinese in the country say they have experienced hostility from Ukrainians over Beijing's stand on the conflict – refraining from calling it an "invasion" and abstaining from UN Security Council voting to condemn Russia for the attack.
A Chinese businesswoman in Kyiv told state tabloid Global Times that she had been harassed on the street. "Some agitated Ukrainian youngsters assume that China must be siding with Russia," she was quoted as saying.
On Saturday, China's embassy in Kyiv advised Chinese citizens to refrain from revealing or displaying any symbols of their nationality.
"As the Ukraine-Russia war continues to escalate, extreme behaviours have arisen in Ukraine, including verbal attacks and even gunfire, which pose safety risks to Chinese citizens in the country," the embassy said in a statement. It advised them to stick to "friendly exchanges" and avoid arguments.
Foreign Minister Wang Yi on Tuesday stressed the importance of keeping Chinese citizens safe when he spoke by phone to his Ukrainian counterpart Dmytro Kuleba.
Wang told Kuleba that China hoped Ukraine would take all necessary measures to ensure the safety of Chinese citizens, according to a foreign ministry statement.
It said Kuleba had noted that the safety of foreign citizens was important to the Ukrainian government and that China had played "a constructive role" on the issue, with more communication anticipated.
Meanwhile, a student claimed in a Weibo post that nearly 200 Chinese nationals at the Kharkiv Aviation Institute had been told by the embassy that no vehicles were available to collect them. "Our safety isn't guaranteed," he wrote. "May our country help us evacuate to a safe place and return to China soon."
The post was deleted after criticism from other students in Ukraine, who said the embassy was doing everything it could for stranded Chinese. The student later said the Chinese embassy was working to support their evacuation plan.
Another Weibo user, "Qrainiian", shared her journey out of Ukraine and thanked her teacher and the embassy for its efforts. The post has received nearly 200,000 likes so far. She urged Chinese in Ukraine to be careful about the information they share online since "any given statement can affect people's decisions".