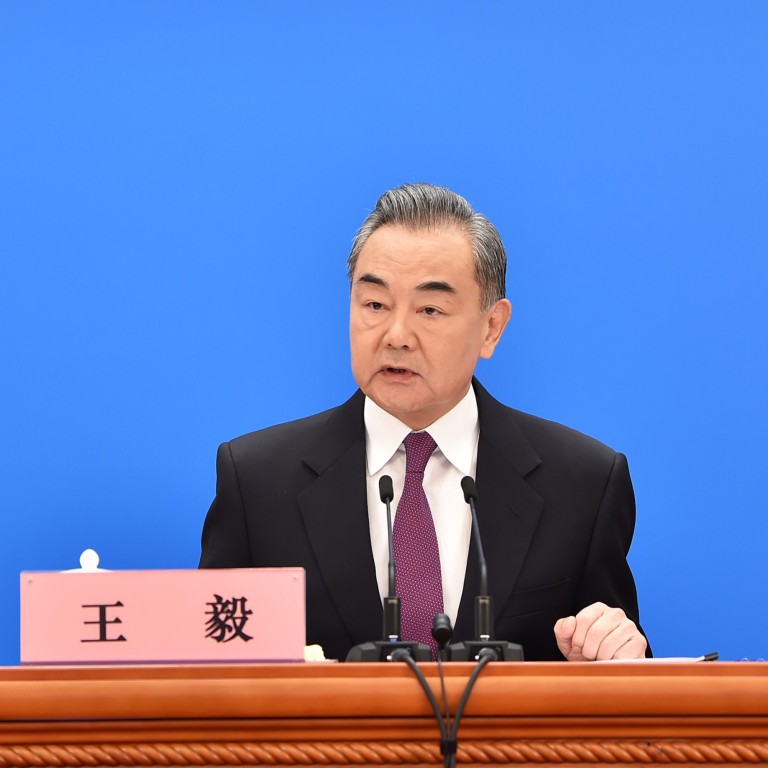 Chinese foreign minister says Taiwan and Ukraine situations are fundamentally different
Wang Yi makes the remarks at his yearly briefing on the sidelines of the annual legislative session
He also says Beijing is willing to act as a mediator in the Ukraine crisis and that China will send emergency aid
The
Taiwan
issue is fundamentally different from the
Ukraine
situation as it is a "purely domestic affair" rather than between two countries, China's foreign minister said on Monday.
Speaking during his annual briefing with foreign media in Beijing, Wang Yi said it was a "blatant double standard if some respect the sovereignty of Ukraine but repeatedly harm China's sovereignty over Taiwan".
He said "certain parties" in the US were pushing Taiwan towards danger and it would have unbearable consequences for the United States. Their purpose was to use Taiwan to contain China's rise, he added.
Wang also said tensions across the Taiwan Strait were the result of the ruling Democratic Progressive Party's failure to recognise the one-China principle.
'Geopolitical game' in the Asia-Pacific
The foreign minister also hit out at the US over what he called a bid to establish Nato in the Asia-Pacific, which he said went against regional arrangements.
Wang said the US was "playing its geopolitical game" with exclusive clubs like the Quad and Five Eyes and its Indo-Pacific strategy.
"This is just creating trouble for regional stability," he said.
Wang also accused Washington of failing to live up to its promise of not seeking confrontation with Beijing and supporting Taiwan independence.
"The promises made by the US are still up in the air and not implemented," he said. "The US is still adopting a zero-sum mindset against China, and provoking China on core issues," he said, adding it was not "responsible".
Wang said the US should seek mutual cooperation and peaceful co-existence with China.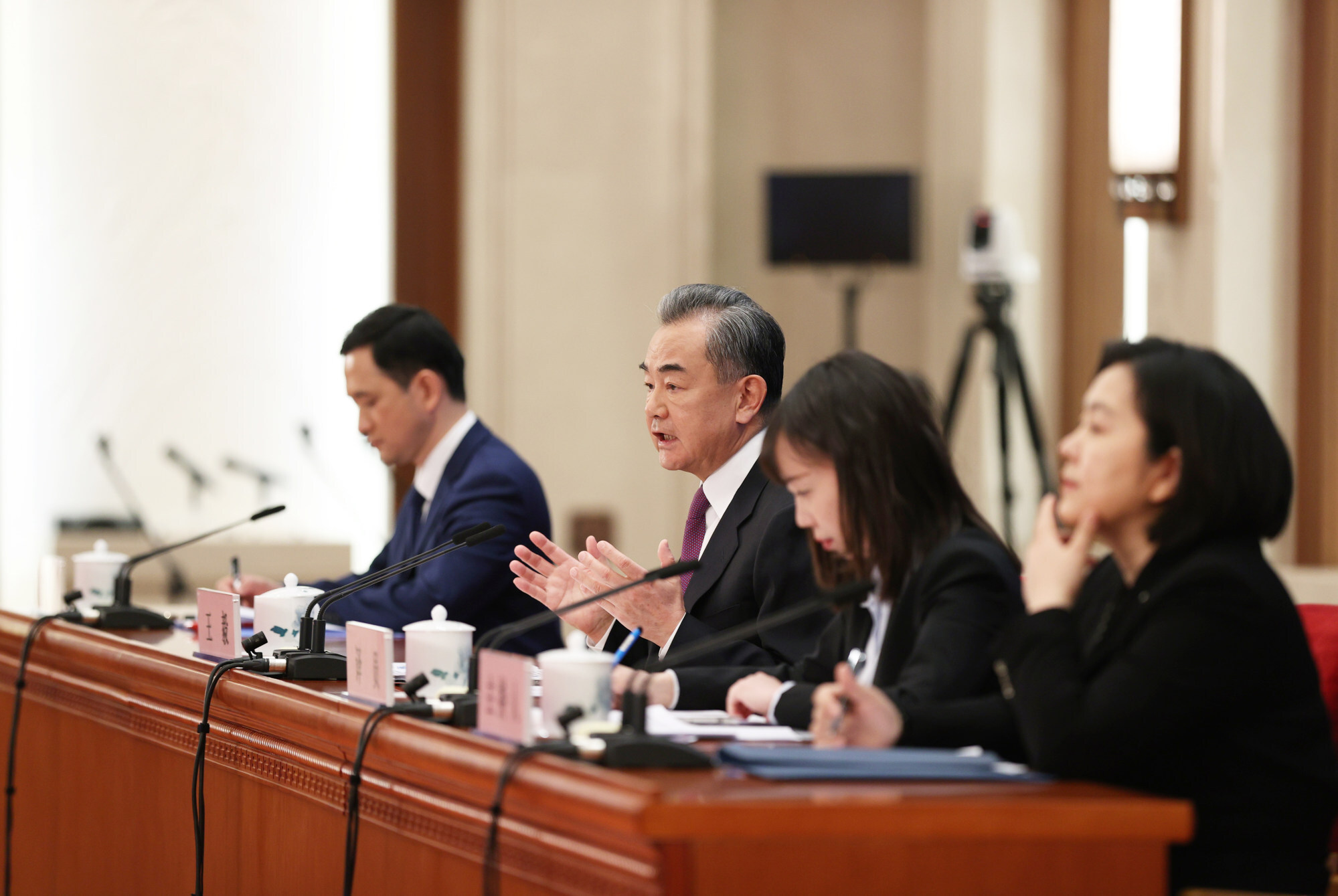 'Calm is needed … not oil on the fire'
The foreign minister also said China was willing to act as a mediator in the Ukraine crisis with the international community, and would send emergency aid to the eastern European nation.
He said the situation was complicated, and that Beijing made such decisions independently.
"Calm is needed … rather than pouring oil on the fire," he said, as he called for more dialogue.
Wang said China welcomed talks between Ukraine and Russia, and was willing to play a mediation role. He said the Red Cross Society of China would send emergency aid to Ukraine.
His remarks come as world leaders are closely watching Russia's military aggression in Ukraine and
ramping up pressure on China
to use its leverage with Moscow to push for peace. Russia's attack on Ukraine has put Beijing in an awkward position. It has refused to condemn its close ally Moscow, or call its action an invasion, while saying it respects Ukraine's sovereignty.
Beijing has also recognised the "legitimate security concerns" of Moscow and hit out at Western sanctions on Russia. It has abstained from voting on a United Nations resolution condemning the attack.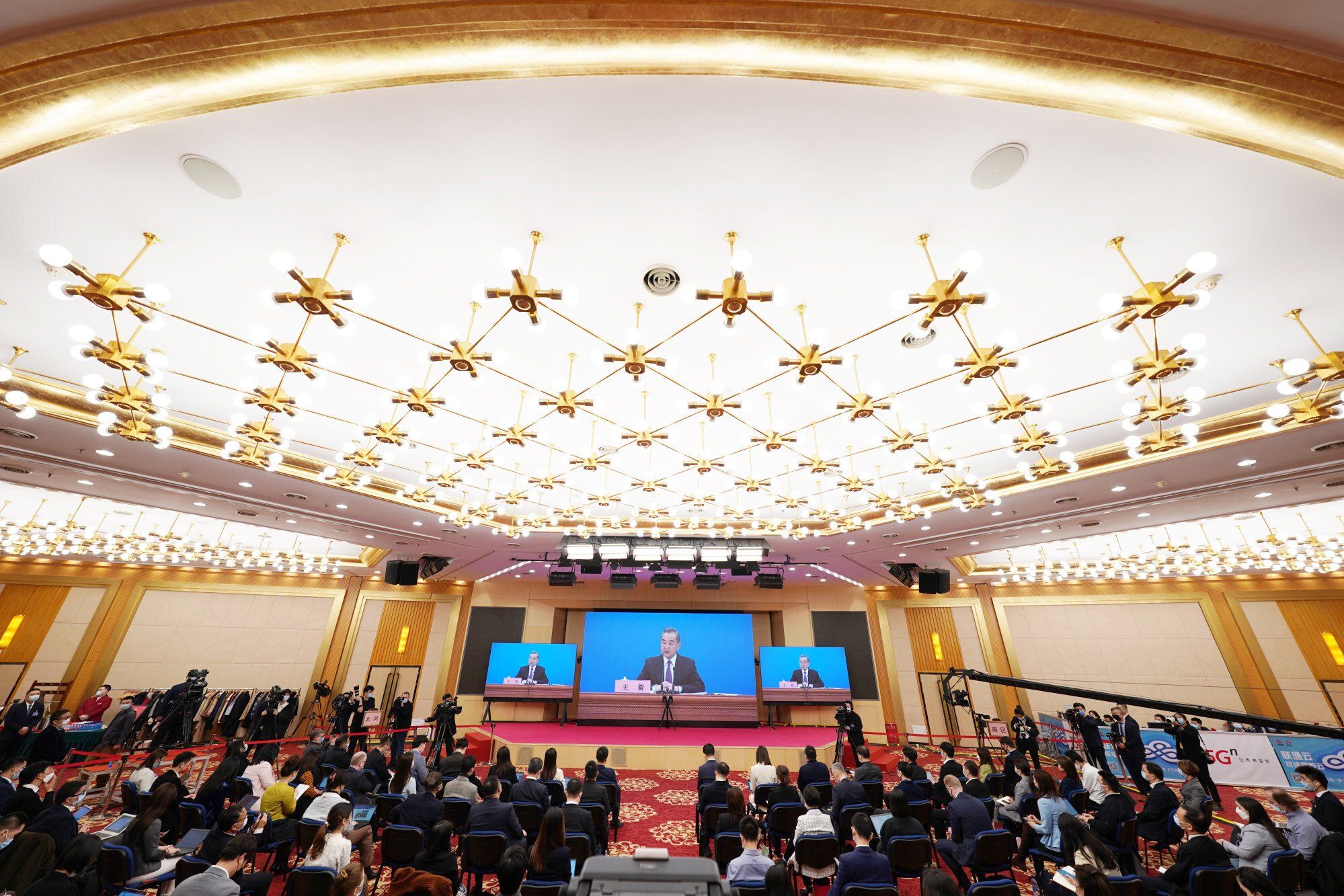 China-Russia relations
Wang said ties between China and Russia would not change no matter the challenges facing the international community.
"Relations between China and Russia will not be influenced by any third party," Wang said, adding that the nations "oppose cold war and ideological confrontation".
He said they would continue to strengthen cooperation.
China and Russia are moving ever closer – their leaders met in Beijing three weeks before the invasion, when they formed a "no limits" strategic partnership – as
suspicion grows in the West
.
Winter Olympics 'confidence'
Asked about the
Beijing Winter Olympics
, Wang said the success of the Games – despite the threat of the Omicron coronavirus variant and "political interference" by certain countries – had injected confidence into an uncertain world.
He did not directly mention the US-led diplomatic boycott of the Games.
Wang also hailed those who attended the event, the 170 leaders who travelled to China and the international organisations that supported it.
'Cold War mentality'
The foreign minister accused an unspecified "major power" of having a "Cold War mentality" and seeking to maintain its world hegemony.
He said China was opposed to hegemony and any bullying by major powers, and was committed to pushing international governance towards the path of greater equality.
All countries should abandon the quest for absolute security and seek solutions through dialogue, he said.
Chinese citizens in Ukraine
Wang said President
Xi Jinping
had asked "many times" for updates on Chinese nationals in Ukraine.
He also said the Chinese government was grateful for the help it received to evacuate Chinese nationals from the country – including Ukraine, Russia, Moldova and Belarus. Wang pledged to offer "all possible help" to Chinese citizens who were still in the war-torn country.
Ties with Europe
Relations with Russia and those with the European Union were two separate issues, Wang said, adding that China's relationship with Europe was not dependent on or related to any third party.
He said China-EU trade amounted to more than US$800 billion last year, and had been important in the recovery of the global economy.
Beijing and Brussels would work on the upcoming China-EU summit among other areas, and Beijing firmly supported Europe's "strategic autonomy", he said.
Asia-Pacific 'not a chessboard'
On China's partnership with the
Association of Southeast Asian Nations
, Wang said it was the "paradigm" for regional cooperation. He said Beijing was committed to deepening efforts to tackle Covid-19 with Asean members and would boost research and development cooperation on vaccines and drugs.
"The Asia-Pacific region is not a chessboard for great power politics and Asean countries are not pawns in geopolitical confrontations," he said.
'The ground is shaking'
Wang said there were some forces in Japan that did not want to see stable relations with China, noting that the two nations had historical issues.
"When the foundation is not good, the ground is shaking," he said, adding that Japan should avoid causing disturbance in the relationship.
Relations between the neighbours are strained as Tokyo moves closer to Washington and Taipei.
Chinese nationals overseas
China has saved dozens of kidnapped Chinese nationals in the past year, and vaccinated millions of overseas Chinese against Covid-19 in more than 180 countries, according to Wang.
He said it had been an uneasy year for Chinese nationals overseas but that Beijing was committed to protecting their interests and security.
North Korea nuclear talks
Wang called on Washington to establish trust with Pyongyang and said the US should not use
North Korea
as a geopolitical bargaining chip.
He said China was willing to play a constructive role in North Korea nuclear talks.
Support for 'core interests'
Beijing was committed to deepening cooperation with Central Asian countries on the pandemic, energy, agriculture, culture and the digital economy, Wang said.
He said China and nations from the Central Asian region were ready to offer firm support for each other's "core interests".
China-India border dispute
On the
border dispute with India
, the Chinese foreign minister said it should not affect their bilateral ties and cooperation.
He said the dispute should be resolved through talks and that "China and India should be partners to each other rather than rivals".
Middle East power vacuum
China had never pursued geopolitical interests in the Middle East and was not interested in filling the power vacuum in the region, Wang said.
"In the last dozens of years, some powers outside the region have taken turns to interfere in Middle East affairs, and have inflicted harm on the interests of the region and its people time after time," he said.
"We don't think such a situation should continue to exist in the 21st century."
South China Sea code of conduct
The foreign minister said he was confident that China and Asean could wrap up talks on a code of conduct for the disputed waters, but called on the bloc to resist external influence.
The negotiations were supposed to be completed in 2021, but it was delayed because of the pandemic.
Wang said some external countries were stirring up trouble in the
South China Sea
, looking for chances to intervene in regional matters. He said it was necessary for China and other countries in the region to resist external influence.
'Profound humanitarian crisis'
On the
Afghanistan
situation, Wang said the United States had left a "profound humanitarian crisis" in the country after its abrupt retreat.
He said the priority for Afghanistan now was providing the humanitarian aid its people needed.
China wanted to see sanctions immediately lifted and for Afghan assets held in overseas banks to be unfrozen, he said.
Closer ties with Latin America
Wang also said Beijing would deepen cooperation with Latin America, saying bilateral trade between China and the region had exceeded US$400 billion last year.
He said China had provided help to the region to tackle the pandemic.
G20 summit in Indonesia
The foreign minister said China would offer support and assistance to Indonesia when it hosts the
Group of 20 summit
later this year.
He said Beijing hoped the summit would safeguard the interests of emerging markets and developing countries.