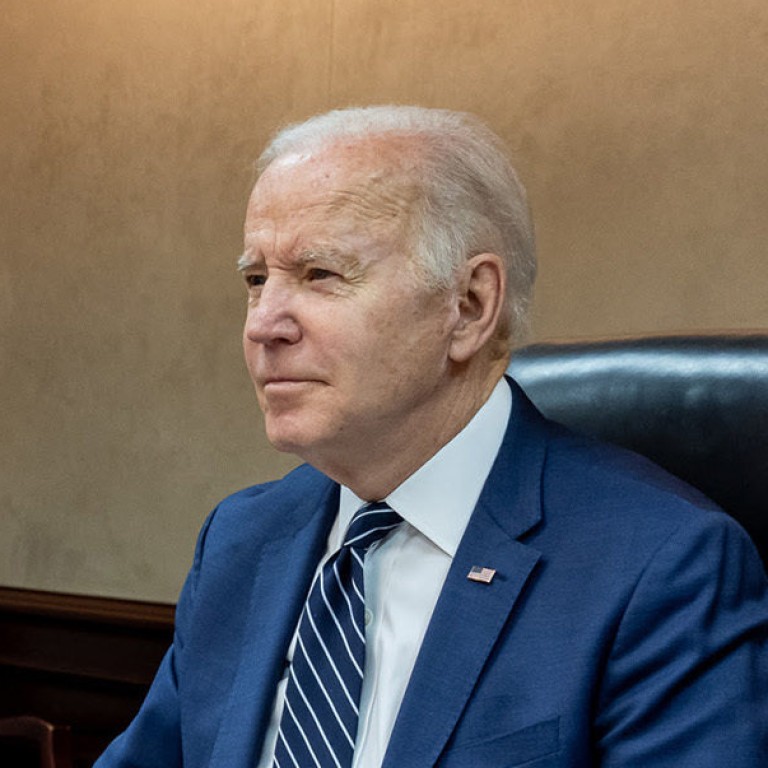 Ukraine war: Xi Jinping calls for cooperation, Biden warns of consequences in two-hour call
'The Ukraine crisis is something we don't want to see,' Xi says, reiterating messages from lower officials
Biden 'made clear the implications and consequences of China providing material support' to Russia
Chinese President Xi Jinping and his US counterpart Joe Biden spoke on Friday for about two hours in a virtual meeting called to address the conflict in Ukraine, with Xi appealing for negotiations to bring the crisis to a halt and Biden stressing that consequences await Beijing for any support it provides to Moscow.
"The Ukraine crisis is something we don't want to see," Xi said, according to a government readout. "Events once again show that state-to-state relations cannot go to the stage of confrontation, conflict and confrontation are not in the interests of anyone."
"As permanent members of the UN Security Council and the world's two largest economies, we must not only lead the development of China-US relations on the right track, but also shoulder our due international responsibilities and make efforts for world peace and tranquillity," the readout said.
Calling the exchange "constructive", Beijing said the two sides agreed "to follow up in a timely manner, take practical actions, strive for the return of China-US relations to the track of stable development, and make their own efforts to properly resolve the Ukraine crisis".
The Chinese government account added that the US and Nato "should also conduct dialogue with Russia to solve the crux of the Ukraine crisis".
A senior Biden administration official, who briefed reporters about four hours after the talks ended, said Biden "made clear the implications and consequences of China providing material support if China were to provide material support to Russia, as it prosecutes its brutal war in Ukraine".
Declining to specify what measures China would face for helping Russia, the official said that Biden "laid out in a lot of detail the unified response from not only governments around the world, but also the private sector".
Biden emphasised "that there would likely be consequences for those … who would step in to support Russia at this time", the official said.
The official added that Biden "wasn't making specific requests of China; he was laying out his assessment of the situation, what he thinks makes sense, and the implications of certain actions".
Biden also warned Xi against amplifying "disinformation about
biological weapons in Ukraine
as a pretext for a false flag operation", a strategy Biden administration officials have said Russia may use to seed the ground for further attacks on Ukraine.
Messaging from both sides was laced with recriminations despite the call from Xi for cooperation and peace in Ukraine, including an assertion by the Chinese leader that "some people in the US did not implement the important consensus reached" in the November summit.
Xi also laid blame for the fraught state of US-China relations on Biden's predecessor.
"China-US relations have not yet emerged from the predicament created by the previous US administration, but instead encountered more and more challenges," Xi was quoted as saying, referring to former president Donald Trump's administration.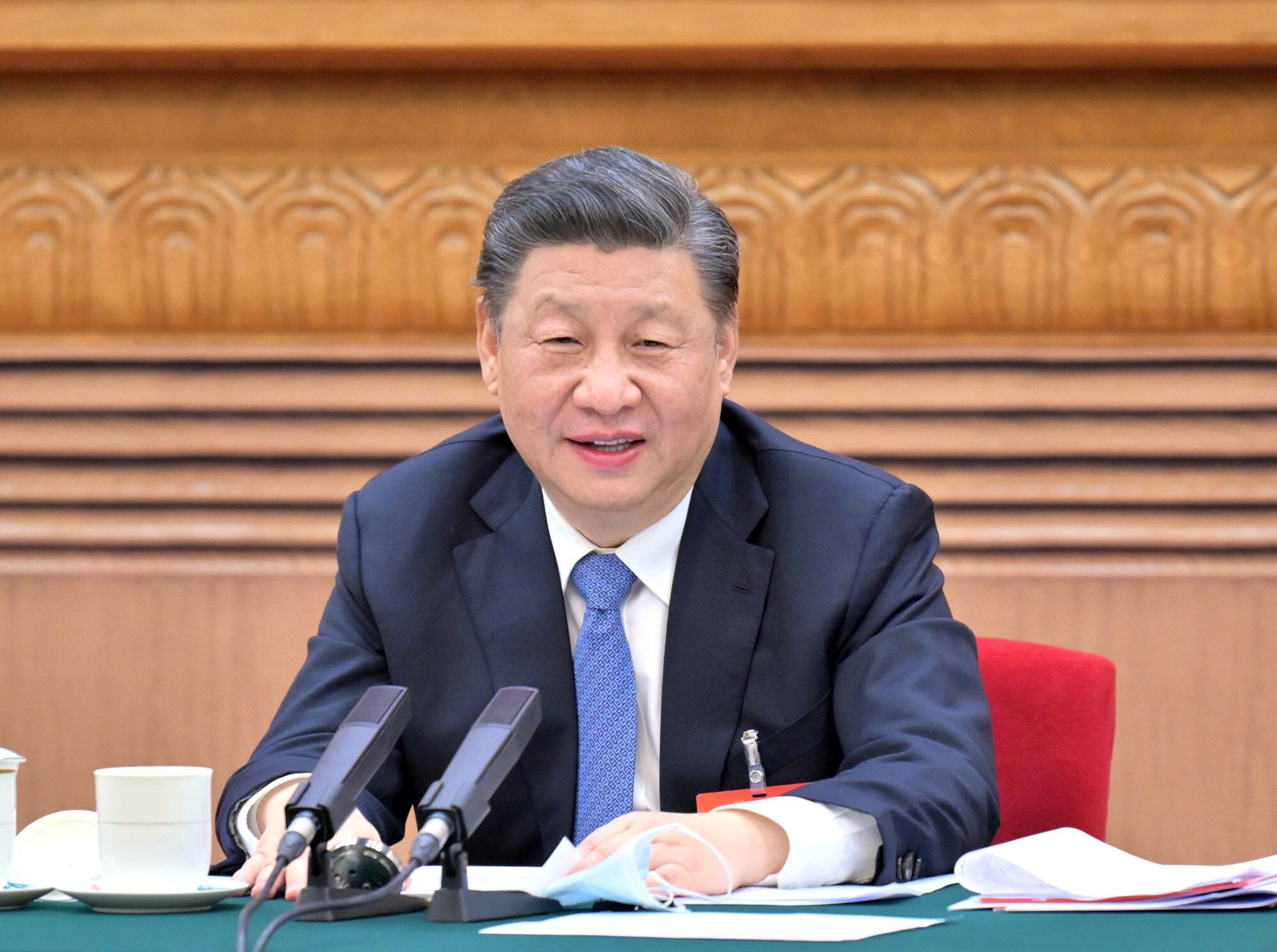 "In particular, some people in the United States send wrong signals to the 'Taiwan independence' forces, which is very dangerous," he said, referring to the self-ruled island that Beijing considers a renegade province. "If the Taiwan issue is not handled properly, it will have a subversive impact on the relationship."
Biden pledged to Xi that he remained "opposed to any unilateral changes to the status quo across the Taiwan Strait", the administration official said.
Biden also reaffirmed his "continued, consistent policy" that aligns with the one-China policy established in the three
joint communiques
, the official said, while respecting the
Taiwan Relations Act
and "underscoring concerns about Beijing's coercive and provocative actions" directed at the island.
Biden administration officials have spent weeks, capped by the call on Friday, warning the Chinese government at increasingly elevated levels that it faces a key choice.
"The [People's Republic of China] has been an outlier in not joining the community of nations in condemning this unprovoked, unjustified and unlawful invasion of Ukraine and urging a ceasefire and imposing costs on Russia," a senior State Department official told reporters on Friday.
"And we've made it clear the implications for the PRC's relationship with us as well as our allies and partners in Europe and the Indo-Pacific," the official said, "and the president did today and really the key objective of those engagements has been to convey our concerns and discuss the implications for our relationship."
Xi's publicised remarks to Biden were similar to what Chinese Foreign Minister Wang Yi told US Secretary of State Antony Blinken in a call nearly two weeks ago, and were reiterated on Friday by the ministry's spokeswoman Hua Chunying, who also countered criticism by contending that the US "is on the wrong side of history".
Analysts said the stakes could not be higher in terms of Beijing's next move in the Ukraine crisis.
"It is really a critical call and I don't think it's an overstatement to say a potential tipping point in the relationship," said Michael Hirson, head of China coverage with the Eurasia Group and a former US financial attaché at the US embassy in Beijing.
"It's a really important opportunity for Biden to reach Xi about working cooperatively or at least not having miscalculations on the two sides."
The situation is compounded by timing and politics as Beijing prepares for a crucial Party Congress this fall when Xi is expected to be anointed for a third term.
"Altering the course of China-Russian relations is probably a political liability for Xi Jinping in such a sensitive year," said Evan Medeiros, a US-China fellow at Georgetown University and former National Security Council official. "Xi Jinping faces a potentially very challenging choice."
If Xi admits that his policy toward Russia has been wrong, he opens himself up to criticism within the party, analysts said. If he doesn't, he risks tying China's fate to a mired invasion, the killing of civilians and whatever moves Russian President Vladimir Putin might take if cornered.
A third option – continuing to sit on the fence – becomes increasingly difficult given the breadth of global outrage.
"People see the tortured balancing act by China on Ukraine as a desire to have its cake and eat it too, but there's still a serious debate within China on how to approach the crisis," Hirson said.
"The US often forgets that China has politics too."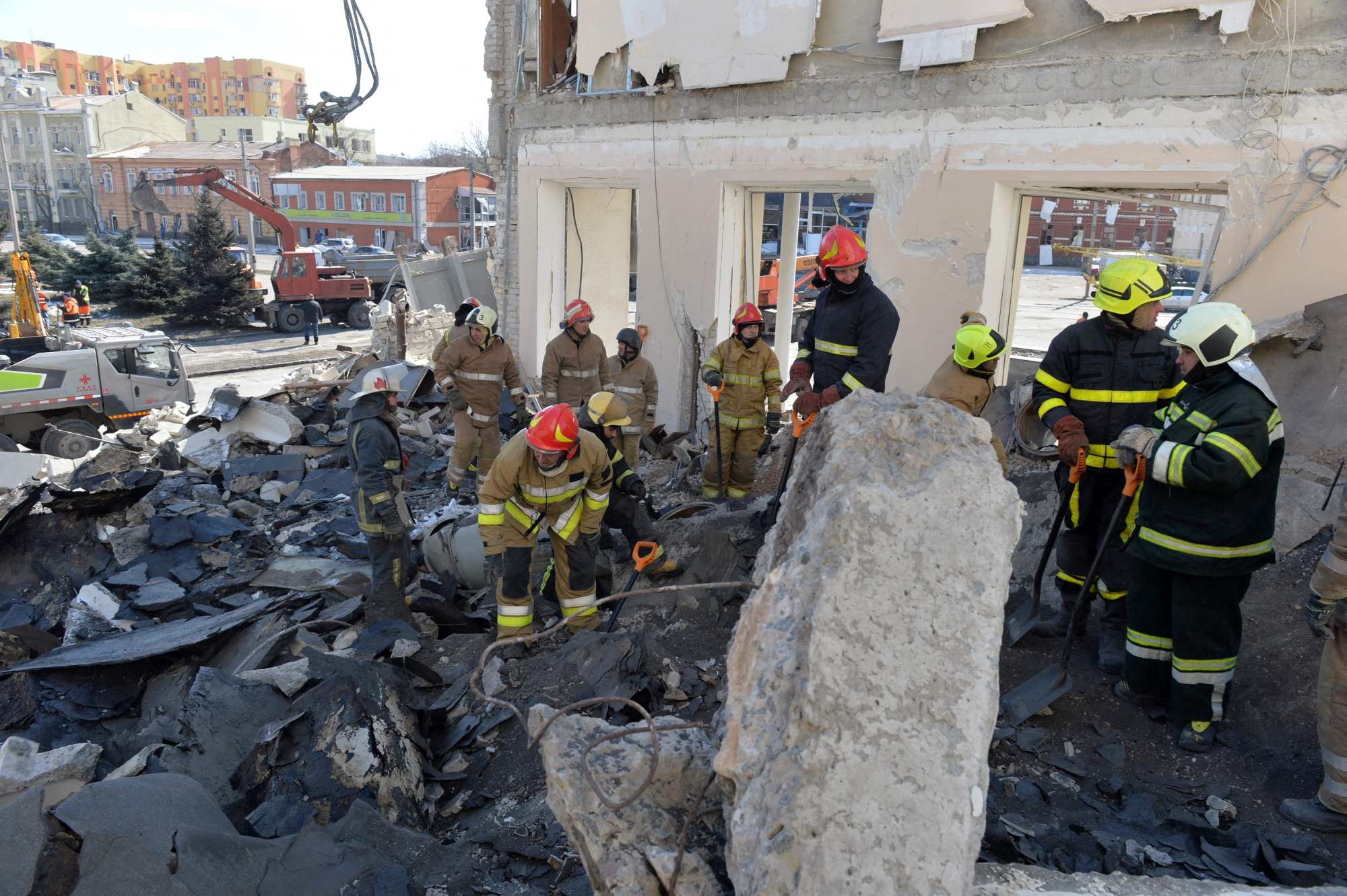 Bonnie Glaser, director of the Asia Programme for the Washington-based German Marshall Fund, described Xi's call for the US and Nato to negotiate with Moscow "noteworthy".
She added: "Xi appeared to be trying yet again to reset the US-China relationship and offer Biden a way to do that by blaming 'some people' in the Biden administration for not following through on the understanding reached between the two presidents last November."
However, Glaser noted, "it's never clear that there was a specific consensus or understanding, or that the two sides even agree with each other on what was agreed upon."
Speaking in a separate briefing after the administration official, White House Press Secretary Jen Psaki said that Biden told Xi that "we would continue conversations … So that indicates that we will continue to engage with them".
Beyond the readouts and parsing of words after Friday's meeting, China's actions in the coming weeks – on potential sanctions-busting or help de-escalating the crisis – will indicate whether US concerns have sunk in.
Also on Friday, US envoy to the United Nations Linda Thomas-Greenfield lined up with counterparts from France, Ireland, Norway, Britain and Albania to condemn Russia's most recent moves in the Security Council.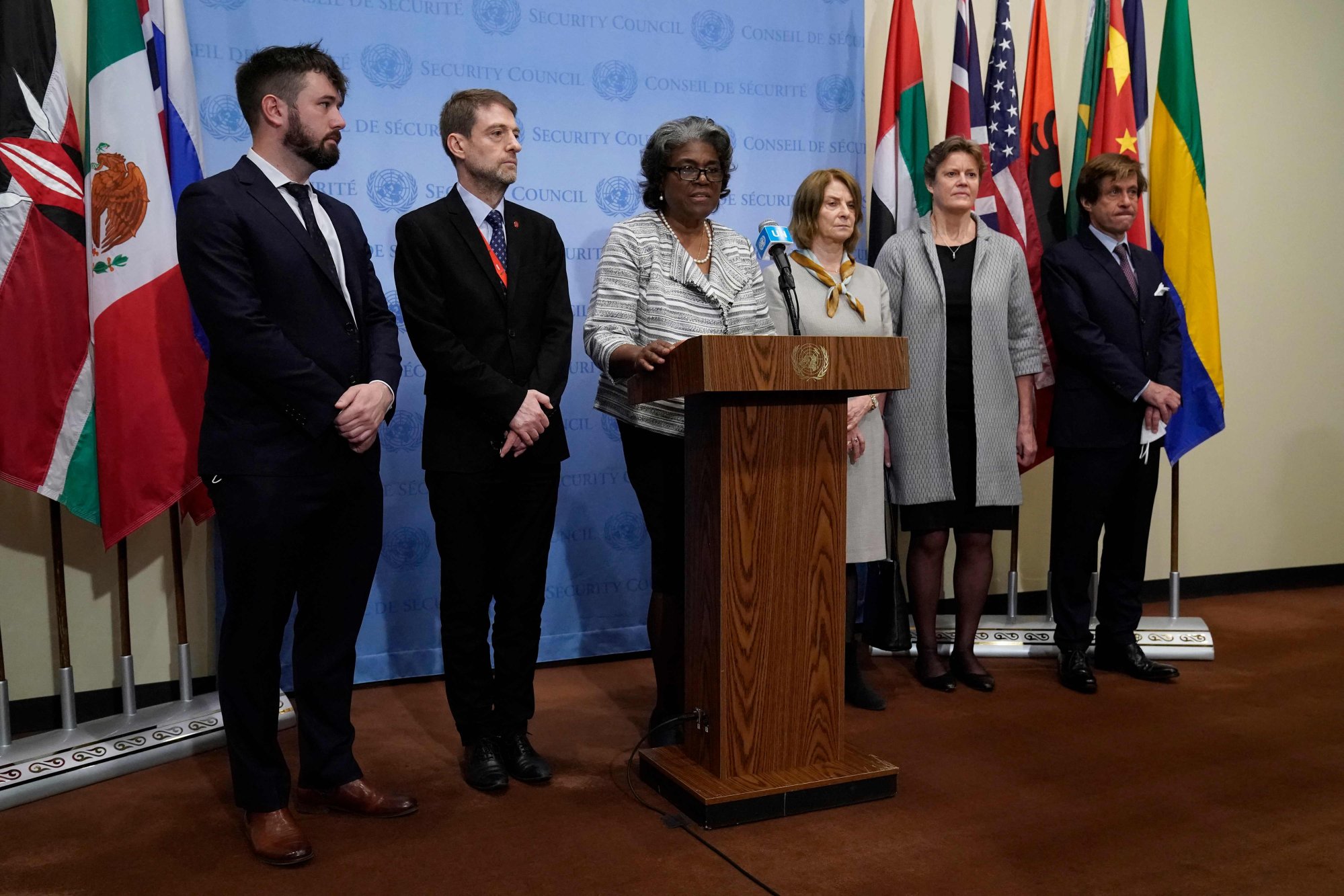 In a brief statement following the council's meeting on Friday, Thomas-Greenfield accused Russia of "abusing its responsibilities and privileges as a permanent member" of the council by spreading a "litany of bombastic and preposterous lies".
As Russia's military advance has bogged down, it has ramped up its information war, spreading claims of US-financed biological weapons labs in Ukraine and US-trained birds spreading deadly pathogens among Russian citizens – claims the White House have decried as "preposterous".
The disinformation issue has also raised US tensions with China, which has fanned the reports at foreign ministry briefings and in UN statements. The South China Morning Post could not independently verify the merits of the reports.
"The international community has long-held severe concerns about the biological military activities conducted by the US at home and overseas," Chinese Foreign Ministry spokesman Zhao Lijian said on Wednesday.
Thomas-Greenfield said that Moscow had convened the Security Council twice in a week to fuel its disinformation campaign even as US officials warn that Russia may be preparing to use biological weapons in Ukraine then blame it on the West as part of a "false flag" operation.
"Russia is once again attempting to use this council to launder its disinformation, spread his propaganda and justify its unprovoked and brutal attack on Ukraine. We know this because it's a well-worn playbook," she said.
"We must remind the public, it is Moscow that has long maintained a biological weapons programme in violation of international law, not Ukraine," Thomas-Greenfield added.
"It is Moscow that has a well-documented history of using chemical weapons, not Ukraine. And it's Moscow that started this senseless war."
Additional reporting by Joshua Cartwright and Owen Churchill