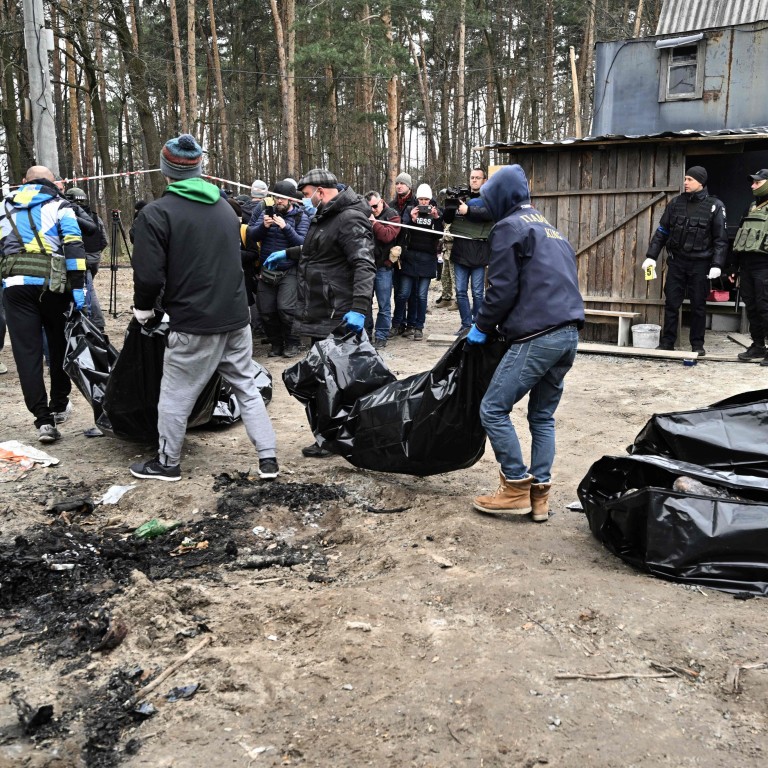 China calls for facts on 'disturbing' Bucha deaths in Ukraine war
Beijing's envoy to the UN Zhang Jun gives China's first official reaction to reports and images of alleged war crimes by Russian troops
He also tells Security Council meeting that all parties should exercise restraint and avoid 'groundless' accusations
China has given its first public response to the reports and images of civilian deaths in the
Ukrainian
city of
Bucha
, with its UN envoy describing them as "very disturbing".
Addressing a
Security Council
meeting on Tuesday, Zhang Jun said civilians should not be targeted in armed conflicts, while stressing that accusations should be based on facts.
"Reports and images of civilian deaths in Bucha are very disturbing, and the circumstances and specific causes of the incident must be ascertained," he said. "Any allegations should be based on facts, and all parties should exercise restraint and avoid groundless accusations until conclusions are drawn."
While Zhang's remarks were China's first official comment on the weekend reports from Bucha, Chinese state media is taking a cautious line.
An editorial in Global Times, the nationalist tabloid affiliated with party mouthpiece People's Daily, said the incident should not be used as a pretext for inflaming the situation.
US President Joe Biden has said his Russian counterpart Vladimir Putin should be tried for
war crimes
over the alleged atrocity in Bucha, which has included reports of mass graves and bodies in the streets.
Ukrainian President Volodymyr Zelensky told the UN Security Council meeting "accountability must be inevitable" for Russia, as he accused Moscow of committing "the most terrible war crimes" since World War II.
Zelensky showed a short video of burned, bloodied and mutilated bodies, including children, in Irpin, Dymerka, Mariupol and Bucha, where Ukraine accuses Russian troops of killing hundreds of civilians.
Zelensky questioned the value of the 15-member Security Council, which has been unable to take any action over Russia's February 24 invasion of Ukraine. Moscow holds veto power, along with the other permanent council members the US, France, Britain and China.
"We are dealing with a state that turns its veto at the UN Security Council into the right to [cause] death," Zelensky said
in a live video address
from Ukraine's capital Kyiv, urging reform of the world body. "Russia wants to turn Ukraine into silent slaves."
US ambassador to the UN Linda Thomas-Greenfield said responsible world powers and global leaders need to "show backbone – and stand up to Russia's dangerous and unprovoked threat against Ukraine and the world".
"No one can be a shield for Russia's aggression," she said, as Washington pushed to suspend Russia from the Geneva-based UN Human Rights Council.
But Russia's UN ambassador Vassily Nebenzia responded by telling the Security Council that Russian troops are not targeting civilians, dismissing accusations of abuse as lies.
Nebenzia said that while Bucha was under Russian control "not a single civilian suffered from any kind of violence".
China has not condemned Russia for its aggression against Ukraine – described by Moscow as a "special military operation" to "denazify" its neighbour and destroy its strategic infrastructure – despite mounting pressure from the West.
Beijing's attitude towards Russia was a key agenda item for last week's China-EU summit, which ended without a commitment from the Chinese leadership to withhold military and economic support from Moscow.
"The Chinese side stuck to their general statements of wishing to see peace, we are a peaceful people, we don't invade others, asking for de-escalation, but avoiding specific commitments or avoiding any sort of line on Russia," the EU's top diplomat Josep Borrell told the European Parliament on Tuesday.
China, however, "does have a red line" on Russia "which is weapons of mass destruction", he said.
India, which has also abstained from previous UN resolutions on the Ukraine crisis, condemned the killings in Bucha and called for an independent investigation.
Zhang reiterated China's call to stop the spillover effects of the Ukraine war, telling the Security Council meeting that sanctions on Russia had already affected global trade, energy, food supply and industrial chains.
"The vast number of developing countries are not parties to the conflict, and should not be involved in the conflict, let alone be forced to bear the consequences of geopolitical conflicts and major power games," he said.
Zhang said small nations should not be pushed to the forefront in confrontations between the major powers. "The sovereignty and territorial integrity of all countries should be respected," he said.
"The security of one country cannot be at the expense of the security of other countries."
Additional reporting by Reuters