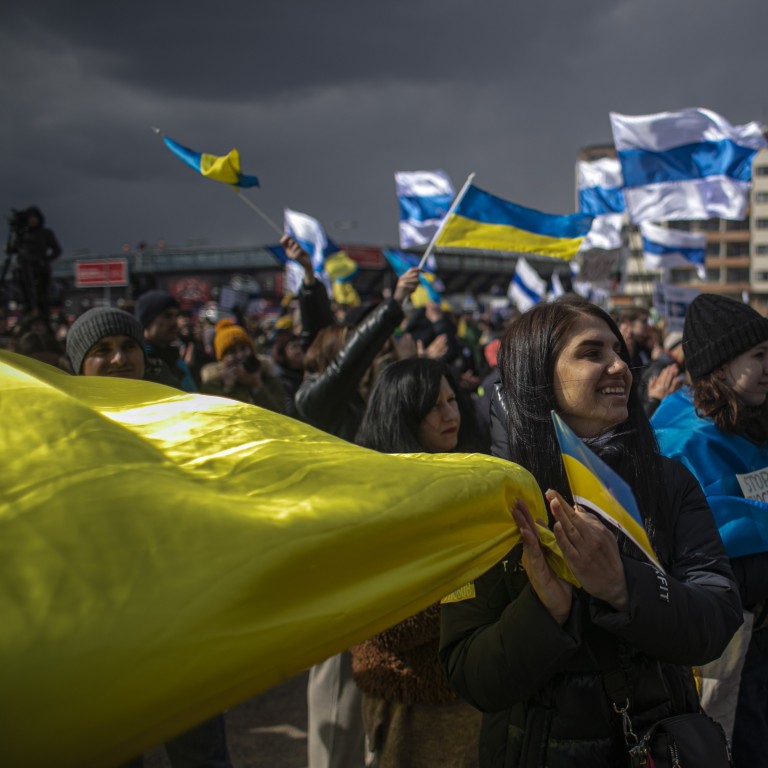 Chinese diplomats head to eastern Europe as suspicions grow over Russia ties
Beijing's unwillingness to condemn Moscow over its invasion of Ukraine has added to long-held concerns about China among former soviet states, analyst says
Delegation will also be trying to revive the '17+1' platform after Lithuania's departure but 'it won't be an easy task'
China is sending a delegation to eight countries in central and eastern Europe as it tries to stem growing suspicions in the region over its
"no-limits" ties with Moscow.
It will be the first Chinese diplomatic delegation to the region since Russian President Vladimir Putin ordered a military
operation in Ukraine
on February 24.
Huo Yuzhen, China's special representative to China-Central and Eastern Europe Cooperation, will head a delegation to the Czech Republic, Slovakia, Hungary, Croatia, Slovenia, Estonia, Latvia and Poland, according to Wang Lutong, the director general of European affairs at China's foreign ministry.
The trip also comes after China's "17+1" platform, a decade-old effort to build ties with the 17 central and eastern European countries, was dealt a setback last year when
Lithuania became the first country to withdraw
from the group, citing a less-than-expected trade benefits.
Vilnius' cordial ties with Taiwan have also angered Beijing, leading to trade and diplomatic rows between China and the European Union, of which Lithuania is a member.
Justyna Szczudlik, a China analyst with Polish Institute of International Affairs, said the trip would be "a damage control visit" because central and eastern European countries were "very disappointed" at Beijing's position on Russia's invasion of Ukraine.
Szczudlik said China's reluctance to condemn Russia's invasion while also citing the sovereignty of nations, including Ukraine, was interpreted as "an endorsement of Russia".
"China's 'scarified' diplomatic principle is the respect for sovereignty, independence and territorial integrity of other countries. And now, after Russia launched a full-scale war and committed atrocities, China neither condemns Russia, nor supports Ukraine that is defending its homeland," she said, adding that the former-soviet states in the region had long been concerned about Moscow's deepening ties with Beijing.
Wang Yiwei, a professor of European studies at Renmin University in Beijing, said the visit was "very timely and much needed" because Beijing needed to clarify its positions on the Ukraine war.
"First of all, China has to make clear what exactly the Sino-Russia relationship is, and second, China and Russia are different countries, and third, what China's position on Russia-Ukraine conflicts, to see how China and win support from these countries," Wang said.
Since the war in Ukraine, nations in the Baltic and central Europe have pushed for harsher sanctions on Russia, and countries like the Czech Republic, Slovakia, Slovenia, Estonia and Latvia have sent military aid to Ukraine.
Poland, which shares a 530km (330-mile) border with Ukraine, has become a linchpin of Nato's support to the embattled country.
Wang said there was deep "misunderstanding" among the central and eastern European countries over Beijing's "comprehensive strategic partnership" with Russia.
"The Baltic countries as well as those in central and eastern Europe believe that the 'no-limits' partnership means an alliance between China and Russia and China is backing Russia," he said.
"China has to make clear that the 'no-limits" partnership is a deterrence to the US."
Szczudlik said that as the war went on, Beijing appeared to be aware that its perception in the region was also deteriorating.
"Although China-Russia ties [are close], it seems that the ongoing war in Ukraine makes China regard Russia with distrust. And the Chinese delegation will be trying to convince central and eastern Europe that there is room for cooperation, and that 16+1 is still relevant."
But Szczudlik said it would not be an easy task because Lithuania's departure had already sent the mechanism into "a deep crisis".
"China's endorsement for Russia may put this format into the deep freeze or even finish this format off."