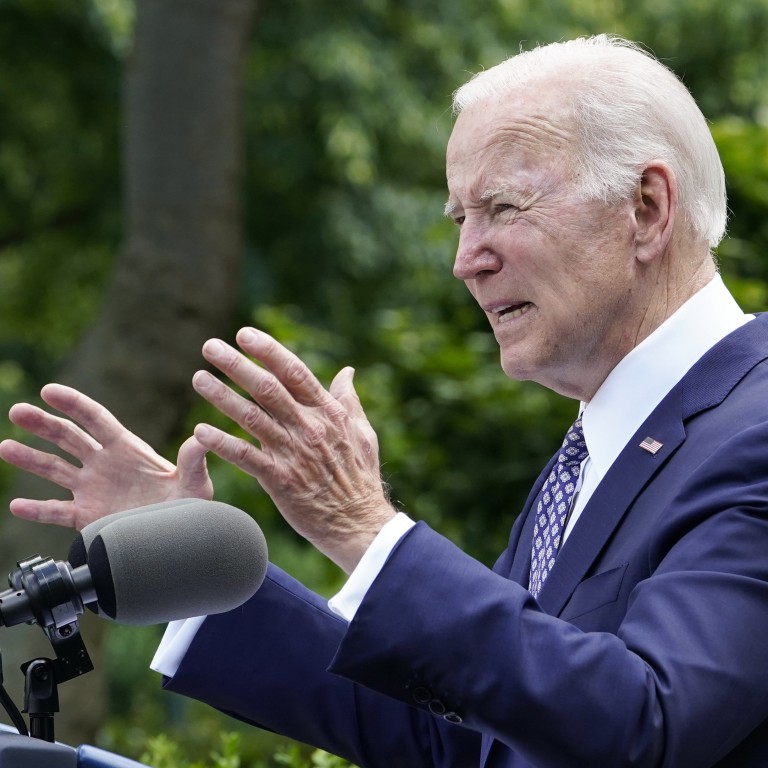 China lashes out at US and Japan for 'joining hands to confront China' ahead of Joe Biden's Asian tour
Diplomatic observers said the twin-pronged assault was unusually strongly worded and it was rare to take aim at Washington and Tokyo on the same day
The complaints focused on Taiwan and what Beijing fears is an emerging anti-China bloc in the wake of Russia's invasion of Ukraine
The unusually strongly worded rhetoric, according to diplomatic observers, underlined China's deepening concerns about an accelerating encirclement effort led by Washington and Tokyo to curb Beijing in the wake of
Russia's invasion of Ukraine
.
It also painted a bleak picture of China's external environment ahead of a once-in-a-decade leadership shake-up later this year.
"The Taiwan question is the most important, sensitive and core question in China-US relations," he said according to a statement from the Chinese foreign ministry.
"If the US side persists in playing the Taiwan card and goes further down the wrong path, it will surely put the situation in serious jeopardy."
Yang warned that Beijing would take "firm action" to safeguard its sovereignty and security interests and "the US side can count on China to keep its promise".
China's Foreign Minister Wang Yi also had a heated exchange with his Japanese counterpart Yoshimasa Hayashi during a separate video call on Wednesday.
Wang lashed out at Tokyo for destabilising bilateral ties with "negative moves on Taiwan and other issues involving China's core interests and major concerns".
Beijing was particularly unhappy about Tokyo's hosting of a summit of the Quad during Biden's visit next week, which the leaders of Australia and India will also attend. China deems the Indo-Pacific strategic grouping as an attempt to form an Asian Nato targeting Beijing.
"What makes people pay attention and be vigilant is that even before the US leader embarks on his trip, the viewpoint that Japan and the United States are joining hands to confront China is already rampant, creating a foul atmosphere," Wang said, according to an official Chinese statement.
In response, Hayashi urged China to play a responsible role in maintaining international peace and security, citing Russia's invasion of Ukraine as a clear violation of international law, according to the Japanese foreign ministry. China has not publicly denounced the invasion.
Hayashi also expressed "serious concern over the situation" in the East and South China Seas, referring to increasingly assertive Chinese military actions there, as well as in Hong Kong and Xinjiang. He also stressed the importance of peace and stability in the Taiwan Strait.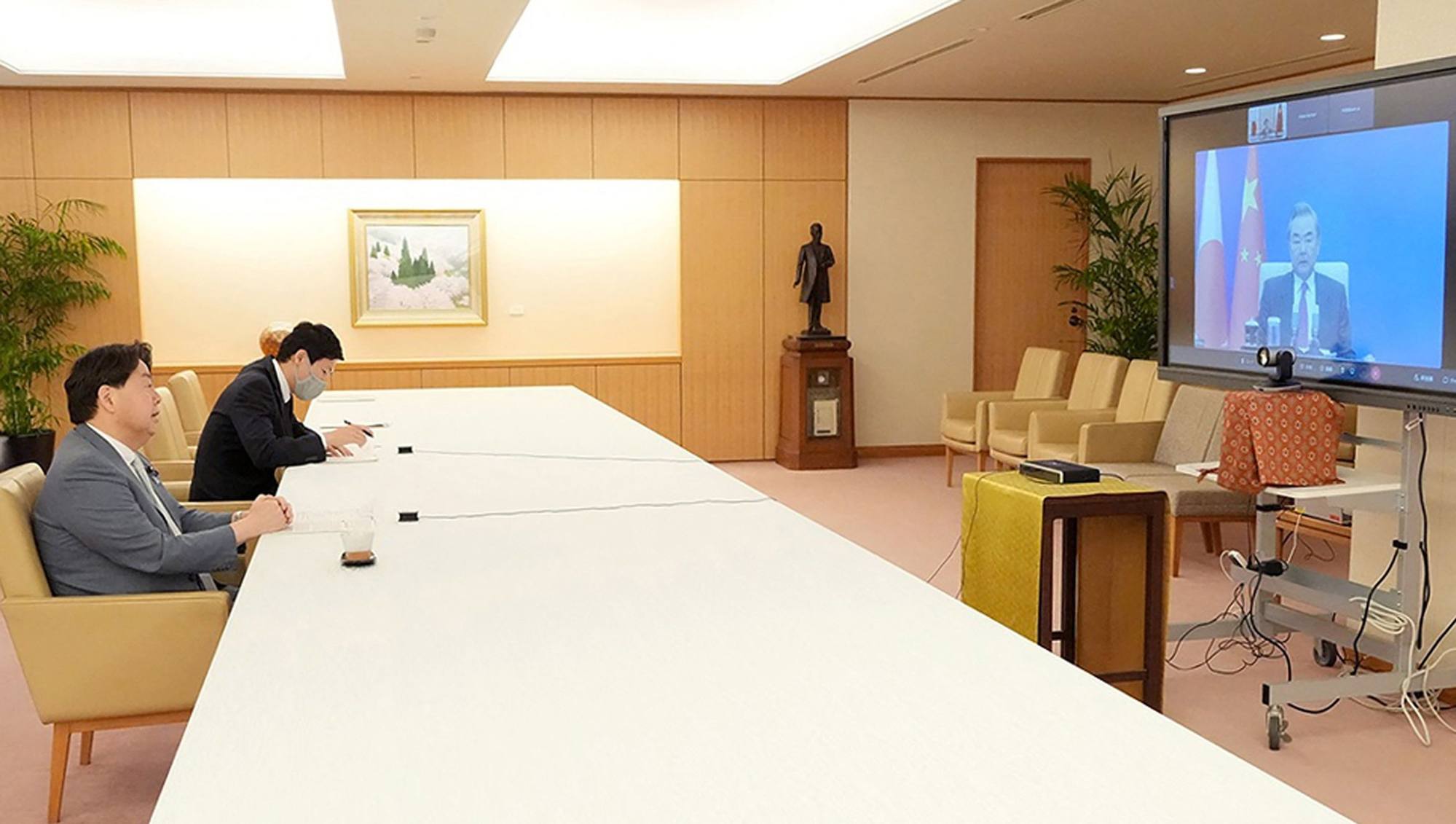 While it was not the first time Beijing has complained about foreign meddling in Taiwan affairs or the forming of an anti-China alliance, analysts said it was unusual to hit out at both the US and Japan at the same time.
Chinese foreign ministry spokesman Zhao Lijian said on Thursday that
China is closely watching Biden's Asia trip
and said the relationship between the US and Japan should not target or harm the interest of third parties.
Shi Yinhong, an specialist in US affairs at Renmin University in Beijing, said Japan has become the closest ally for the US when it comes to confronting China. "It is really hard to tell whether it is Washington or Tokyo that is playing the leading role in this great power rivalry with Beijing," he said.
He noted China's feud with both Japan and the US, which has intensified in the wake of Russia's invasion of Ukraine since February, looked set to further deepen with the US President's charm offensive in Asia.
After hosting a landmark summit with Southeast Asian nations, Biden will start his six-day Asian trip in Seoul.
On Saturday, he will meet South Korea's new President Yoon Suk Yeol, who has pledged to seek a stronger military alliance with the US in the face of North Korea's nuclear threats.
With support from Yoon and Japanese Prime Minister Fumio Kishida, Biden is expected to launch the Indo-Pacific Economic Framework, his signature regional trade initiative designed to counterbalance China's economic influence in the region.
Biden is also expected to seek alignment with Japan and South Korea on Taiwan. The Kyodo news agency reported that Kishida planned to affirm Tokyo's willingness to strengthen cooperation toward stability in the Taiwan Strait in a draft joint statement.
Apart from weapons deals and high-level official exchanges, Beijing was incensed by Biden's signing of a bill last week to help Taiwan regain observer status in the World Health Organization.
China regards Taiwan as a breakaway province and objects to it being given any role in international organisations. It also voiced its dissatisfaction after the State Department removed a reference to the US not supporting Taiwanese independence from its website.
"The situation is turning against China," said Zhu Feng, an international affairs expert at Nanjing University.
"Compared with Washington's active diplomacy in the past two months to rally international support from European and Asian countries on Ukraine and China, there seems little substantial dialogue between China and the US," Zhu said.
Although Yang spoke highly of recent US-China dialogues on military-to-military cooperation, climate change, health and agriculture, these were mostly working-level discussions, which according to Zhu, "could make little difference in de-escalating real tensions".
He said: "The Biden administration is adjusting its China policy and Beijing has reasons to fear the hollowing out of the one-China policy considering what Washington and its allies have been doing vis-à-vis Taiwan. China cannot afford to appear weak ahead of the sensitive 20th Communist Party congress."
But Zhu said Yang's pledge to "do what it said" regarding Taiwan did not mean China would accelerate efforts to use military force to reunite the island.
"China will continue its preparations for the worst-case scenario on Taiwan, but it doesn't mean the military option is the only one available," he said.
Both Shi and Zhu cautioned that Beijing's harsh rhetoric may have little effect in reining in Washington and Tokyo in their pursuit of a stronger alliance against China.
"China can hardly achieve its goals by voicing repeated warnings and concerns. I'm afraid it's high time for China to have a deep and systematic rethinking of its foreign policy," Zhu said.
Sullivan confirmed that he raised the issue during the conversation with Yang. He said US intelligence officials have determined there is a "genuine possibility" that North Korea will conduct another ballistic missile test or nuclear test around the time of Biden's visit to Asia.
"The call was initiated by Sullivan and this could have only one reason: a deep US concern that Kim Jong-un might steal the show and conduct a nuclear test while Biden is in Seoul or Tokyo in an attempt to embarrass the US President as well as President Yoon," said Gal Luft, co-director of the Washington-based Institute for the Analysis of Global Security.
The White House said the focus of the talks between Yang and Sullivan was on "regional security issues and non-proliferation", apart from "specific issues in US-China relations", without elaborating.
"China is the only power on earth that could potentially tame Kim Jong-un, and Sullivan wanted to ensure that Yang understands that this is Washington's expectation," Luft said.
In return, Yang took the opportunity to remind his counterpart that "the US can't expect China's cooperation on security matters the US cares about while ignoring and actually undercutting the security matters China cares about," he said.