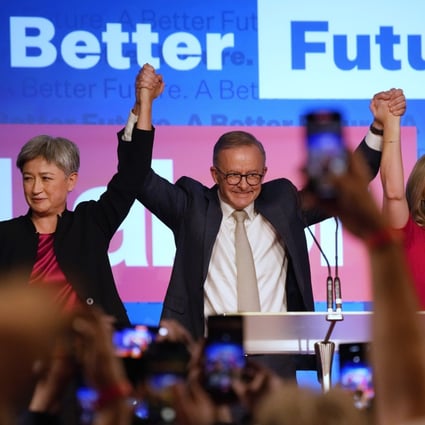 Labor Party leader Anthony Albanese (centre) celebrates with his partner partner Jodie Haydon, (right) and Labor senate leader Penny Wong at a Labor Party event in Sydney on Sunday. Photo: AP
Australia's new PM Albanese has chance to mend fences with China, analysts say
Incoming Labor government unlikely to shift much on the big issues but might be less provocative towards Beijing, observers say
All eyes will be on Anthony Albanese on Tuesday when he meets the other leaders of the Quad
Follow your favourite topic and get notified
Labor Party leader Anthony Albanese (centre) celebrates with his partner partner Jodie Haydon, (right) and Labor senate leader Penny Wong at a Labor Party event in Sydney on Sunday. Photo: AP
The change of power in Australia is a chance for the country's new prime minister to improve ties with China and have a less "provocative" attitude towards Beijing, Chinese analysts said ahead of Anthony Albanese's trip to Tokyo for a "Quad" meeting this week.
A day after he is sworn in, Albanese's first international appointment will be to meet the leaders of the United States, Japan and India – the countries that make up the strategic security dialogue known as the Quad – in Tokyo on Tuesday.
He will be accompanied by incoming foreign minister Penny Wong, who was born in Malaysia. Wong has said her Chinese-Malaysian background gives her a fundamental grasp of Southeast Asia.
The four countries will to unveil a maritime initiative aimed at curbing illegal fishing in the Indo-Pacific, according to a US official, in the latest effort by the Quad to counter Chinese activity in the region.
Overall, the new Australian government is expected to continue the country's tough stand on China, with Labor suggesting during the election campaign that there would be no major change on issues such as the South China Sea and Taiwan.
"The Chinese Communist Party has changed, it's more forward-leaning, it's more aggressive," Albanese said in a leaders' debate in early May. "That means that Australia of course must respond."
He also said in an interview last week that the relationship between Australia and China "will remain a challenging one" and declined to say whether he would be prepared to take a phone call from Chinese President Xi Jinping.
There have been no congratulatory messages from Beijing.
Albanese first became a minister after Kevin Rudd's 2007 election victory and rose through the Labor ranks, finally taking over the opposition leadership after the party's crushing loss in 2019.
He has said that the "first pillar" of Australia's foreign policy is its alliance with the United States. He also supports the Aukus alliance, under which Britain and the US have agreed to equip Australia's navy with nuclear-powered submarines.
In turn, Morrison has accused Albanese of being soft on China, saying at a parliamentary session in February that "the Chinese government has picked their horse and he's sitting right there" – referring to Albanese.
Shortly after Morrison's remarks, a video recirculated of Albanese trying to deliver a line of his speech in Mandarin at a dinner hosted by an Australian Chinese trade association in June 2018, encouraging closer ties between the two countries.
Albanese denied that his administration would side with China and said Morrison was leading an "absurd campaign to try and divide the nation".
Wong said in March that if the party won the federal election, Australia would not be taking "a backward step" on any substantive points of disagreement with Beijing such as Australia's position on the South China Sea, 5G construction and human rights issues.
But in May last year, Wong insisted the differences between Australia's and China's interests "do not mean that there's nothing we can do. They don't mean that there's no room for improvement in our own actions".
Australia's relationship with its biggest trading partner has deteriorated in recent years over various geopolitical and trade disputes.
Chen Hong, a professor of Australian studies at East China Normal University in Shanghai, said the new government would have a new outlook on China and its win showed the "total failure" of Morrison's approach on China.
"The lack of experience of Albanese over diplomatic affairs could offer the possibility [of improving ties]," Chen said.
He said that though the alliance with the US was a priority, the new government would hopefully be more "rational" in its policymaking.
"Both Albanese and Penny Wong have suggested that they should not be provocative and hostile towards China, for which we see a possibility of the new government being rational. In this regard, I hope their rational attitude will be reflected in their new roles," he said.
Chen said Beijing was open and had been trying to improve ties in recent months, with Chinese ambassador Xiao Qian saying a healthy and stable relationship was in the interests of both countries.
Zhou Fangyin, professor at the Guangdong Research Institute for International Strategies, said the new government would be less tough on China than its predecessor because it needed to spur the economy.
"To alleviate social problems and advance economic growth, it is necessary to improve relations with China which remains its largest trading partner," Zhou said.
"I think it is very important for [Australia] to stabilise its economic relations with China."
He said there would be no change on basic policy such as the South China Sea and human rights, and cooperation with the Five Eyes intelligence-sharing alliance and the Quad would remain the same.
But the new government could aim fewer accusations at Beijing.
"If Albanese is smart enough, he might try to be less provocative about China, which can help improve ties," Zhou said.
"Albanese's victory is an opportunity to improve ties, but it is still hard to say how he will deal with it ... At least it provides an opportunity to get rid of the burden of history."