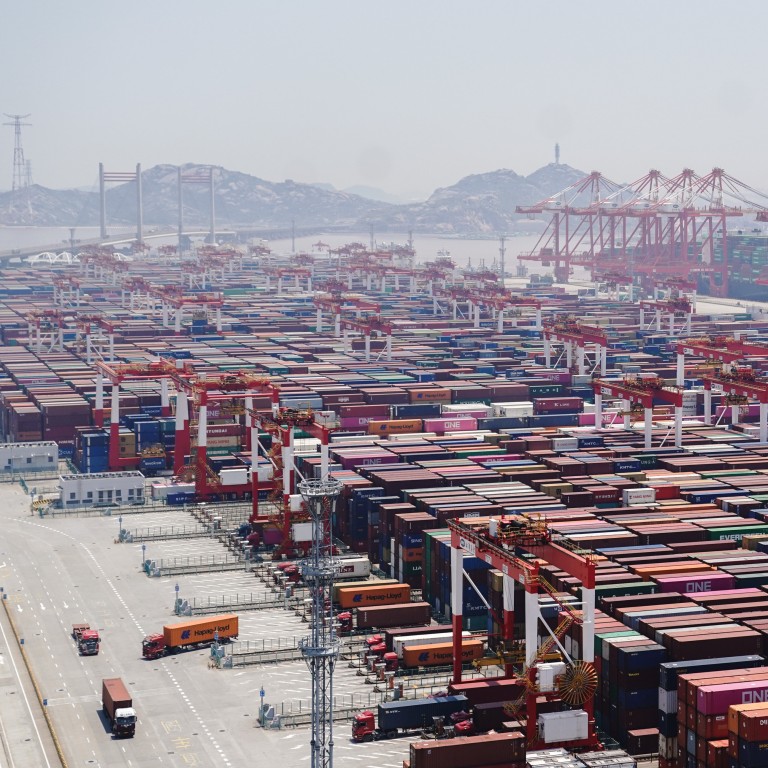 Why Chinese demand for African imports might defy Covid lockdowns, supply chain snarls
Food security push seen to feed demand for African farm products, with the EV and construction sectors driving raw materials purchase
China's exports to Africa, on the other hand, are likely to take a hit, say analysts
China's months-long lockdowns of Shanghai and other major cities amid a Covid-19 outbreak has sparked global
logistics delays
feared to last months, as well as
concerns of a slowdown
in the world's No 2 economy.
But there will be minimal impact on Chinese imports from Africa, especially of agricultural goods and industrial raw materials, even though exports to the continent will be hit, according to observers.
Shanghai, home to the world's busiest container port, has been under near-total shutdown for almost eight weeks. This has caused a
huge backlog
of cargo vessels offshore, with importers expected to face further delays after prolonged factory and port closures.
Other than Shanghai, which handles a fifth of China's port volumes, major trade centres such as Fuzhou, Suzhou, Tianjin, Shenzhen and Xian were also partially locked down in April, exacerbating supply chain issues.
As the factory of the world, China accounts for 15 per cent of global merchandise exports; meaning any supply chain disruptions have significant ramifications for global trade.
Most African countries are heavily dependent on China trade, with the resource-rich among them exporting most of their oil, minerals and metals to the country, while Chinese exports to the continent include electronics, machinery, fabrics, clothing and home appliances.
"Given that Shanghai and the surrounding region is a major production hub of electronics, exports of these products to Africa will be heavily disrupted, possibly through the second and third quarter of this year," said Tommy Wu, Hong Kong-based lead China economist at Oxford Economics.
But Wu said demand for African agricultural products was unlikely to be affected, given that China was prioritising food security.
China has
promised to grow
imports of African agricultural products, to offset the heavy domination of metals and raw materials, and improve the
trade balance
.
Addressing the Forum on China-Africa Cooperation (FOCAC) in November, Chinese President Xi Jinping pledged to increase imports to US$300 billion in the next three years, while opening "green lanes" for African agricultural exports to China and offering US$10 billion in trade finance to support such exports.
A number of African countries have signed
recent deals
with China to ease the export of agricultural products including chilli peppers, cashew nuts, sesame seeds and spices.
Tanzania began exporting soybeans to China in 2020, as Beijing sought to reduce reliance on the US and Brazil. Similar deals have been reached for ­avocados, tea, coffee and roses from Kenya, coffee and soybeans from Ethiopia, beef products from Namibia and Botswana, fruit from South Africa, and coffee from Rwanda.
Yixin Yu, a research analyst at the Beijing-based Development Reimagined's flagship project, Africa Reimagined, said despite the trade disruptions in Shanghai, African businesses were "yet to face a huge blow to exports to China".
China-Africa trade grew 23 per cent year on year to US$64.8 billion in the first quarter, boosted by increased Chinese imports of minerals and metals.
China's overall imports from Africa rose by nearly 30 per cent to US$29.7 billion during the period, and exports grew 18.2 per cent to US$35.16 billion, according to Chinese customs data.
This came after 2021 marked
an all-time high
for bilateral trade, which rose by 35 per cent to US$254 billion, indicating full recovery from a pandemic-induced slump.
China is also the biggest buyer of cobalt from top producer the
Democratic Republic of Congo
(DRC), as a green push at home fuels a growing need for the blue metal that is an essential component of electric vehicle batteries, as well as machinery, electronics and even weapons.
"The demand for commodities used in electric vehicles and batteries, as well as for building green-energy facilities, is also unlikely to be affected as China prioritises the development of these sectors," Wu said.
Construction-related commodities may also get a boost from China's faster infrastructure spending this year.
"This means that a significant part of Africa's exports to China will be less affected by China's slowdown," Wu said.
However, Yu in Beijing said any potential impact on trade would stem from China's reduced demand for raw materials due to slowing economic activity, as well as supply chain delays holding back Chinese exports on which many African production lines depend.
African trade is also feeling the impact of natural disasters, with
heavy floods
destroying essential warehousing facilities and access roads in Durban, the continent's largest port. "Goods such as cobalt and lithium from Congo and Zimbabwe are exported to China from [Durban]. So, this will likely have additional knock-on effects on trade," Yu noted.
A recent Fitch Ratings note said restrictions imposed under China's zero-Covid policy had made Shanghai's freight traffic volume plunge in April and early May. "With fewer trucks operating and Shanghai's port staff unable to load and unload ships at their usual pace, significant backlogs have built up at the port of Shanghai," the US credit rating agency said.
The lockdowns come at a time when there are few signs of improvement in global goods shortages, including rising lead times for all-important
semiconductor deliveries
, it noted.
However, future Covid-related disruptions in China could have a milder effect, as the government fine-tunes its pandemic policy, Oxford Economics said in a research briefing note last week.
"Experience also shows Chinese manufacturers can ramp up production and clear backlogs quickly once restrictions are lifted," it said. "So, the recovery in industrial production and exports will largely depend on when the bulk of mobility restrictions are lifted."