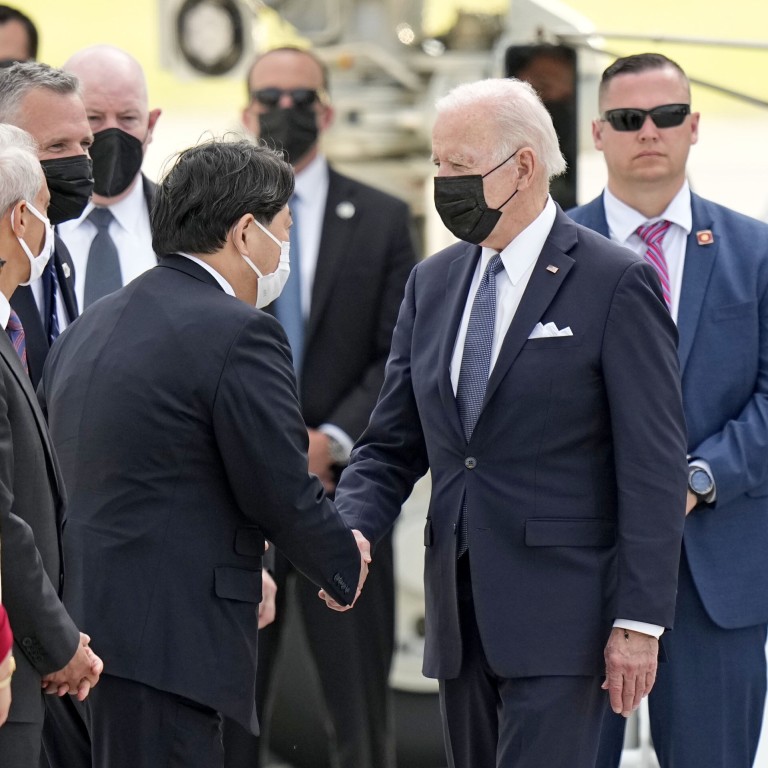 Joe Biden launches IPEF initiative, with 12 Asia-Pacific economies signing on
US Secretary of Commerce Gina Raimondo says the Indo-Pacific Economic Framework seeks to restore 'US economic leadership' across the region
The plan aims to make Indo-Pacific countries beyond China more attractive as manufacturing hubs for US companies, Raimondo adds
US President Joe Biden announced on Monday that 12 countries in the Asia-Pacific had joined the US'
Indo-Pacific Economic Framework (IPEF)
, an agreement covering supply chains, digital trade, clean energy and anticorruption efforts – and that Beijing views with much suspicion.
The countries – Australia, Brunei, India, Indonesia, Japan, South Korea, Malaysia, New Zealand, the Philippines, Singapore, Thailand and Vietnam as well as the US – account for 40 per cent of the world's GDP, according to the White House.
The announcement was made in Tokyo, the second stop of Biden's first trip to Asia as US president, a tour closely watched by Beijing.
Also on Monday, Chinese Foreign Minister Wang Yi pledged to "facilitate development of the Asia-Pacific".
"China will continue to broaden high-level opening up, push for high-quality construction of the
Belt and Road Initiative
and facilitate the interconnectivity of the Asia-Pacific and safeguard security and stability of the regional supply chain," Wang said in a virtual address to the United Nations' Economic and Social Commission for Asia and the Pacific.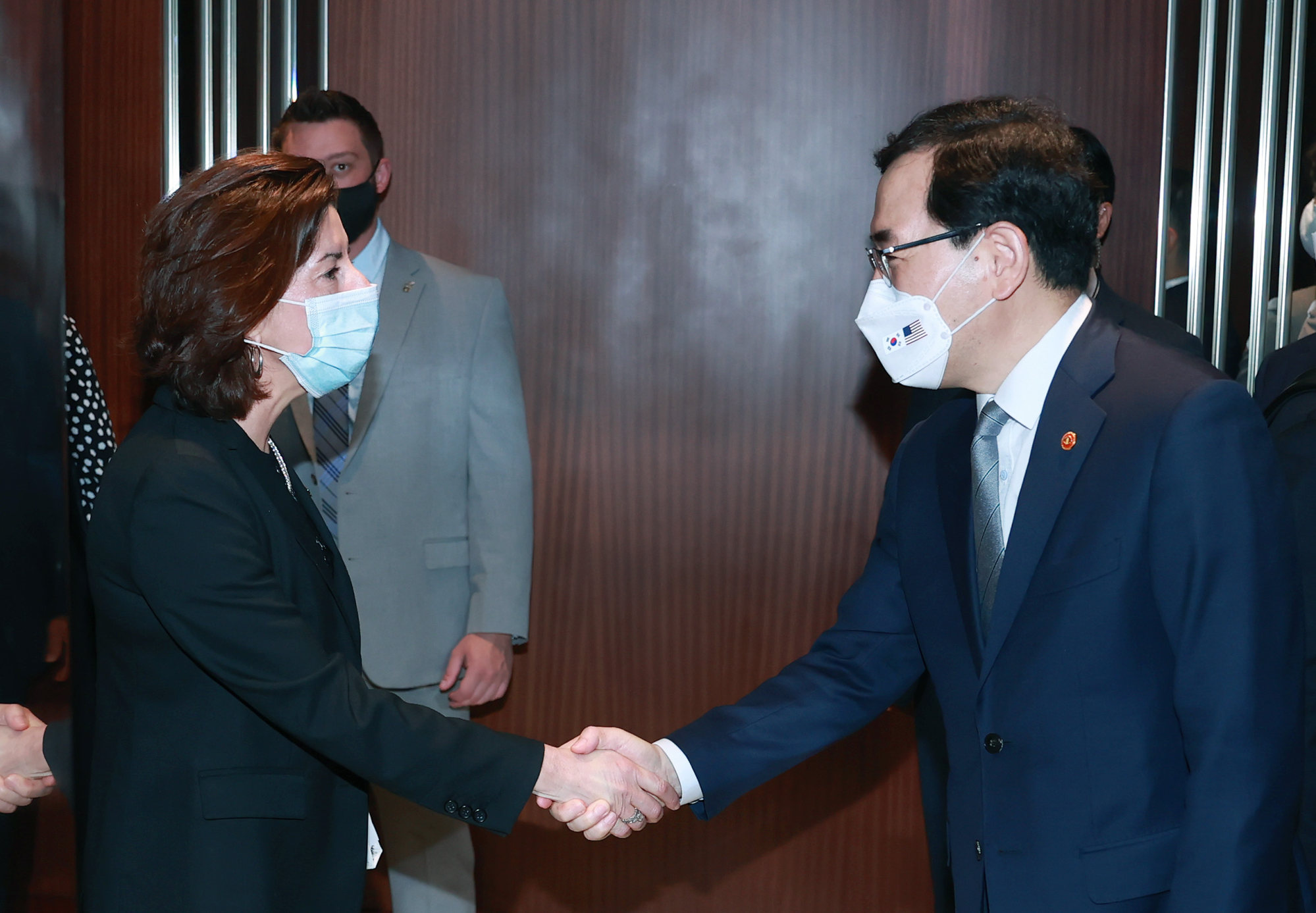 Wang's address came a day after US Secretary of Commerce Gina Raimondo said the IPEF marked "an important turning point in restoring US economic leadership in the region, and [presented] Indo-Pacific countries an alternative to China's approach to these critical issues".
One particular ambition of US officials for the framework was to make Indo-Pacific countries beyond China more attractive as manufacturing hubs.
"Many companies, many US companies, are looking to diversify away from China," Raimondo said. "Well, countries – Vietnam, Malaysia, Indonesia – that are actually signed up and in the Indo-Pacific framework, will obviously have an advantage to get the business from American companies because they will have signed up to the high standards agreements that we plan to sign pursuant to the IPEF."
Her comments followed reports by The Wall Street Journal that Apple was seeking to shift some production from China to countries such as Vietnam and India, citing issues such as China's strict Covid-19 measures.
The administration's framing of the IPEF as a tool to counter China's regional clout is likely to find a sympathetic audience among members of the US Congress, where competition with Beijing remains a bipartisan concern.
But lawmakers have expressed concern about Taiwan's exclusion from the framework.
"Excluding Taiwan from the IPEF would significantly distort the regional and global economic architecture, run counter to US economic interests, and allow the Chinese government to claim that the international community does not in fact support meaningful engagement with Taiwan," 52 senators wrote in a letter to the Biden administration last week.
While
Taiwan
was not among the IPEF's founding members, officials said membership of the initiative would likely grow in the future, and indicated a parallel effort to bolster economic ties with Taiwan soon.
"We intend to pursue a deeper bilateral engagement with Taiwan on trade and economic matters in the coming days and weeks," US national security adviser Jake Sullivan said.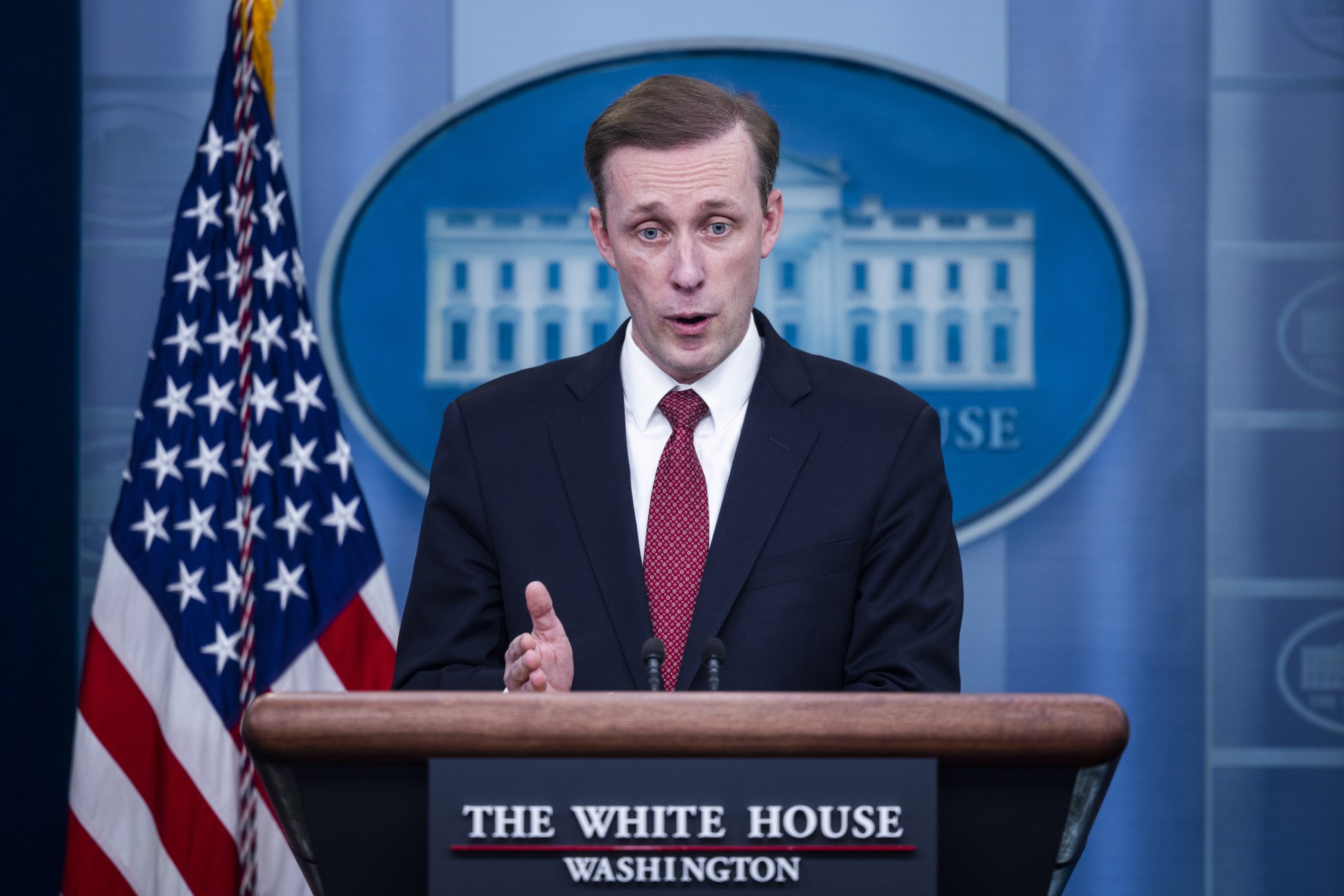 Chinese Foreign Minister Wang questioned on Sunday if the IPEF would force countries to take sides between Washington and Beijing by disrupting supply chains.
"Is the US trying to accelerate the recovery of the world economy, or is it creating economic decoupling, a technological blockade, industrial chain disruption, and aggravating the supply chain crisis?" he said, during talks with his Pakistani counterpart Bilawal Bhutto Zardari in Guangzhou.
"A few years ago, the US launched the trade war with China, which had serious consequences for the world and the US. The lessons are profound. The US should know its mistakes and correct them, rather than repeat them."
Wang said it would be wrong for the US to use the initiative as a political tool to exclude others.
"Is the United States using economic means to coerce regional countries to choose sides between China and the United States?" he said, according to a statement from the Chinese foreign ministry.
First raised by Biden during a virtual meeting with Association of Southeast Asian Nations (Asean) counterparts in October, the IPEF has also drawn some scepticism over its lack of provisions around market access and tariff elimination.
Officials have responded by saying the shifting modern economy requires an unconventional approach to economic engagement. "The fact that this is not a traditional free trade agreement is a feature of the IPEF and not a bug," Sullivan said.
But the Biden administration's avoidance of market access provisions also reflects the political reality that Trump-era protectionism continues to hold sway over much of the Republican Party and its voters – adding to political pressures Biden is already facing over soaring inflation ahead of midterm elections in November.
Washington is also under pressure to address regional doubts over a sustained US commitment to the framework.
Southeast Asian countries have made it clear they would like to see more US commitment to trade, expressing frustration over former US president Donald Trump's withdrawal of the US from the
Trans-Pacific Partnership (TPP)
trade deal in 2017.
Meanwhile, both China and Taiwan have launched bids to join the TPP, now named the Comprehensive and Progressive Agreement for Trans-Pacific Partnership (CPTPP).
The Biden administration has shown no interest in returning to the pact, the "biggest problem" of which was that it lacked support from Congress, US trade representative Katherine Tai said on Sunday.
Tai dodged questions about whether any agreements forged under IPEF would require congressional sign-off.
"Let's see where the negotiations go," she said. "But … regardless, we have to keep Congress close, and Congress needs to be a part of shaping what we do with our partners here."
As well as bidding to join the CPTPP, China has also been part of the RCEP – a free-trade agreement led by Asean members that launched this year and has been promoted as representing nearly a third of the global population and about 30 per cent of the global gross domestic product.
Besides China, the 15-member pact also includes Japan, the world's third-largest economy, along with Vietnam and Australia. The US has not shown interest in joining.