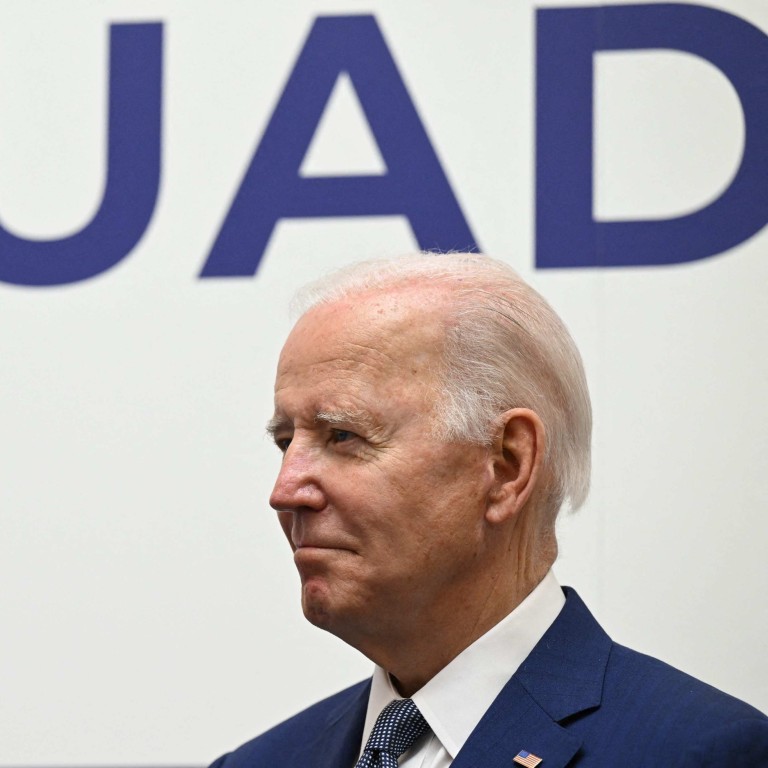 Joe Biden insists US policy on Taiwan has not changed
US President says policy of 'strategic ambiguity' has not changed a day after he said he was willing to use force to defend the island
Some critics have suggested Biden misspoke, but other analysts believe he was well aware of what he was doing
The issue of Taiwan looms over a meeting in Tokyo of leaders of the Quad grouping of the United States, Japan, Australia and India, who have stressed their determination to ensure a free and open Indo-Pacific in the face of an increasingly assertive China.
On Tuesday, Biden, asked if there had been any change to the US policy on Taiwan, responded: "No."
"The policy has not changed at all. I stated that when I made my statement yesterday," he said after a round of talks with his Quad colleagues.
Beijing considers Taiwan a breakaway province and says it is the most sensitive and important issue in its relationship with Washington.
Biden's Monday comment, when he volunteered US military support for Taiwan, was the latest in a series of apparently off-the-cuff assertions that suggest his personal inclination is to defend it.
Some critics have said he has misspoken on the issue, or made a gaffe, and his muddying of the issue risked accelerating China's desire to act, without carrying the muscle of a formal security guarantee.
But other policy analysts have suggested that given Biden's extensive foreign policy experience, and the context in which he made the remarks, next to Japan's prime minister and after the
Russian invasion of Ukraine
, suggested he didn't misspeak.
Taiwan welcomed Biden's apparent expansion of the US commitment, while China reacted angrily, saying Washington was "playing with fire."
Biden is visiting Tokyo for meetings with leaders from the Quad group, which also includes Australia, India and Japan. He earlier went to South Korea as part of a trip reinforcing key US trade and military alliances in Asia.
Additional reporting by Agence France-Presse