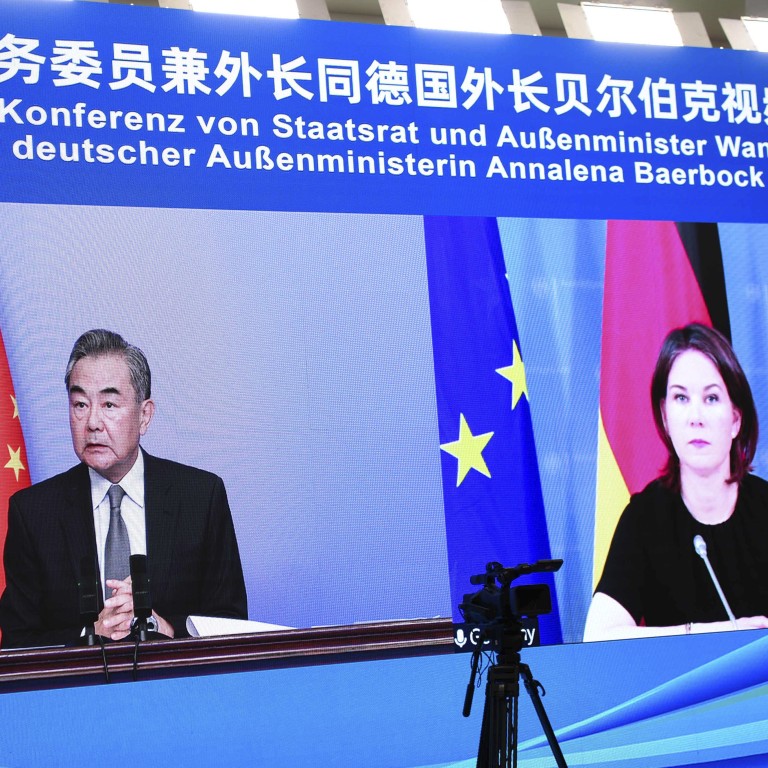 China and Germany must cooperate to help stabilise the world against pandemic and economic woes: Wang Yi
Chinese and German foreign ministers hold video conference but China's account of meeting does not mention comments about Xinjiang leak or Ukraine war
Chinese Foreign Minister Wang Yi says both countries are beneficiaries of globalisation and noise about decoupling is not in their interest
Chinese Foreign Minister Wang Yi said
Germany's
China policy under the new government should remain pragmatic and should further cooperation that brings "positive expectations" for the countries' ties.
China and Germany
should also strengthen their communication to bring stability to the world as Covid-19 raged and economic recovery remained weak, Wang told German Foreign Minister
Annalena Baerbock
, according to the Chinese foreign ministry statement about the video conference on Tuesday.
Wang said the two sides should make good use of the government consultation mechanism to improve bilateral relations.
The relatively new German government under Chancellor
Olaf Scholz
has described China as a "systemic rival" and has been more vocal in making its concerns over China's human rights record known, mainly from Scholz's coalition partners.
"China and Germany are both beneficiaries of and contributors to globalisation, and noise about decoupling is not in the interests of both sides and countries," Wang was quoted as saying.
Wang also repeated China's push for a world order based on the United Nations system and international law, a veiled reference to Chinese President Xi Jinping's
Global Security Initiative
that targets what China sees as the West's unilateral
sanctions in the Ukraine war
.
China would not be absent in matters of international concern, Wang said, reiterating China's position that countries should push for a ceasefire in Ukraine.
Baerbock said international cooperation was important but it "must be based on the fundamental norms of the international order, which must be respected and defended by all", according to the statement of the meeting from the German foreign office.
"Germany strongly appeals to all members of the international community to condemn Russia's illegal war of aggression and to assume their responsibility to uphold international law and to protect the UN Charter," she was quoted as saying.
Baerbock's description of the Ukraine war is missing from the Chinese statement.
China does not label Russia's attack on Ukraine since February 24 an "invasion" and has refused to condemn or take part in sanctioning Russia, saying sanctions would not contribute to peace talks.
Thousands of alleged police documents and photos appearing to show how China interned Uygurs and members of other ethnic minority groups were made public by scholar
Adrian Zenz
on Tuesday.
The new German government has yet to show clearly how it would deal with a more assertive China. Scholz, of the Social Democratic Party, is facing increasing pressure domestically and in Europe to tackle China's human rights issues while maintaining a strong economic relationship.
His coalition partners, the Greens and the Free Democratic Party, have urged him to take a tougher line on a range of Beijing's policies, including those on Taiwan.
China's
banning of exports from Lithuania
, an EU member state, also increased pressure for Berlin. Lithuania's ties with China nosedived after Taipei opened a de facto embassy in Vilnius, the Lithuanian capital, using the name "Taiwan" instead of "Taipei" as is usual practice to avoid referencing the self-ruled island, which Beijing claims as part of its territory.